Happy International Women's Day!
Rhodes Contemporary Art celebrates female artists year round, but today we would like to take a moment to shine a light on all the women creatives, including our wonderful artists - Cat Spilman, Jess Cochrane, Grace Tobin, Cathy Tabbakh, Zoë Hoare, Yool Kim, Anoushka Mirchandani, Flora Castiglia and Ces McCully – whose works deal with the themes of modern feminism and what it feels like to be a woman in society today, through their own unique styles, mediums and approaches.

Cat Spilman's expressive and spontaneous works, such as She Would Pick the Flowers, address themes of separation, belonging, modern feminism and motherhood. Her conscious decision to limit the colour palette, finding two tones which worked together well, allows the true focus of the work to be in the composition and energy.
Cat Spilman
Far More Fantastic (Diptych), 2023
House Paint and Crayon on Canvas
Unique Signed Original
113 x 140 cm (44 1/2 x 55 1/8 in)
Jess Cochrane plays on the ideas of pop culture, reflecting upon insecurities and perfectionism in the modern world. Her works, such as Hyacinth, succeeds in both - providing a highly aesthetical experience as well as leaving the viewers with the question: how these paintings make us feel when we understand the absurdity of our past and sadly, the outdated and subversive feminine beauty that still exists today.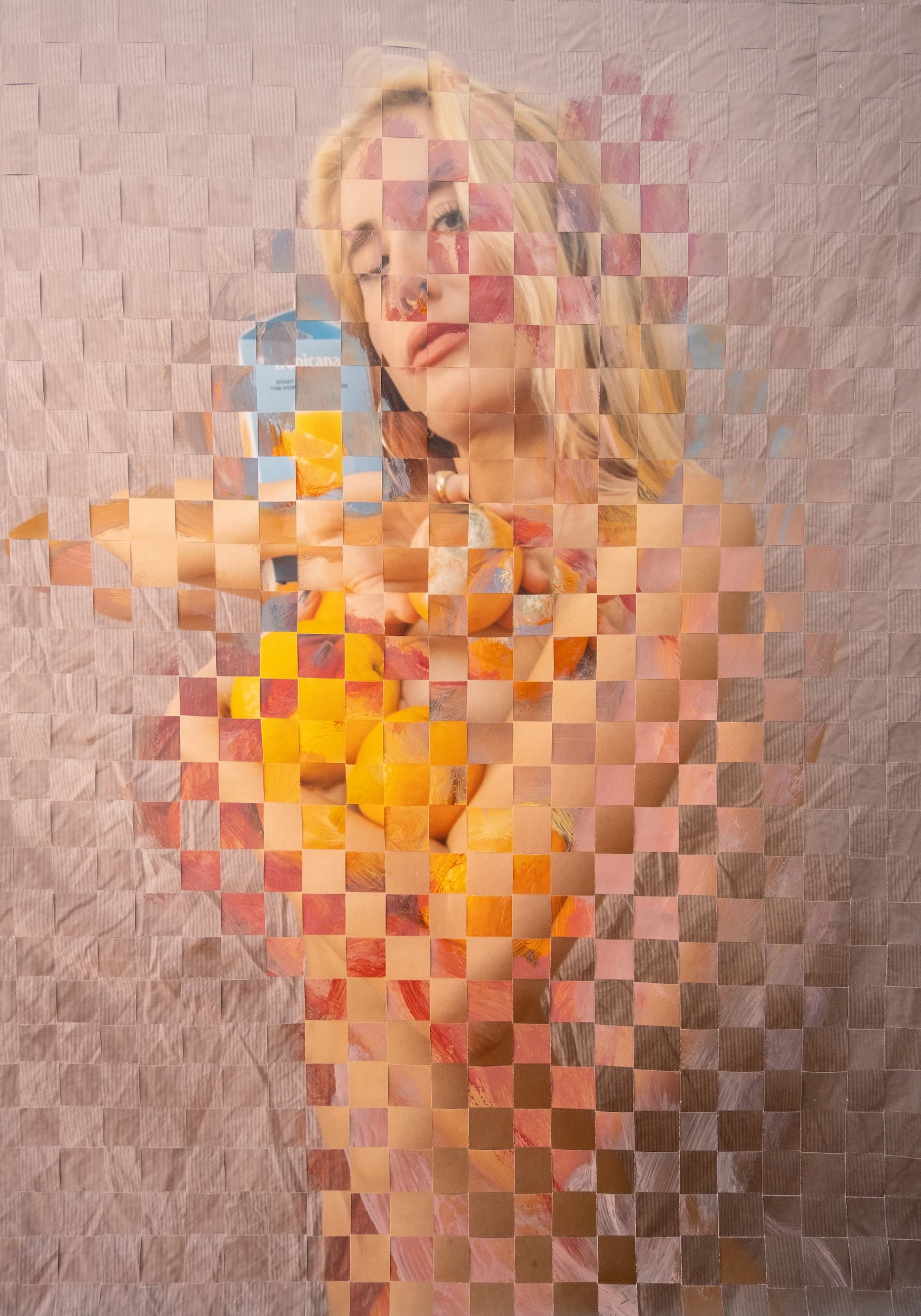 Jess Cochrane
Vitamin C but the C is for Commodity, 2022
Acrylic and pastel on digital photograph on satin paper woven collage
84 x 59 cm (33 1/8 x 23 1/4 in)
Grace Tobin's gentle patterns and reconstructed forms challenge our sense of perspective and investigate the relationship with the environments we inhabit. Her works, such as 10 o'clock re-imagine how our space mirrors the psychological and physiological connections we create in our world through the combination of dream-like spaces and graphic stylisation.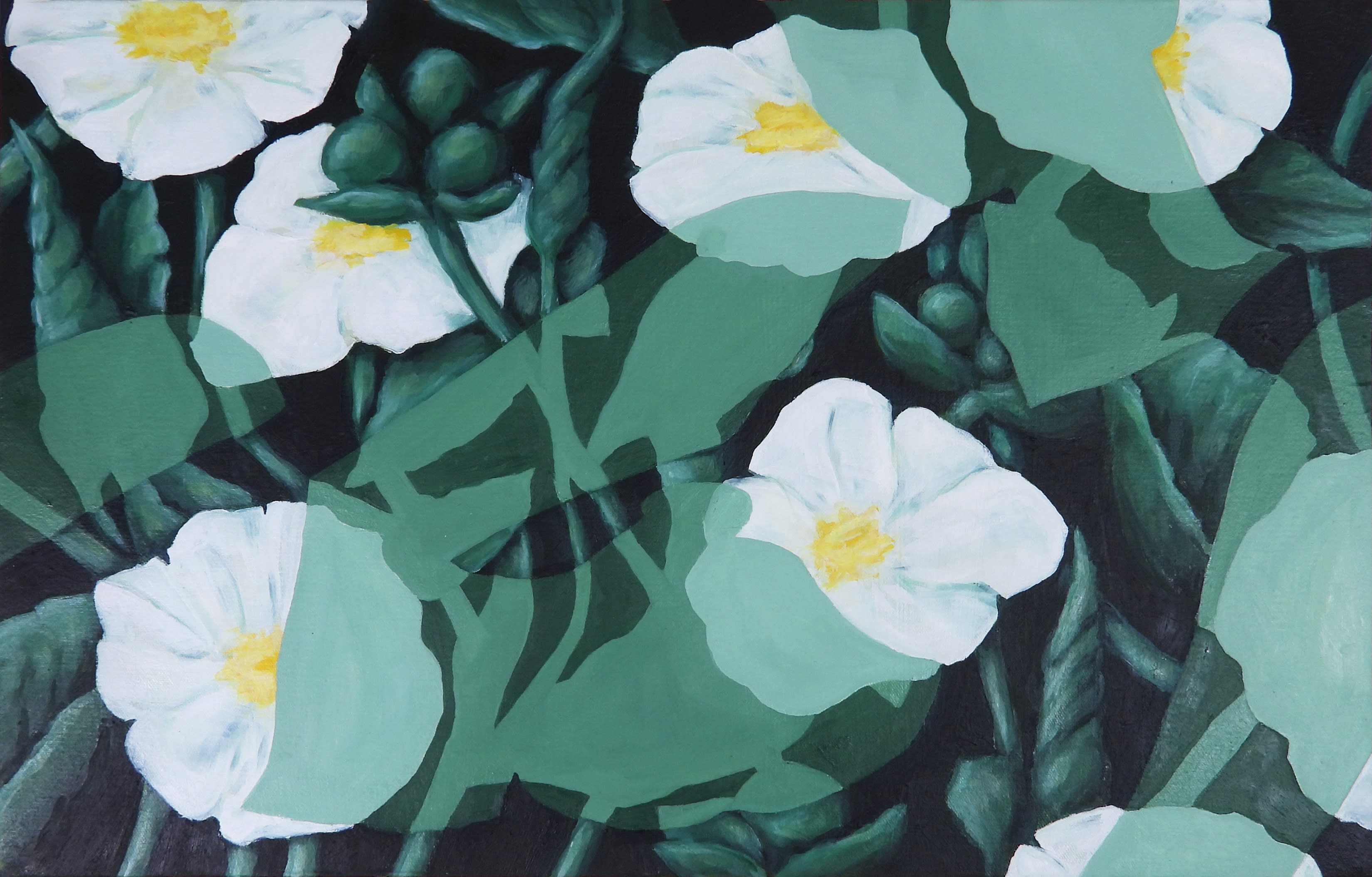 Grace Tobin
Midnight Bloom, 2022
Oil on Canvas
Unique Signed Original
56 x 36 cm (22 x 14 1/8 in)
Cathy Tabbakh mainly uses pots, vases, plants and surreal objects from her home - lockdown pushed her to simply look around and find inspiration in the everyday objects that can easily be forgotten. Her colourful works like Fishy Zebrina collide imaginary forms with existing landscapes, through the use or architectural and botanical elements, creating bold, bright, sometimes surreal imagery.
Cathy Tabbakh
Posing Fish, 2022
Acrylic on Cotton Rag Paper
Framed in Wood
30 x 21 cm (11 3/4 x 8 1/4 in)
Zoë Hoare explores the transformation taking place when something dimensional is wrapped or covered in a semi-translucent material. Ethereal and serene, her works like Pink Cadillac are infused with a sense of illusion.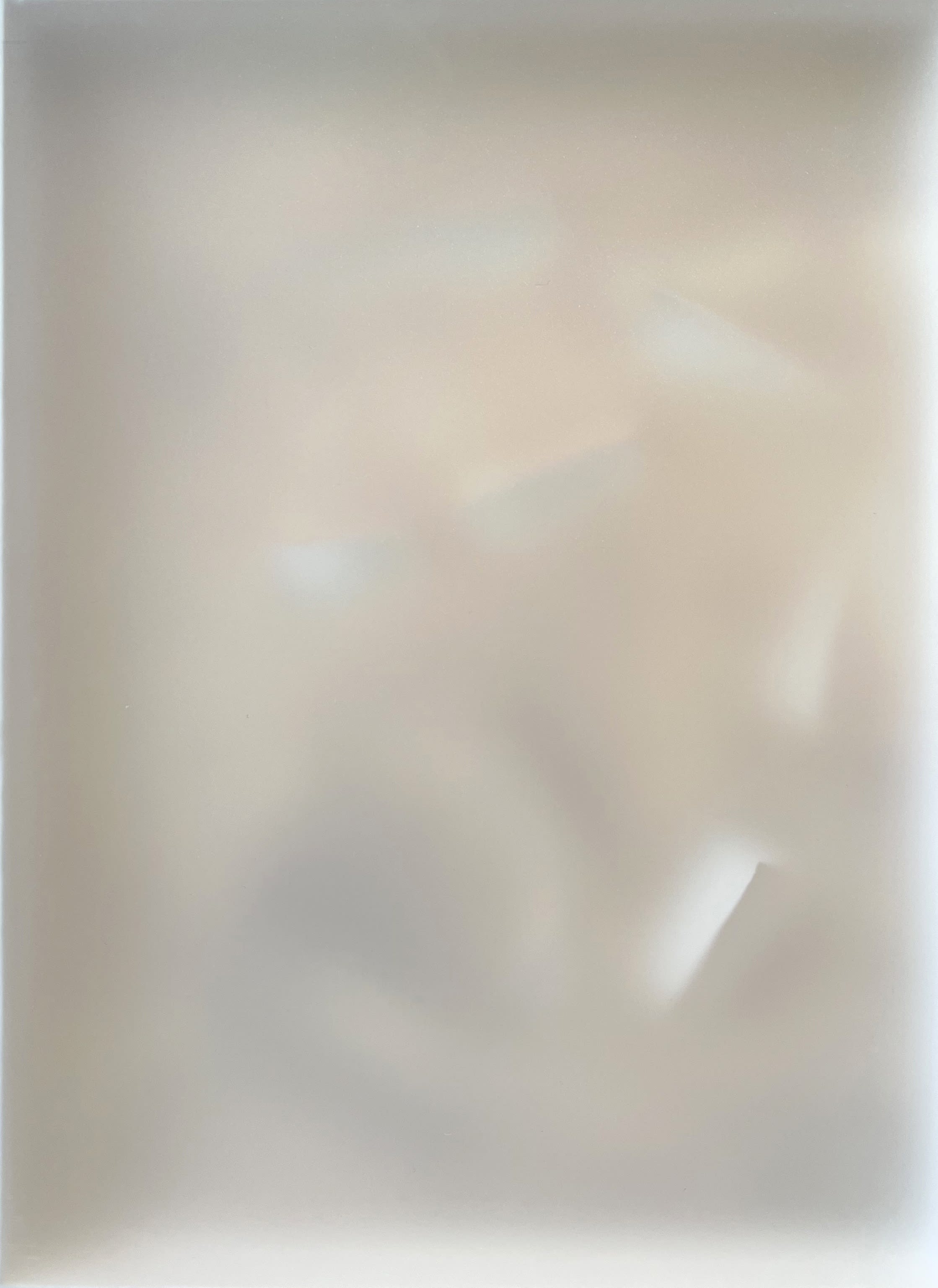 Zoë Hoare
Tiny Moon, 2022
Cut Paper Under Frosted Acrylic in White Box Frame
Unique Signed Original
40 x 30 x 3 cm (15 3/4 x 11 3/4 x 1 1/8 in)
Anoushka Mirchandani's works are informed both by her cultural upbringing in India, and her personal discoveries and growth in the United States. Through her distinct minimalistic style and warm colours like on her work titled Awaken she explores what it feels like to be a woman in society today.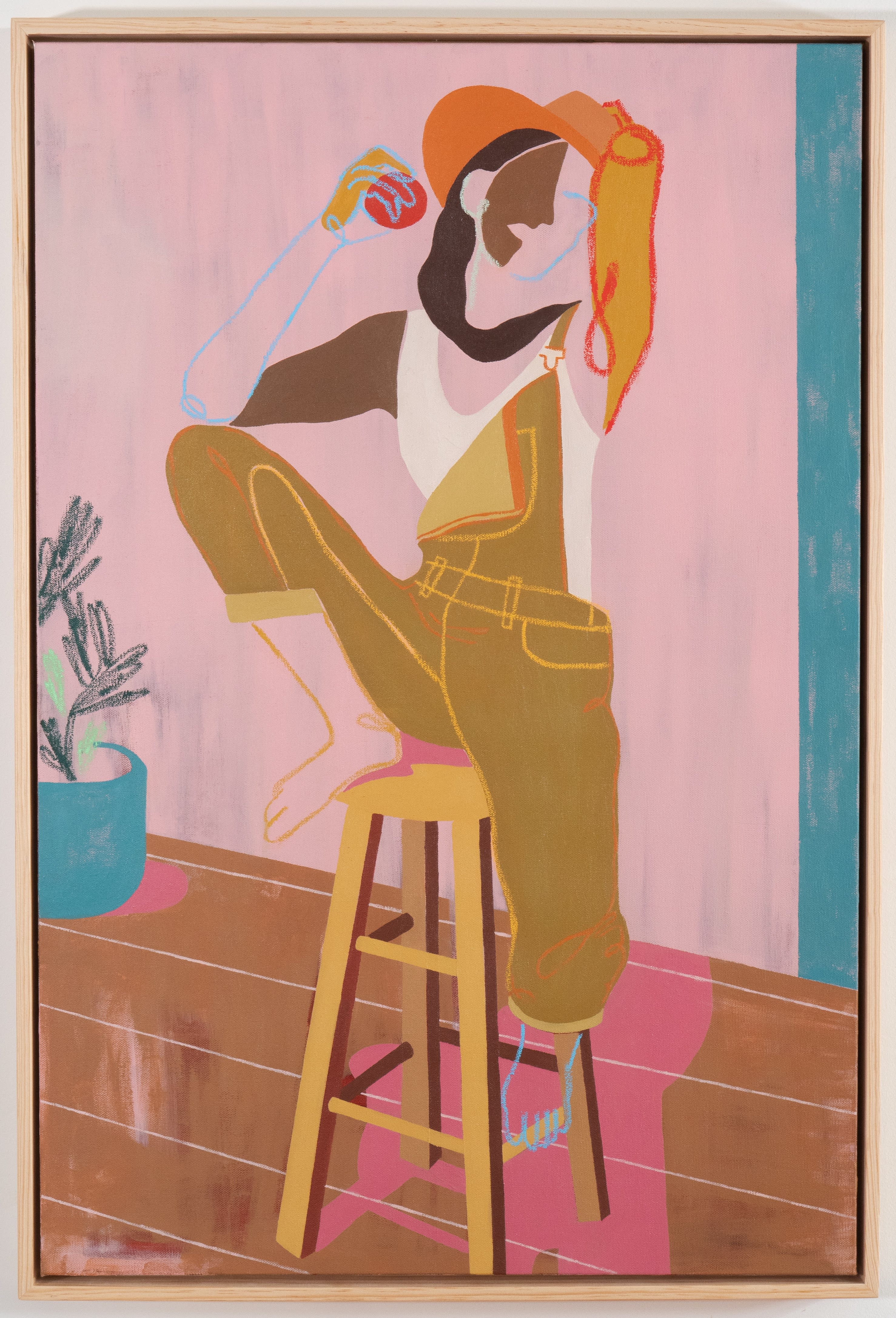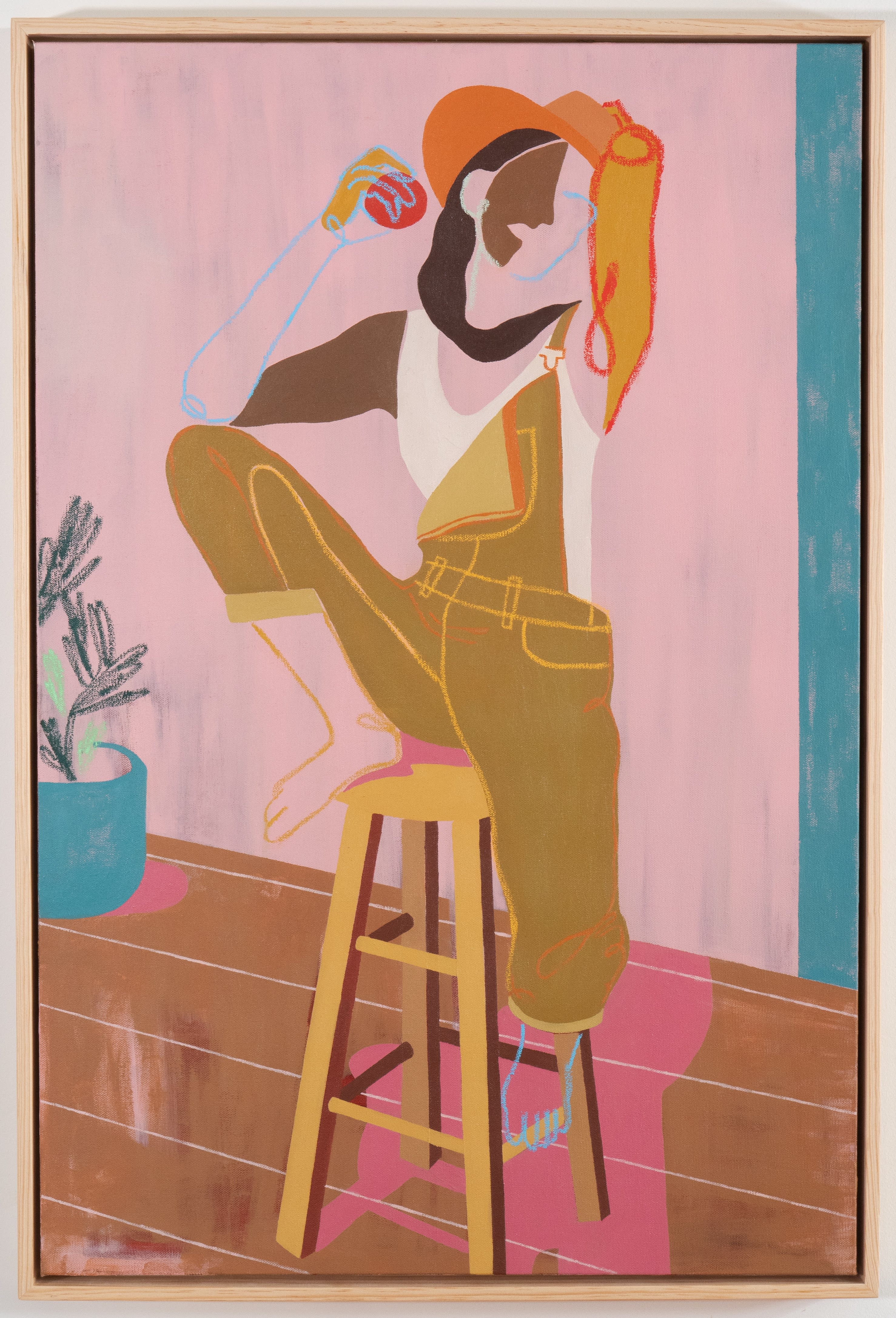 Anoushka Mirchandani
Pearch, 2021
Oil and oil pastel on canvas
91.44 x 60.96 cm (36 x 24 in)


Contemplative and visually compelling, Flora Castiglia's paintings, like Try and Untitled, explore the relationship between the inside and the outside together with the perception of our own bodies within these realms. She transforms and merges interior and exterior worlds, creating an interdimensional space where potted plants and mountains exist within one abstract space organically.
Flora Castiglia
Try, 2022
Acrylic, Marker Pen, Oil Stick and Pencil on Canvas
140 x 280 cm (55 1/8 x 110 1/4 in)
Ces McCully navigates the themes of identity through minimalistic forms, type-led composition and restrained yet colourful palettes. Her works, such as Much Better IRL are filled with messages that often express confession and secret thoughts, giving expression to our 'shadow-selves', challenging the false face of our online personas.
Ces McCully
Just nod your head and smile, 2022
Oil on canvas
140 x 160 cm (55 1/8 x 63 in)
Yool Kim is a contemporary Korean artist, based in Seoul. In her mixed-media artworks, she navigates and explores the ideas of identity and subconsciousness.
Kim's maximalist approach expresses a series of fast-paced thoughts and emotions. Flowing and overlapping, her work comes together in a chaotic mix that represent personal yet almost universal human experience.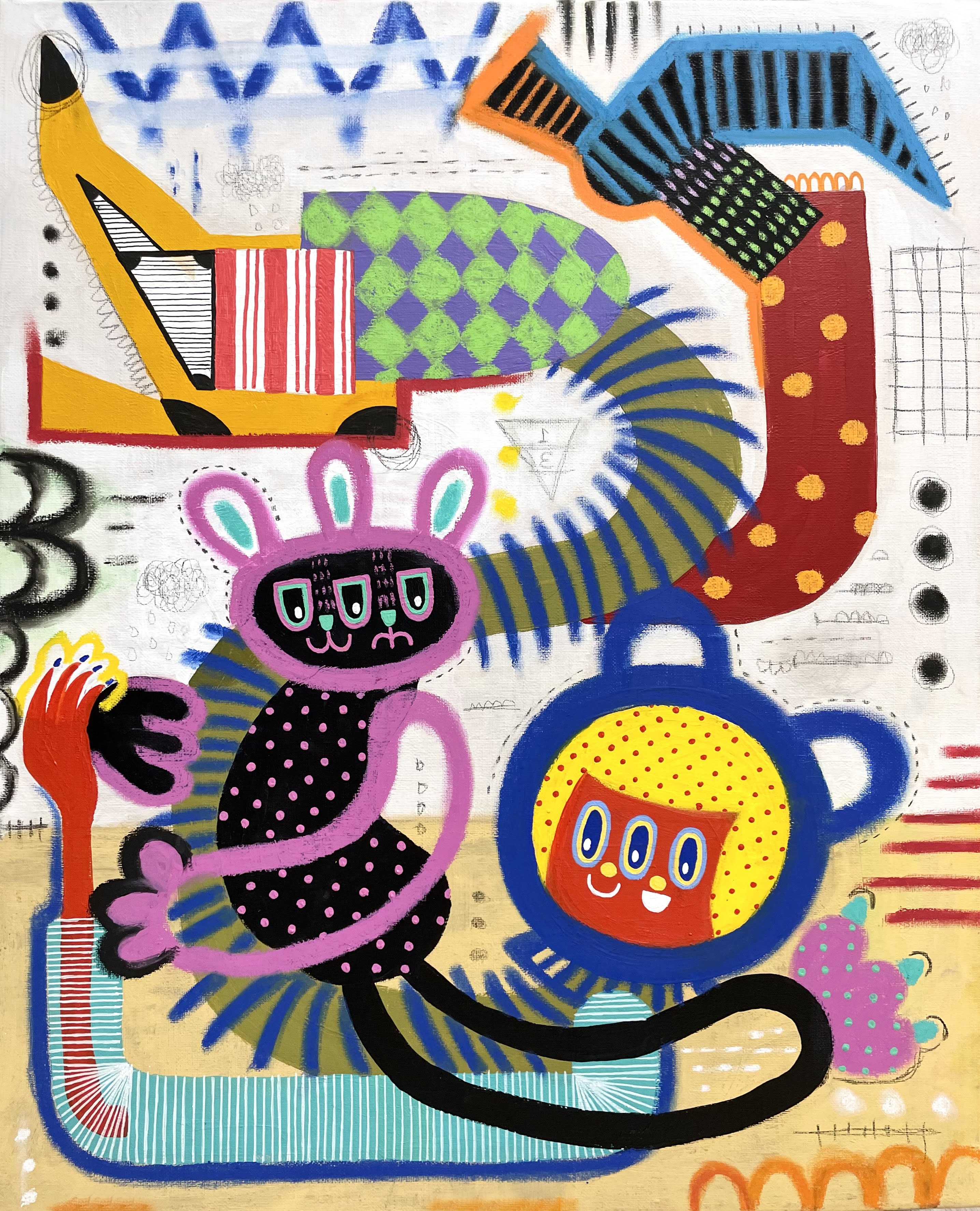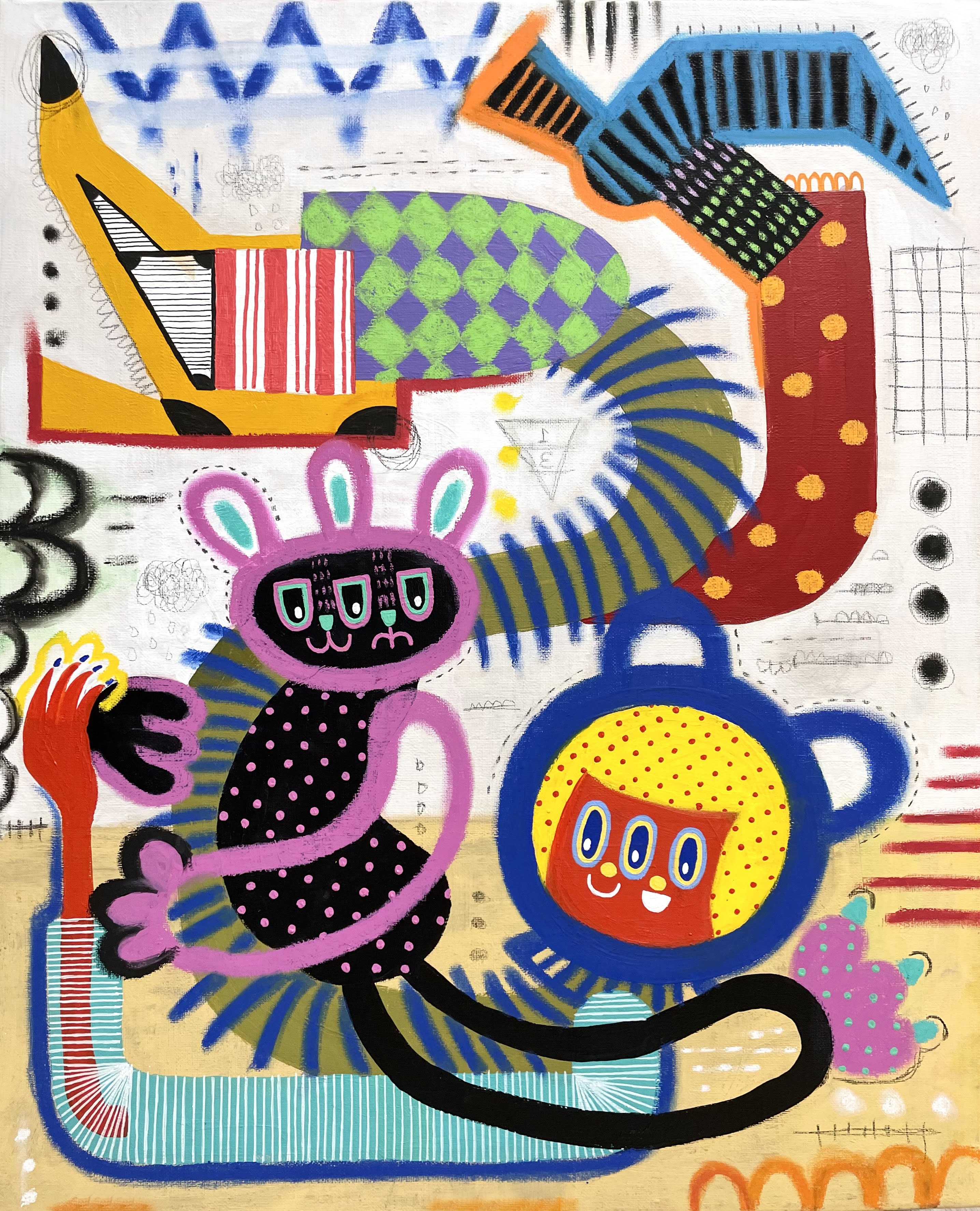 Yool Kim
Play With Me, 2022
Mixed Media on Linen
Unique Signed Original
65.1 x 53 cm (25 5/8 x 20 7/8 in)
For more information on any of the artists or works listed, email info@rhodescontemporaryart.com
March 8, 2023