RHODES is exited to introduce our newest artist, Flora Castiglia.
Flora Castiglia is contemporary Argentinian artist who explores the relationship between the inside and the outside spaces and how we perceive ourselves within them. In her works, Flora deconstructs and merges interior and exterior worlds, creating an interdimensional space where potted plants co-exist with mountains organically. She often incorporates words and letters, making her paintings almost anagrammatic which encourages participation and an active looking from its viewers: to stop and linger for a bit longer, to search and explore, to decode and discover the meanings, carefully hidden underneath paints and patterns.
Try, 2022
Acrylic, Marker Pen, Oil Stick andPpencil on Canvas
140 x 280 cm
55 1/8 x 110 1/4 in
In the interview with RHODES Flora talks about her creative process, themes, and preferred mediums.
What kind of themes do you explore in your creative practice?
In my works I focus on the exploration of the spaces, which includes rooms and relationship between inside and outside world as well as how feel within these different spaces in a particular moment. I also enjoy incorporating worlds and anagrams, which require the viewer to stop and contemplate, to explore and find the meaning underneath, beyond what is initially seen on the surface.
What is the starting place for your work? And how does the process of creation usually look like for you?
Generally, my works begin with an idea that I start sketching directly onto the canvas. I play around with different shapes and pattern combinations, locating objects in order to create a compelling composition. Words and stains appear during the process in a very intuitive way, where they feel right intuitively and complete the overall composition.
Trenght, 2022
Acrylic, Marker Pen and Pencil on Canvas
100 x 100 cm
39 3/8 x 39 3/8 in
What does your choice of colour palette communicate to the viewer?
Sometimes a palette I choose is brighter and stronger, sometimes I prefer to use more muted and generally softer colours. Overall, it's a palette that feels right in the moment of creation, just like the composition, rather than what it tries to communicate to the viewer. I choose the colours that I feel a painting and objects within it need, leaving the rest open for interpretation.
What draws you to the mediums you use?
I prefer working with acrylic paints, markers, and pencil on canvas mostly due to the ease of use and quick drying process. As a perfectionist, I prefer seeing parts of a painting coming together promptly. I always tart with acrylic paint as a first coat and incorporate markers and pencil on top of the initial layer as additions towards the general composition, where it feels right.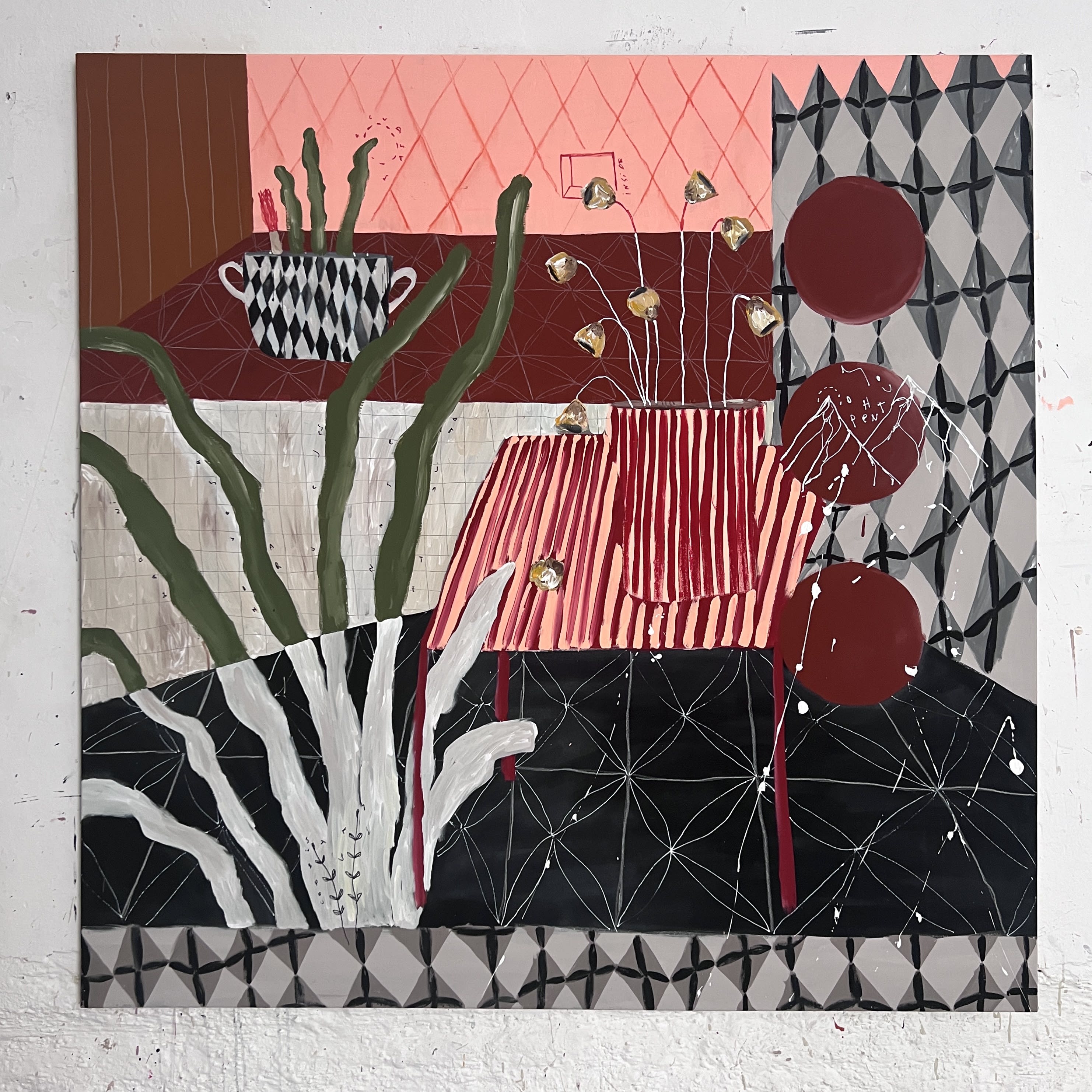 2 Floors, 2022
Acrylic, Marker Pen and Pencil on Canvas
130 x 130 cm
51 1/8 x 51 1/8 in
January 25, 2023