RHODES is excited to introduce our newest artist, Cathy Tabbakh.
Cathy Tabbakh is a French emerging contemporary artist with a passion for the mesmerising power of colour. Working chiefly in paint and more recently experimenting with ceramics, she currently lives and works in the UK.

Her colourful work collides imaginary forms with existing landscapes, through the use of both architectural and botanical elements, creating bold, bright, sometimes surreal imagery. Her compositions incorporate this hint of surrealism, as to alter presumed proportion and a saturated colour palette to punctuate the contrast between shadow and light.
Tabbakh's botanical still-life works show her desire to surround herself with green spaces, combined with her love for interior design. Since the Covid-19 lockdowns, she has been focusing more on still-lifes in her work, playing with the shadows they create, working on the simplicity of a composition based on light and even introducing a link with time itself within the painted scene.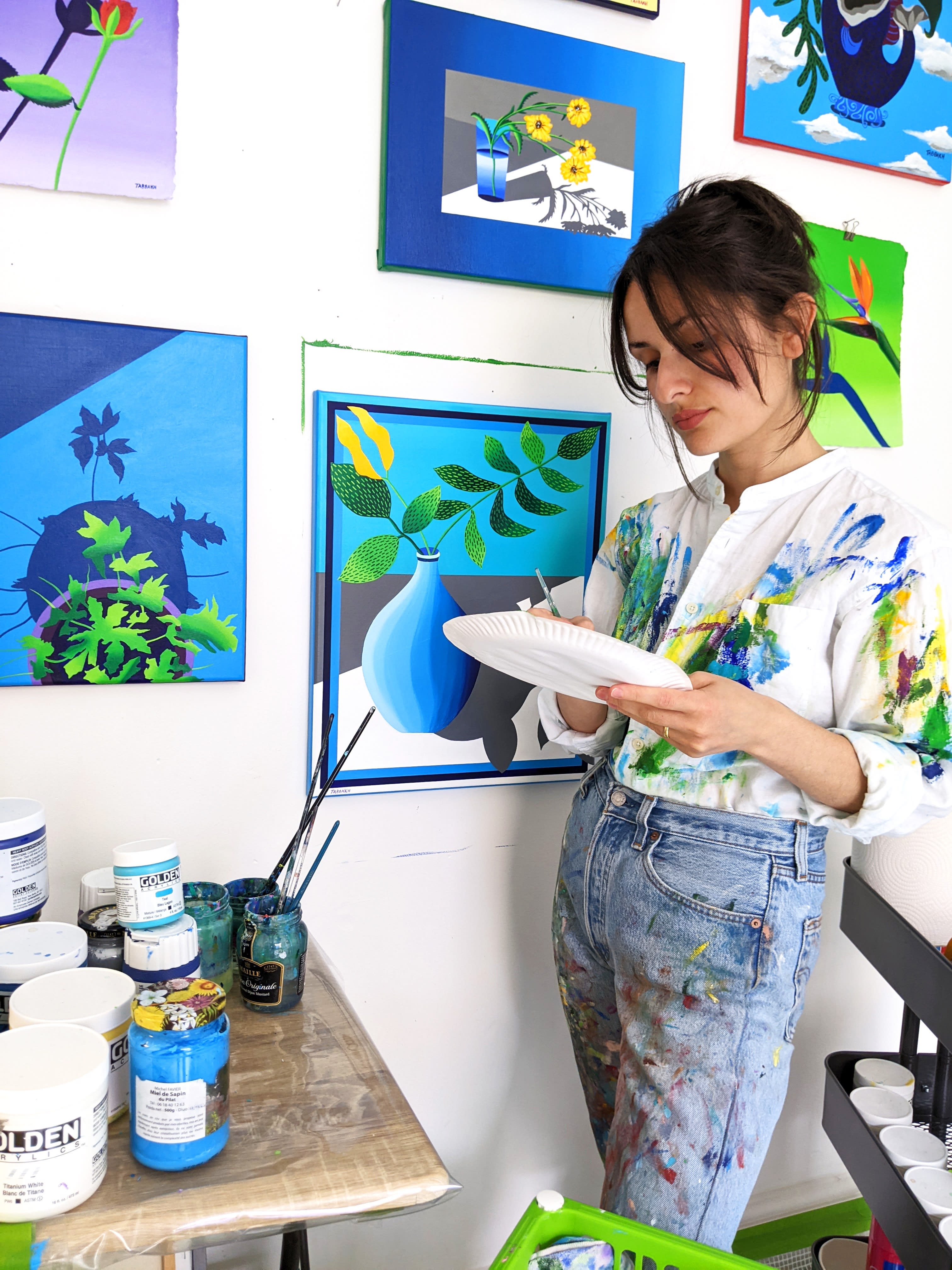 Tabbakh mainly uses pots, vases, plants and surreal objects from her home as inspiration. This is an element that has been forged due to the lockdowns which, like so many of her creative contemporaries, pushed her to simply look around and find inspiration in the everyday objects that can easily be forgotten.
Using block colour and pattern, the artist gives the works a visceral quality, that draw in the viewer into a semi-recognisable kaleidoscopic world. The colours she uses are high contrast and spring from the picture plane. The use of botanical symbols provides a natural and refreshing quality to the work, whilst the neon colour is unusual and alluring.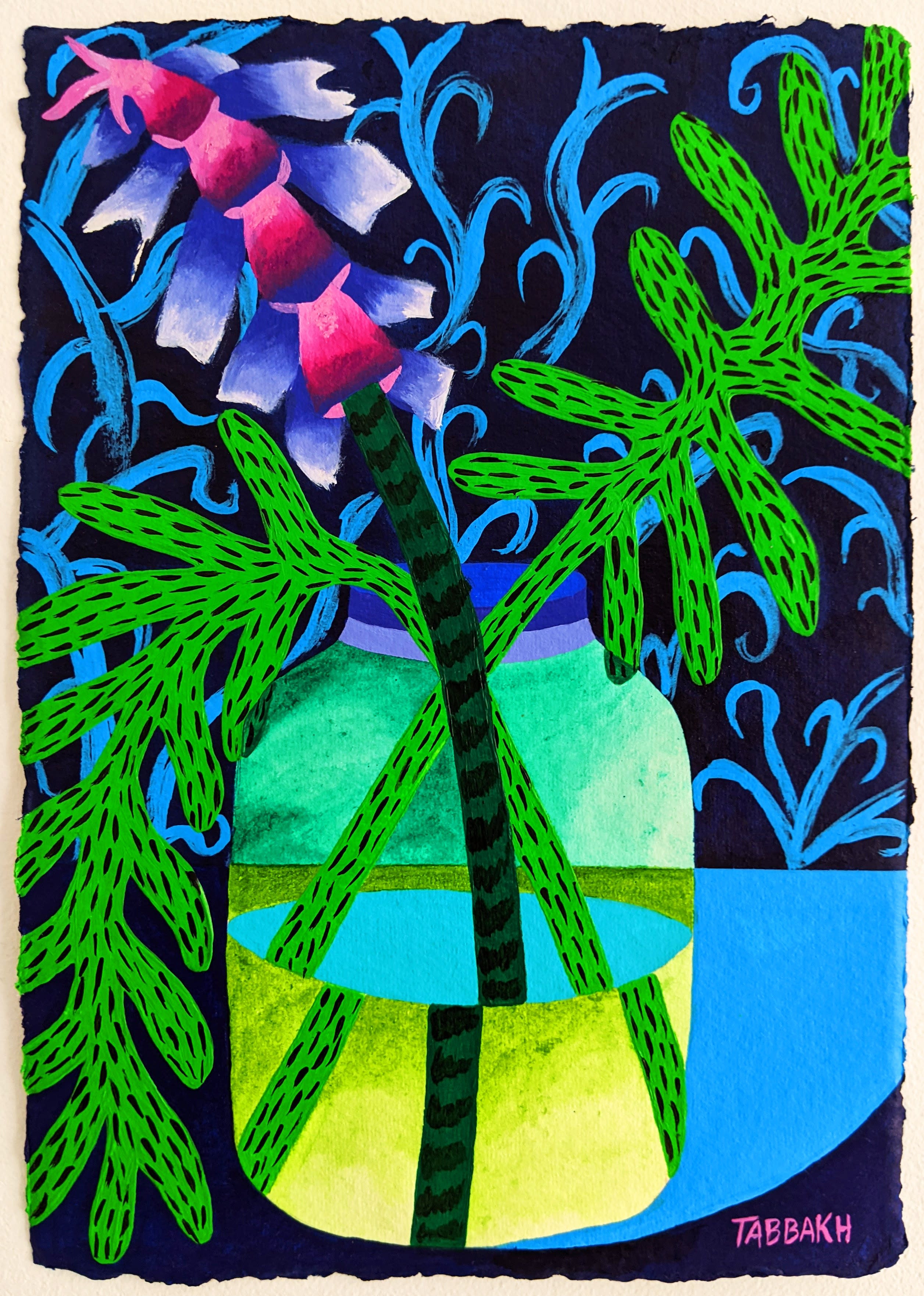 Cathy Tabbakh
Nous Trois, 2022
Ink, watercolour, and acrylic on 640 gms cotton rag, Framed in wood
30 x 21 cm
11 3/4 x 8 1/4 in
---
Tabbakh mainly uses pots, vases, plants, and surreal objects from her home - lockdown pushed her to find inspiration in the everyday objects that can easily be forgotten. This playful and innovative way of creating imagery shines through in the artists composition.
One of the most appealing qualities of Cathy's works is her ability to use colour to transform a scene from the ordinary to the extraordinary. The works mesmerise the viewer with their
lustrous
colours and
surrealistic
subject matter.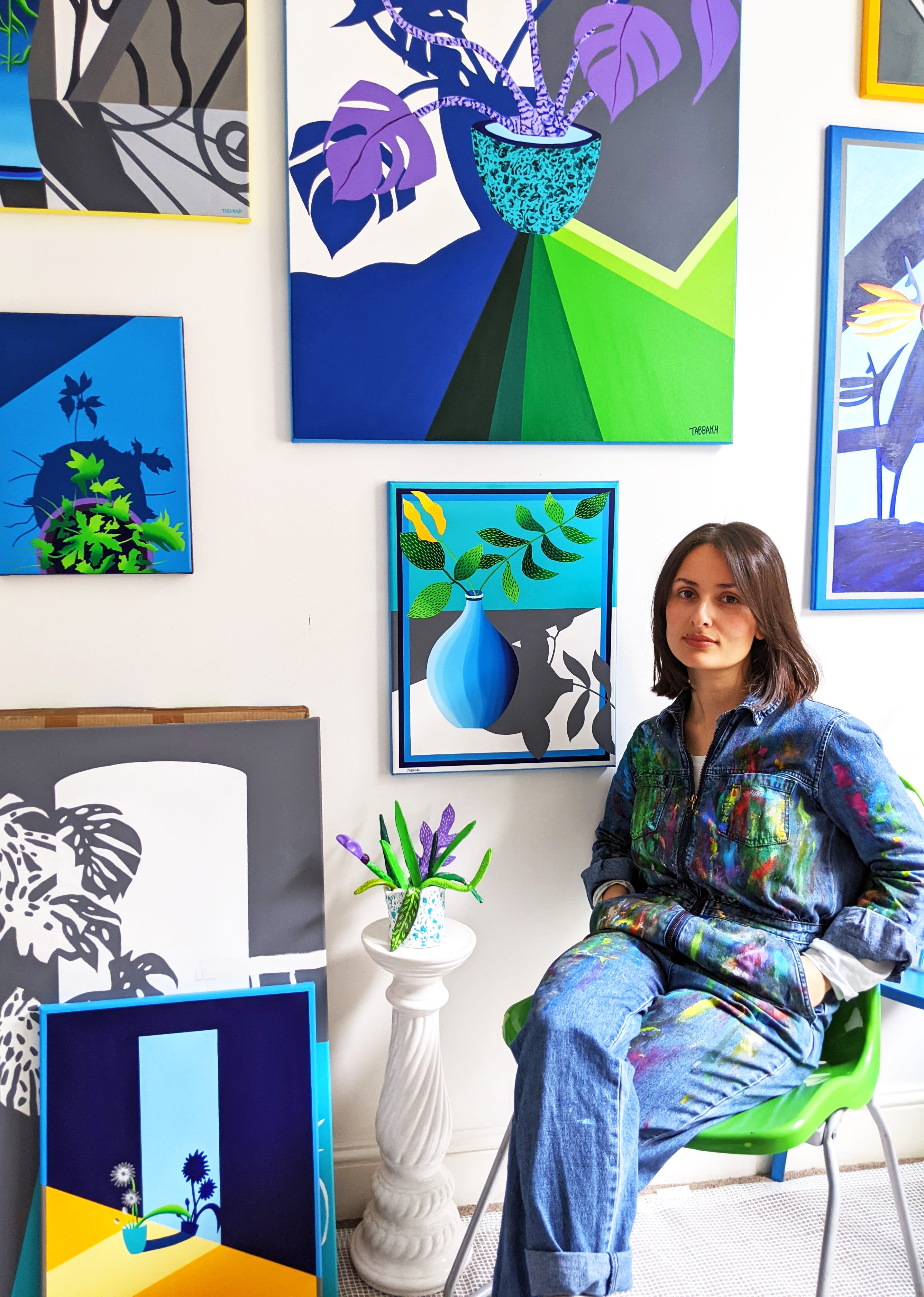 She's educated in Fashion Textile & Fine Art as well as holding Art History and Archaeology degrees. Tabbakh has exhibited within Europe & the UK where her work can be found in private collections. This year she was invited to become part of the Soho House Collection, where her work is displayed across two houses in Paris and Brighton.
---
We were lucky enough to interview Cathy about her creative
practice
and her newest collection with us.
Hi Cathy, thanks for speaking with us today. We would like to know, what's the starting place for your paintings?
I sometimes start with a preparatory sketch, but not always as I like the spontaneity of my imagination. I try the colours and various combinations and study the contrasts first, before going on the final paper or canvas.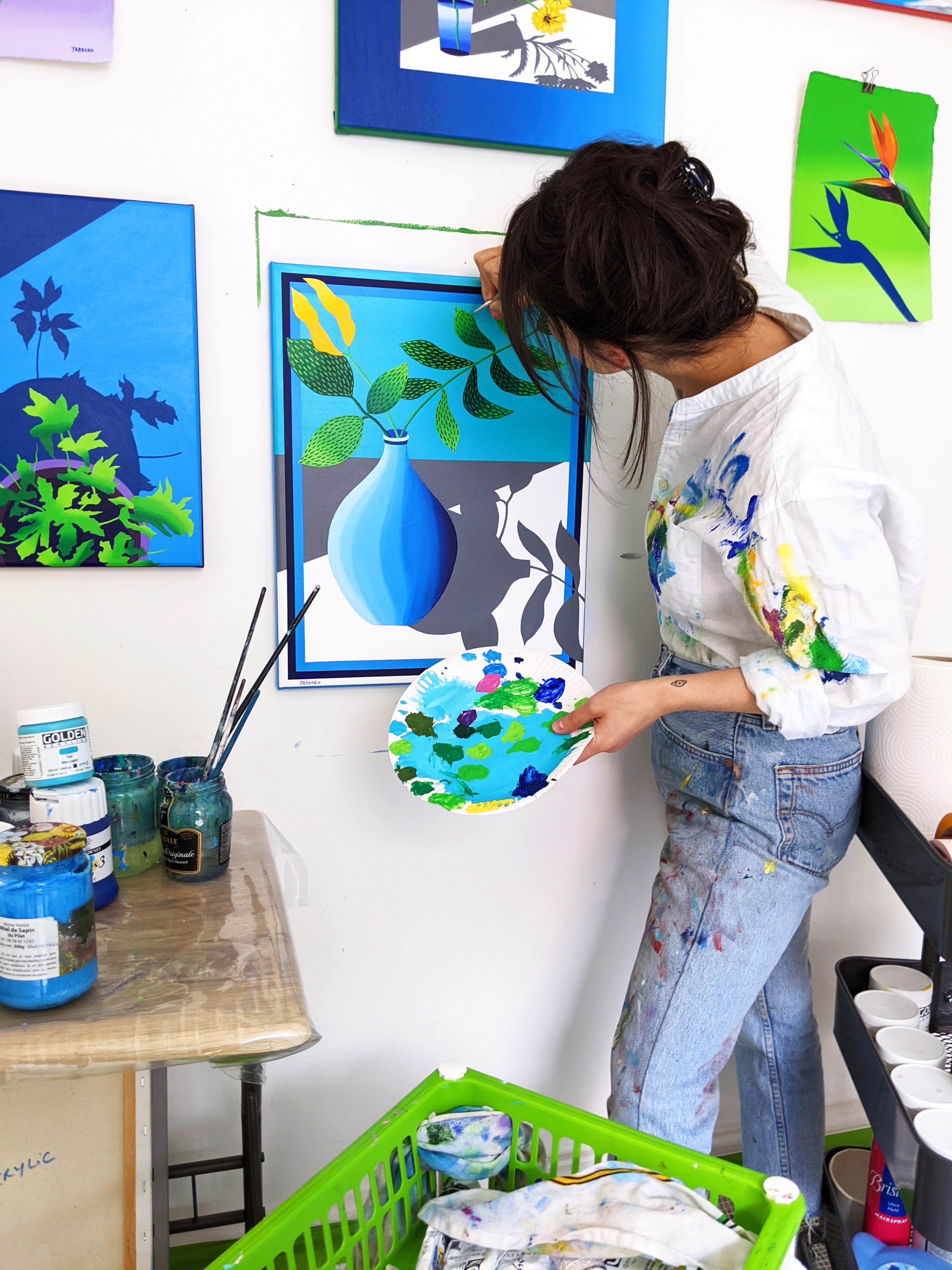 How do you create the compositions for your works?
I usually create my own references, by taking pictures of still life's compositions I compose, whilst waiting for that golden hour and the beautiful shadows that emerge naturally. Or sometimes I use images I find online. I always change and adapt the colours to my palette, working on saturation and contrast.
What draws you to still-life scenes and objects in particular?
I have aways loved interior design and I grew up watching and helping my dad garden and grow flowers, fruits, and vegetables at home. Since I was a child, my mum always grew plants around the house, sometimes too many. I get my deep love for plants from her. For the last decade I started collecting objects such as pots, vases, surreal objects that I find in flea markets or charity shops. I love to give them a new life on the canvas.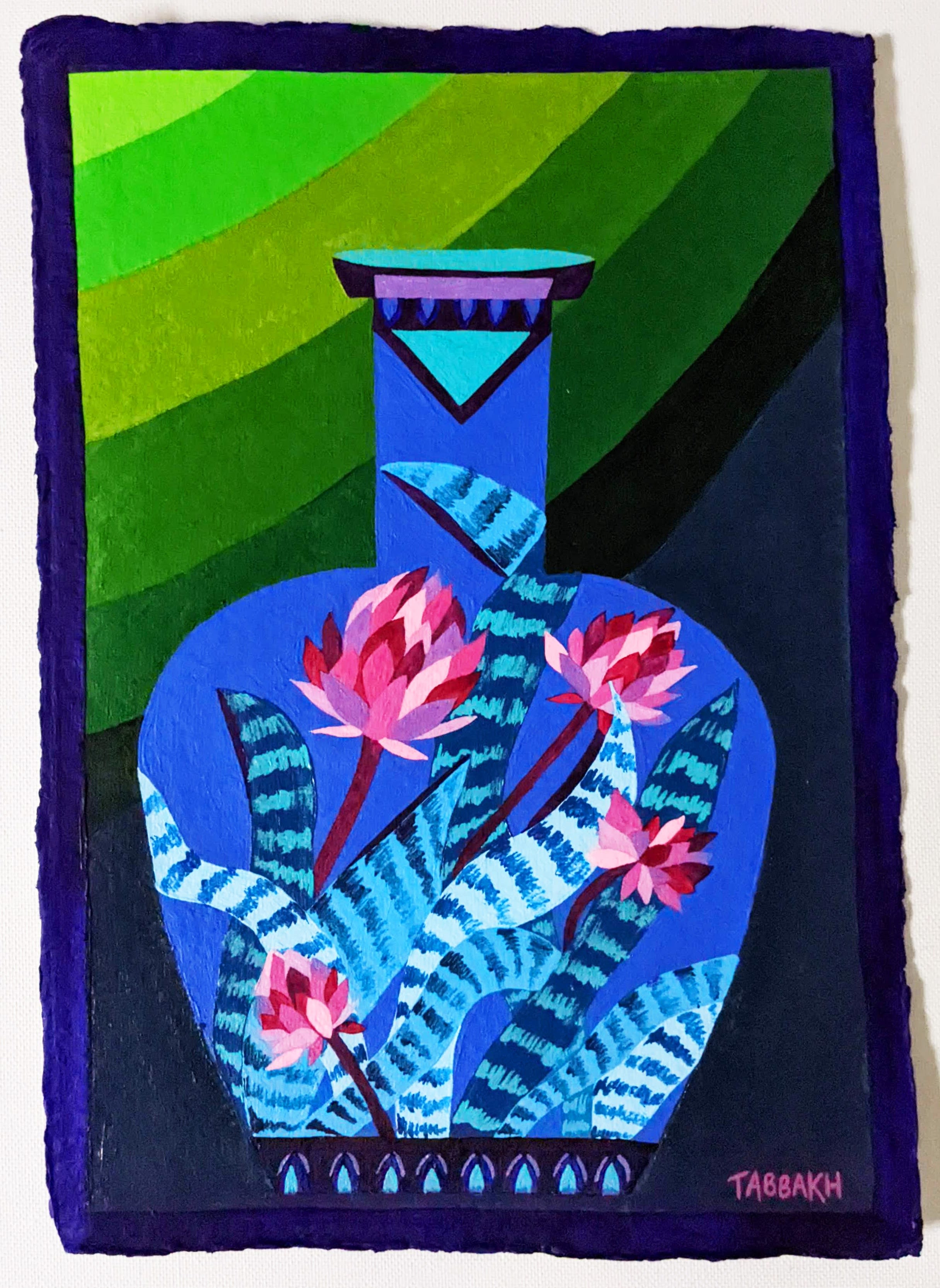 Cathy Tabbakh
Le Vase aux Serpents Bleus et Roses, 2022
Ink and acrylic on 640 gms cotton rag, Framed in wood
30 x 21 cm
11 3/4 x 8 1/4 in
---
What effect would you say the pandemic has had on your creative practice?
I used to work part time in a gallery, when Covid hit I got furloughed and was therefore able to focus on my art full time. It has been a true revelation and now that's all I do every day and I love it. As I had to work from home during the pandemic, I realised how many different objects I was surrounded by. It pushed me to simply look around and paint the everyday objects and plants from my interior.
Your vibrant high contrast colour pallet creates a surrealist / dreamy quality to your paintings. What inspired this use of colour?
Historically, still life's are often depicted with dark backgrounds and I find the light quite shy on those images. I want to adapt my inspiration to my own voice and my love for blues and greens and give them a more contemporary feel.
What does the future hold for your practice?
Recently I have incorporated ceramics into my practice. I'd love to explore that medium deeper and create more ceramic flower bouquets. I'm also planning bigger works; I often paint fairly small or medium sized canvases. I am curious to see how my compositions would look much bigger.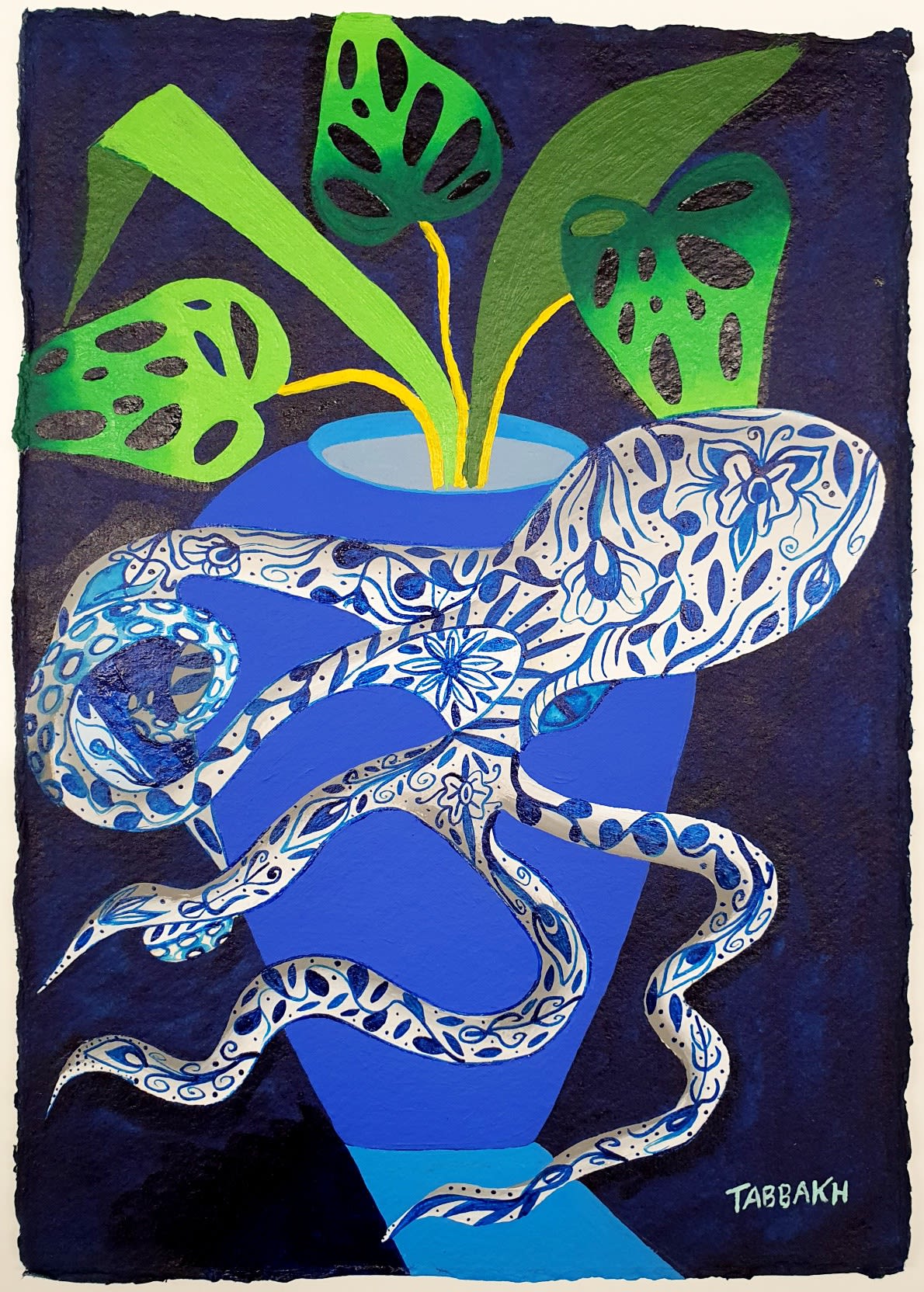 Cathy Tabbakh
This Octopus Loves Me, 2022
Ink and acrylic on 640 gms cotton rag, Framed in wood
30 x 21 cm
11 3/4 x 8 1/4 in
---
If you are interested in any of Cathy Tabbakh works, please contact info@rhodescontemporaryart.com or alternatively you can call +44 (0)20 7240 7909.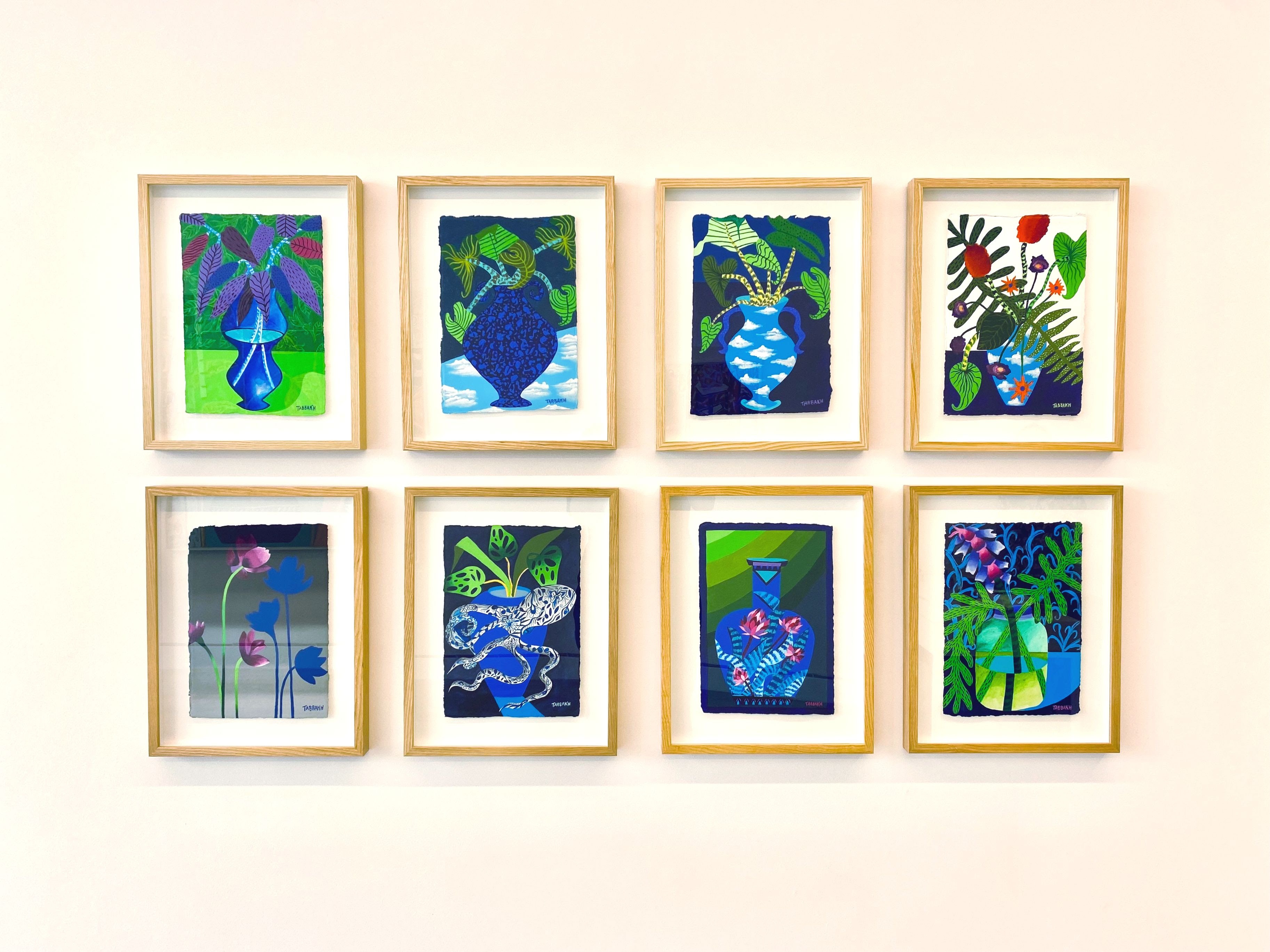 July 6, 2022