We are pleased to introduce one of our newest artists, Alec Cumming.

Alec is an artist who works internationally having spent several years working in India. He now spends time considering his influences in different locations such as California and Sri Lanka.
His practice, oil on canvas, is traditional in medium but the images that jump in and around the canvas are vibrant and playful. Within his work he continues to explore the idea of fleeting moments. Currently settled back to the UK, He finds himself considering the visual stimulus discovered in his three years spent in India, and travelling since then, and how these staggeringly different locations play out on canvas with his current settled space in Norfolk.
Questions such as how this imagery translates into a 'pan global' vocabulary become interesting. Creating a dialogue of mixing a western/eastern influence and the back-and-forth nature of the discussion happen on the surface of the canvas; moments, that may or may not have existed.
Within his own abstracted painting style there are shapes and forms that lead to suggestions of 'things'. The ideas of semi-recognisable forms can suggest a narrative. Forms appear through drawings, thoughts, ideas, and experiences. The paintings may suggest spaces he knows, fabrics, places, an interesting space between buildings seen whilst walking in the street, a moment glimpsed whilst laying poolside, or even a collection of observed objects, tyres stacked on the road or a table laden with drinks and paraphernalia.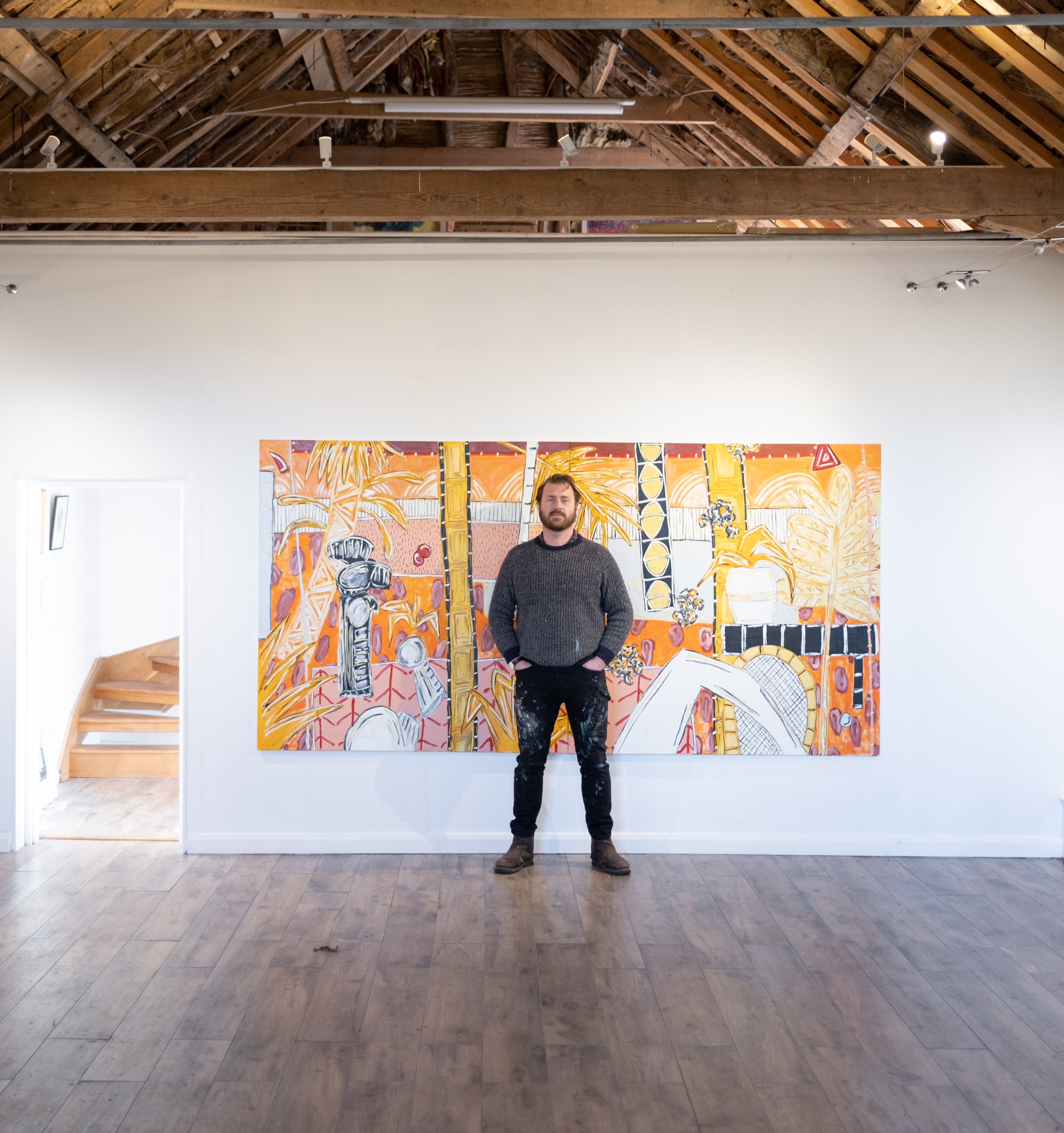 Many of these important elements are enhanced by a desire to explore the way light in these places enhances the compositions he allows himself to glimpse, bright harsh light that makes colours pop and resonate, a shimmering haze feeling. He wants his paintings to have the same resonation. This of kind Abstraction allows him the pleasure of observing the world and translating it into a visual dialogue.
We were lucky enough to interview Alec about his creative practice and his collection of artworks.
Hi Alec, thanks for taking the time to answer our questions for our blog today. Firstly, we'd like to know what the starting place for your paintings is?
There isn't a straight answer to that for me, I think if I had to really clarify it I'd say the starting point comes from ideas about moments, this could be places I've been, experiences I've had, these interactions with everyday objects, forms and feelings.
It's the bit that is a fleeting glance that the eye finds interesting and allows itself to linger for a moment longer than you'd think you need to, it might be a slice of light between two buildings, an interesting display of objects on a table, something completely obscure or even just something that is completely ordinary.
Practically speaking the physical act of painting starts from using this collection of ideas and drawings that I make outside of the studio. When I get back i use these to create something on the canvas. This isn't a replication of a specific place but a sensation that was felt or engaged with in some manner.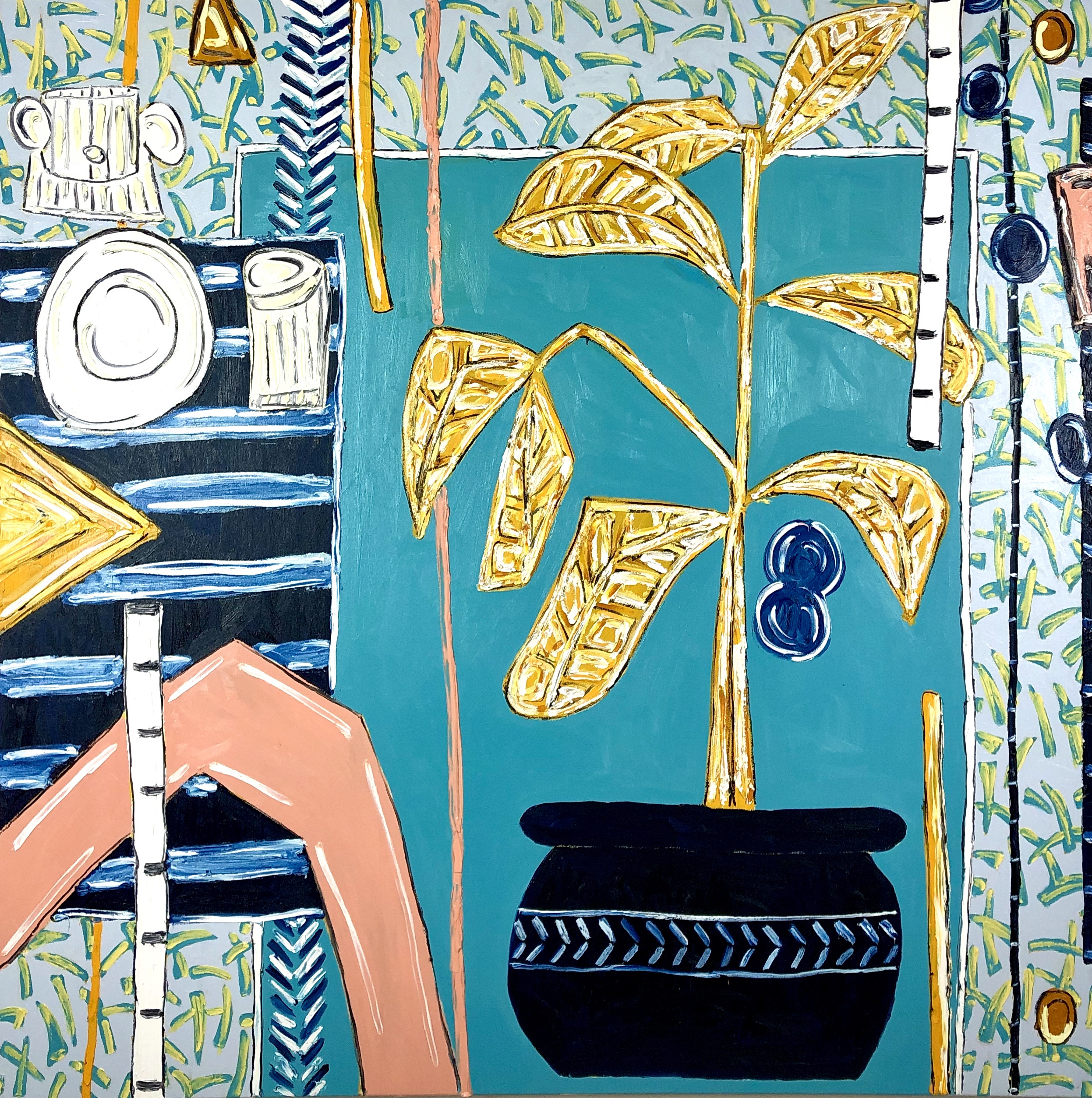 Alec Cumming
Fresh Air, New Light
Oil on canvas
Framed
152 x 152 cm
The use of oil paint seems to be a staple in your practice, what draws you to this medium?
I have always loved oil paint as a medium, the quality of it is something I've always enjoyed. The structure appeals to my handling of paint, it's very physical, It has this kind of buttery consistency and quality that can be used in a variety of ways. The boldness of the colour not just in tone and hue but the physical structure of the paint as I add it to the canvas.
When I'm out and about I like to make drawings, take photographs, and take notes. the things I pick are dependent on my space and the processes of that fleeting moment style that I mentioned earlier. I see it as a visual dictionary that I can use when I return to the studio.
I noticed that you spent several years working in and exploring India, how did your experience of the culture and environment there influence your works?
India was life changing for me. I grew and adapted my practice in a way that I never expected it to go. It was the time and place that I discovered colour in its entirety and truly had my eyes opened to another culture. This changed the way I looked at my paintings. Exploring and engaging with paintings from India has reflected in my own work overtime. One thing I noticed when I first came back after a long time out there was my use of colour, the dark earthy colours of rural Norfolk became the vibrant pinks, oranges, and explosion of colour that you can see now in a lot of my work. I made some amazing friends out there, who showed me some amazing areas and a different side to Indian culture. I genuinely don't think I'd be making the work I make now without the influence of India.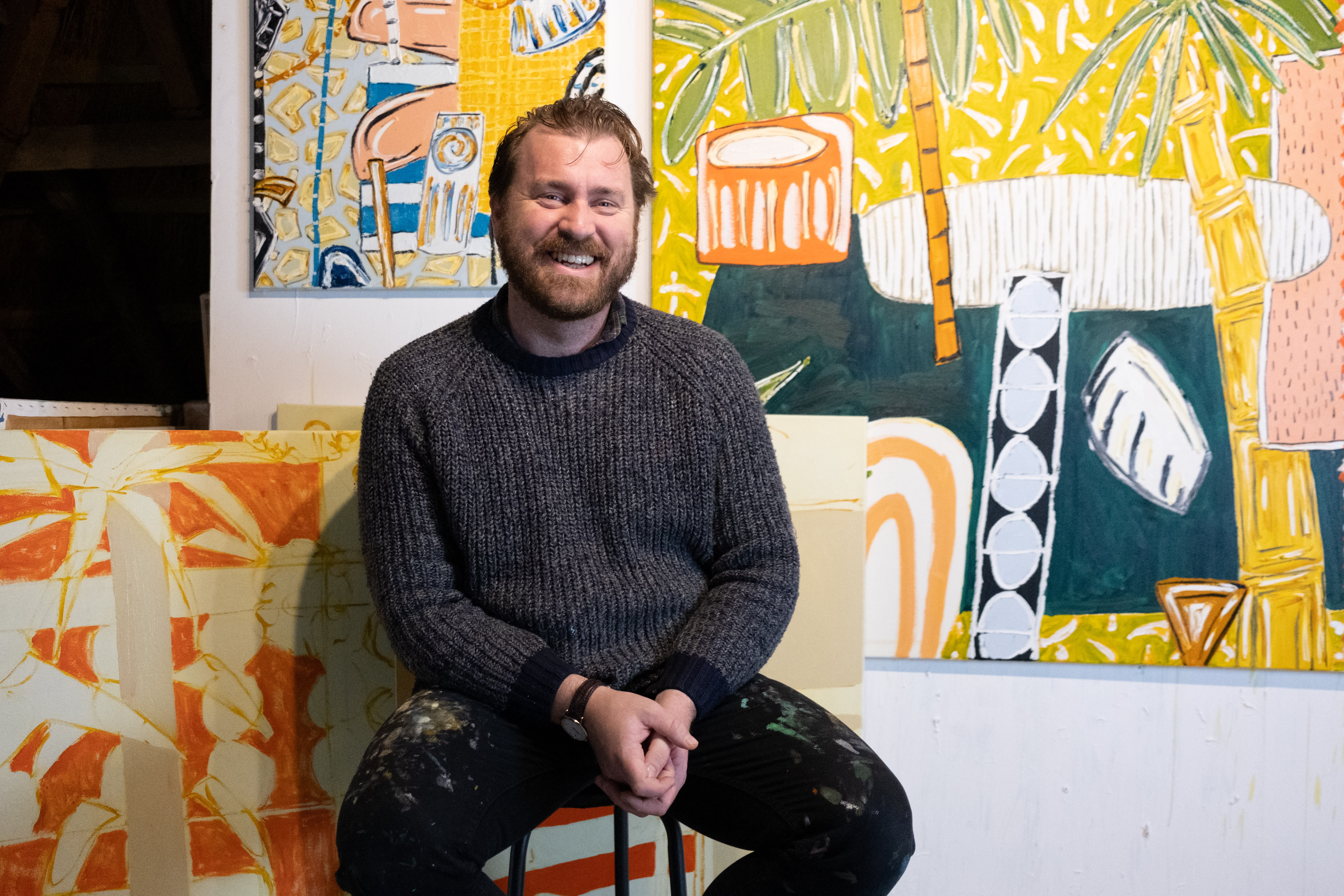 Your works have an irresistibly abstract quality to them that allows the viewer to look deeper into your paintings. What effect do you think including semi-recognisable motifs in your works has on the viewer?
Originally, I never wanted to use semi-recognisable motifs, this was something that changed when I was in India and developed further when I came back to resettle here in England. Something people always mention to me about my paintings is that they can get lost in them and always find new things to look at, I love this. I like the idea of semi-recognisable motifs, such as plants, or other things that regularly occur in my work, I feel like it allows the viewer to engage with my paintings in their own unique way, they go on their own journey in my work and make their own perspective on what I've created from my experiences.
The colour palette you use is muted, earthy and light, why do you think this particular use of tone and colour best suits your work?
The light quality has been something I've been fascinated with for a long time. Its that particular light in the places that I've travelled to or lived in. It comes from that moment of time, capturing that bright light and transforming it on the canvas, I think the colour palette reflects that all saturated light. I think of it as that moment where you step outside from a dark cool space somewhere hot, and you first walk out and feel and almost smell that heat. That's the colour I want to portray.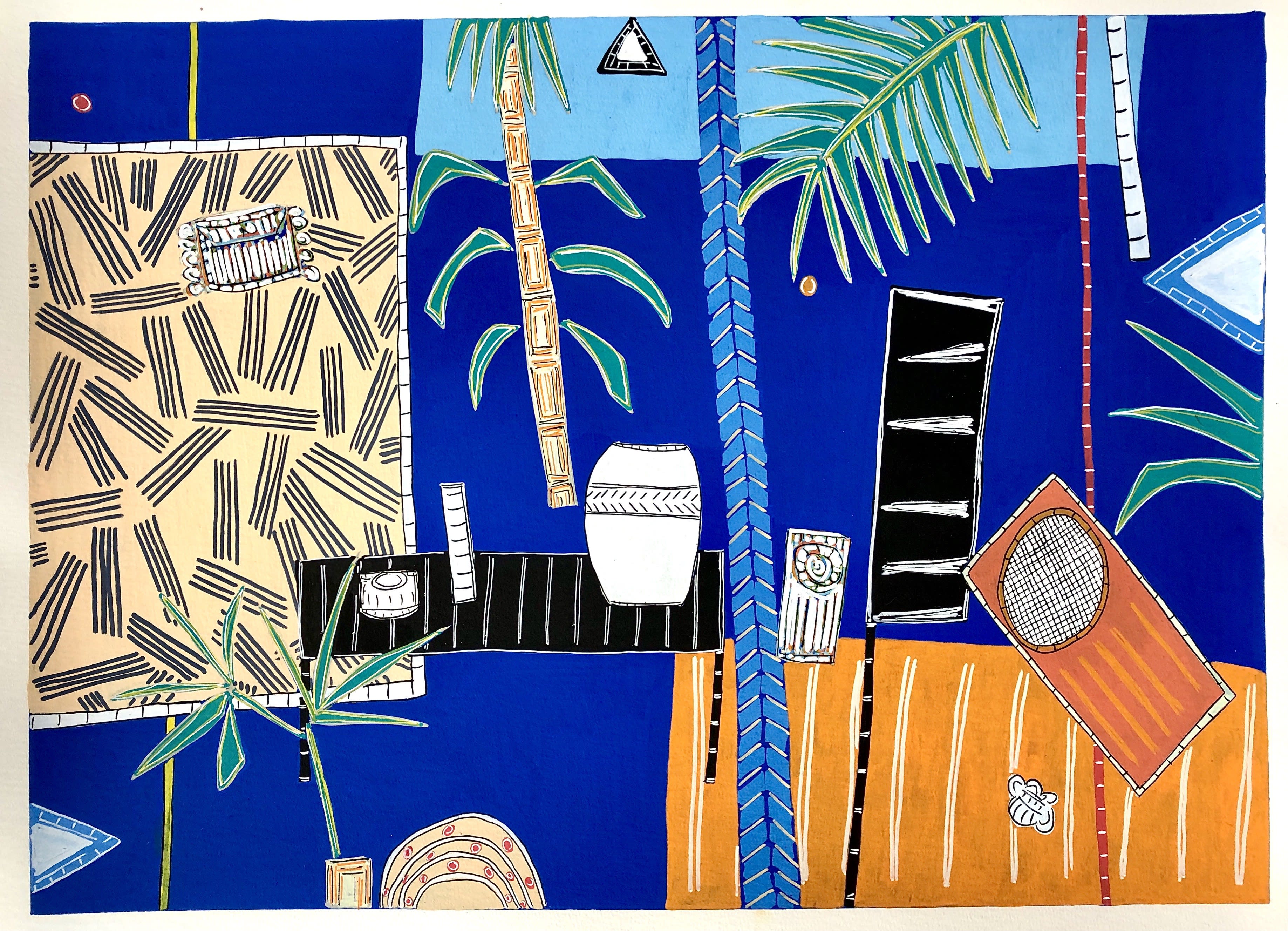 Alec Cumming
Summer Sun Breeze
Posca Pen on Paper
Framed
52 x 72 cm
20 1/2 x 28 3/8 in
Are there any artist's that particularly inspire you? Do you have a favourite artwork of all time?
My top three would have to be the Indian artist KJ Subramanyan and two British Abstract painters, Alan Davie and Roger Hilton. I also find David Hockney's work really inspiring. I really like how they use light, narrative, and colour.
What does the future hold for your practice?
I'm really excited by the prospect of where my paintings could go. I love the fact that I am able to allow them to develop naturally over time. They really reflect the places I go, people I meet, things that I see that interest me. So, for me it's the ability to keep exploring, moving forward and adapting. As well as showing my work to wider audience and hearing people's own perspectives and what they see and enjoy in the work.
If you are interested in any of Alec Cumming's works, please contact info@rhodescontemporaryart.com or alternatively you can call +44 (0)20 7240 7909.
April 13, 2022