Grayson Perry is one of the most notable and loved contemporary artists of our time. He won the Turner Prize in 2003 being the first ceramicist to win the highly prestigious prize. His works take form in a variety of mediums from textiles and tapestry to ceramics and painting. He is well known for performing his alter-ego Claire through eccentric dress and accessories. His work explores British culture and taste, class, gender, identity, and popular culture.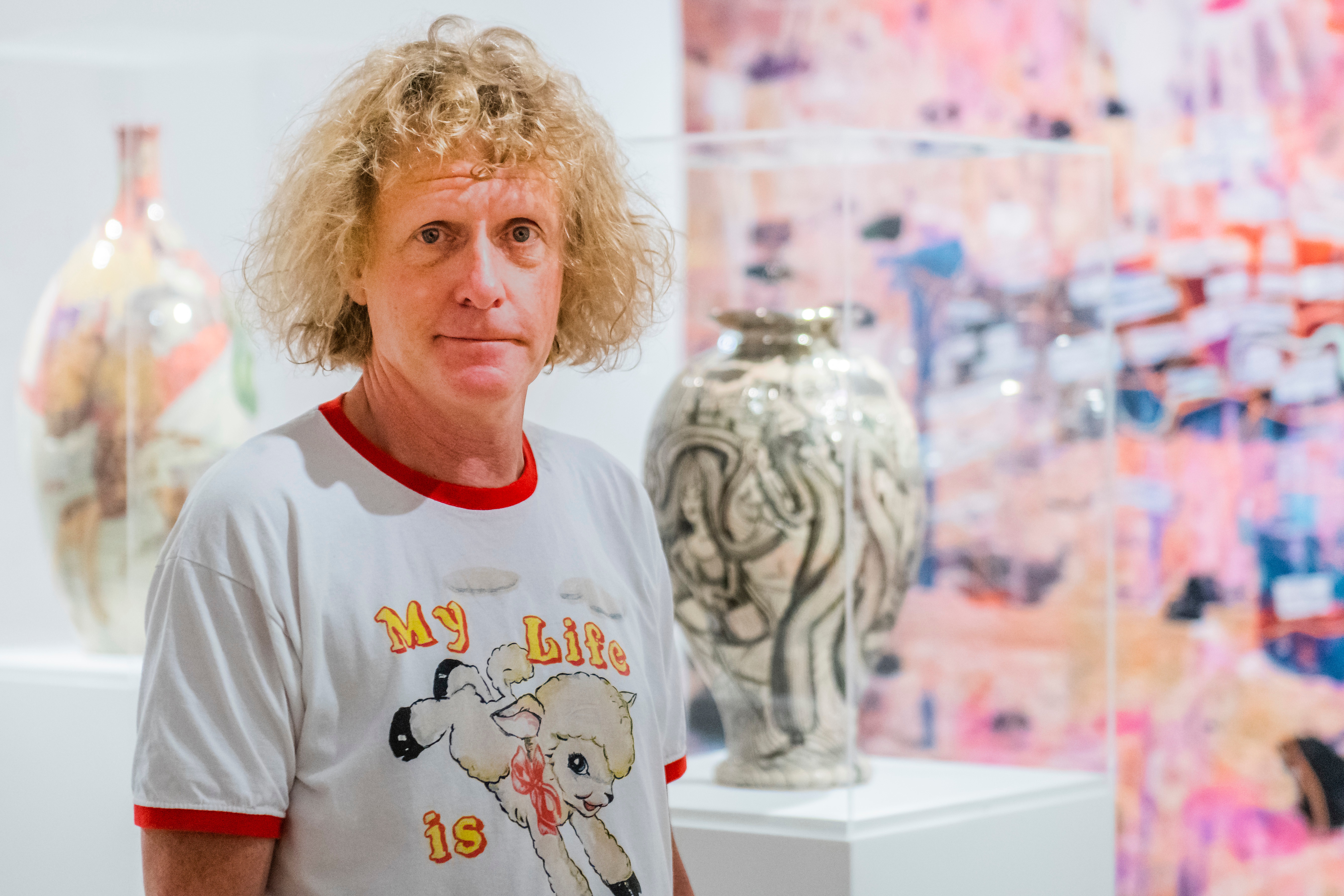 Pictured: Grayson Perry - Art News Guy Bell/Shutterstock
His work is highly emotive and comments on society, gender and the culture that forms us. He uses his art practice to comment on social concerns, his own formative experiences and to tell the story of his alter ego, Claire.
He is also well known for presenting and broadcasting on British television. During lockdown he presented a series called 'Grayson's Art Club' which asked the public to submit works they had made over the period, the works are now currently being showcased in an exhibition at Bristol Museum and Art Gallery.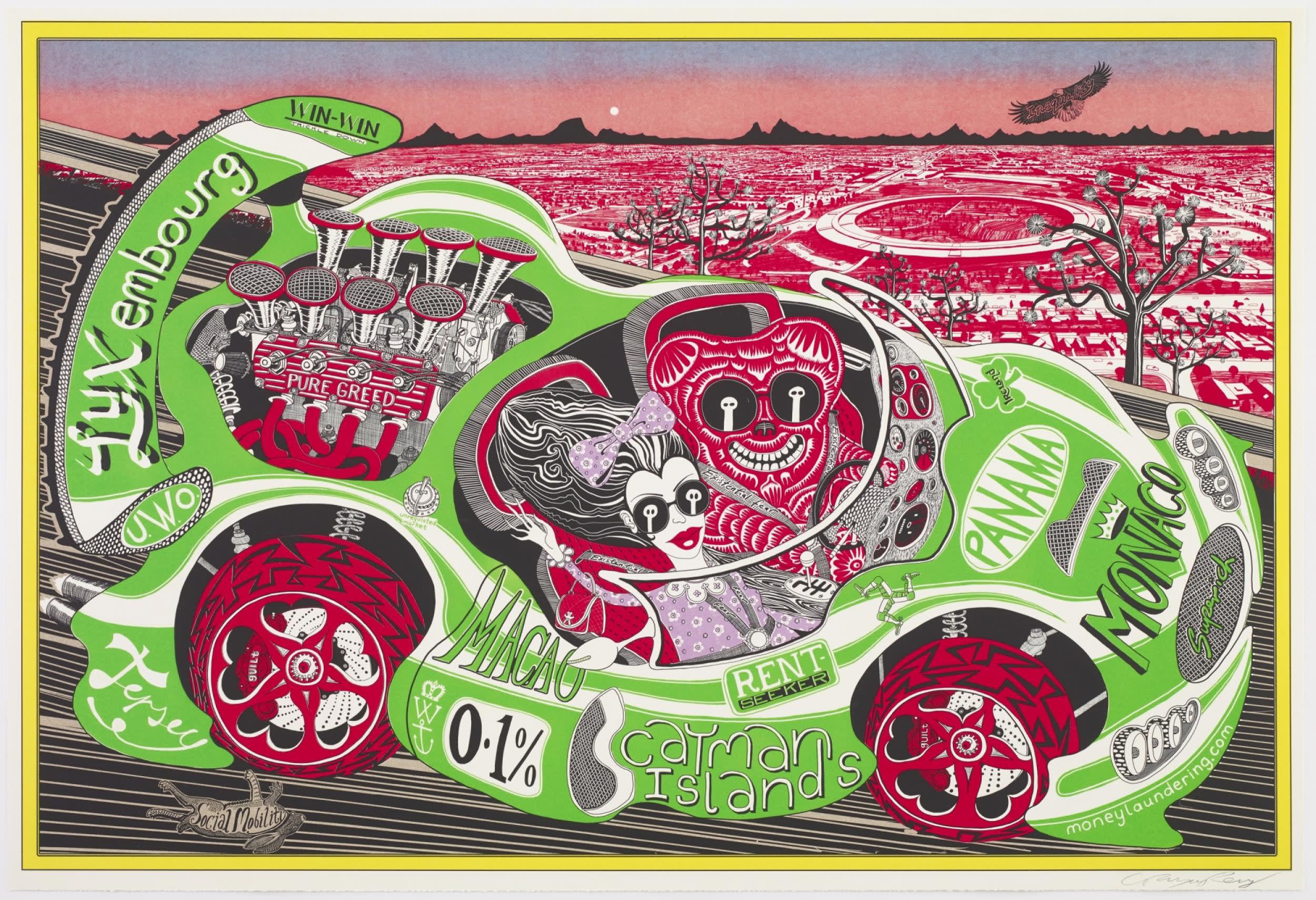 Grayson Perry
Sponsored By You
Colour etching
Signed by the artist and numbered on the reverse.
Framed in Artist recommended frame.
68.9 x 101.4 cm
27 1/8 x 39 7/8 in
Edition of 68
'Sponsored By You' is a colour etching from an edition of 68. The work showcases two characters in a supercar, adorned with text associated with the economy and status. The red figure represents Alan Measles who is a depiction of Perry's childhood toy that appears in many of the artists' works. The figure next to the figure is Claire, Grayson Perry's alter ego. The car is said to be powered by 'pure greed' which confirms the characters to be rich and loose. The style of the painting is in Perry's classic garish colour pallet which presents a very vivid and lively representation of the scene.
THERE ARE A FEW NICE DETAILS THAT I ENJOYED DRAWING, SUCH AS THE BRAKES ON THE WHEELS WHICH ARE 'GUILT', AND THE ENGINE WHICH IS 'PURE GREED'. THE FUEL CAP TAKES 'UNREGULATED MARKET'. 'SOCIAL MOBILITY' IS THE ROADKILL CAUGHT UNDER THE TYRES.
- Grayson Perry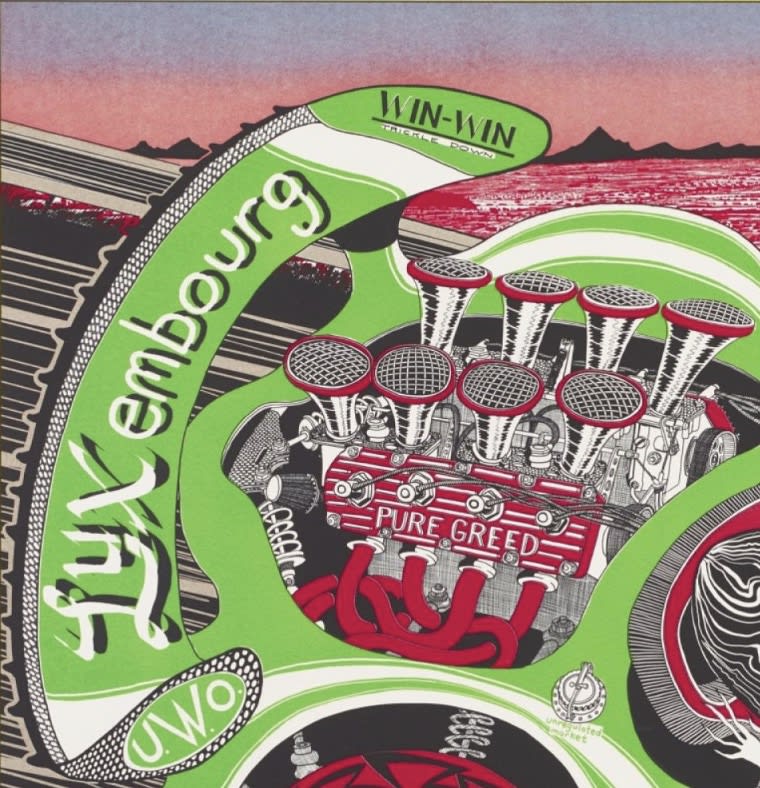 Pictured: Detail from 'Sponsored by You' highlighting the economic reference to the etching.
Grayson Perry often uses his creative practice as a reflection on his troubled childhood. This has taken a major effect on his work. After his father left when he was young, his mother remarried his stepfather, a violent man whom Perry didn't get on with. Perry recalls hiding from his stepfather in the family shed, which is where he would engage in a fantasy world with his teddy bear, Alan Measles, whom he has described as: "surrogate father, rebel leader, fighter, pilot and undefeated racing driver." Alan is a frequent feature in Perry's work and is reincarnated in different forms.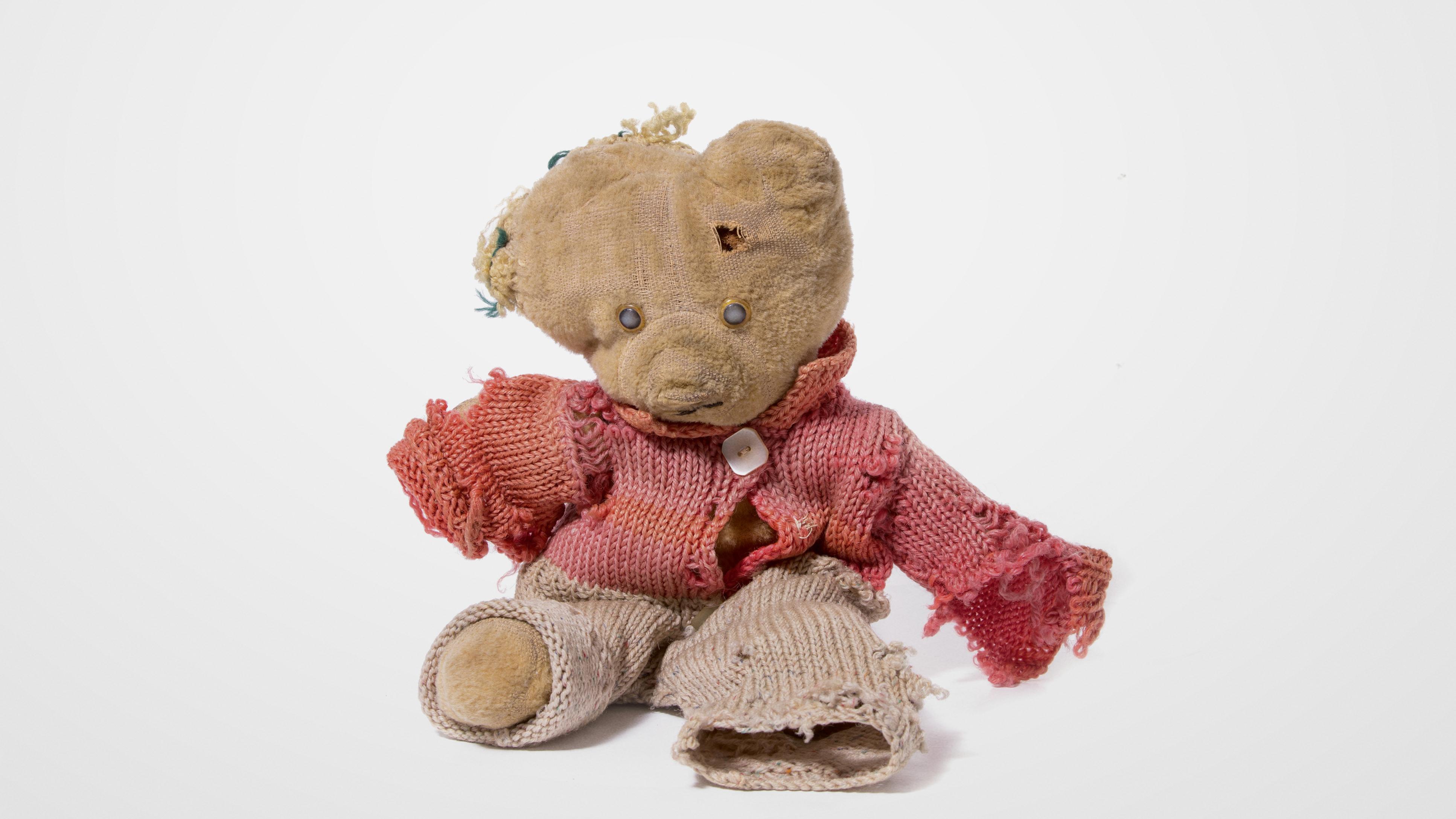 Pictured: Grayson Perry's childhood toy Alan Measles. The toy has made appearances in many of Perry's works including 'Sponsored by You'. Image credit the Economist.
The work 'Sponsored by You' has an attitude that is bold and unignorable. The title refers to a take on a slogan that is often used for advertising purposes. There is a road-kill dead hare which looks as though it's been hit by the vehicle. The text on its body reads 'social mobility'. This refers to the mobility of categories of people, it is a change in social status relative to one's current social location within a given society. It is interesting to note the macabre tone of the image itself and how this concept has been demolished, represented by a dead animal.
The phrases 'Win-win' and 'Trickle down' are there too: the idea that wealth somehow miraculously triclkes down and we all benefit from it, which is complete nonsense.
- Grayson perry
The work represents iconic motifs that are present in all of Perry's works including Alan Measles, Grayson's childhood toy turned God like deity and Claire an alter-ego of the artist. 'Sponsored by You' comments on society and creates a caricature out of aspects of the wealthy. A true staple in Grayson Perry's works is his vivid colour pallet that provides vibrancy and the artists iconic style to the piece.
If you are interested in our Grayson Perry works, please contact info@rhodescontemporaryart.com or alternatively call +44 (0)20 7240 7909.
March 2, 2022