This month marked the much-anticipated opening of Van Gogh's Self-Portrait exhibition at the Courtauld Gallery. The exhibition showcased a never-before-seen collection of artworks by the post-impressionist painter.
The exhibition comprises of 16 oil painting paintings, in an emotive reunion, illustrative of the painter's psyche during the last years of his life. The overall experience of the exhibition felt like an intimate insight into the painter's creative process and vision of himself.
Van Gogh painted all of his known 35 portraits in the last 4 years of his life. This is the first time that the full span of Van Gogh's self-portraiture has been explored in an exhibition. Several works in the exhibition were last together in Van Gogh's studio and have never been reunited, until this showcase.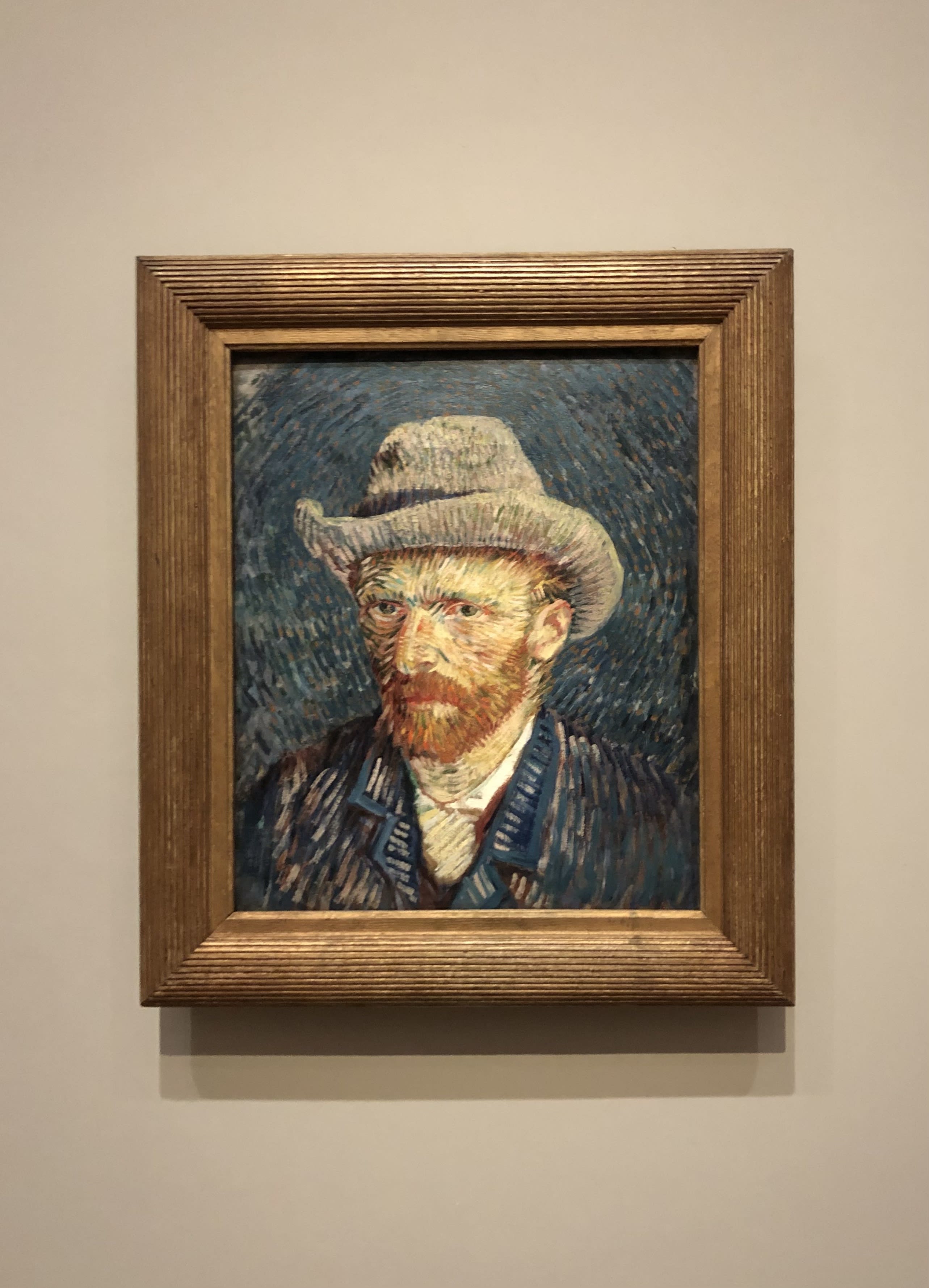 Pictured: Van Gogh, Self-portrait with Grey Felt Hat, (1853 - 1890), photographed at the exhibition.
Van Gogh painted the original piece in 1887 when he had been in Paris for almost two years. It is clear from the technique that he was inspired by the pointillist movement and combined it with his own unique style. The line brushwork detailing spans from the centre of the portrait, with the outer marks forming a halo around the face. Van Gogh was famed for creating dreamlike kaleidoscopic movement through his use of brushwork.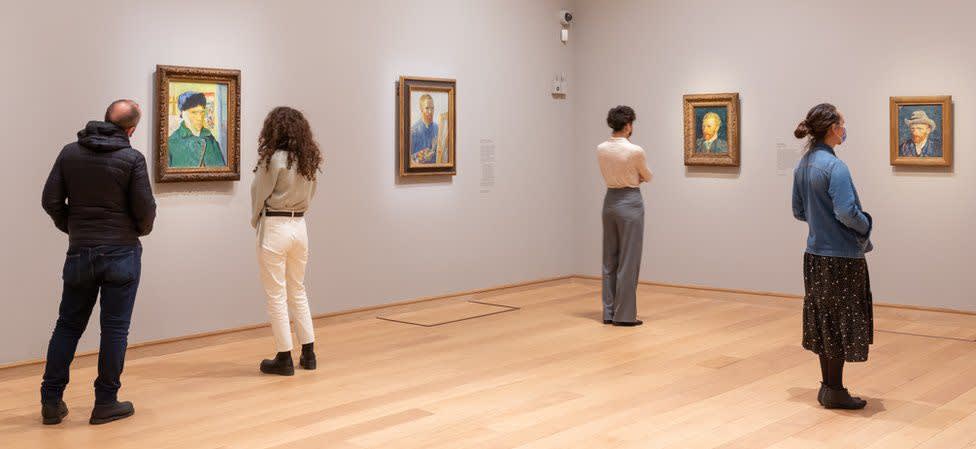 Image credit: BBC News, Fergus Carmichael
NICK SMITH: INSPIRED
Nick Smith completed his first work of 2022 taking inspiration from Gogh's portrait, Self-Portrait with Grey Felt Hat with the original included in this monumental exhibition.
The text under each colour chip on this piece follows on from Nick's Psycolourgy' series - with each chip being given an individual word to match its colour.
Nick Smith works often incorporate old master paintings, abstracted in his own unique style. The iconic image has been transformed using Smith's famed colour chip squares. Previous references include Amedeo Modigliani, Andy Warhol and Edward Hopper. Through the use of these recognisable motifs, and Nick Smith's innovative technique, a conversation begins between traditional and historical art movements and modern concepts.
Pictured: Nick Smith's piece, In the Studio.
The multi-layered element of Nick Smith's work, which marries image and word, allows Nick to explore complex art-historical concepts. The text employed is often narrative, which can be read in sequence adding another element of intrigue and interest to the work.
This additional element of text, placed under the empty space of each swatch, creates either complimentary or subversive meanings. Nick deliberately leaves these word/image constructions open to viewer interpretation, sparking new debates and meanings.
Pictured: Nick Smith, Van Gogh with Grey Felt Hat, 2021, 696 colour chip collage on Fabraino 5, 79 x 65 cm, 31 1/8 x 25 5/8 in Edition of 2 plus 1 artist's proof, £4,500.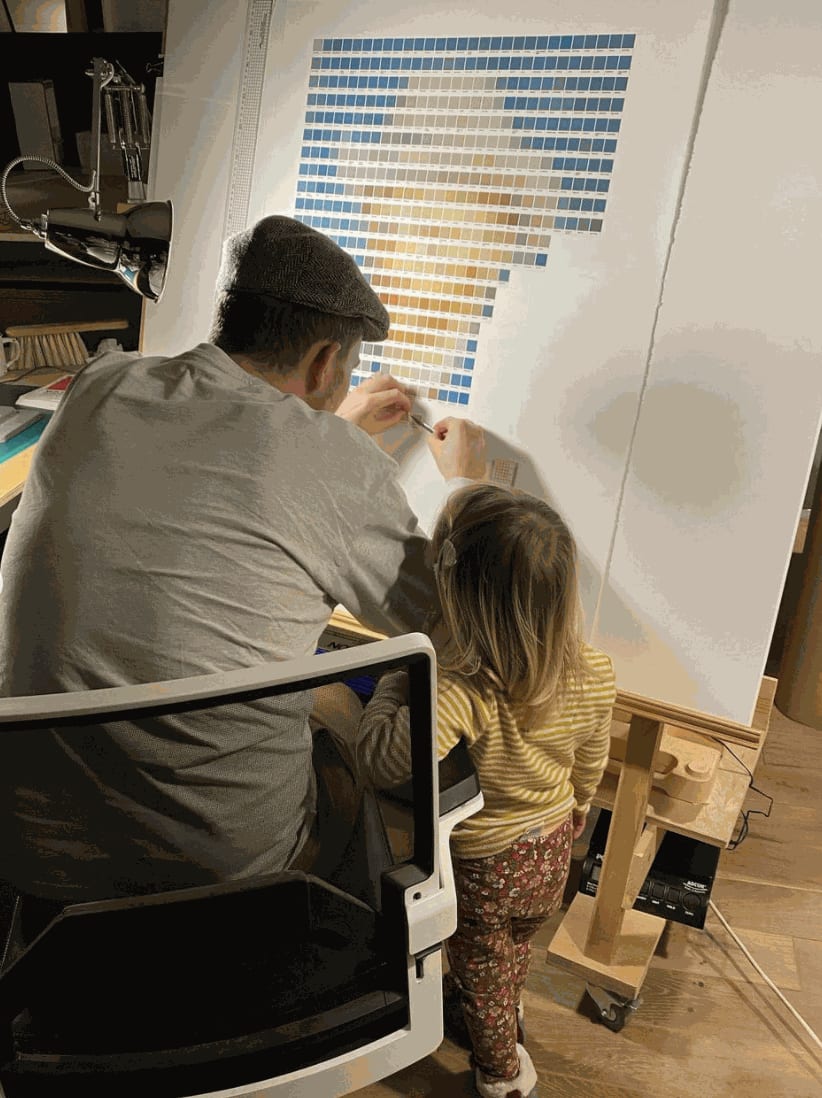 If you are interested in our Nick Smith works that we have available, please contact info@rhodescontemporaryart.com or feel free to call us on
(0)20 7240 7909
. We look forward to hearing from you!
February 5, 2022