Francis Bacon is considered to be one of the most important and influential painters of the 20th Century.
His vast career spaned over many important decades in human history. His works explore the distortion of the human figure, referencing images of sexuality, violence and brutality.
Francis Bacon's figurative works are renowned for their bold, graphic, and often tortured imagery. Inspired by the anatomy of animals, the distinction between human and creature is often blurred in Bacon's paintings.
Bacon's portraits often represent the subject as meat like characters without identity. The boundary between beast, animal and human is challenged and distorted which allows the viewer to question their own human mask and disguised animal urges.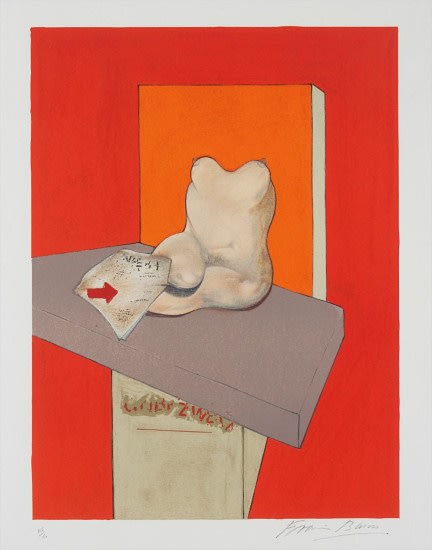 Francis Bacon
Study of a Human Body after Ingres
Signed
Lithograph in colours on arches paper
60.5cm x 88.5cm
---
In his early years, Bacon had a difficult relationship with his parents especially his father, who struggled with his son's homosexuality. At a time when being gay was a criminal offence, Bacon was open about his sexuality. At the tender age of 16, he was banished from his family home with nothing but £3 to survive on. Bacon was known to be outcasted for his identity and sexuality.
One of his most famed paintings 'The Two Figures' showcases the two figures in movement in a bedroom setting with an overtone of homosexuality. The painting was deemed to be extremely shocking at the time of its release. It can be said that Bacon's own struggles with his sexuality and the shame around this is represented in the dark and violent feeling of this painting in particular. The work was inspired by Eadweard Muybridge motion photography - another pioneer of the 20th century art scene.
Francis Bacon
Portrait of John Edwards, 1986
Original Lithograph in colours on Arches paper, with full margins, signed by the artist in pencil.
68.5 x 55 cm
Edition 96/180
---
Bacon didn't have a traditional way into his painting career. He decided to abandon his career in interior design and take up painting after seeing an exhibition of Picasso paintings at Paul Rosenberg's Paris gallery.
Bacon acknowledged Picasso as a key influence and reference point. Inspired by the abstracted forms and portraits of Picasso, it is easy to see the concepts behind Bacons works evolving from this reference point.

From the mid-1940s his work met with critical success, establishing his reputation.
I think Bacon is on his own, really. I mean, he had a very, very dark view of the world… And that's probably why I love Bacon paintings, because when I first saw them, they reminded me of sort of spaces I'd imagined in nightmares, which is why he's great. - Damien Hirst
Francis Bacon
Figure at a Washbasin
Signed & Numbered in Pencil
Etching and aquatint in colours on Arches paper
52 x 67.5cm
---
As you can see from 'Figure at a Washbasin' the character looks twisted and meat like, his arms blending into the metal taps. The figure is faceless and unidentifiable as we look on as a voyeur. The artists own personal demons can be seen here, as the figure is trying to clean himself of sin but looks like it's drowning instead. The palette is subdued and lacking life and colour - the colours are unsettling with yellow often relating to suicide.
His life was kind of pretty chaotic and he just did whatever he wanted to do, drank whatever he wanted to drink, slept with whoever he wanted to sleep with; he was a maverick within society… Francis Bacon's paintings aren't static, they've got total movement… - Tracey Emin
It is without a doubt that Francis Bacon was one of the most important artists in history. His bold, controversial and at times frightening portraiture - will serve the test of time and will be a reference for understanding human behaviour. Bacon challenges the traditions of formal painting and incorporated movement and brushwork that had never been seen before.
All artworks in this post are available at the time of publish, if you are interested in the Francis Bacon works that we have available, please get in touch with us at info@rhoescontemporaryart.com.
Alternatively, you can call us on +44 (0)20 7240 7909.

January 29, 2022