Jason Tessier's practice explores the materialistic properties of the canvas. He uses a variety of mediums to create dimension and balance within his paintings. Through this medium, he engages with language and conversations surrounding the significance and complexity of contemporary painting. Working with a variety of mediums, Jason complicates the paintings surface with traces, marks, and interventions.
We recently caught up with Jason, who's works you can currently find displayed in the Summer Exhibition .21, showcasing until the 28th of August 2021.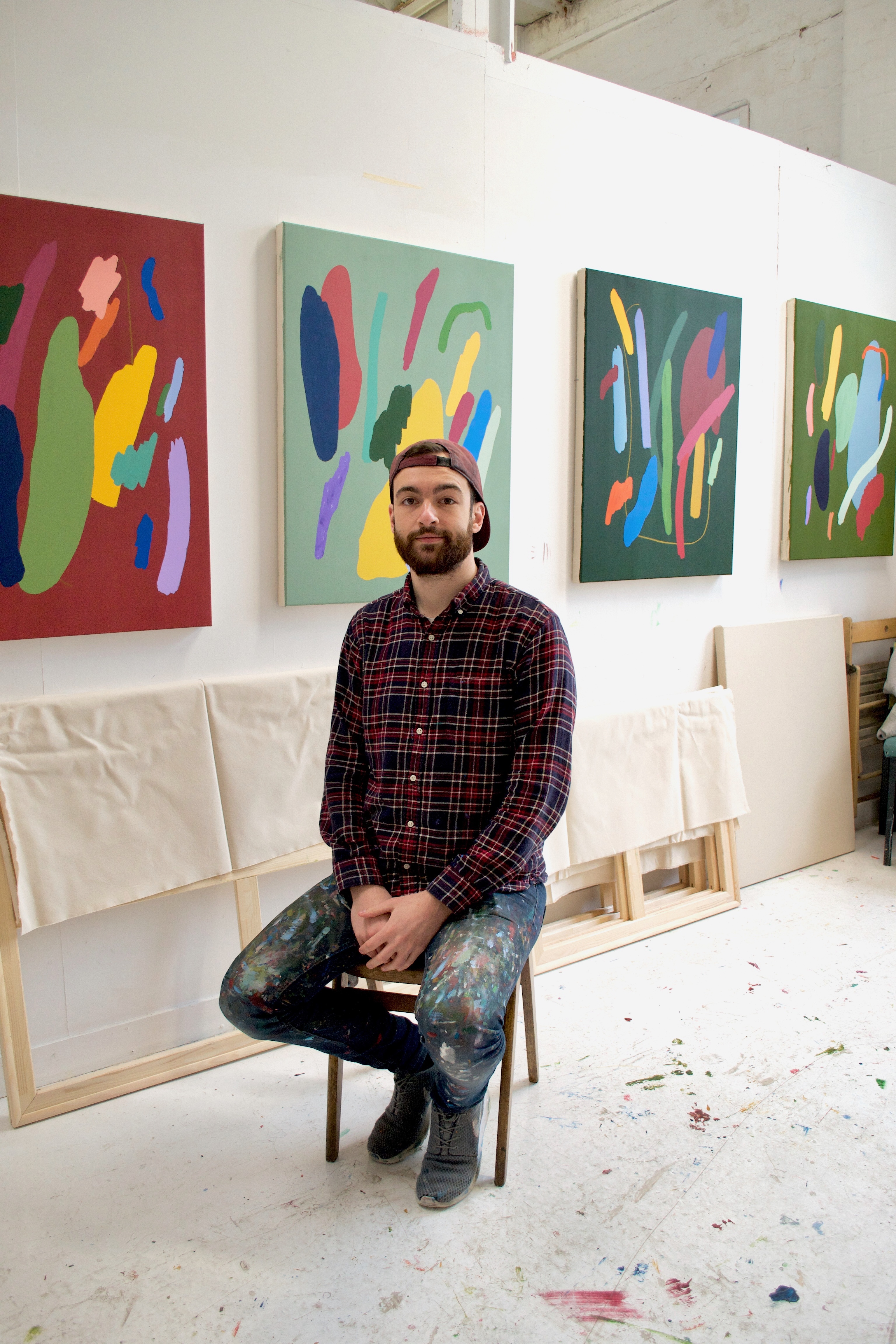 Would you say your paintings are formulated in a spontaneous way, or do you have a planning process beforehand?
In the past I've attempted to plan my paintings in advance, however I've never been able to translate sketches or ideas onto the canvas without there being some disconnect between the work and myself. These planned works seemed to be missing something which I could never put my finger on.
Nowadays all my works are produced in real time and any creative decisions on gestures, colours or shapes are done in reaction to the canvas. This allows the works to be more authentic and enables me to work with and respond to the visual dialogues within the works.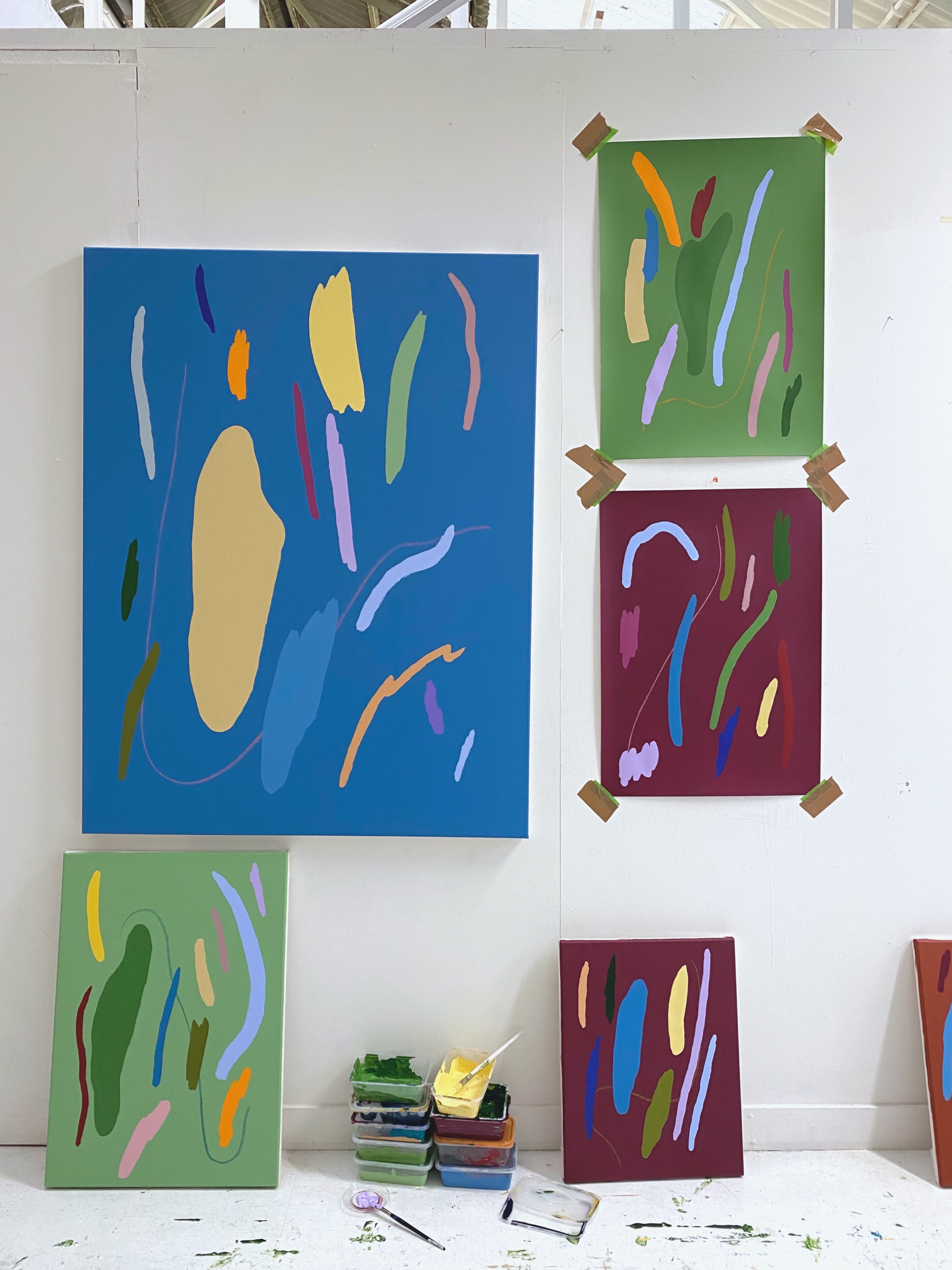 In the Studio
You have a very distinctive style. How do you choose the colour palette that you use in each of your paintings?
I've spent a good few years toying around with various abstract styles in the studio. Recently I've been able to distil these various styles and bring forward elements which I feel work best within the works. This has enabled me to experiment with a range of colours and techniques I may not have initially thought of using with my practice.

This time experimenting and researching has also allowed me to practice mixing my own colours and gaining an eye for deciding which colours work with what. This means my colour palette varies from work to work; however, I'll often take colours from my previous paintings and incorporate them into the newer work. I find that working on several paintings at once often leads to each painting informing one another and that leads to some really exciting results.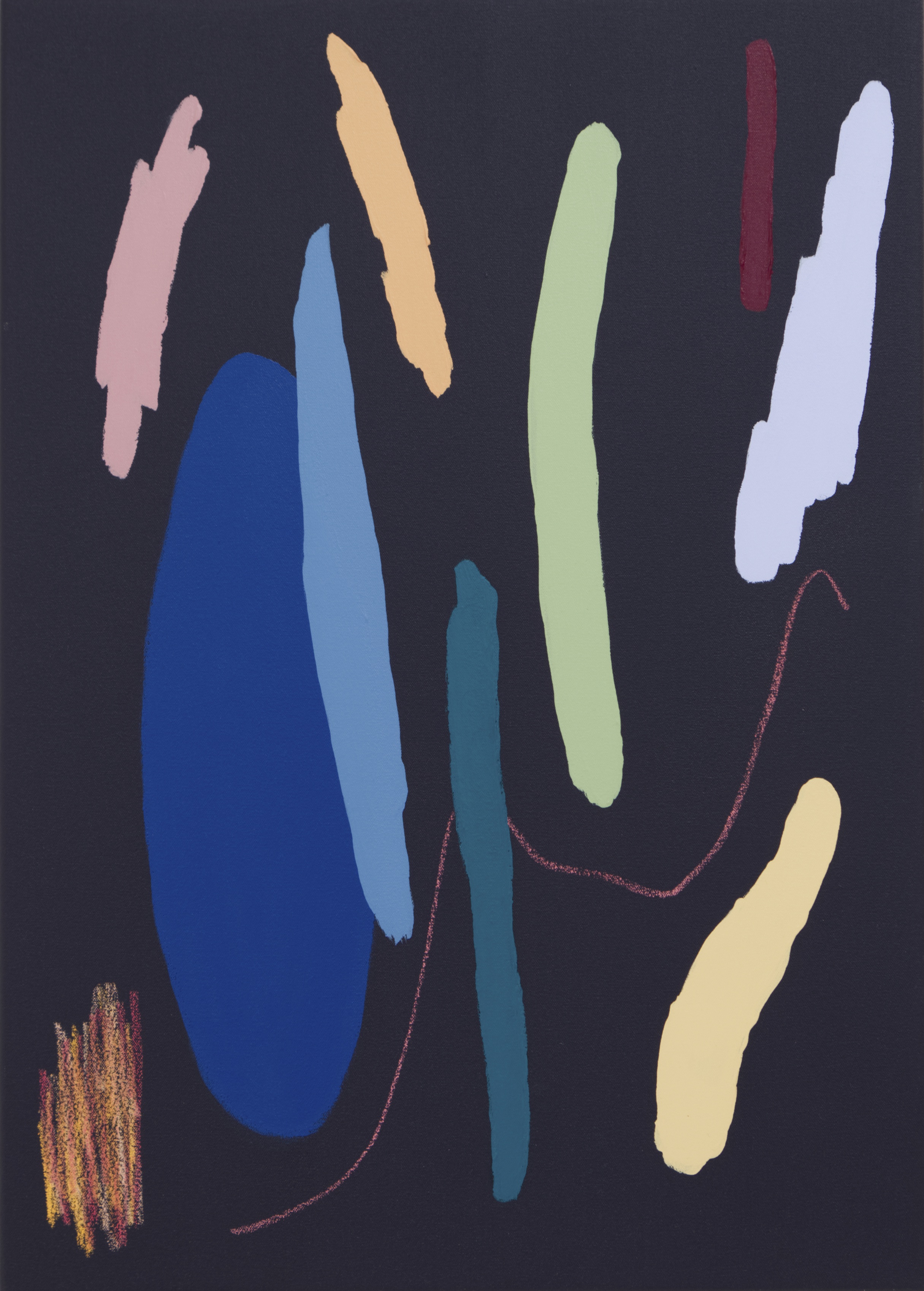 Grapefruit Slices, 2021
Acrylic, Pastel & Oil Bar on Canvas
70 x 50 cm
27 1/2 x 19 3/4 in
In your works you use a variety of materials which complicate the paintings surface with traces of marks and interventions. What draws you to using different mediums in your works?
Using other mediums alongside to acrylic or oil paint is a great way for me to break up the painting. Sometimes the painting can feel too smooth or one dimensional, but working in pastels and oil bars gives the paintings an additional textural element and shifts the balance within the painting.
Having different mediums also helps to highlight the individual elements of the paintings and often with these traces and marks I'm able to create a contrast or highlight specific areas within the work. For example, in some of my other recent works I've introduced the use of charcoal to create the illusion of shadowing , this adds another optical element to the work whilst also highlighting specific colours and shapes.
How do you decide when one of your paintings is complete? Balance on the canvas seems to be an important feature in your paintings.
It is the hardest thing about painting; you can easily carry on and over work the painting. Each experience with my paintings is unique and there is no formula to deciding the outcome. I'll spend a lot of time in the studio just sitting with the works. From there I'm usually able to see if there's anything within the painting that is missing. Sometimes the decision to call it a day on a painting depends on how it reacts with other finished works. If there is a coherent dialogue between the works, it's usually a sign for me that I can finish the work.
Edges, 2021
Acrylic, Pastel & Oil Bar on Canvas
120 x 90 cm
47 1/4 x 35 3/8 in
Can you remember where your painting journey began? Have you always been interested in art of is it something you've discovered later?
I originally began studying to work within forensic science, but various factors meant that this would not be something I would be able to pursue in the long-term. It's from here that I began to shift focus onto art, something I was studying as just an add on course at the time. As soon as I started learning more about the art world, something clicked and I've been hooked ever since. I moved to London to study fine art at university and I've been painting ever since. I'm very grateful that I get to do something I get so much joy from.
Can you name any artists you take inspiration from? Do you have a favourite artwork of all time?
Laura Owens and John Baldessari are my two 'heroes' when it comes to art. Recently I've been researching a lot into the works of Alex Katz and in particular his artistic journey throughout the art world.
My all-time favourite painting is Nighthawks by Edward Hopper, I don't think I will ever get bored of looking at it.
For all enquiries about Jason's work, please contact info@rhodescontemporaryart.com
August 5, 2021