This print is now SOLD OUT
---
Many followers of Nick Smith have been waiting with great anticipation for the release of his latest print edition, which pays homage to Matt Groening's iconic American cartoon show 'The Simpsons'.
'Simpsons Couch', is for many people and Smith included, an image of 90's nostalgia. The hugely popular and iconic American cartoon show influenced pop-culture across several decades, becoming the longest running animated sitcom in history. In line with his current solo show 'PIONEERS', which explores 'high and low' American culture, celebrating famous classic artworks, as well as popular culture and even commercial products.
'Simpsons Couch' is based on an original collage Smith created using 406 individual hand stuck colour swatches. Viewers can expect to see a return to Smith's unique word colour association, with textual references to 'McDonald's Slime' 'Hello Kitty' and 'Trump'. Using a a brilliantly dynamic and vibrant colour palette and experimentation with gradients, this is set to be one of the most popular Nick Smith print editions to date.
Nick discusses the inspiration behind 'Simpsons Couch'
"I remember seeing cover illustration of Bart and his family on the Radio Time. I was blown away by unique, punchy, dingy artwork…so recognisable at a glance in a wall full of dull magazines for a kid aged 9. One of my friends had recently come back from family holiday in America with a pack of Simpson's playing cards and those glossy pieces of cardboard blue my mind in the playground. At that tender age, I was in the process of making foundations for my future preferences. The Simpsons stuck with me 30 years later…"
---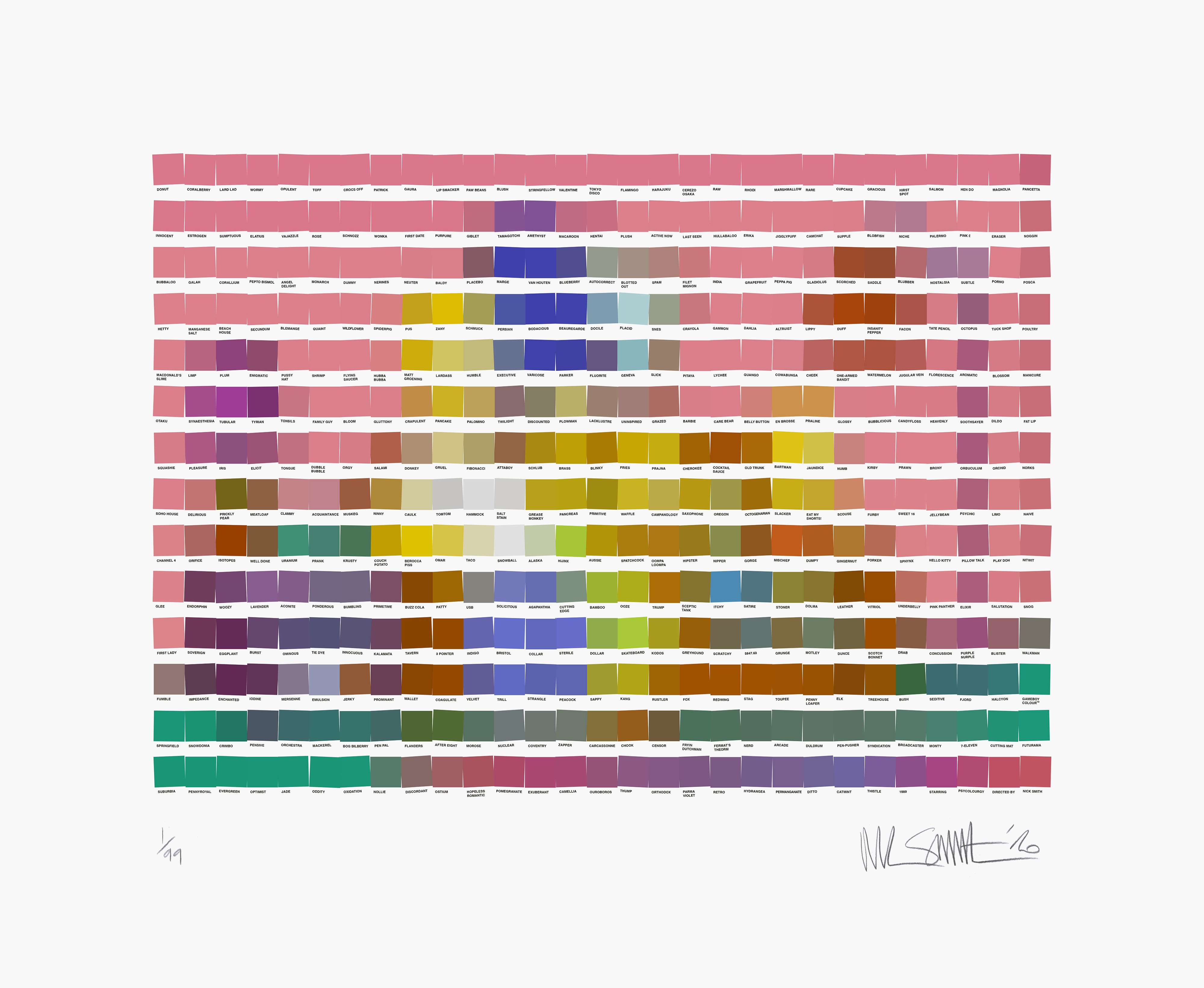 PRINT INFO
'Simpson's Couch'
Giclee print with screen printed varnish on Canson Rag Photographique 310gsm
Signed and Numbered
Edition of 99
64 x 78cm
£595 (plus shipping)
RELEASE DETAILS
The print will be available to purchase on 18.11.20, at 19:00 GMT
You can purchase the print directly HERE
---
You needed to be quick this time, the print release on the 18th November sold out in record time with all prints gone in under a minute...
Congratulations to everyone that managed to catch one!
November 18, 2020