This historic artwork painted in 1796 has an intriguing story that goes beyond the canvas surface. Now, the unfinished portrait of Founding Father George Washington, known as the "Athenaeum" portrait is arguably one of the most famous portraits in the world, and served as the basis for the engraving of Washington that now appears on the one-dollar bill note.
Painted by Gilbert Stuart in the late 18th century, this was the second portrait Stuart painted of Washington, the first painting is only known from replicas that were made of the original. The portrait, according to artist Rembrandt Peal, was commissioned by Martha Washington, the first US President's wife, who wanted to keep the portrait for herself before he retired from service. Stuart decided he didn't want to part with the portrait and so left it unfinished so he could refer to it for future paintings. The title "Athenaeum" refers to the Boston Athenaeum, where the painting went after Stuart's death.
As Washington became a public hero after his death, this portrait was used by Stuart as a model for numerous replicas over the years. The work has now become so reverently iconic, that it has superseded any other public image of Washington. John Neal, an early-nineteenth-century writer and art critic, wrote, "Though a better likeness of him were shown to us, we should reject it; for, the only idea that we now have of George Washington, is associated with Stuart's Washington." Stuart, however, reportedly referred to the image irreverently as his hundred dollar bill—the price he charged for a copy. Today, over sixty copies survive.
Stuart was the most prominent portraitist of his time and was the unofficial painter for many leading political figures of the new nation including John Adams and James Madison. Born in Rhode Island, Stuart studied in London and developed a contemporary English painting style, before returning to the States and working in Philadelphia, Washington, New York and Boston.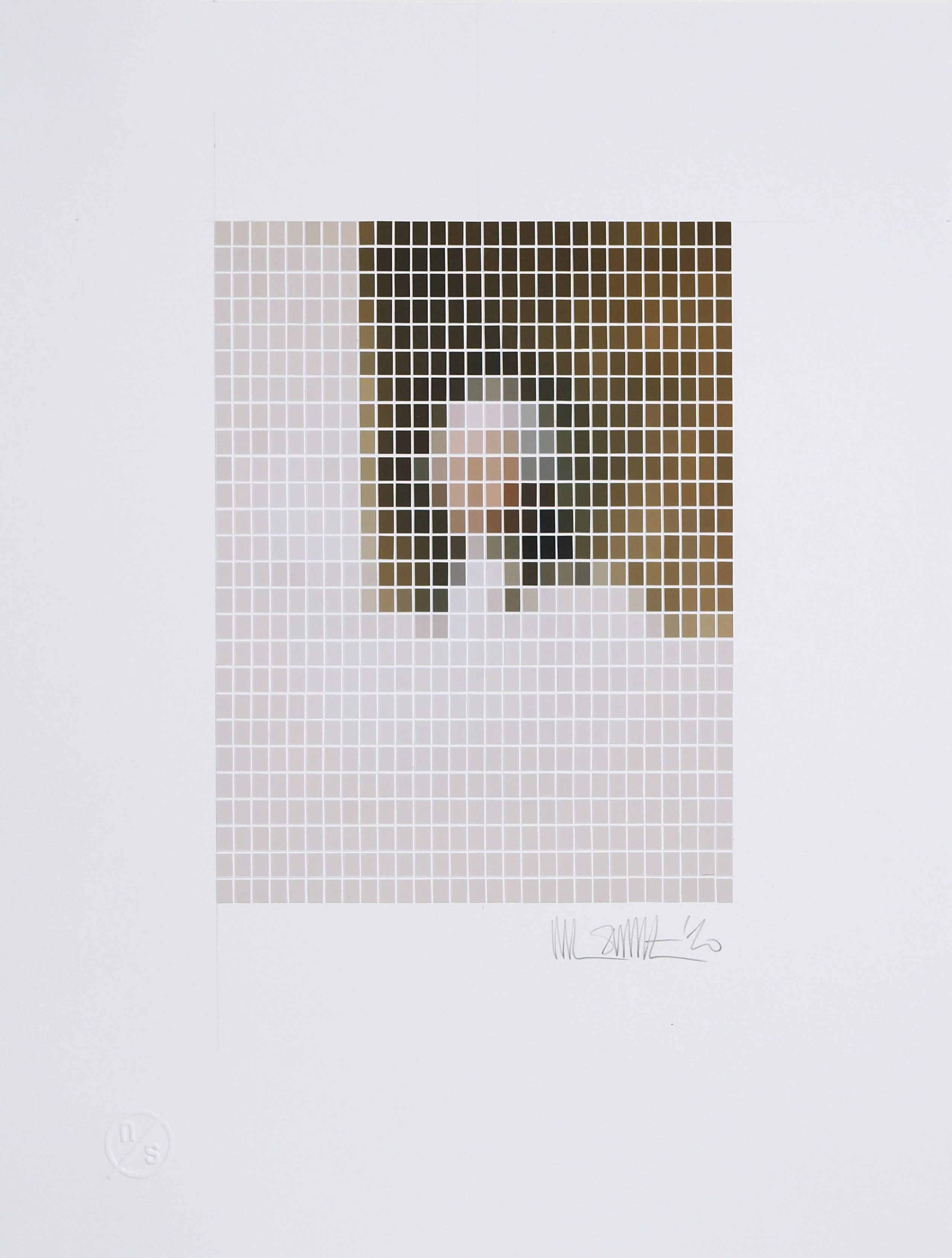 Nick Smith has delighted his American history fans by revisiting the iconic 1-dollar bill portrait in his current solo show PIONEERS.
Smith was inspired by the unfinished portrait of Washington, and created in true Nick Smith style, 'WASHINGTON ATHENAEUM - MICROCHIP, 2020'. The original collage includes 754 individual colour microchips on Fabriano 5 300gsm paper.
Artist: Nick Smith
Artwork: Washington Athenaeum - Microchip
Size: 45 x 34.5 cm
Edition: 3 plus 1 artist's proof
Contact us about this piece:
CALL
+44 (0)20 7240 7909
November 11, 2020