Australian contemporary artist Stephen Ormandy has successfully forged a career which spans across the world of design and fine art. With shows across multiple cities in Australia, as well as in New York, Japan and Singapore, Ormandy has received global recognition, with works in the National Gallery of Victoria collection amongst others.
We caught up with Ormandy, whose forthcoming exhibition 'Intransitive' at Rhodes Contemporary Art gallery will mark the artist's first solo show in the UK in recent years.
Stephen, how have you been during Lockdown?
Working on this show, so very busy.

Did you always want to be an artist?
I actually decided to be a an artist at kindergarten.

Whereabouts in Australia do you work and what is your studio space like?
I work in Sydney and my studio is in the Dinosaur Designs studios building.

What keeps you inspired?
The next show and how I can continue the development of my visual language.

Can you describe the contemporary art scene in Australia at the moment?
Exciting.

What's it like being part of the world of design (Dinosaur Designs) and as well as having your work in the fine art category?
The majority of artists on leaving art school need a second job, instead of washing dishes I decided to use my creative skills and teamed up with Louise Olsen to create Dinosaur Designs, early on it provided a basic wage and allowed me to continue a creative journey.

The way I work in both Dinosaur Designs and my own practice is exactly the same as in uncompromising in the pursuit of beauty. I apply the same rigour in developing ideas in both. Dinosaur Designs is a sculptural practice where we make the objects fictional.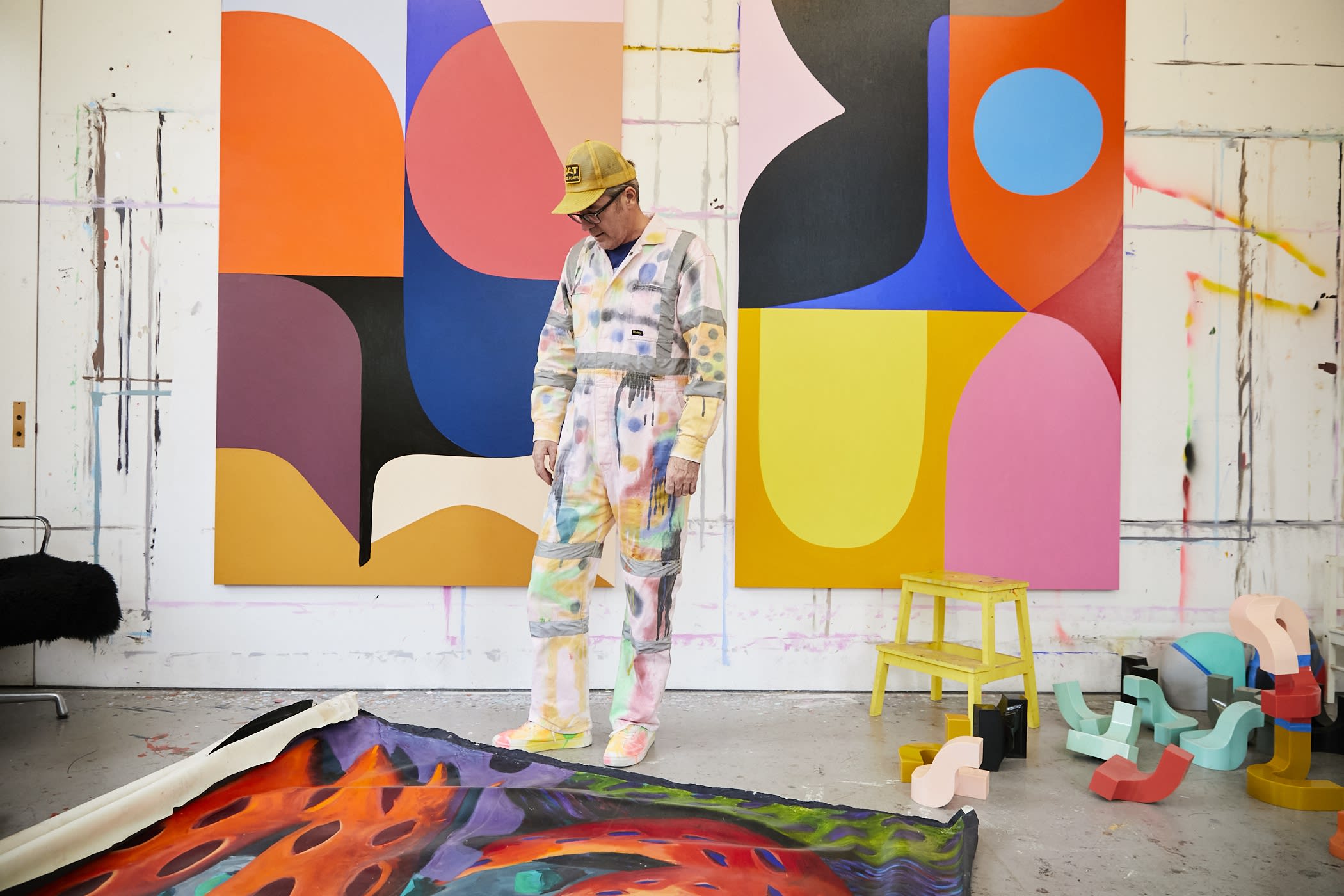 Do you see your sculptural works as an extension of your paintings or are they doing something completely different?
I find there is a lot of common ground between the two, and sometimes I feel I'm painting sculptures and vice versa.

What's been your most ambitious or challenging artwork to date?
A work called "The Family" for the Suzhou Stadium gardens in China. Four ambitious works built from marble black stone and steel.

What inspired the series of work which will be shown at Rhodes Contemporary Art?
They are a continuation of my exploration of visual language, I don't take an idea and paint to it, it's a subconscious flow.

'Intransitive' will be your debut solo show at Rhodes Contemporary, what does London mean to you?
To exhibit in London is thrilling for me. I have traveled there often enjoying the energy of a great city and to have an exhibition there is a wonderful opportunity. Being a 3rd generation Anglo Australian my distant ancestors are rooted in the UK and London is its beating heart.


The exhibition will run from 4th September - 17th October 2020.
(Operating within Government opening restrictions, new measures will be in place to ensure the safety of staff and clients/visitors)
For all enquiries, please contact info@rhodescontemporaryart.com
Follow Stephen Ormandy on INSTAGRAM
August 27, 2020