Rhodes Contemporary is excited to announce their latest print release with artist Jess Cochrane.
The print will be available to purchase via shop.rhodescontemporaryart.com or email info@rhodescontemporaryart.com for any enquiries.
"A Sweet Peach" is an edition of 30 prints, with 5 custom hand-finished AP's. Printed on archival pigment print, Somerset Enhanced Velvet 330gsm, measuring 36 x 50cm, all signed and numbered by the artist.
The print is a portrait of Australian social media influencer, blogger and model Sophie Lewis (@sophaaaaa). As a champion of female empowerment and body positivity, Lewis posts about her own body, using it as a source of inspiration for other women to embrace their own bodies. Lewis also discusses themes of social expectations, the patriarchy, relationships and mental attitudes on her blog Hey Soph Lewis.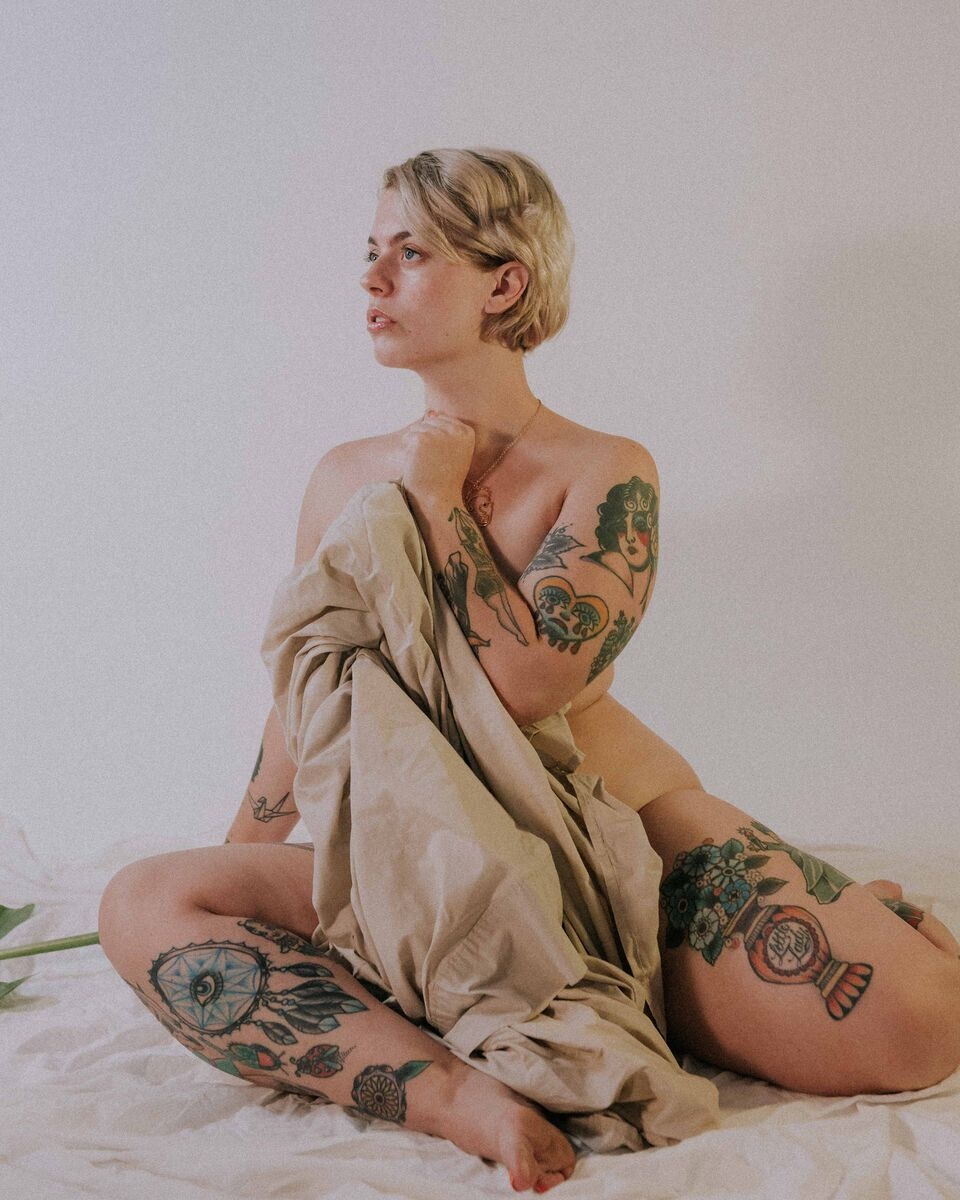 The vocal feminist Sophie Lewis and Jess Cochrane, an artist who embodies female empowerment, together seem like the perfect female power duos. Both artist and muse are Australian women, whose messages and artwork celebrate the female body. This collaboration celebrates the beauty and uniqueness of all kinds of body shapes and figures. The powerful posture of Lewis gazing down at the viewer, disrupts the traditional art historical reading of the submissive female. In this image, Lewis's casual but affirmative pose is both feminine and strong. The delicate flower and pearls juxtapose with her unsmiling and determined body language, communicating messages of female power. The title of the edition "A Sweet Peach" is both a pun for the female rear, whilst also referencing one of Lewis' eye catching tattoos. Cochrane accentuates Lewis' physique with her gorgeous paint washes and drips in peach toned hues.
This is Cochrane's second print edition with Rhodes Contemporary. After the success of "Smothered By Your Love" in October 2019, the gallery are delighted to support Cochrane's second print edition. The image above is 1/5 of the unique hand finished prints with oil pastels. Also available is the original work of the print; made with acrylic paint and oil pastel on satin print digital photograph, the piece also comes framed. From this series, is an original work "They Say Pearls Are For Good Girls", (acrylic paint and oil pastel on satin print digital photograph). This peice comes signed and framed and is a completely original 1/1 peice from this series of works of Lewis.
For orders and deliveries, due to the current situation surrounding the COVID-19 pandemic, shipping on these editions might be delayed. This could be the result of a delay in collection from us or a delay in the delivery time it takes to get to you. All works are sent as per normal - signed, tracked and secure.
For all enquiries about this print edition and Cochrane's other works please email the gallery.
We look forward to opening our gallery to the public soon for artist Lino Lago's solo show. For now, we wish everyone good health and good luck!
April 8, 2020