Rhodes Contemporary is delighted to announce their upcoming solo show with Spanish artist Lino Lago. Last year the artist successfully sold out his first print edition as well all paintings from the gallery's Summer Group show 'CHROMA'. Lago's next show with RHODES is set to be an exciting one, with new original works inspired by his recent 'Fake Abstract' series.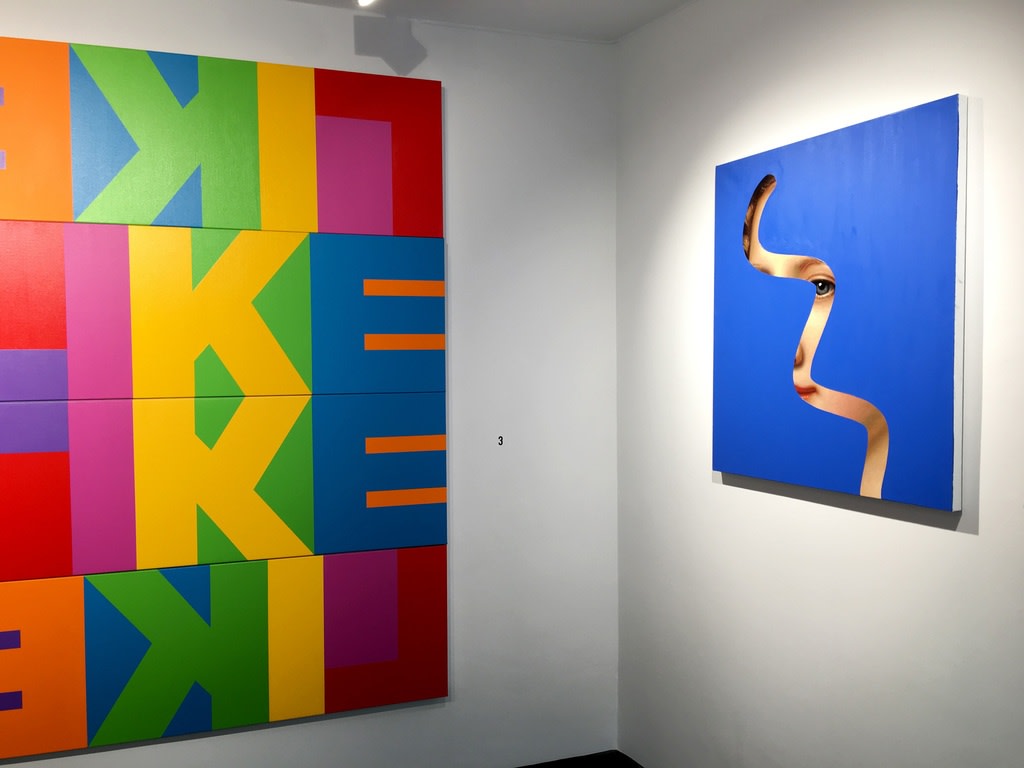 Artist Lino Lago is based in Spain, the country where he was born. Lago studied at the Universidad Complutense in Madrid but was exhibiting his work before this time; academia was for Lago, 'a waste of time'. Lago has since accomplished a number of prizes and mentions such as the Vilnius City Arts Award in Lithuania and the Artist Award under 25 years of the Buen Retiro Park in Madrid. His work is also present in many public collections, including the Harvard Business School in Boston and the Flint Institute of Arts, USA. His work has also appeared in prestigious international publications such as The New York Times and Vogue Italia and has been featured in Fuera de Serie magazine as one of the artists to invest in.
In the series Attacks, Lago painted a series of European stately rooms which were violently disturbed with a spray of neon splattered paint. In the series Paint Over Paint, Lago starts to experiment with contemporary painting over more traditional and classical aesthetics, using large abstract blocks in bright and fresh colours. Fake Abstract is the most recent series of paintings, in which Lago paints European classical-style portraits, which are interrupted by a bold geometric design, giving the work a contemporary feel. Lago also created a print edition from this series last year with RHODES.
"Fake Abstract" (for me) is a critique of the supposed originality of contemporary art. I think that contemporary art is an Academy, like and Academy of the XIX centuary. This is the idea that I take from this series of paintings." Lino Lago, 2019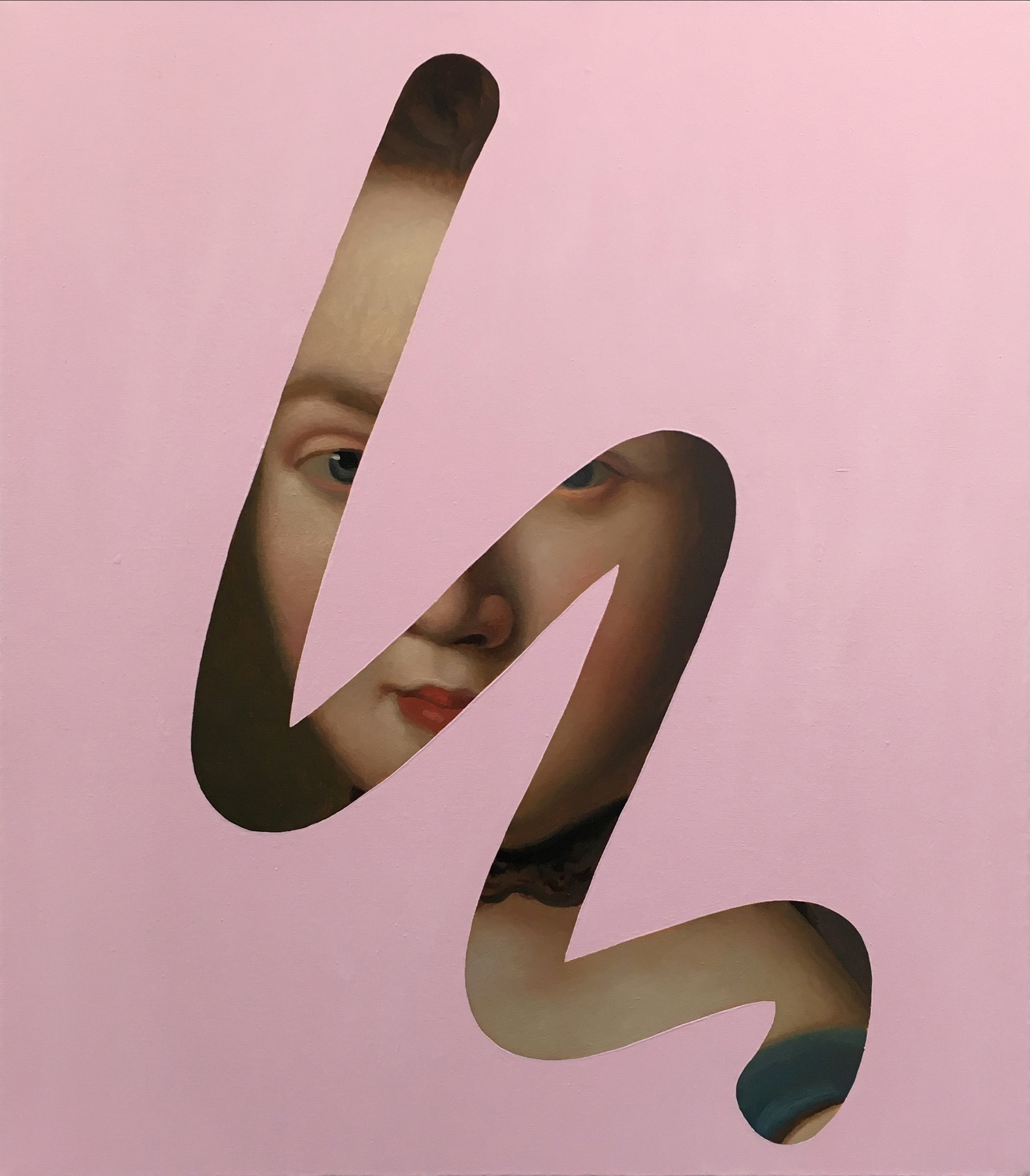 Lino Lago's work plays on themes of contrasts and duality; abstract and figurative, visibility and obscurity, traditional and contemporary. The Fake Abstract series perfectly combines traditional realism with contemporary minimalism through a unique pictorial technique. The works experiment with the temporal nature of art and the relationship between contemporary art, classical artistic traditions and art history. The spaces that these women exist in are flattened by the block colour, the context is obscured and kept unidentifiable.
The artist paints these works in oil on linen and canvas, using traditional and painterly materials, and paints the bold abstract shape in oil paint by hand - it is not a stencil or made from spray paint as you might expect. Lago leaves it deliberately ambiguous as to which order he paints the figure or the color blocks. The free flowing squiggle creates dynamism on a seemingly static and frozen portrait. It appears as if the painter is removing a thick layer of paint only to reveal another painting beneath.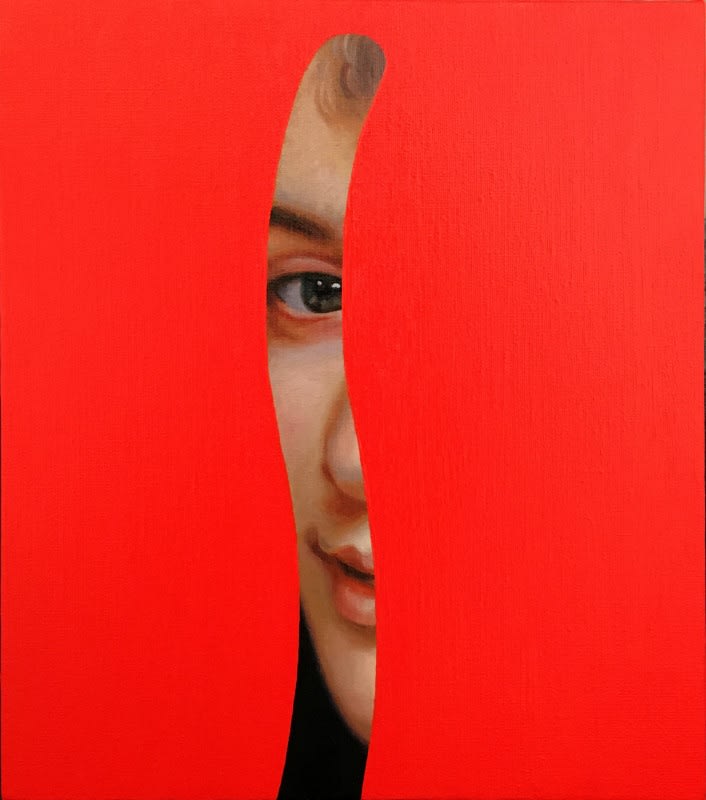 With a steady hand and a saint's patience, Lago hand finishes each painting, creating a contemporary and playful effect. Lino Lago brings these victorian young girls back life, as they coquettishly peer through the unmasked canvas back out to the viewer. We are only invited to view parts of the identity of these unknown women; one eye, and the corner of a mouth, keeping the figures safely anonymous and at a distance. The viewer is left to imagine the identity of the sitter. In doing this, Lago successfully brings these forgotten (or imagined sitters) back to life in new humorours and ironic ways.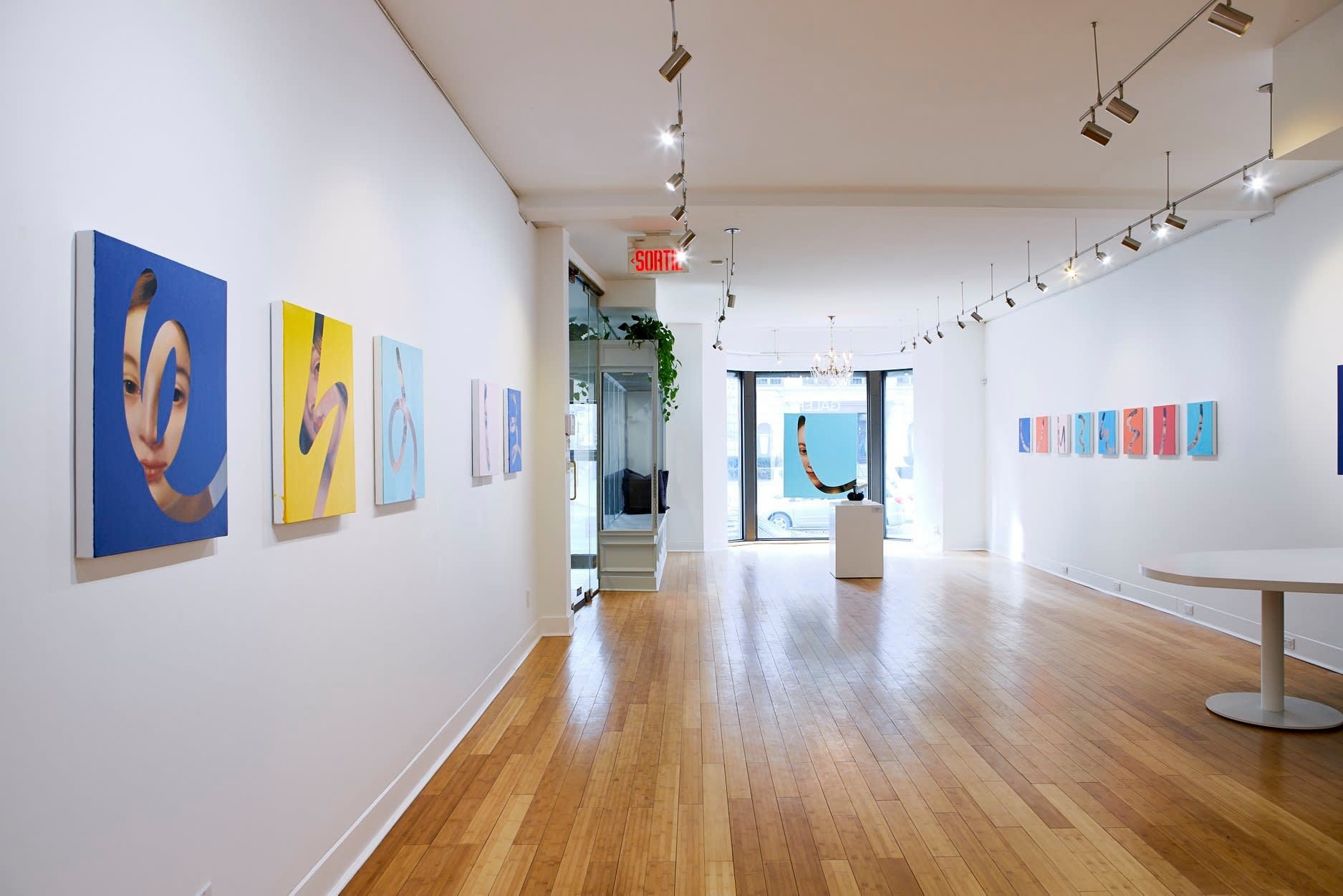 This year the artist has sold works at the London Art Fair and has recently exhibited a solo show at the Robertson Ares Gallery in Montreal, Canada. The gallery has described the show as a dedication to the 'mysterious works of the artist':

"The exhibition is experienced as a journey through time, art and its history. Every glance, every smile invites to a disturbing encounter with art, hidden by itself. Where contemporary art and classical and academic art challenge each other, the work becomes a particular temporal and aesthetic experience. Lino Lago's works provoke a reading between the lines, guided by movement, sometimes even fleeing from the canvas. Capturing every angle and every shape means gradually removing the coloured veil that hides the faces. On closer inspection, deciphering the shapes also means making a series of details appear in a uniform mass, following the movement of a brushstroke. The exhibition aims to make us become artists ourselves through our eyes and our ability to glimpse the invisible, to rediscover the visible." Galerie Robertson Arès.
The artist has also shown his work at the Miami Art Fair and had solo and group shows in Paris, Canada, London, USA, Singapore and Peru.
With the current circumstances, dates for this show will be confirmed by the gallery at a later date when public gatherings are safe. For more enquiries about Lino Lago's work and to RSVP for the upcoming show please email the gallery info@rhodescontemporaryart.com.
March 26, 2020