Wasted Rita - the pseudonym of Portuguese born artist Rita Gomes takes inspiration from pop culture, gender politics and her own lived experiences. Her visual style draws from graphic design and illustration, to produce brutally worded letters, diary entries, and drawings. Her work was first picked up by magazines and galleries from her daily blog RitaBored. The platform served as her sketchbook full of darkly humoured drawings and hand lettered statements. The blog has now amassed a large following and has been featured in countless graphic design websites, magazines and books. Since then Rita has exhibited in shows across Europe, in Macedonia, Croatia, Slovenia, Paris, Portugal and now London. In 2015, the artist was voted by the Portuguese newsmagazine Público as one of the personalities of the year. The artist continues to create new work which explores the themes of feminism, human behaviour, capitalism, sex, love and the banality of existence.
The female artist has mentioned that her style is influenced by the Punk-Rock bands she grew up listening to, inspiring the raw and unfiltered messages in her work. The visual style of her work often looks hastily drawn, making her work feel very spontaneous, fleeting and instinctive. The artist has spoken of her constant feelings of boredom; "I have problems with routine and moving constantly from place to place is essential for my work method."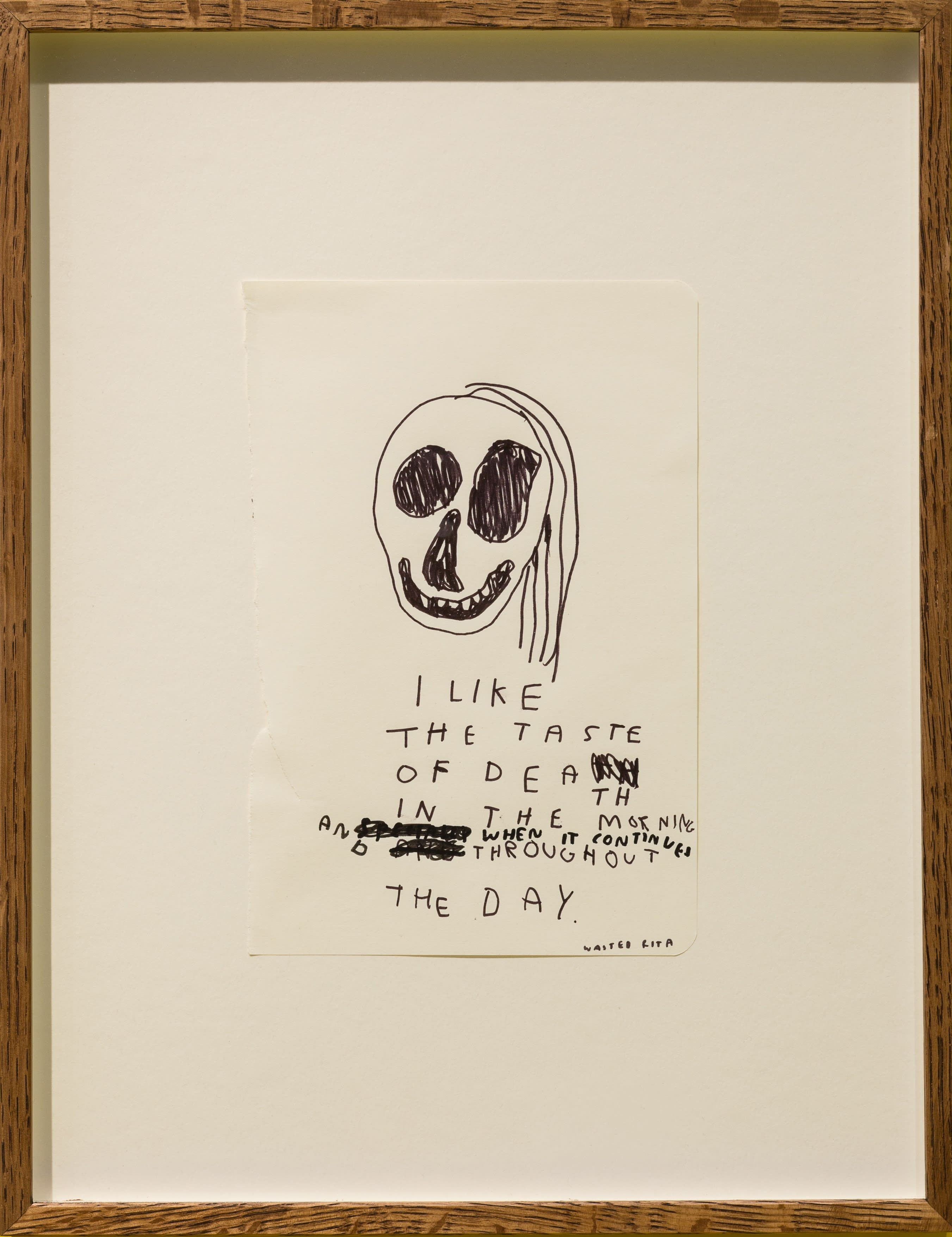 The roaming artist who enjoys constantly being on the move, has been described as a 'Natural Born Agent Provocateur'. The provocative artist explores irony using dark humour; 'GIVING HEAD, WATCHING TV IN BED, PRETENDING WE'RE DEAD' ('We're the Worst #4'.) Much of the appeal of Wasted Rita's work is its relatability and the injection of her own sarcastic and dry sense of humour. The darkly alluring illustration 'Angry Girls #11', shows a smiling female skull with the gothic caption 'I like the taste of death in the morning and when it continues throughout the day'.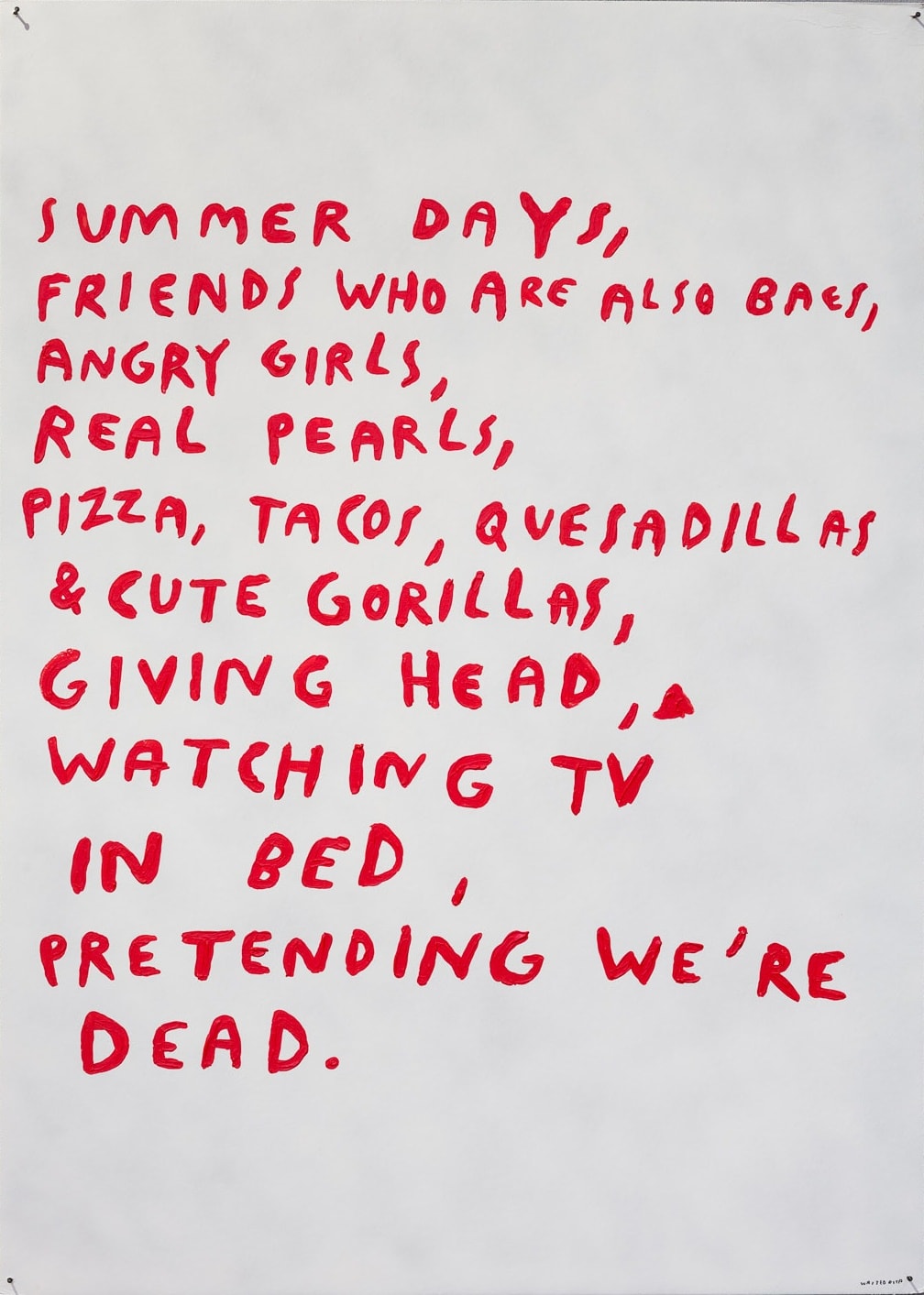 Human Beings – God's Only Mistake was an ongoing series of exhibitions from Zagreb, Berlin, Bochum and Viana do Castelo created by the artist in 2013, exploring the unceasing desire to explore and collect the actions, ideas and emotions of mankind. Rita was also involved in the 180 Creative Camp in 2014, where 20 selected participants from diverse creative fields including video, music, photography and the fine arts spent a week creating work in Abrantes, Portugal.
Wasted Rita was also invited by Banksy to create works for the 2015 dystopian Dismaland - Bemusement Park in Somerset, UK. The art project set in a disused lido in Weston Super-Mare, reimagined the brightly coloured Disneyland (USA) into a terrifying and depressing theme park, including figures making lasagne from the horses on a carousel and a woman being attacked by seagulls. This hellish theme park involved the works of Banksy and other artists; Wasted Rita was invited to create posters to adorn the castle, displaying her signature pessimistic world views 'Just Because I'm Afraid of Heights Doesn't Mean I Am Now Always Looking For a Good Reason to Fall' and wonderfully crude love poems 'You Perfect Piece of Meaningful Sh*t'. "Dismaland gave me a lot of exposure and I realised that my work's really important for those who like it."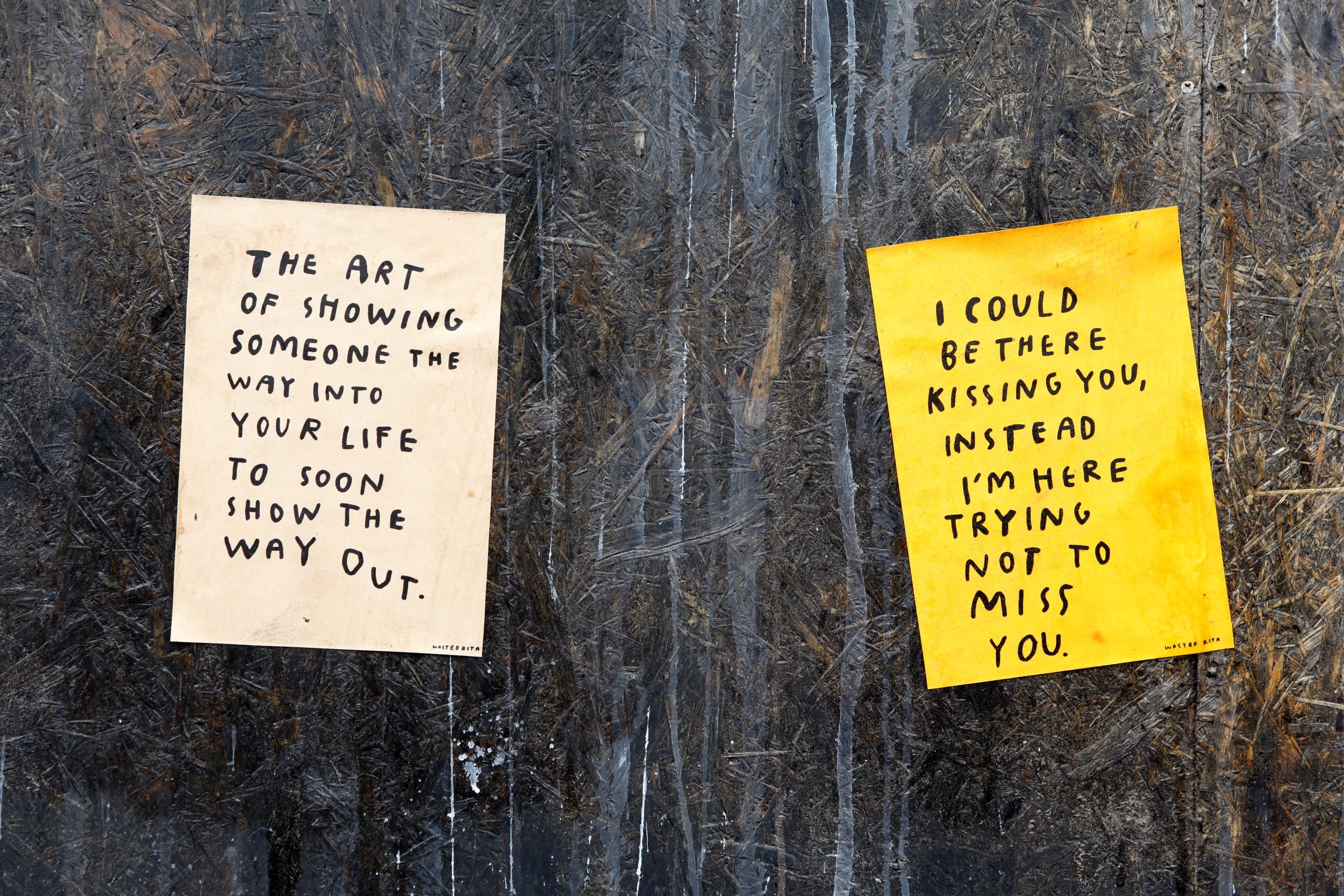 The solo show As Happy as Sad Can Be focused on the artist's personal self-acceptance as a 'negative person', explaining that 'being sad is not necessarily bad', but that 'it's ok to be simply well'. This idea inspired the 2017 solo show at Underdogs Gallery in Lisbon. The show included the artist's usual sense of humour through a series of antagonistic installations, neon signs and even an interactive arcade game. The show presented a window into the life of the artist who creates what she thinks and feels based on her everyday lived experiences. The openness, boldness and honesty with which Wasted Rita creates is possibly what makes her work so appealing.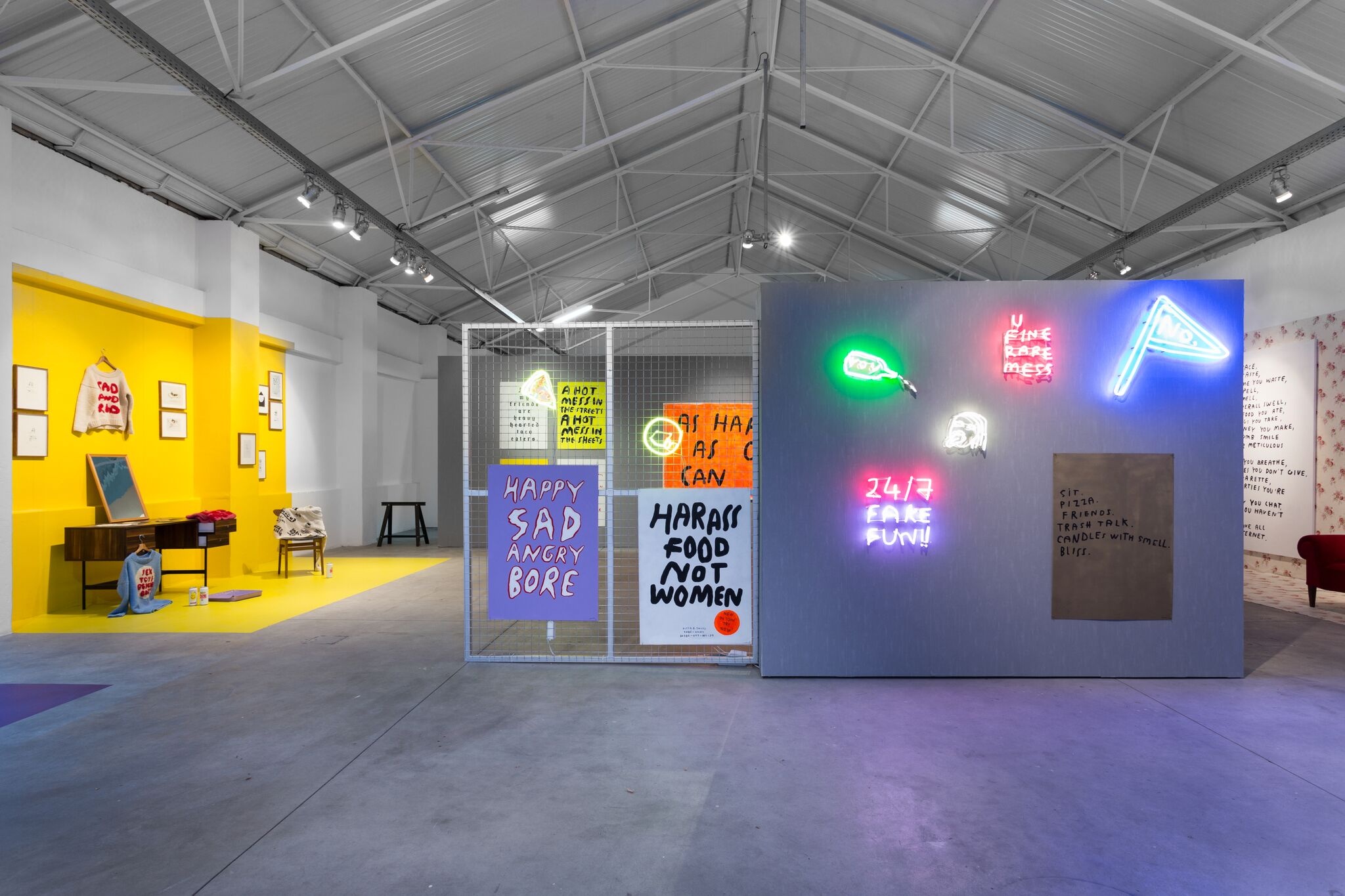 Wasted Rita has also worked collaboratively with fashion designers Freakloset, bridging the gap between design and art and creating wearable art. Each pair of classic derby shoes are decorated by Wasted Rita's provocative illustrations and the sole either black or with an orange flame design. The limited edition of 50 pairs are all numbered and come with a certificate of authenticity.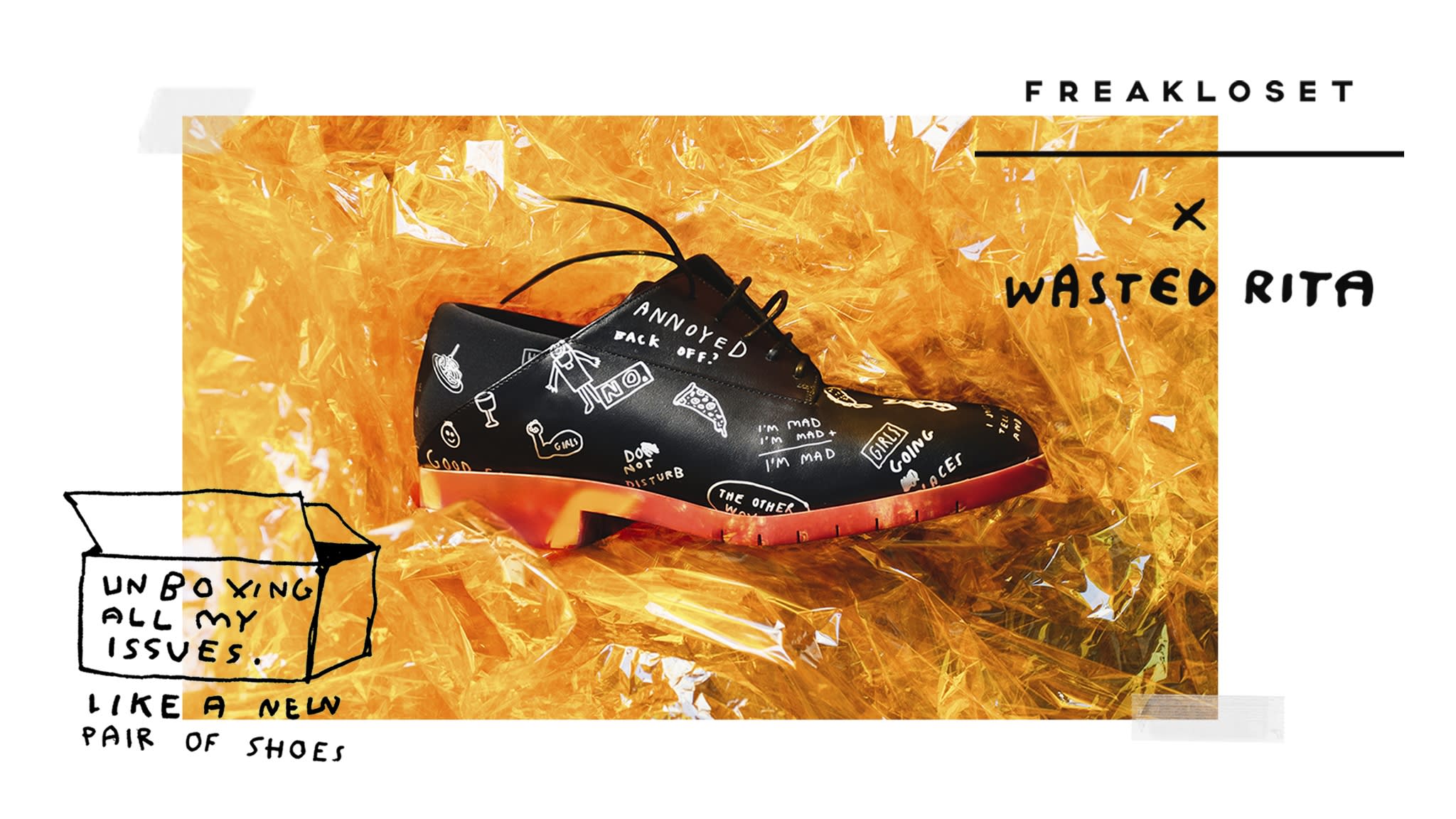 Last month the travelling artist was flown to Miami by the Jaunt, a creative catalyst which sends contemporary artists to destinations all over the world to provide inspiration for new work. The artist spent a week in Miami walking around, people watching and writing notes based on her feelings towards the city and the people she saw there. The print edition based on her experiences in Miami have already sold out.
Wasted Rita is now exhibiting in our current group show PREFACE; a collaboration between three international artists alongside a partnership with US curators Tax Collection. The show comments on the modern digital society and the new politics and social norms that are born out of the digital age. Here you can see Wasted Rita's work 'all i want is money for a gucci bag.jpg' alongside neon work 'Switch' by artist Sage Barnes.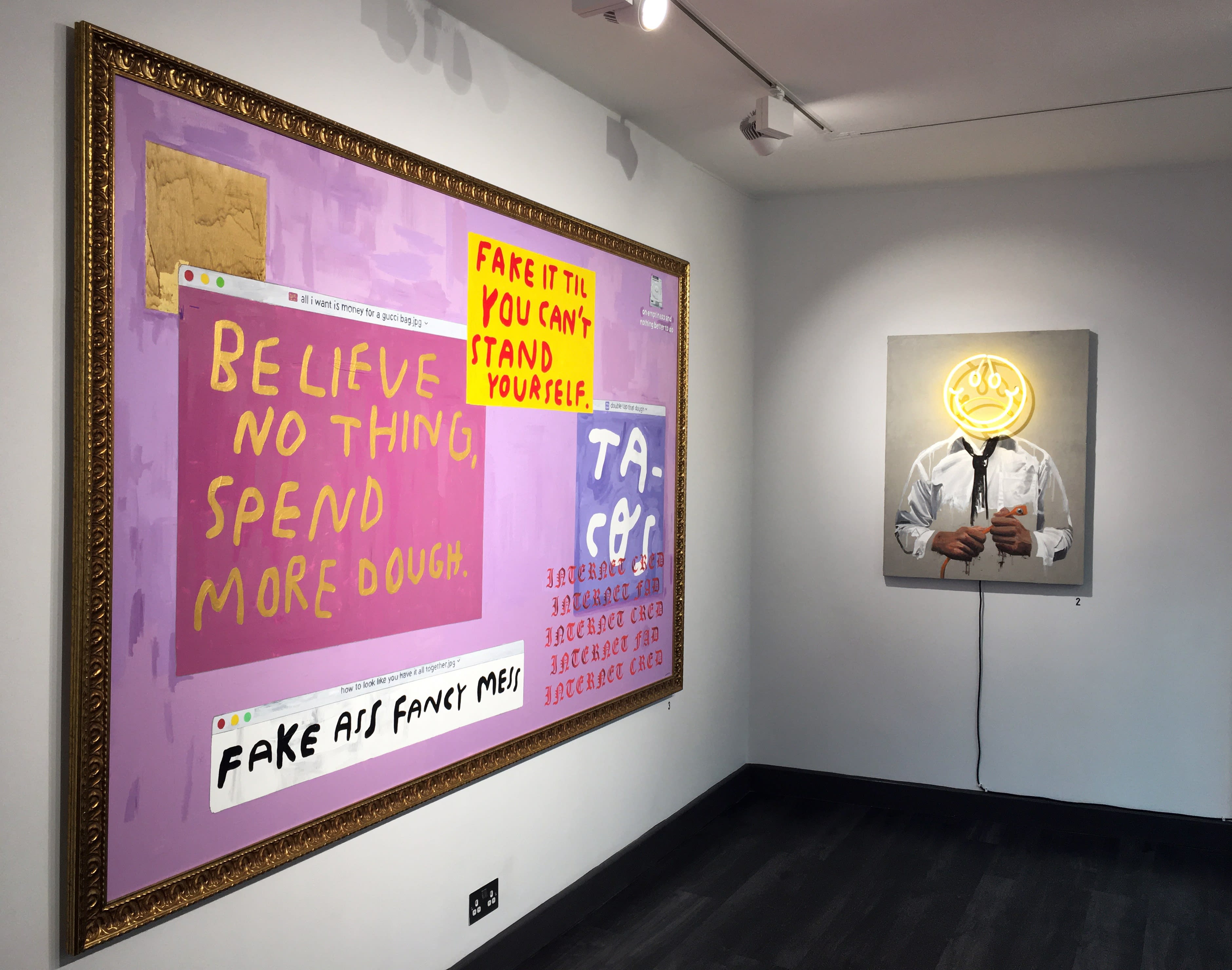 You can see all works by Wasted Rita until March 7th, for more information and enquirires about the artist's work, please contact the gallery.
February 19, 2020