"If we can find similarities between an image of a paralytic child and a woman posed in a hyper-sexualised manner, what does that say about our idea of beauty? what does that say about how we've been conditioned to push ourselves into discomfort for the sake of the perception of others, for keeping up, for fitting in?" - Jess Cochrane
"Study of a Woman Talking to Herself" is the title of our new exhibition which puts the works of Jess Cochrane in conversation with Francis Bacon's prints. The exhibition runs from the 8th of November until the 7th of December.
Francis Bacon was a British artist born in Ireland in 1909 who became one of the most unique and influential figurative painters of the Western post-war period. He was the second of five children; however, he had a conflictive relationship with his father. After irreconcilable differences over his sexuality, when his father found him trying on his mother's clothes, he left home at the age of sixteen to live with an uncle in Berlin. Known for featuring distorted figures, Bacon packed his pieces with desperation and pain, but also sexual attraction from a homosexual perspective. Bacon once said: "The feelings of desperation and unhappiness are more useful to an artist than the feeling of contentment because desperation and unhappiness stretch your whole sensibility."
Today, his works are held in the collections of The Museum of Modern Art in New York, the Tate Gallery in London, the Art Institute of Chicago, the Hugh Lane in Dublin, and the Albertina in Vienna, among others.
Jessica Cochrane is an emerging London based artist originated from Australia. Coming from and advertising and design background, Cochrane looks at our society relation with consumerism and pop culture, while simultaneosly tapping into the feminine power and energy. Her most recent body of works is a homage to Francis Bacon's practises but from a female gaze point of view.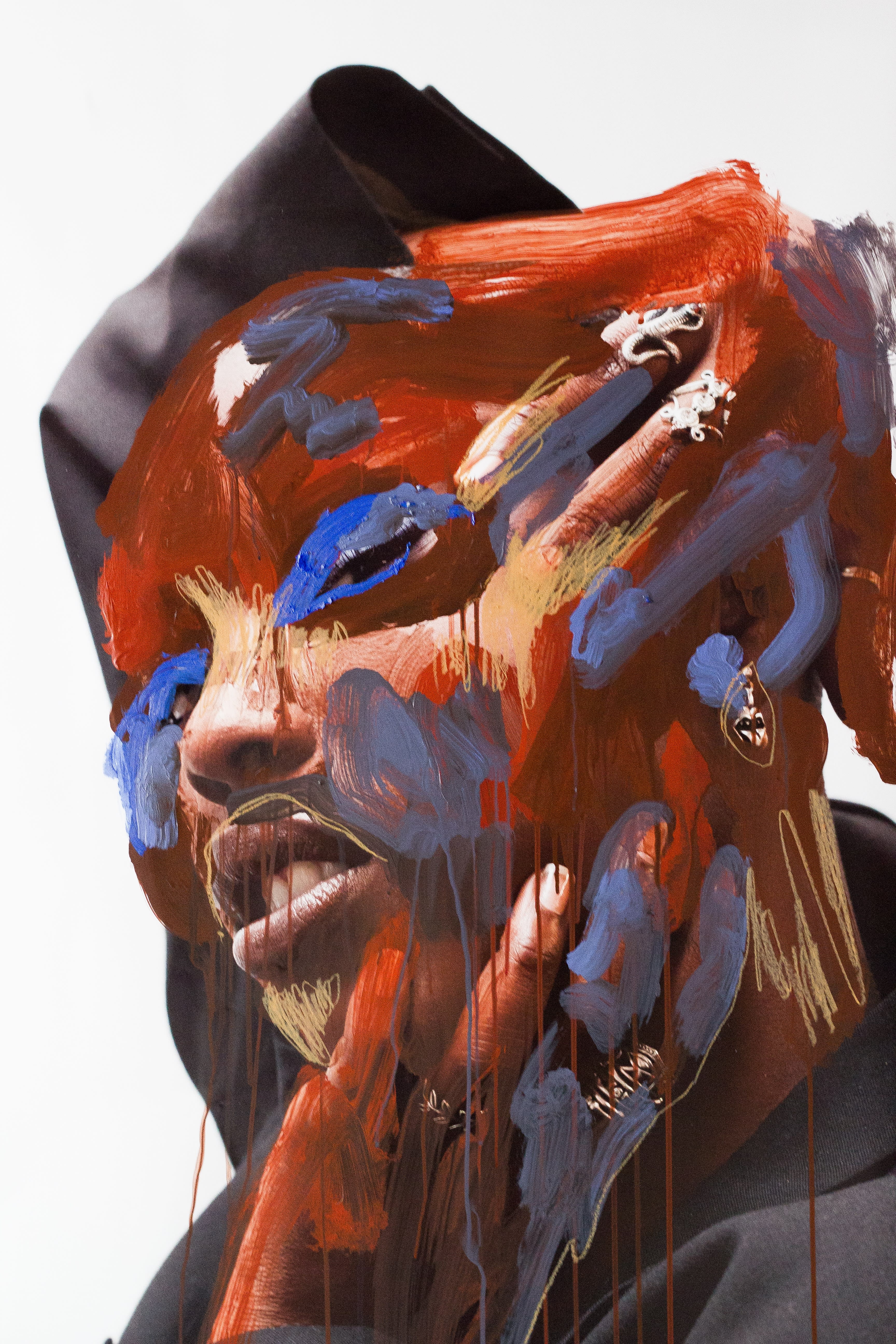 Both Cochrane's and Bacon's practice, use the human figure as a window into their mind. Their emotionally charged imagery fixates on personal motifs, emotions and identity. The models on their pieces, alternate between pain, pleasure and beauty while tapping into their animal instincts. Distorted by the materiality of paint, the figures and bodies are also a reflection of societies view on gender fluidity from different millenniums. As bacon said: "When you paint anything, you are also painting yourself as well as the object you're trying to record."
It's well documented that Muybridge photographic work from 1887: "Animal Locomotion" was a source of inspiration to Francis Bacon in terms of showing movement in a two-dimensional image. This resulted in Bacon using thick gestural brushstrokes forming almost surrealist figures. Cochrane on the other hand, thanks to the digitalization and increase of accessibility of photography, she juxtaposes both mediums, creating a contemporary take on surrealism.
"Study of a Woman Talking to Herself" provides us with a conversation between two figurative artists acting as a reflection of their times. The conversation about the human figure with the artists' psychoanalysis starts by Bacon while Cochran responds offering us a millennial feminine point of view.
If you have any questions or enquiries about Jess Cochrane's or Francis Bacon's work, please contact us at info@rhodescontemporaryart.com
October 25, 2019