We took a day trip to Liverpool! The gallery team popped up to Tate Liverpool to check out the Keith Haring show, and we spotted a few familiar pieces...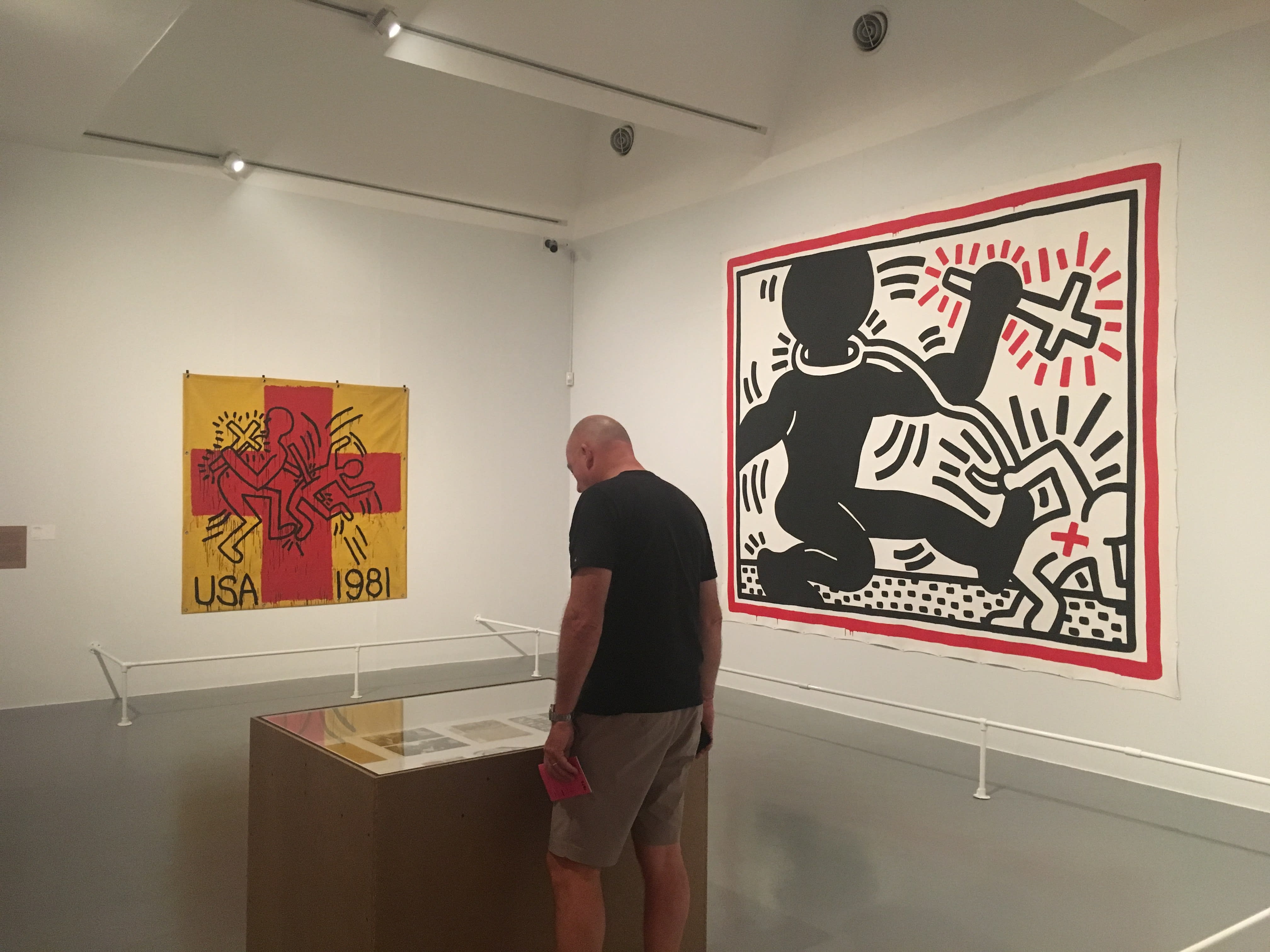 The Keith Haring retrospective at Tate Liverpool, curated by Darren Pih, reintroduced Haring's energy to the British public, as the first large scale retrospective of the artist's work exhibited in the UK. The exhibition explores the influences, developments and impact of Haring's work during his short twelve year career. Speaking about social issues which continue to be relevant today: homophobia, racism, the dangers of dictatorship, nuclear annihilation, environmental degradation, drug addiction and AIDS awareness and activism.
The exhibition also highlights the importance of the city of New York in the 80s, which was highly influential in Haring's practice, becoming his canvas on which to create. Haring believed that art should be public, and accessible to all; an opportunity to speak for his generation.
Arriving in New York in 1978, Haring envisaged creating art in the public sphere, to be seen by a huge variety of people, not just the elites. He wanted to be a spokesperson for the urban liberal youth, leading a movement against "bourgeois art for the few who can afford it."
"My paintings, themselves, are not as important as the. Interaction between people who see them and the ideas that they take with them after they leave the presence of my painting."[1]
Haring used to draw and produce work in the subway, where millions could see it. However, this was illegal and got him arrested. It used to only take him a couple of hours to produce works, he argues that he rather produce many of works and quick, where many can enjoy them, instead of one well-done artwork. He states: "it's a fast paced world".[2]
We currently have a printed photograph of Haring being arrested for producing work in the subway which includes a drawing by Haring, signed and dated from 1985. This framed signed historical shot is available to purchase, through us.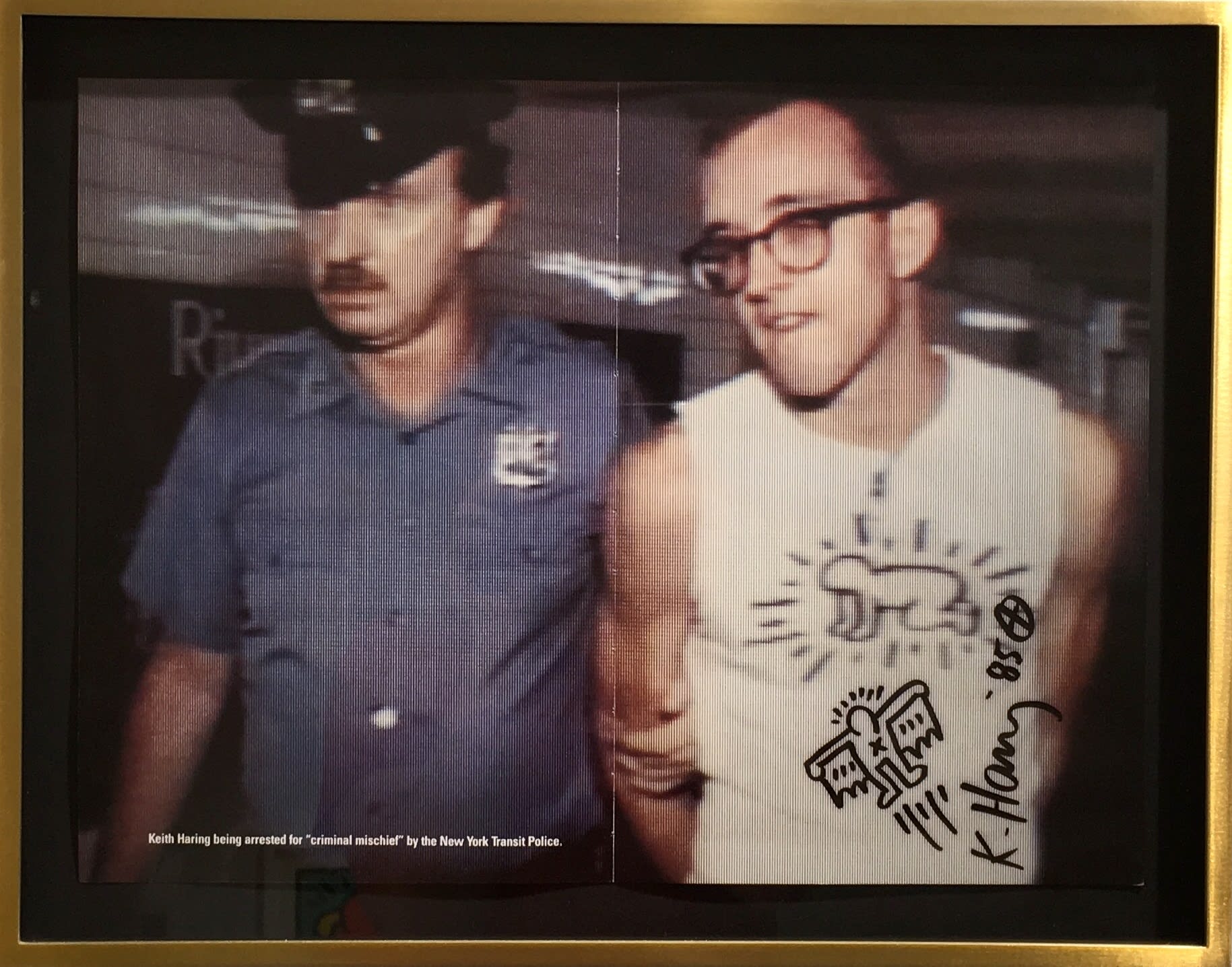 Another example of Haring's public works is his Mural painting on the Bowery Wall. Cooper is a New York photographer, historian and archivist who spent the late 70s and 80s photographing graffiti art and the urban culture of the city. Many street artists only consider their wall completed once Cooper has captured the final result on camera.
Over the years, she has created a vast archive by documenting the evolution of street art. She has now donated a large part amount of it to the Urban Nation Museum of Berlin, the first street art museum in the world. The museum then created the Martha Cooper Library.[1]
Martha Cooper's shots are available to view both in our gallery and in TateLiverpool for the Keith Haring exhibitions.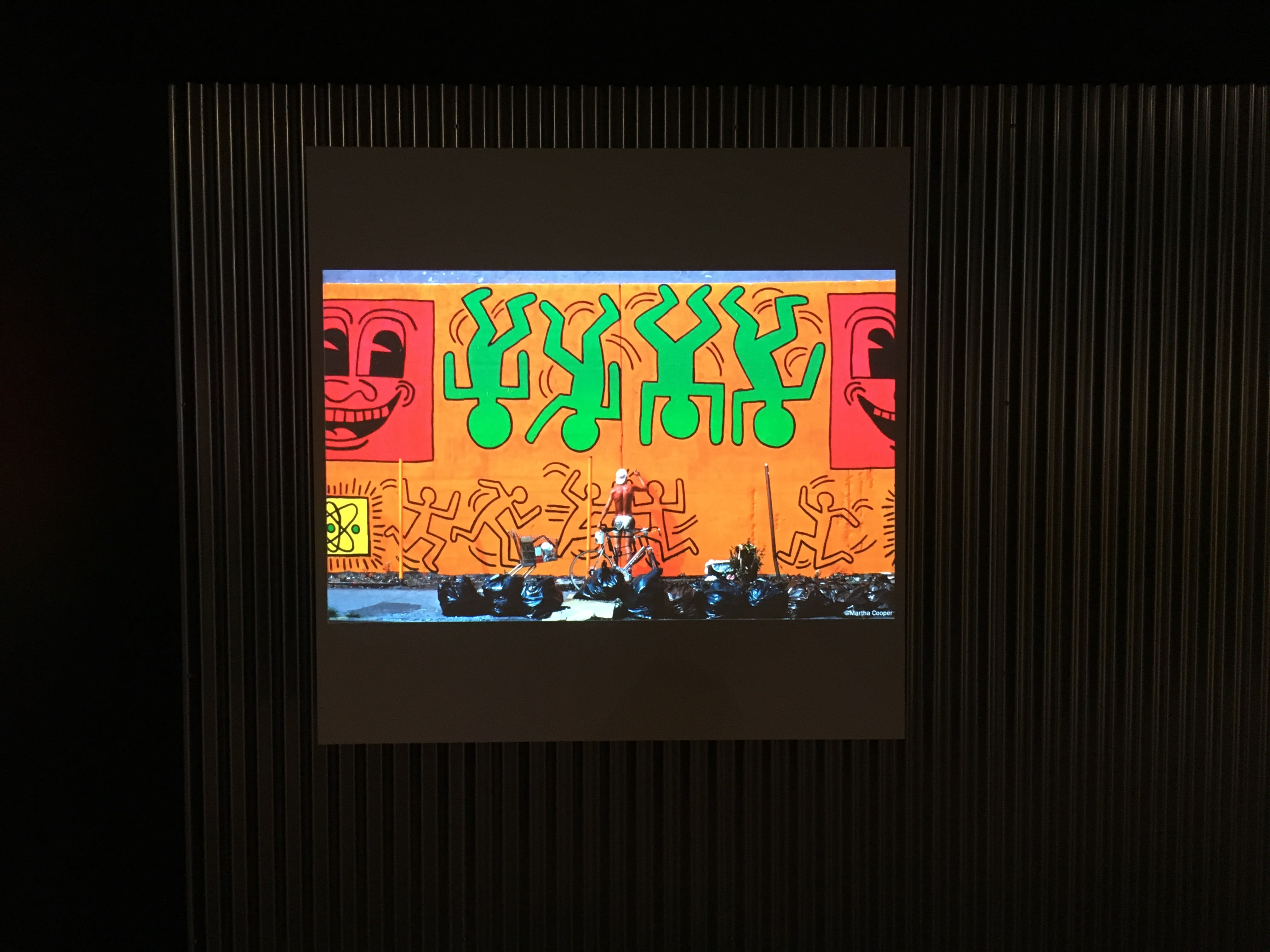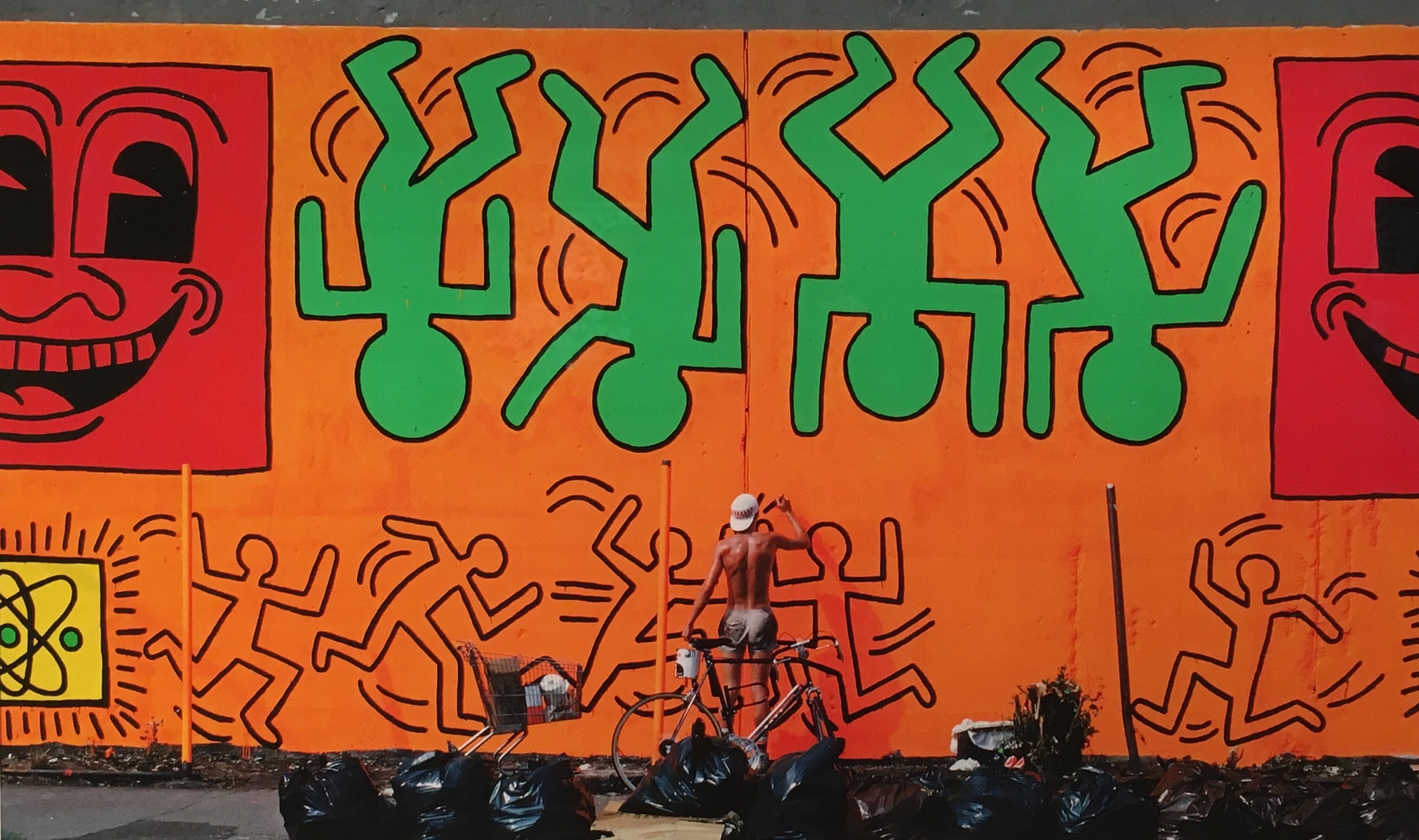 (Image copyright Martha Cooper)
Much of the imagery on show in the Tate restropective can also be found in our 'Keith Haring: ICON' exhibition. We were happy to spot the "National Coming Out Day" poster currently hanging in the Gallery, which also ended up being the cover of "Keith Haring – Posters" book, published by Prestel and the Museum fur Kunst und Gewerbe Hamburg.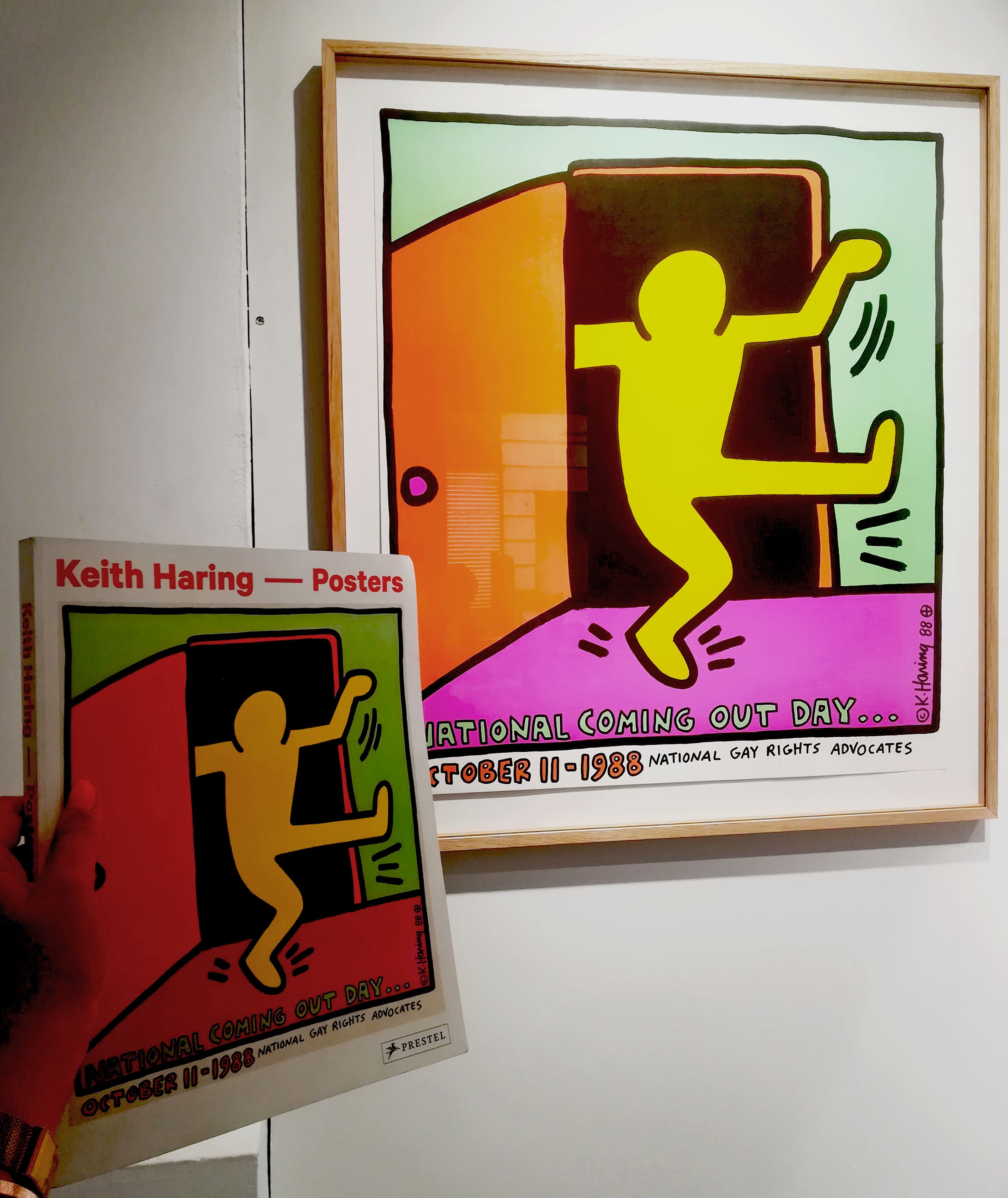 In 1978, Haring began developing his practice, finding inspiration and influences from Japanese calligraphy, Aztec symbolism and ancient Egyptian hieroglyphs. These influences can be seen in Haring's aesthetics and patterns in pieces such as the Fun Gallery poster from 1983, hanging both in the gallery and the Tate Liverpool.
The patterns and single line aesthetic became the signature style of Haring's works. The original drawing pictured on our Robert Fraser Gallery poster was also spotted at Tate Liverpool. The drawing showcases robots and flying saucepans and was used as a gallery poster for Haring's exhibition in London in 1983. Our edition is framed, signed and dedicated to the famous Iranian artist and curator Fereydoun by Keith Haring itself.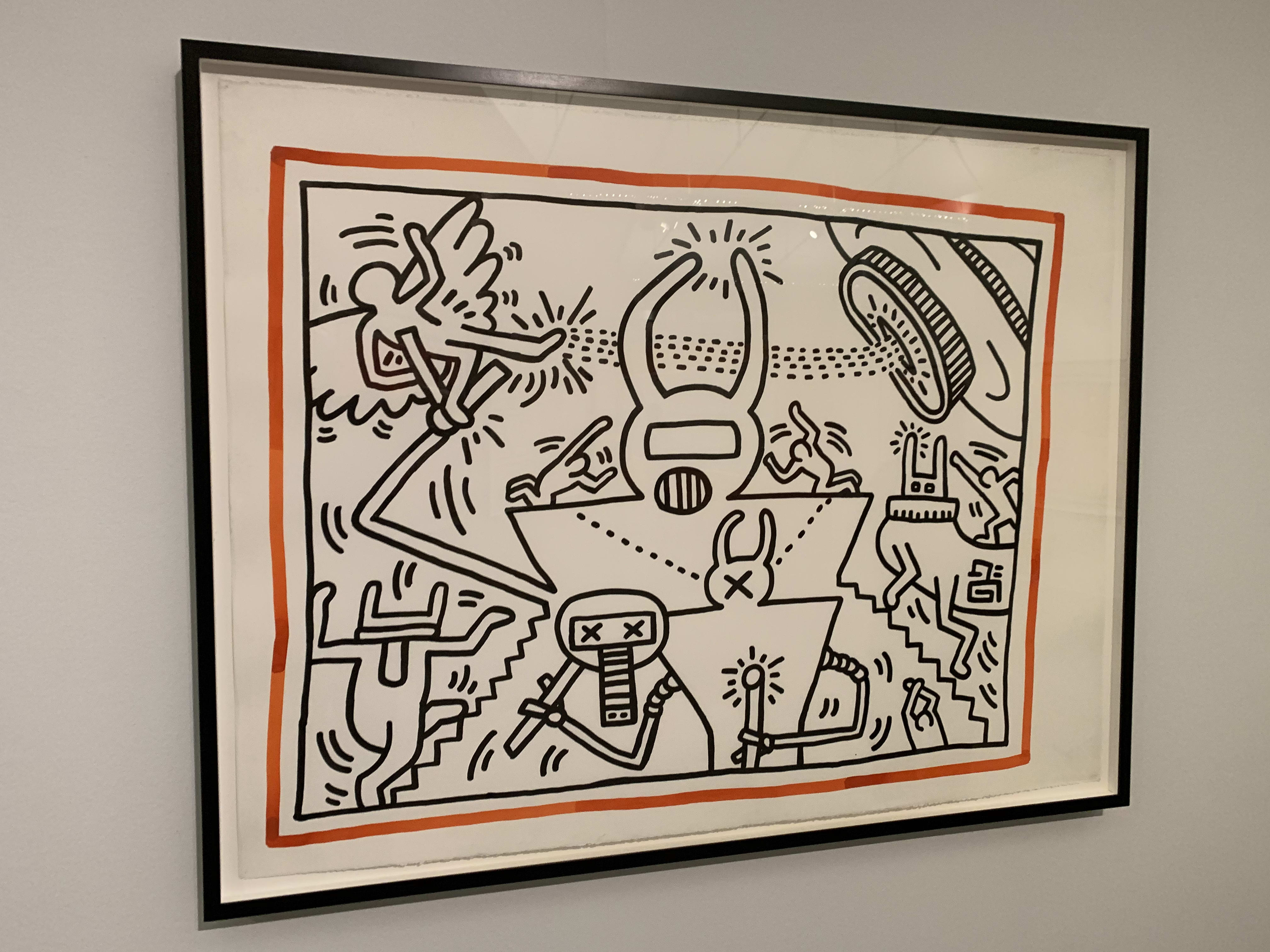 Between the summer of 1980 and January 1981, Haring created The Blueprint Drawings series. The series were originally unique works made with Sumi ink on vellum and were displayed on in a one-week exhibition in Manhattan. One month prior or Haring's death in 1990, he revisited the series creating a portfolio of 17 screen-prints of images, becoming the last project of his life. One edition is currently hanging in the gallery, signed, numbered and dated by the artist, others from the series are on view in Liverpool.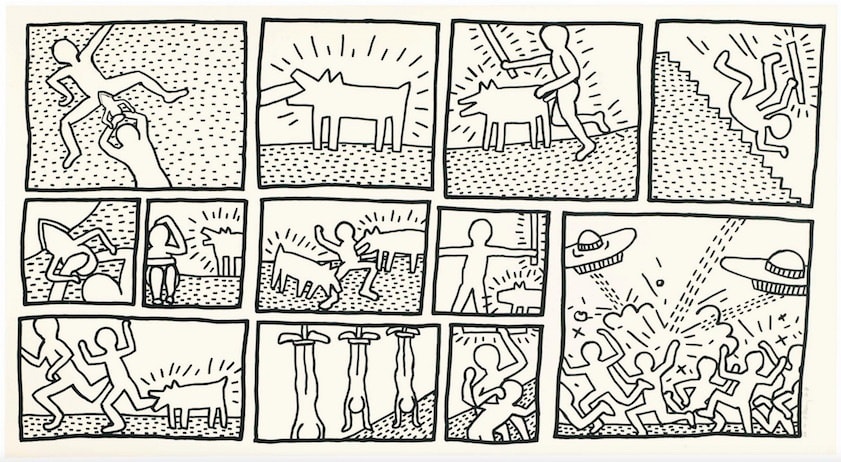 Another similarity between our show and Liverpool is the wood carving pieces kept in Perspex. We have an original carved piece of a glowing baby, and in Tate, you can find the three- eyed face. Both glowing babies and three-eyed faces are common themes in Haring's practice. The baby carving currently on disply in the gallery demonstrates the early depictions of the figure, whose form is more adult than the plumper infants seen later in Haring's work. Haring gifted this work to fellow artist and long-time friend, Dan Friedman, dedicating it on the reverse in black marker pen, "For Dan - Love, Keith 1984".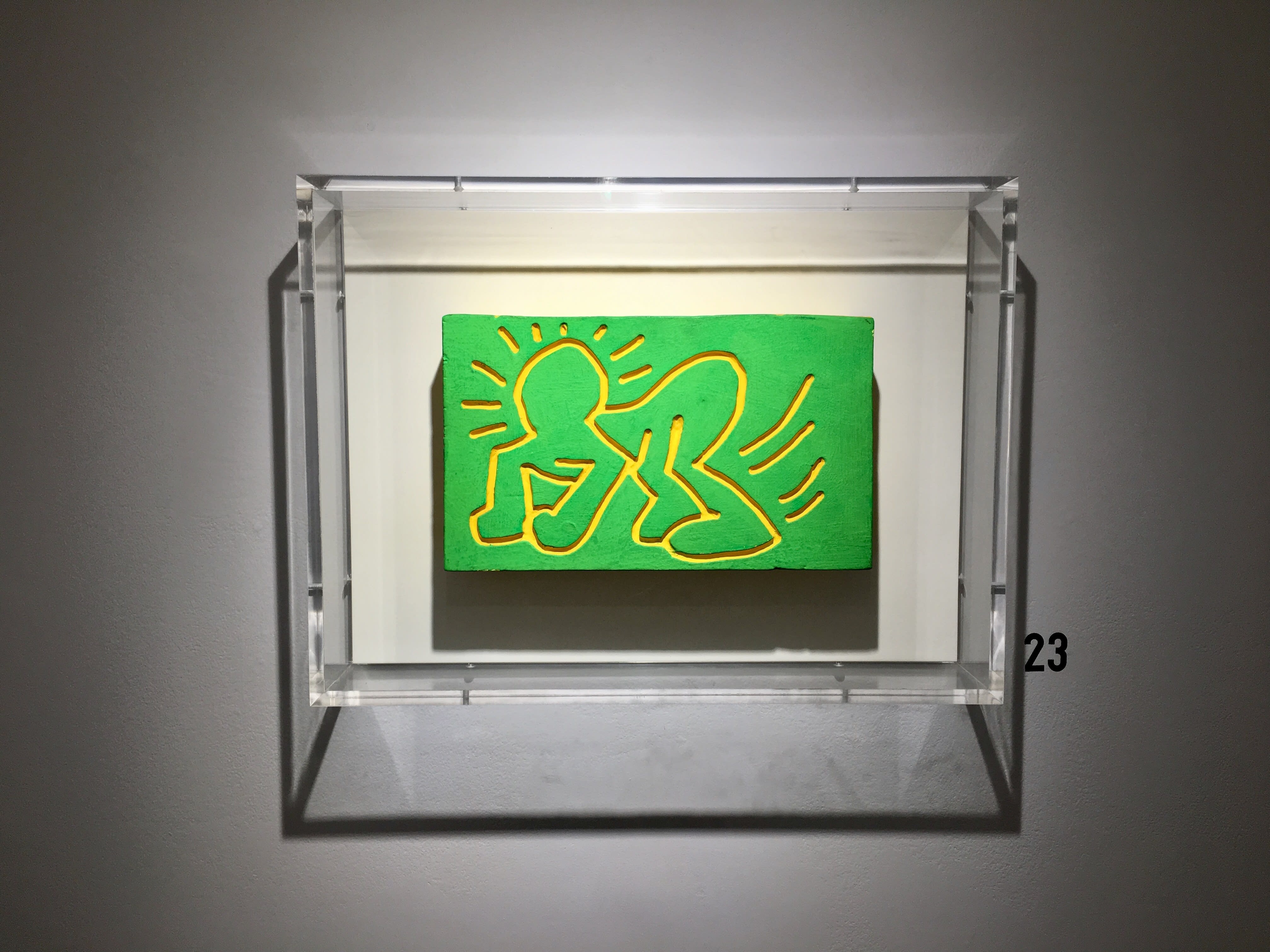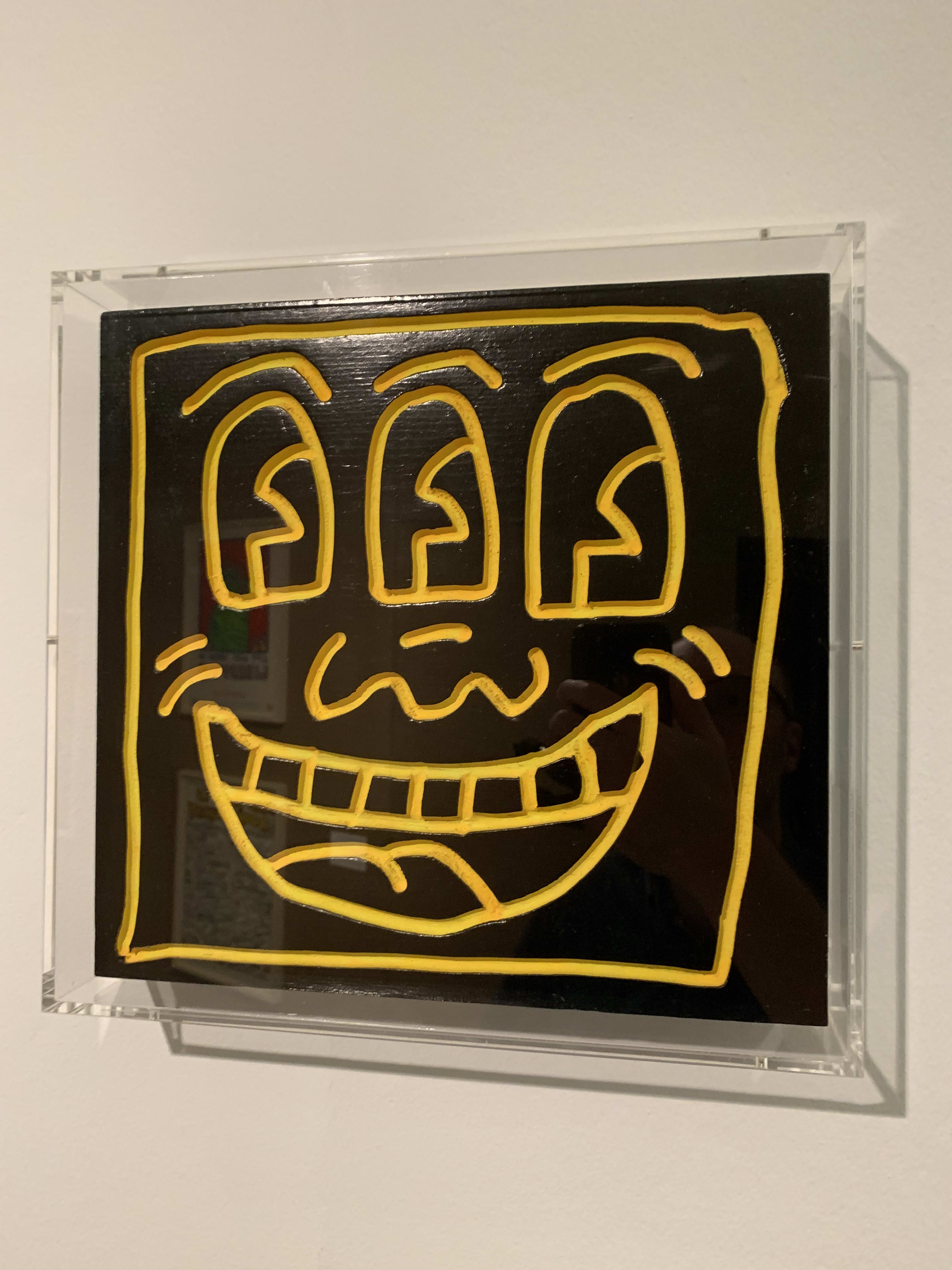 However, our favourite piece, is the drawing of a figure riding a dolphin, one spotted in our gallery in London and in the other one at Tate in Liverpool. The piece in our gallery is a large print signed, dated and numbered by the artist, of a black and white figure riding a dolphin. The piece at Liverpool, represents another figure riding a dolphin, but this time holding a neon stick as a flying saucer is pictured in the background. This imagery is also pictured in the Galerie Watari posters available through us at an affordable price.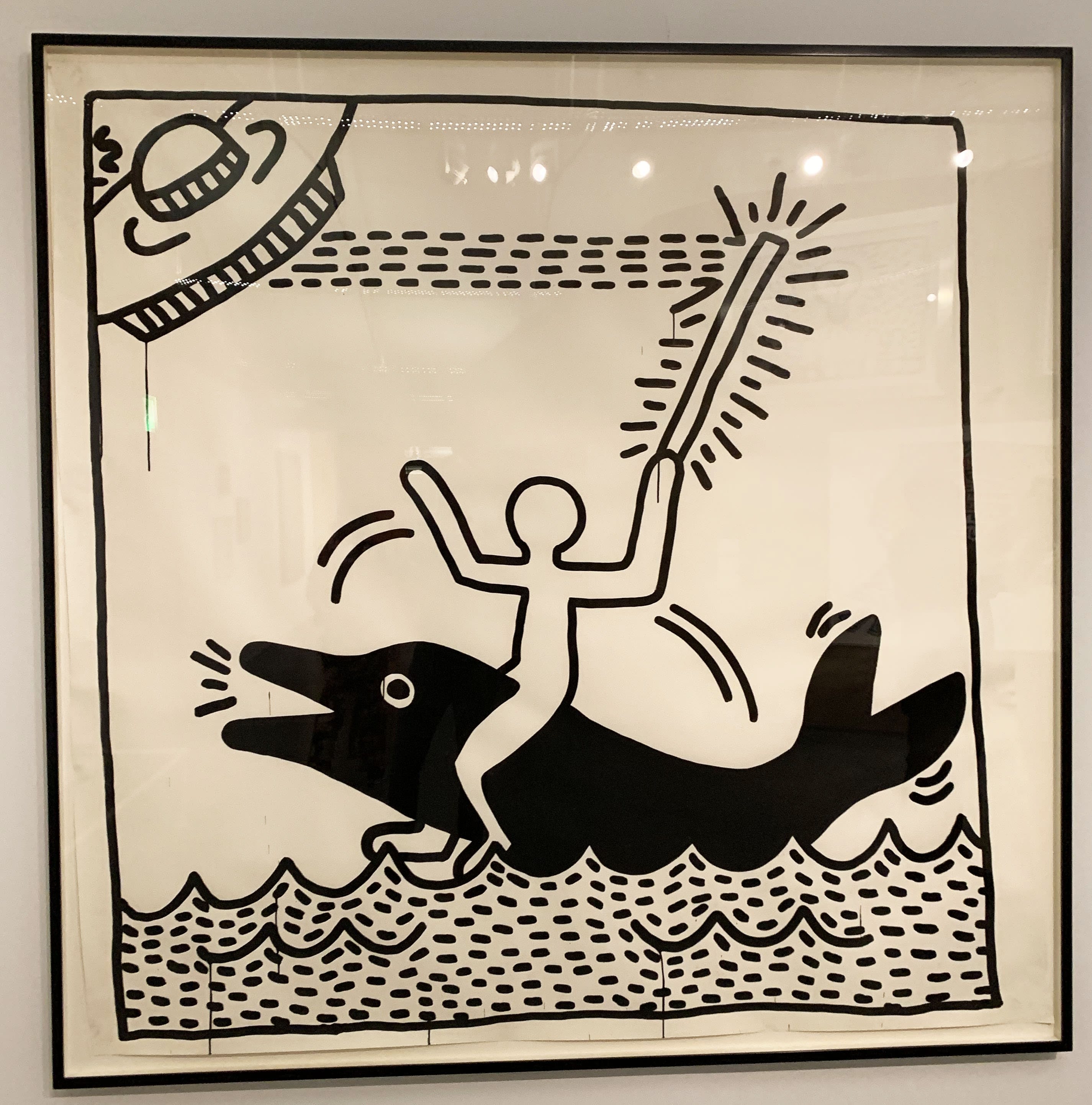 Both exhibitions offer different perspectives and experiences to Keith Haring's practice, ultimately accomplishing Haring's wishes to appeal to a wide range of audiences.
If you are a Keith Haring fan as much as us and have been to Liverpool exhibition, please pop in our gallery in London and see if you recognize some works. Entry is free.
The Tate Liverpool exhibition was developed in partnership with the Centre for Fine Arts (BOZAR) in Brussels and Museum Folkwang in Essen.
The exhibition is located at
Royal Albert Dock Liverpool
Liverpool L3 4BB
14 June – 10 November.
---
[1] Cooper, Martha. "40 Years of Photographing Street Art Around the World - Interview by Maria Vittoria Baravelli:" LensCulture, www.lensculture.com/articles/martha-cooper-40-years-of-photographing-street-art-around-the-world.
---
[1] Keith Haring Journals, New York and London 2010, p.40. (First published in the United States by Viking Penguin, 1996).
[2] Morning, CBS Sunday. "From the Archives: Keith Haring Was Here." YouTube, YouTube, 28 Mar. 2014, www.youtube.com/watch?v=W04j0Je01wQ.
July 25, 2019