We are excited to announce we are now working with Australian contemporary visual artist Jessica Cochrane. Cochrane's work questions the relationship between society, consumerism and pop culture. Her focus is on feminine beauty, illustrated through the application of paint over photographic images. Mimi caught up with her in her new London studio ahead of our Summer Group Show opening Thursday 8th August, to discuss her work and influences.
When I think of your work, one of the first themes that comes to mind is femininity and female empowerment.
Although i don't exclusively paint women, it's fair to say that a lot of my work taps into feminine energy. It's powerful. I have always worked with what I know; drawing from my experience as a woman and the connections I have with my subjects. The work is a reflection of that.
Your art plays a lot on the concept of duality, tell me a bit about that.
I think we're living in a time where we commonly experience a sense conflict when it comes to what we're consuming and how we choose to present ourselves. We can be met with criticism for sticking to a set of societal structures just as much as we can be criticised for breaking them. It's like you're damned if you do, damned if you don't. When i first started experimenting with paint over photographic image, I found the clash between perfectionism and the grotesque, almost violent gestures [in paint] to be metaphorical of this contradiction within our consumer culture.
We are constantly displaying and disguising parts of ourselves. Sometimes we look our best when we're at our lowest and vice versa. Advertising, particularly aimed at women, perpetuates this misconception that if you look better on the outside, you'll feel better on the inside. It's untrue.
How do the themes of advertising and commerciality play into your practise?
Before studying art i studied design. I became obsessed by the ways in which we're sold to subliminally through the use of colour, layout and composition. I found the underlying structures of visual consumption and consumer psychology so fascinating, like how every page of a magazine is designed to guide the eye, or read the information in a certain way.
When I began painting over magazine pages, it felt like a rebellious act. I would distort the layout and create something new that challenged the very nature of that invisible structure. I found I could subvert the stereotypical image of the woman on that page and give her power. Even now, in my large-scale pieces, the format of the magazine or double-page spread is ever present in the way I piece my paper together. I like that the work is an extension of this medium, freeing the models from the constraints of perfectionist commercial beauty and allowing them to take up more space.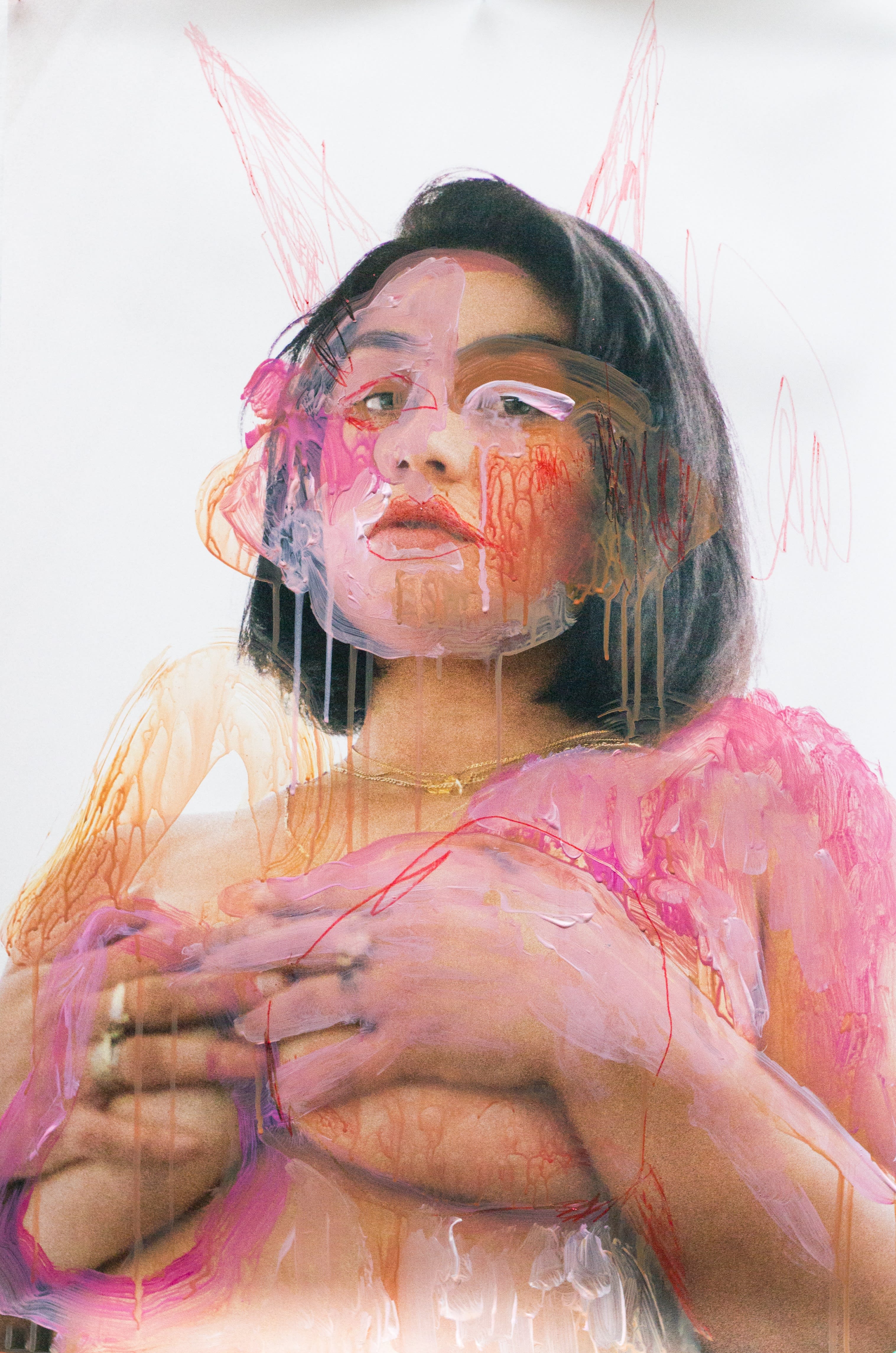 How much does social media influence your work?
I find it interesting to observe how pop culture and narratives around beauty have changed and continue to develop through social media. The way photo-sharing apps like Instagram have changed how we view self portraiture is a big influence for me. I find it concerning and utterly fascinating how we can warp and edit an image of ourselves to the extent that it looks nothing like reality. This visual misrepresentation has become the norm.
In a way, it's no different from what I do with paint. Only the image I create is there to challenge, not please you. It's harder to look at.
If your audience could take one message from your work, what do you hope that would be?
There is strength in your vulnerability.
What is your wish for the future?
I think it would be nice if in the future we weren't so conditioned into feeling insecure.
For more information on Jess and her available work, including in the upcoming summer group show 'CHROMA', please email info@rhodescontemporaryart.com or call +44 (0)20 7240 7909.
(Interview by Mimi Gray)
July 15, 2019