Geraldine Swayne's upcoming show 'What Do You Want…?' will be the first exhibition consisting solely of paintings to grace the gallery since last years 'Flux' by Tom French. Her powerful miniatures are set to transform our New Compton Street gallery into a darkly intimate place, which demands viewers to get up close and personal with the paintings. We caught up with Geraldine in her studio to find out more about 'What Do You Want…?', the seductive lure of enamel paint and what it's like to work with the Chapman Brothers…
How did you come up with the title of the new show 'What Do You Want...?'
Well it's figurative paintings. Someone walks in and sees a bunch of figures and there is that notion that we have really basic things we ask each other all the time; they're usually the first things we learn and the last things we forget. When you're a tiny child and even when you have Alzheimer's you always say the same things, it's like a hard drive; 'how are you?', 'what is it?', 'good bye', 'hello'. The last show I did was called 'How Are You?' and this one is 'What Do You Want?', so they're really straightforward and very basic concepts.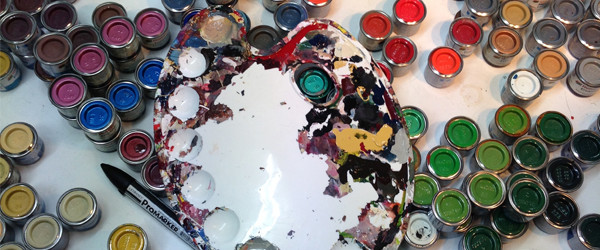 It's also the kind of thing you ask each other the minute you meet even if it's internal, it's the chimpanzee part of us. I thought 'How are you?' is quite a laden question, in the biblical sense it can be 'How are you rendered?' or' How did you come about?'. The naming of this show 'What Do You Want?' was more because of the sexual component. Those types of questions immediately put you on a really human, absolutely basic level of conversation so it's you looking at other people and wondering something.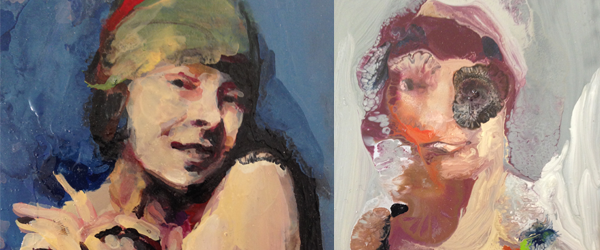 How would you describe your work and what kind of reaction has it received?
My work has a very strong narrative feeling to it although it's quite non-specific. The paintings look like heightened moments from films where you don't know what's going on but there's a powerful emotion present. It's not that someone's sad or happy or crying, it's like a moment of transformation or something's been revealed to them, there's a funny atmosphere. There's also an emotional narrative that people project on the work. When they see my pictures they often respond powerfully, some people have cried or said it's like a dream or nightmare they can't shake off. I wanted the paintings to be small because I like the idea of people carrying their art collection with them, so they can hang it by their bed; maybe it's of a loved one or a deceased person. That's a very old form of painting called Memento Mori Traveling Portraits.
Who would you say are your main influences?
From a child I really loved Degas. I also love Chantal Joffe, Ron Kitaj, Marlene Dumas. My first museum collector in New York actually bought 10 of pieces of my work at Dumas' requests. She was with the collector and suggested that he got all of the paintings.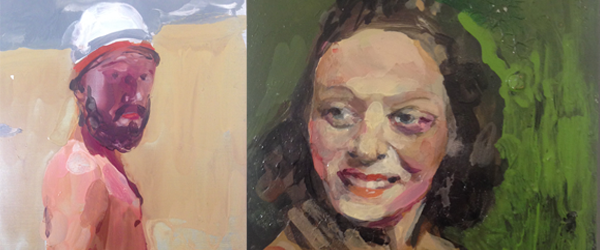 Something that is very poignant about your work is the scale. It's got a very intimate quality. Have you always worked like that or has it been a case of reduction until you've reached this size?
I always did smallish things but the idea of going down really small was only in the last three years.
What kind of source material do you use in your work?
Absolutely anything, obviously it's figurative but there'll be something about someone's behaviour or the way that they're looking. It's usually quite neutral; it could be that someone is in a peculiar situation but their expression is quite neutral so you can't actually read them. It's called mind reading and we do it all the time, you get people at airports who are trained to read faces for signs of stress or hiding stress. That's all really interesting but when somebody's in neutral, which they sometimes are, it's really fascinating. When you're doing a portrait that's what you're trying to achieve, that neutrality. I don't do that heighten emotion thing; it's usually when people are in themselves a bit so it's more mysterious.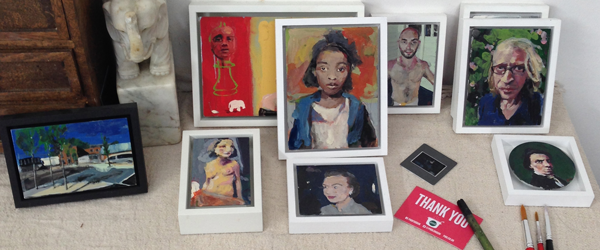 Many of your paintings have a kind of darkly macabre humour, is this something you explicitly try to channel into the work or does it manifest more naturally?
I try not to make any judgements about what I pick because I think you can end up just making no work, if you start to take on too much of that crit you get at art school it can be really banal. It's like saying 'why did you pick your own granny?' A big part of it is intuition.
You use enamels and paint directly onto copper and aluminium sheets, how did you start this method of painting?
I was working in a studio in Carpenters Road and was painting large canvases, which were working out as a quite expensive. I had seen an enamel painting on the cover of Artist's Newsletter and it was the kind of effect I was trying to achieve. I had been looking at people like Nicholas Hilliard and his intrinsically beautiful objects that also had paintings in them. My painting was getting small and smaller using these silver and gold lasco acrylic grounds. Some of those older, bigger painting are going to be in the show so you can see the evolution.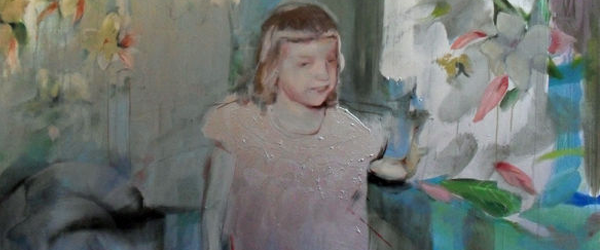 A friend of mine suggested I try painting onto metal. She gave me 5 or 6 tins of Humbrol and we sat at her kitchen table both of us just mucking about and I thought it felt brilliant. It was like shrugging off all these years of questioning 'should I be making these difficult things?' and painting something that is delightful and funny. It was literally one of those weird breakthroughs, I put the work up on a website and within a week I had a gallery. Suddenly the paint was doing what I wanted it to do and it was looking how I wanted. You get that incredible colour with enamel and they almost look good enough to eat. It also suits the fact I tend to work very quickly. You can't overwork enamel paint, it partly dries and slips off eventually, it gets a kind of skin to it and that can just slip off.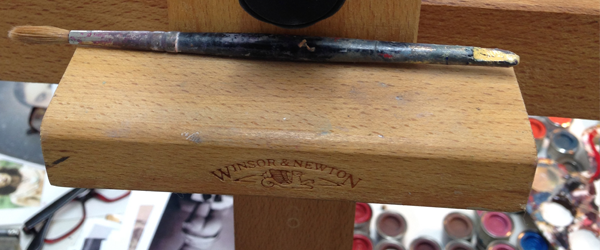 Enamel paint isn't traditionally intended for artists and has more associating with model building or painting outdoors objects, how does it affect your materials?
I go through a lot of brushes each week, they quickly become unusable but I've had this particular one since about 1992. It's now almost the most precious thing I own.  I've used it for watercolours, enamels, left it over night in acetone countless times, let it dry out, and scrubbed in on sandpaper. It's made of sable. That one brush has never ever left the table and it's outlasted 100s of others. I'm going to retire that brush, it'll never leave me and I'll be buried with it.
The paints are getting harder to come by. Lots of model shops have closed and there is even a frightening prospect that Humbrol won't around for much longer. I might have to start ordering in bulk.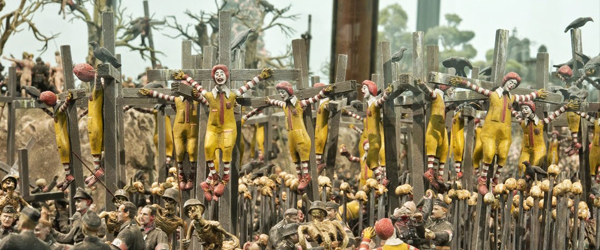 You worked for the Chapman Brothers for a number of years what was that like?
I was with them for about 5 years. The work was really small, almost microscopic and in enamel so I guess I got used to painting with it. It was an interesting experience to see how long the process was to make little sculptures and how many coats of paint went on. When you think about the amount of figures on one of those sculptures and the attention to detail on every single figure, every button, that was pretty extraordinary. Each figure alone had about 13 paint processes.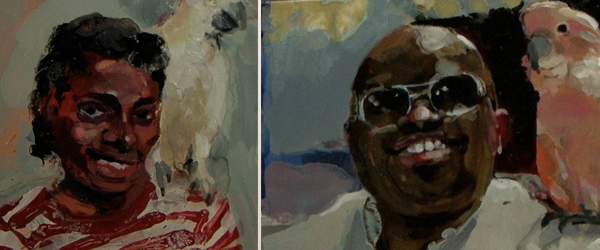 Do you have a favourite piece from the upcoming show?
I have great fondness for 'Michael Jackson with a Parrot' because it feels like me, he just looks so happy. There's some website of celebrities with their parrots and I would really like a parrot but it would have to be a rescue parrot or one bred in captivity. There's something so sad about Michael Jackson and his animals. There's also something profound about the parrot as a witness because they're so clever. It's like the old pirates used to always have parrots, saying something gnomically spooky.
So painting is not dead after all…
Definitely not. Painting is absolutely, categorically impossible to kill. You can't do some things any other way. It's miraculous. I've worked in digital special effects and I know it's true. This is an object, a thing, it's also poet and artful, it's an amazing medium. Whether its oil paint or something else, the manipulation of the media allows other things to come out.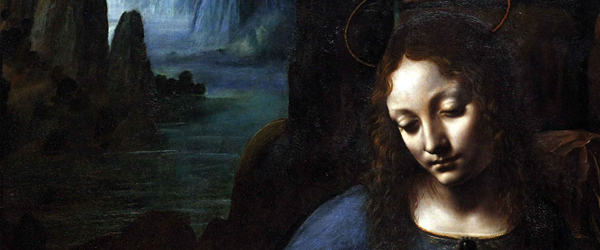 If you were on death row and you could see one last painting before your execution what would you choose?
'The Virgin of the Rocks' by Leonard da Vinci. The National Gallery one.
You have a musical background and play in a band, can you explain to us what you do?
I was the keyboard player with a bit of singing and writing. The band is still active but not like it used to be. There was a while when we were touring all the time and you'd forget where you were. We went to all the most amazing places like Brazil and Japan. We would do these improvs where I'd paint live on stage. Just before the show I would think what kind of mood am I in and have an image. Sometimes it worked and sometimes it didn't but quite often people would buy the painting on the spot.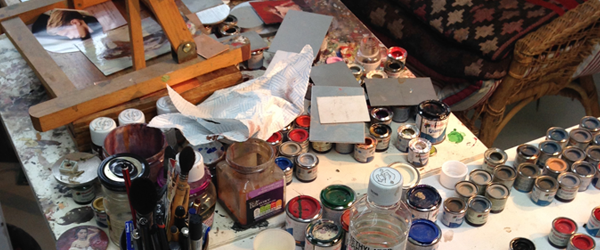 Describe an average day in the life of Geraldine Swayne…
I get up really early and just drink coffee until about 9 or 9.30, then usually respond to emails. There's two ways, I either I start at about 10 and work until 4 or have to go out and do errands in which case I'll start around 2. It's usually a 4-hour day of actually sitting and painting but you never stop working or thinking about the work. Sitting and painting hand to eye you can do about 4 hours.
Finally what can we expect from 'What Do You Want…?' your debut solo show with Lawrence Alkin Gallery.
What you'll see are completely unique paintings. These are not multiples; you can't get another one like it. They're made by a very peculiar thing these days, which is somebody who's done nothing but paint for 25 years. I really like the fact that there's resurgence in painting, the brilliant thing about painting hand to eye stuff is you cannot fake it; you have to put in the hours. You might have a facility, or get there a bit quicker than lots of other people but there's a big difference between being able to copy something or make something that exudes a feeling or emotion. There is a whole bunch of stuff that you put out into a little painting and that is pretty unique. It's brilliant to be a painter exhibiting in Lawrence Alkin Gallery because they show really interesting, modern work and it's for the other galleries to try and catch up a bit. I'm very excited to be showing to that audience.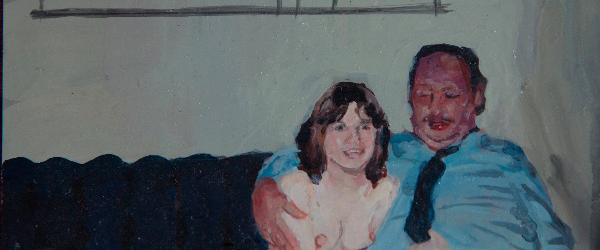 If you are interested in the work of Geraldine Swayne and would like to attend the private view or simply register your interest with the gallery's exhibition programme please email:
gallery@lawrencealkingallery.com
 
February 20, 2015