Ahead of his latest exhibition 'The Fear Of Letting Go', at our Soho gallery, we caught up with Dan alongside his wife Annie in the comfortable confines of the Groucho Club. Examples of his work sit among their impressive collection of British Contemporary Art. Dan's work explores subjects with great gravitas including: life, death, innocence, memory, nostalgia, love and pain. In the flesh he readily discusses these topics, but it is his warm nature, child-like wonder and honesty that really adds another dimension to his art. Over several cups of coffee we discussed the genesis of his latest body of work, as well as delving deeper into the psyche of Dan Baldwin.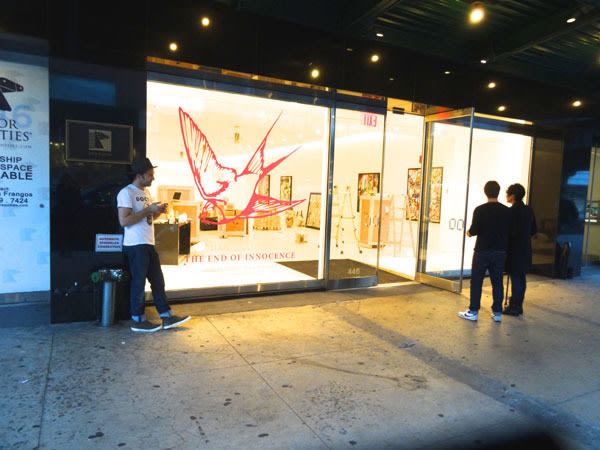 It's been nearly a year since your New York debut exhibition 'The End of Innocence', how have things changed and evolved in your practice since then?
DB: It's really changed a lot, but then it always does. With Pat Magnarella that represented the beginning of this chapter now. That was a different time, In the New York Collection there were pieces like 'The Flood' , 'Neverland', 'Subvert','Pessimistic Optimism', it was a big show, 37 works - bronzes, massive pots -all of it just lead to this. It's just a natural extension of where it left off at New York, as I started painting straight after NYC. I was energised by the city — I've wanted a show there for twenty three years. I didn't plan my art as much then, I think it's clicked in this series, why I paint ...
You always have very emotive titles and 'The Fear Of Letting Go' is an especially powerful one. Are you alluding to your own fear in the title or is it more allegorical?
DB: It's metaphorical and yes personal. A lot to do with memory, it's symbolic and works as a metaphor in general. I think that memory is often altered from reality.
I realised that in all my art I look back at nostalgia and use real elements from life and death. I incorporate personal objects from my collections, that's because I was taken away from my father when I was nine and never told why, so 'The Fear Of Letting Go' is also about myself letting go of all this stuff, confronting why I make art but still making it accessible for anyone. I always want my art to be translated into whatever the viewer gets from it, yet it makes sense to me. The symbol of the skeletal bird in the cage, it's strong. He never left the room. These paintings they're contained more within an interior. They become more intensified, it works as more of a cohesive set than just pieces that are all connected by life and death.
[Dan draws compulsively using a ballpoint pen on a pad . While his frenetic energy is momentarily focused on talking about his life experiences, the creative side of his brain continues to whirr away with a never-ending stream of words, sketches, designs and scribbles flowing from his pen.]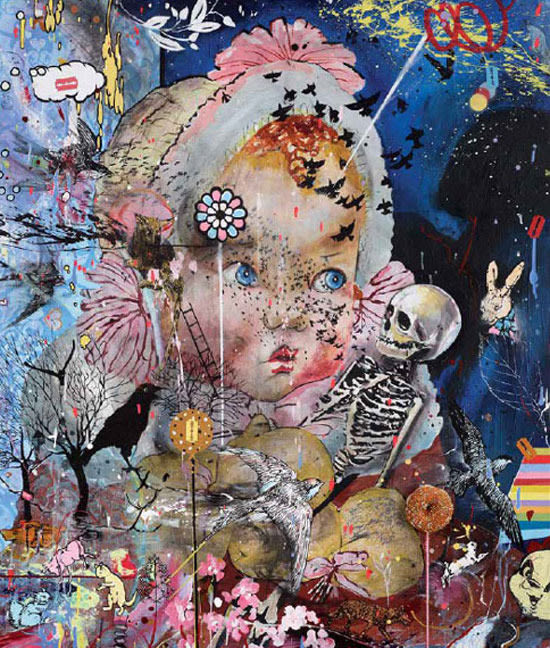 It definitely feels as if these paintings all inhabit the same environment and a shared universe. You're introducing perspective and placing the viewer directly in that room as a observer…
DB: When that happened it really clicked. I was touching on that in New York with the 'Subvert' piece, and have in the past made works with perspective, an interior, and landscapes, but you've got these two children in a room with a window behind them and this clown. It's all in our minds, is the clown there to bring joy? It's sinister, yet playful. A lot of reaction to that piece.
That has continued in this show. I did the girl with a skeleton and thought it was finished, but Annie disagreed, she told me the painting wasn't finished and to push it. Painting over that little girl was really hard, and then I thought, it's only a painting, I'm not precious if I think I can make it better. By working over the girl we're going into three and four dimensions and that just led naturally to these next pieces.
The first one was the Meatpacking one, with the iconic Standard hotel in it. Then the Rome one, straight after the Rome trip.
AN: You can really see how Dan's art changed when we he became a father, along with the love you feel you also feel fear, you want to protect them from the sinister things in the world. Sometimes memory and reality can be different.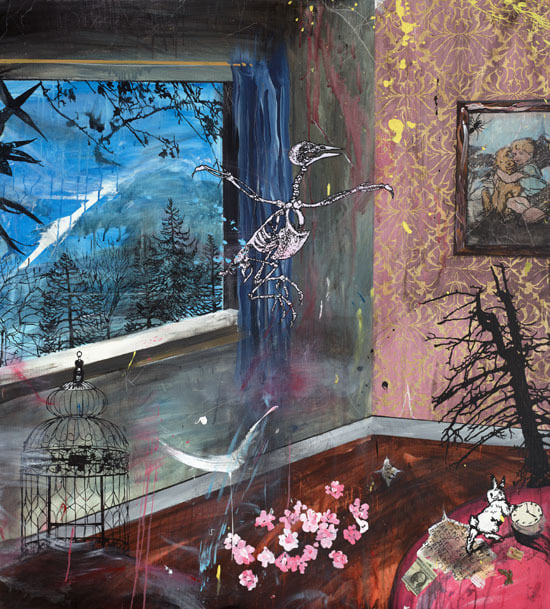 How do you feel about this latest collection and the journey to create the work?
DB: I love every piece. I feel really energised. This is a new chapter now for sure. On this show what's really significant is that I filled up about 30 A4 pads with plans for new work. The paintings, pots and sculptures are all connected.
Your pots are now a major part of your practice. It's astounding to think how far they have progressed from their humble beginnings at the pottery café in Brighton…
DB: They're a lot freer. I'm throwing paint on them and really enjoying loose colour.
AN: You're now treating them like a canvas. When you started doing pots they were very controlled.
DB: Yeah I'm less precious of them as objects, they are a canvas to me at the end of the day yet I'm also pushing them, every pot. Look at that one there, It's really tight. What was nice about that one was the first introduction of photography and the 3D elements.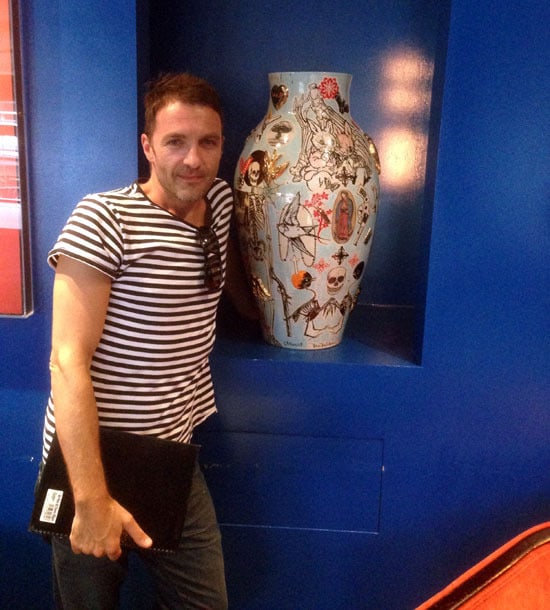 [Dan points at 'No Faith', the pot he made for The Groucho Club's permanent collection, before going over for a closer inspection. Despite being a precious and fragile object Dan handles the pot in a direct, almost rough fashion, holding it up to the light and examining it from all angles. It brings to mind the image of old friends being reacquainted; there is that immediate tactile connection.]
AN: As you've learnt the craft you've gained a lot more freedom. You can see that progression in the latest pots.
DB: You've got to learn the process. It's just taken years of practice. Now we've got about 100 objects ready as moulds in Plaster of Paris they can go many ways.
AN: It's taken a long time to learn the colours because they look really different once they've been fired.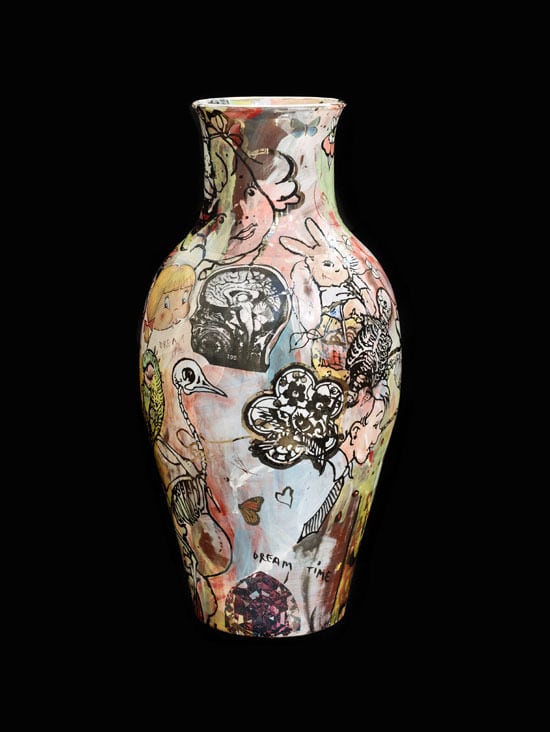 Finally, you have a very intimate and personal relationship with your art work, if you had to narrow it down which would you say is your favourite piece from 'The Fear of Letting Go'?
DB: I think all artists have a personal relationship with their work. Mine is very intense as my home is also my studio. I can't escape home and Annie can't escape my art. If I had to choose one? It would be the skeletal bird in the room (One day I Was Free) It's got a World War II battlefield relic on it, it's all significant to me, but also I just love the feel of it and that's what my art is about, capturing a feeling.

AN: There's no separation between home and work. When Dan brings a painting in from the studio I like to process it and give my opinion. We rent out a storage room just for Dan's boxes and boxes of drawings. I haven't actually got a lot of stuff but Dan's more like one of those hoarder next-door characters. [Laughter]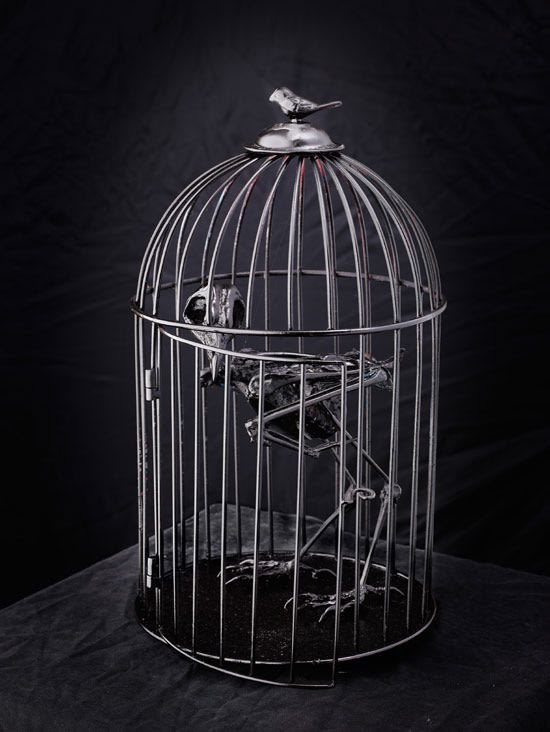 Afterword: Having interviewed a number of different artists I have learnt to recognise the idiosyncrasies and nuances in their personality and how it manifests in their artistic practice. In Dan I see a passion like no other. It is a cliché that true artists must live and breathe their art, but with Dan his practice is very much his life support machine, exercising demons and processing formative years through the artwork.
As an artist he is fiercely competitive and prolific, but this desire to constantly improve belies his funny, open and sincere character. By all accounts Dan was a sensitive child, another word for sensitive can be aware; it is this awareness of the past that Dan taps into in this latest body of work. A found toy, a faded photograph or battlefield relic, are all objects with deep personal resonance that allow Dan to transcend the present and connect with something altogether more metaphysical.
Dan Baldwin: The Fear of Letting Go runs from 1 October until 14 November. Monday–Saturday 11am–7pm
or by appointment.

*There will be an accompanying book created especially for the exhibition titled 'The Fear of Letting Go'. This will chronicle Dan Baldwin's previous New York exhibition, 'The End of Innocence' as well as the incumbent show. A must have piece for any Dan Baldwin fans or collectors.
September 28, 2015