We have our summer vibes firmly switched on at RHODES! We want to celebrate the beginning of the new season with works that have vibrant themes and concepts that correlate with the beautiful colours, shapes and textures currently displayed across London.
Artists have been indirectly influenced by the seasons and their working environments throughout history. Some of the artists who are famously inspired by summertime include Museo Sorolla, Gustav Klimt and Georges Pierre Seurat.
Summer is a time of heightened colour, elongated evenings, and travel. Take a look at our mini collection of works selected by us, that provide that summer feeling! Why not bring some sunshine into your homes with this eclectic mix of gorgeous colour-filled artworks?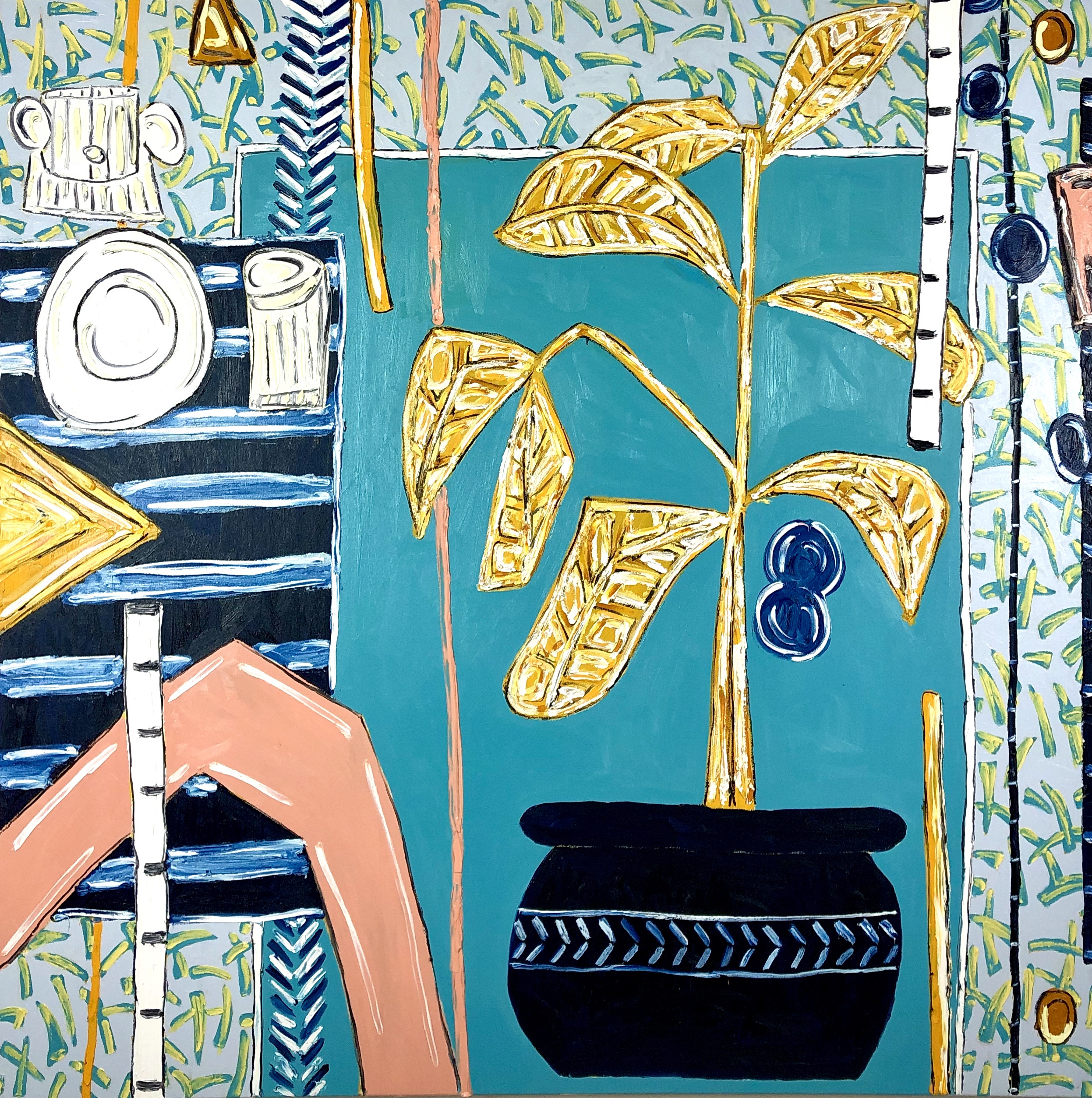 Alec Cumming
Fresh Air, New Light
Oil on canvas
Framed
152 x 152 cm
59 7/8 x 59 7/8 in
Price available on request
---
Alec Cumming is an artist who works internationally having spent several years working in India. He now spends time considering his influences in different locations such as California and Sri Lanka.
His practice, oil on canvas, is traditional in medium but the images that jump in and around the canvas are vibrant and playful. Within his work he continues to explore the idea of fleeting moments. Currently settled back to the UK, He finds himself considering the visual stimulus discovered in his three years spent in India, and travelling since then, and how these staggeringly different locations play out on canvas with his current settled space in Norfolk.
The work 'Fresh Air and New Light' conjures up the feelings of travel and the tones of the season, the leaves of the plant looking almost sun-bleached. What is notable about Cumming's work is his use of semi-recognisable motif's that the viewer can relate to from memory, they are not hyper-realistic representations of the objects, they are a nod to the shared experience of our contemporary world.
Stephen Ormandy
Font, 2022
Oil on Linen
100 x 100 cm
39 3/8 x 39 3/8 in
Price available on request
---
Ormandy creates beautifully slick and contemporary abstract multicoloured paintings with curvilinear forms. The abstract works are given new meaning and understanding through their titles. The bold colours are oozing with the feelings of summertime.
The work
'Font'
has a balance between the heavy dark anchor in the corner to the more vibrant zesty colours interlocking around the canvas. Ormandy's work is notorious for creating
rhythm
and flow in his paintings that create harmonious visual experiences.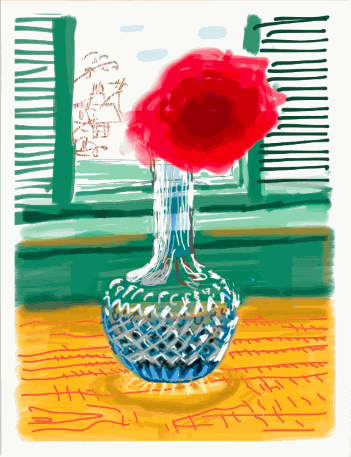 David Hockney
iPad drawing 'No. 281', 23rd July 2010, 2020
Archival inkjet print on cotton-fiber paper.
56 x 43 cm
22 1/8 x 16 7/8 in
Edition of 250
Price available on request
---
An icon of the 1960s British art movement, David Hockney is one of the most celebrated and prolific artists of the 20th and 21st centuries.
Endlessly versatile, he has produced a variety of works using mixed-media
and digital works created on iPads
in his later works
. He moved to California in 1964 and captured his new home in his sunny backdrops that feature swimming pools.
palm trees, and light.
David Hockney uses an iPad to create the work 'No.281'. An open window letting the cool breeze in, and a floral bloom in the foreground seems like a familiar scene for the season.
Hockney made the iPhone and iPad drawings between 2009 and 2012 from the view from his bedroom in Bridlington, East Yorkshire.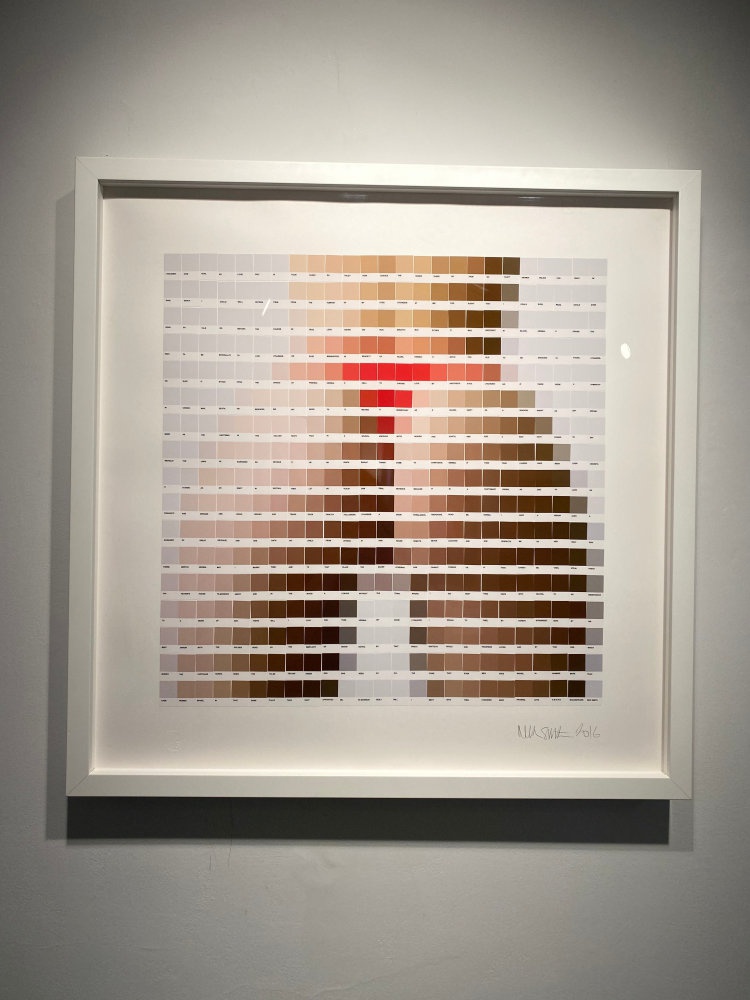 Nick Smith
A Midsummer Night's Dream (Red), 2016
Colour Chip Collage on Fabriano 5 Paper
74cm x 74cm
Price available on request
---
Nick Smith depicts a woman's form in a red covering. The connotations of bikinis and sunbathing come to mind with this piece. Each individual chip notes a quote from Shakespeare's 'A Midsummer Night's Dream' which in turn makes up the whole quote under each carefully placed colour chip of the collage.
The multi-layered element of his work, which marries image and word, allows Nick to explore complex art-historical concepts. The text employed is often narrative, which can be read in sequence adding another element of intrigue and interest to the work. This additional element of text, placed under the empty space of each swatch, creates either complimentary or subversive meanings. Nick deliberately leaves these word/image constructions open to viewer interpretation, sparking new debates and meanings.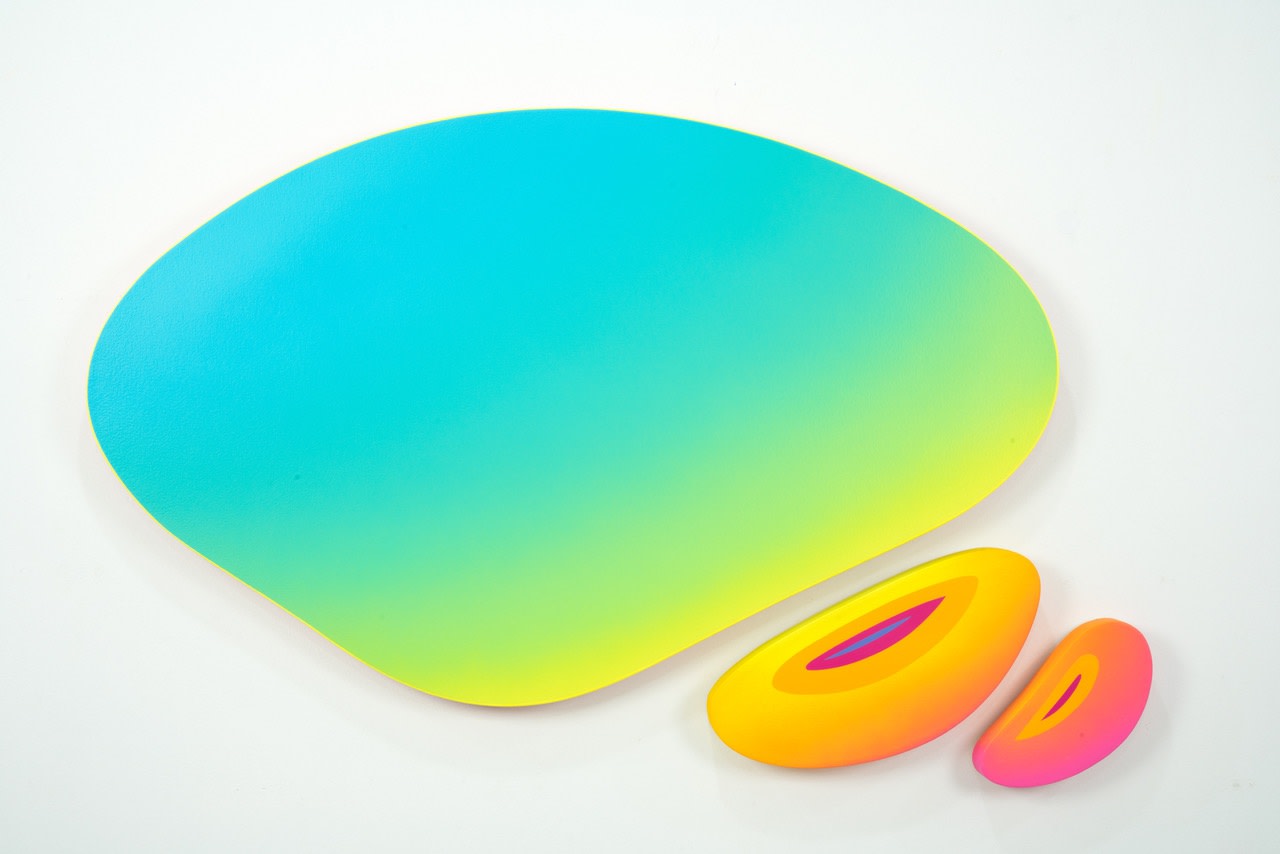 Jan Kalab
Tropical Medusa 1221, 2021
Acrylic on Shaped Canvas (3 parts)
78 x 125 cm
30 3/4 x 49 1/4 in
Price available on request
Jan Kalab's use of colour gradient in this painting illuminates the canvas. The title of the piece leads to a tropical feeling.
As a graffiti pioneer in his native Czech Republic made his name in the late 90s. As his work developed, he found a new way to push his own limits and challenge himself by making 3-D Graffiti. Under the name of Point, he sculpted huge abstract letters he chose to put in the streets and on the walls. This was another form of graffiti, in daylight, and without a spray, but truthful to the spirit of competition and innovation of the urban scene.
Jan Kalab will be showcasing a new collection of works with us very soon, so watch this space!
---
We hope you enjoyed our mini collection of summer themed works that we currently have available.
If you would like to receive any further information about the works featured in this blog, please contact info@rhodescontemporaryart.com or alternatively call 020 7240 7909.
June 17, 2022