In colour theory, blue conjures feelings of serenity, tranquillity, and security - blue can also be considered as a highly emotive colour.
There is a reason we perceive blue to be a relaxing colour, it is proven to lower our heart rate, blood pressure and even our body temperature, this is why blue artworks are the perfect addition to our living spaces.
This post explores the works we have available in this palette, from a variety of contemporary artists - to beat those January 'blues'!
Pictured: Lino Lago, Fake Abstract (Jacob Ferdinand Voet), 2021, Oil on Oval Canvas.
We love the electric blue used in Lino Lagos painting Fake Abstract (Jacob Ferdinand Voet). The juxtaposition between such a classical image and a contemporary neon-like colour is an example of the artists motive, of colliding traditional art styles with modern ideals. The organic tone of the classical painting is disrupted by such a contemporary, stand-out colour.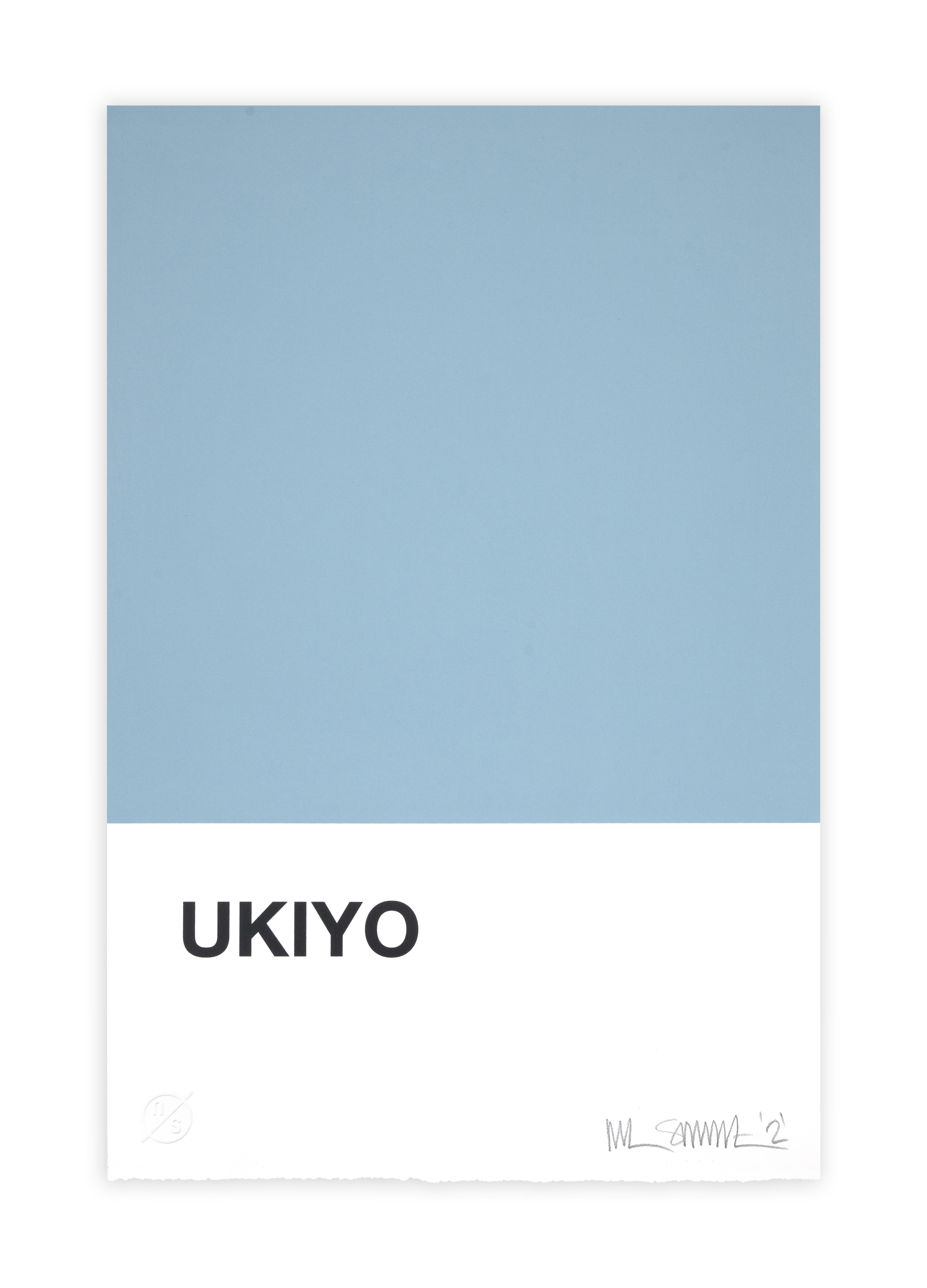 Pictured: Nick Smith, UKIYO, 2021, Noun: "The floating world." Aka Living in the moment, 4 colour screen print.
Nick Smiths most recent solo exhibition hosted by Rhodes, 'Psycolourgy 2.0' which explored colour and word association, proved the power that colour has in terms of memory association and how we navigate the world around us.
The artist chose a pale blue to accompany the noun UKIYO, which is a Japanese word used to describe an urban lifestyle and culture. The colour is light, pale, and airy which compliments the meaning of the word.
Pictured: Jason Tessier, Hierarchy, 2021, Acrylic, pastel and oil bar on canvas.
Jason Tessier's stylistic mark-making is adorned on a light blue background, contrasted by a variety of block colours. Jason Tessier's practice engages with language and conversations surrounding the significance and complexity of contemporary painting. His paintings engage with both the visual and physical elements of painting.
His work experiments with the materialistic properties of the canvas and the materials placed upon it. Working with a variety of mediums, Jason complicates the paintings surface with traces, marks and interventions.
The works challenge their own limitations and conventions as paintings. The physical space created as a result from these compositions, gestures and internal dialogues invite the viewer to a visual discourse. It is interesting to note the overall effect the blue background has to the block colours in the foreground.
How would the piece change if a darker, more aggressive colour was used? how would this effect the audience's reaction to the work?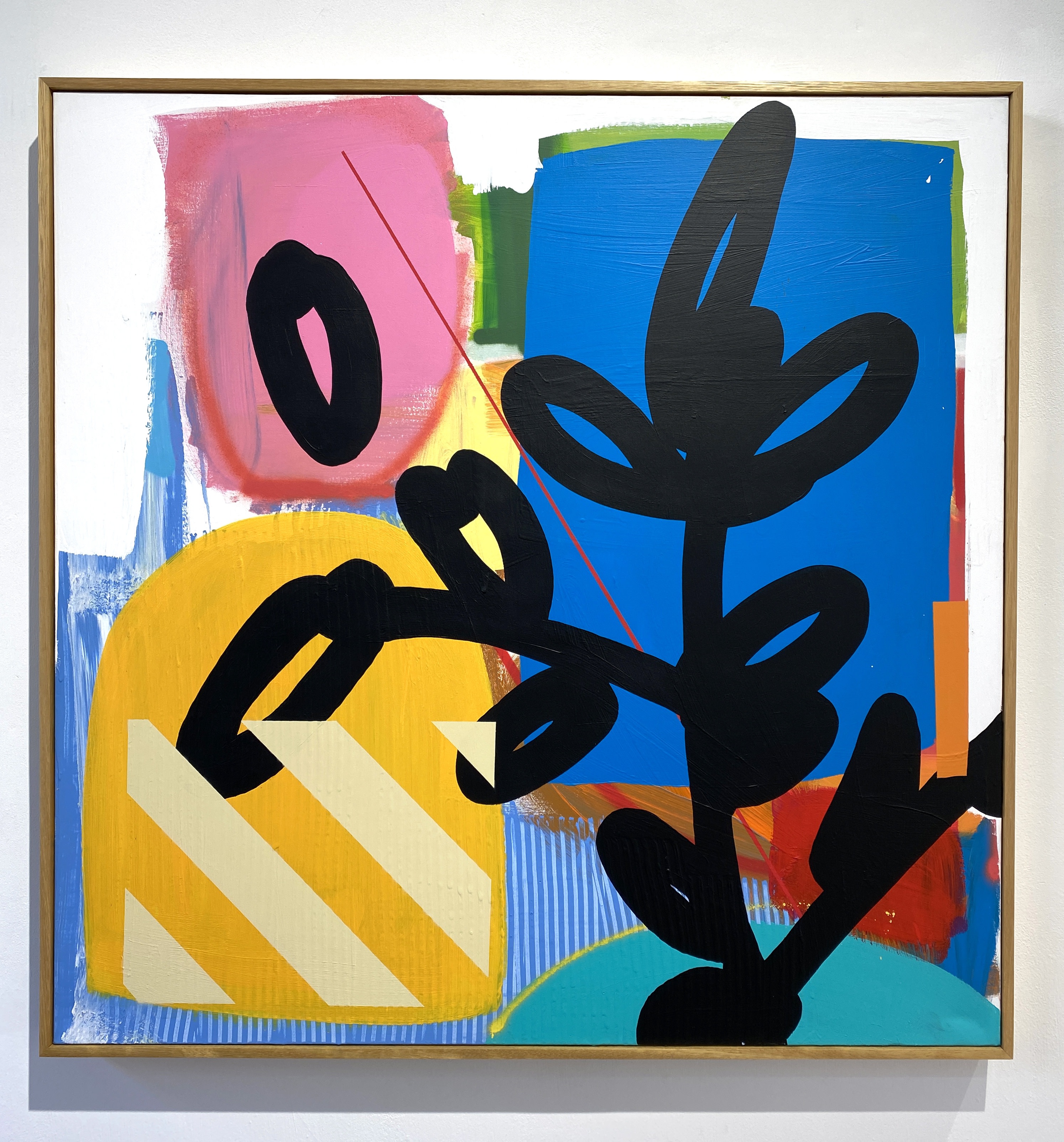 Pictured: Maser, Frontier 5, 2021, Acrylic and Spray Paint on Canvas.
In 'Frontier 5' the artist uses an array of urban textures, spray paint drips and street markings which contrast against the striking motif of the black organic plant silhouette. In the series Maser was exploring his native Irish background - against his experience of city life.
Maser's unique, artistic style draws upon numerous influences including optical and mid-century art, and his paintings are regularly complemented with bold colours, pattern, and text. He is ambitious and is unafraid to experiment with any artistic format. Through his use of contrasting colours and flowing patterns, Maser's work offers the viewer an opportunity to become fully immersed in an almost hypnotic state. This primary blue colour serves as a staple in Maser's artworks.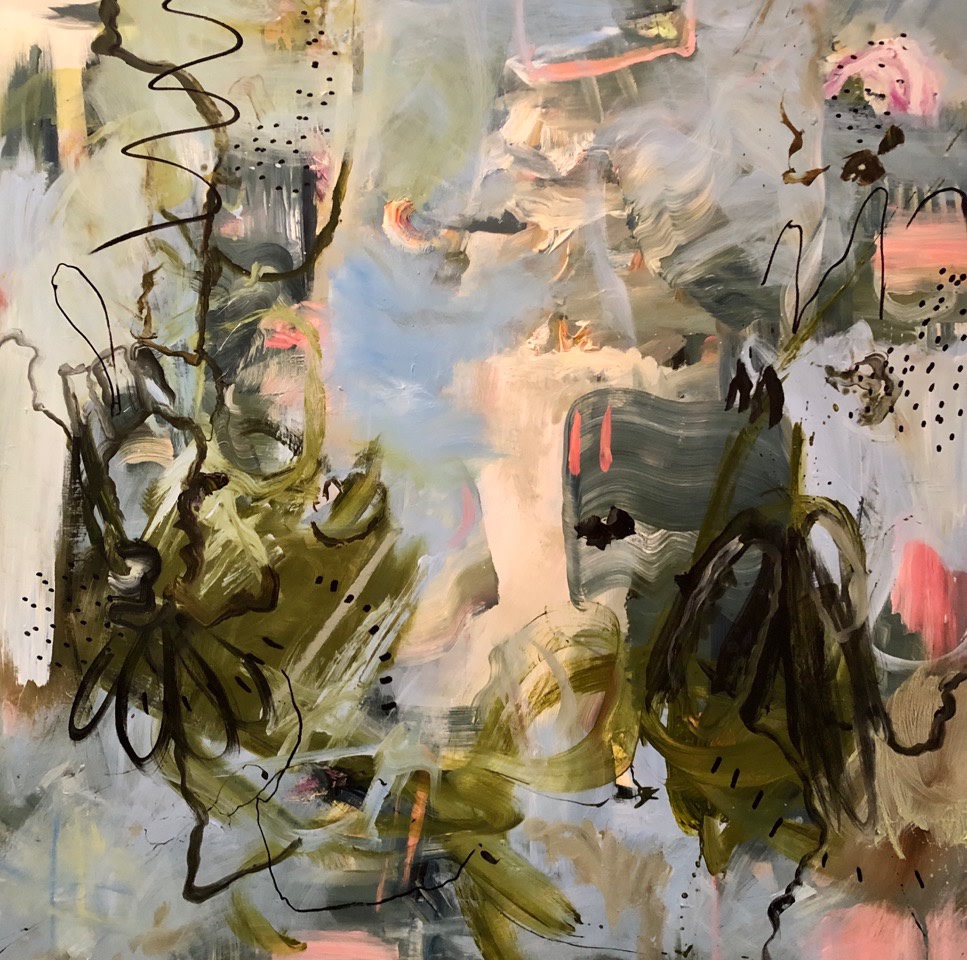 Pictured: Ian Rayer-Smith, What to Do, 2020, Mixed media on Wooden panel.
Ian Rayer-Smith is predominantly influenced by Abstract Expressionists for their emotional rawness and mark making, and by the Renaissance for composition, light and movement.
Blue is this case collides with rich earthy tones to convey an abstract landscape of textures, brushstrokes and linework. There is certainly a dream-like quality to 'What To Do'.
From artwork to artwork, it is fascinating to see how the colour blue plays a different part in each artists expression. From Lino Lagos contrasting electric blue to Ian Rayer-Smiths fluid, dream-like use of the colour. Colour is a powerful tool - which affects us in a multitude of ways, especially our personal interaction with artwork.
All artworks from this article are available at the time of publishing.
Please get in touch with us at info@rhodescontemporaryart.com for further information about any of the artworks noted. Alternatively, you can call us on +44 (0)20 7240 7909.
January 12, 2022