On Thursday afternoon there was news of a new Banksy mural on the side of a residential house in Bristol. The artwork depicts an old lady in coat and headscarf, handkerchief in hand sneezing with great force, causing her to drop her walking stick and handbag whilst her dentures fly out of her mouth in a truly slap-stick style.
Banksy released images of the work on his website and Instagram. In one of the photos he released, the woman can be seen blowing over a wheelie bin and a man with an umbrella.
Photo courtesy: Banksy
The work has been spotted on Vale Street in Totterdown, Bristol. Vale Street is England's steepest residential street and its 22-degree slope is used during annual Easter Sunday egg-rolling competitions.
The house on which the mural is on previously had a 'Sold' sign outside. Online there have been reports that the current owner pulled out of the sale. However, Nick Makin, whose mother Aileen Makin owns the house with Banksy's latest mural, has released a statement saying that the property sale will still go ahead.
"When you wake up to tabloids saying the house is now worth £5m you've got to think about what you're doing... but it's not changing anything," he said.
Photo courtesy: Jon Rowley/EPA
A resident living in the house has put a protective covering over the work to stop it from being vandalised as well as installing an alarm system.
"We wanted to come up because people will deface it, and luckily we've got a workshop and a massive piece of acrylic we've got leftover," he said.
"When we lived here so many people would come, especially on bikes and stuff because they were trying to do the challenge up the hills. It's a great spot. The artwork is so nice. It's so relevant, isn't it?"
Banksy has created multiple public murals this year, including a stencil of a girl hula hooping a tyre in Nottingham, a Valentine inspired mural and a COVID-related work on the London Underground encouraging people to sanitise and wear a mask.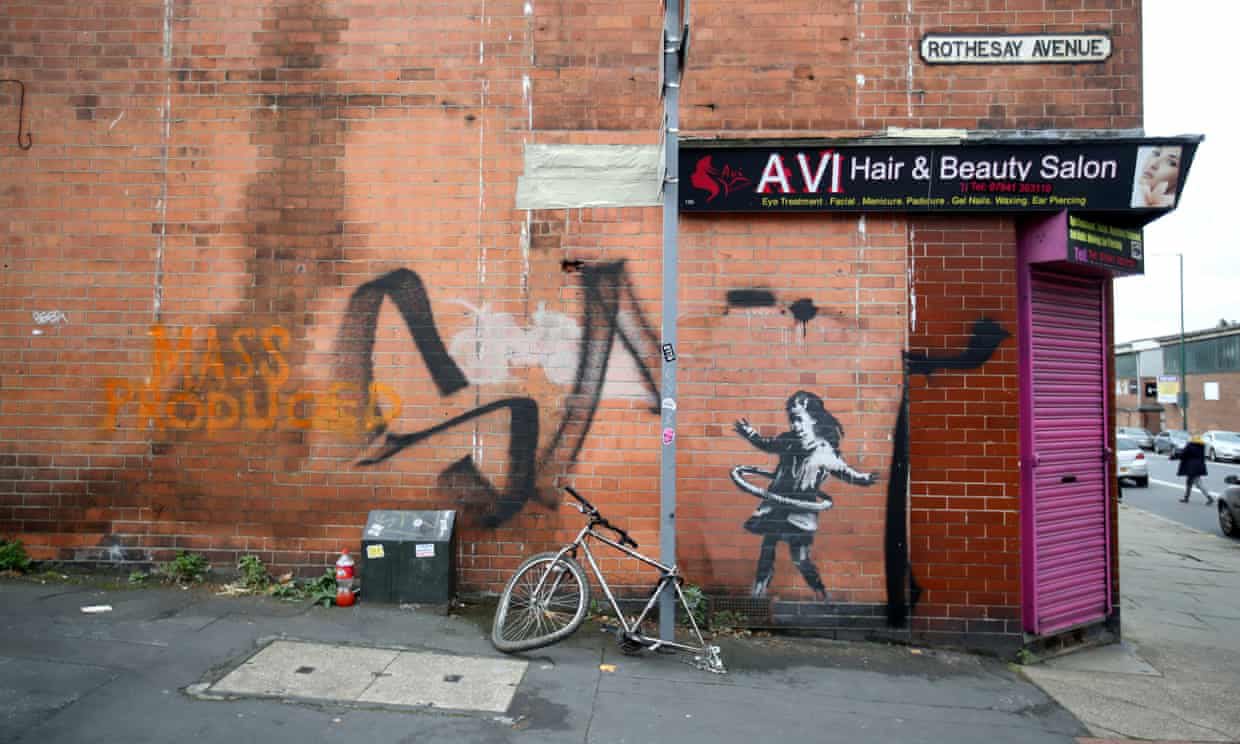 If you are a fan of Banksy you can see some of his prints and works on paper at our next group exhibition 'Paper Work'.
Email info@rhodescontemporaryart.com to register your interest for the show.
December 12, 2020