Bridget Riley remains one of Britain's most celebrated female artists and pioneer's of the 'Op-Art' movement, and has gone on to achieve a successful artistic career spanning multiple decades. With no plans on retiring, Riley continues to work, with shows opening in major cities, including a major retrospective show at London's Hayward Gallery last October 2019.
Riley's abstract-geometric paintings explore perception, optical patterns and frequencies which are achieved through aesthetic colour relationships and straight and curving lines, lozenges, triangles and spots. Riley's work came to define the epoch of the swinging sixties and her work went on to revolutionise the formal painting process. From monochrome to colour, and optical to abstract, her prints, murals and paintings continue to astound and excite viewers and collectors with her instantly recognisable and influential optical paintings.
Born 1931 in Norwood, South London, Riley studied at Goldsmiths' College from 1949-1952 and the Royal College of Art from 1952 -1955. Her style was heavily inspired by George Seurat's 'Pointillism' style and the work of Henri Matisse, and by the 1960s Riley was experimenting with optical phenomena's, also know as her so called 'Op-art' pieces.
Throughout the late 50s and early 60s, Riley spent this time teaching, first young children and then at various art schools (Loughborough School of Art, Croydon School of Art). Between teaching roles she also found work at an advertising agency as a commercial illustrator (J. Walter Thompson Group). It was at Hornsey College of Art where she began her first 'Op-Art' paintings, working only in black and white and using simple geometric shapes. From 1961-64 Riley worked in monochrome, experimenting with the contrast between black and white. At this time, her work was instinctive, and guided by what she saw and felt rather than any theory on optical effects.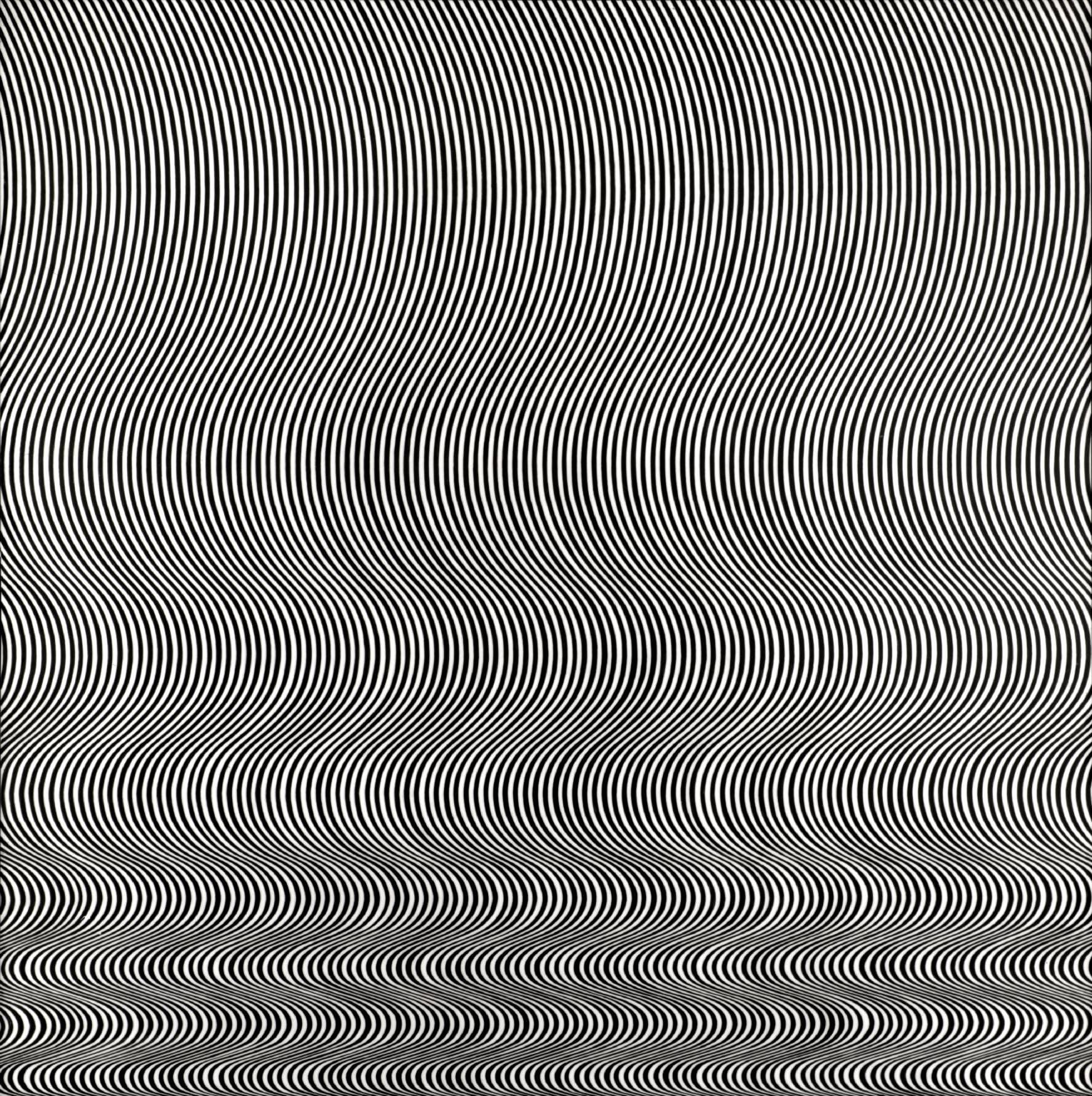 Detail of 'Fall', 1963. Bridget Riley / Photo: Tate
'Fall' uses repeated black and white lines to create a field of varying optical frequencies which creates a pulsating and dynamic visual experience.
"I try to organise a field of visual energy which accumulates until it reaches maximum tension" (Bridget Riley)
Riley achieved great recognition after "The Responsive Eye" exhibition at The Museum of Modern Art (1965), where her work was seen alongside Victor Vasarely, Richard Anuszkiewicz, Frank Stella, and Ellsworth Kelly. Riley was also included in the "New Generation" exhibition at the Whitechapel Gallery alongside David Hockney and Allen Jones. By 1967 Riley was incorporating colour into her work; a development which would later inform Riley's career and added a rich new dimension to her invented illusionistic works.
"I couldn't get near what I wanted through seeing, recognizing and recreating, so I stood the problem on its head. I started studying squares, rectangles, triangles and the sensations they give rise to… It is untrue that my work depends on any literary impulse or has any illustrative intention. The marks on the canvas are sole and essential agents in a series of relationships which form the structure of the painting." (Bridget Riley)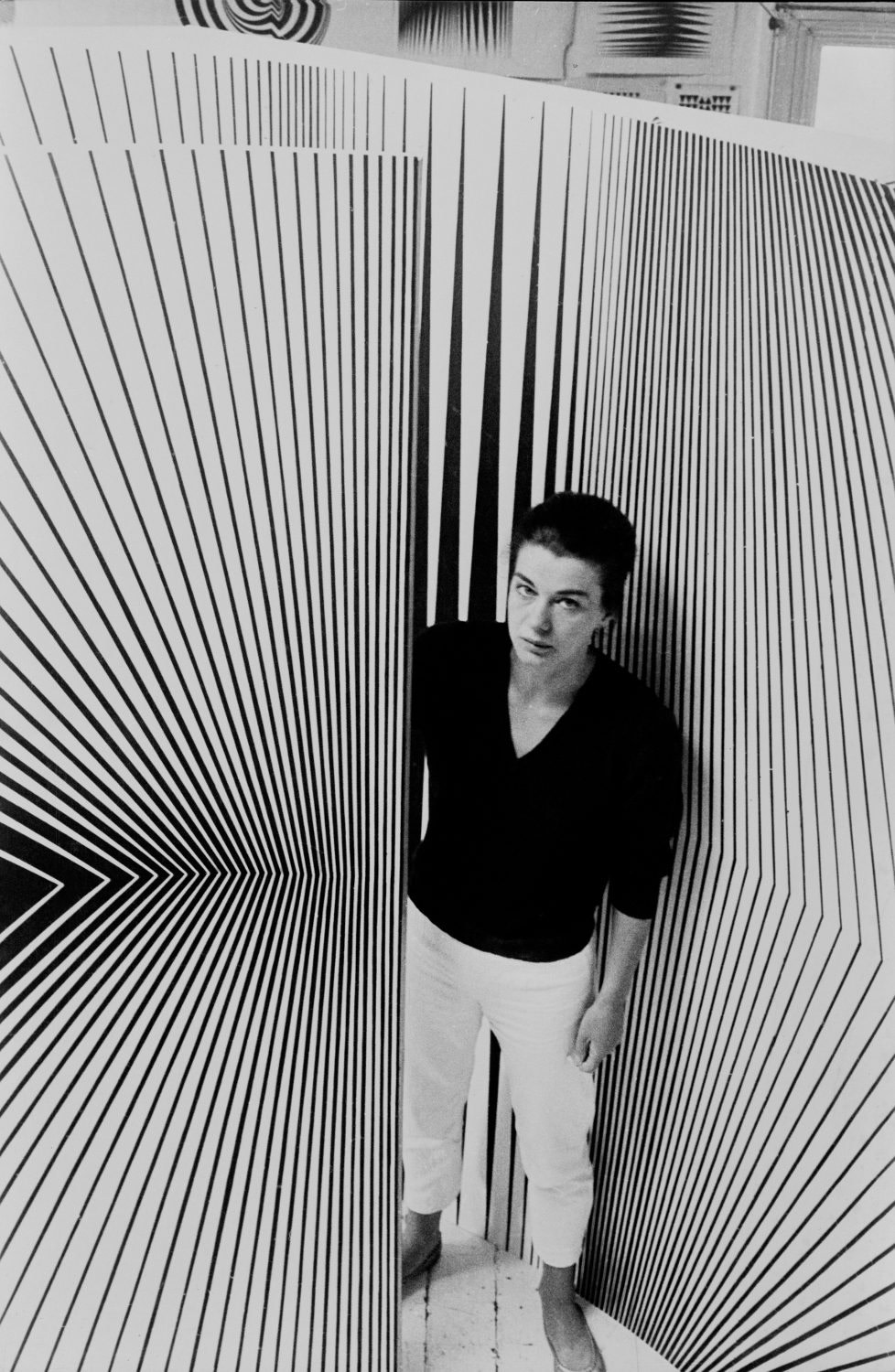 Bridget Riley, 1950's. Photography: Dist. RMN-Grand Palais / Tate Photography
From the 1970's onwards, Bridget's work began to solely focus on the visual and emotional response to colour, using the tensions and fusions of the colour spectrum to arouse emotional and physical responses. Her visit to Egypt in 1981 specifically influenced the colour scheme she would go on to work with, and it was this experience which marked a new intensity and brilliance achieved with a free use of colour on the canvas.
---
Riley was awarded the AICA Critics Prize in 1963 and a John Moores', Liverpool Open Section prize. In 1964 she was awarded a Peter Stuyvesant Foundation Travel bursary to the USA. In 1968 she won an International Painting Prize at the Venice Biennale.
Solo exhibitions of her work have been held in international institutions, such as The Hayward Gallery, London and National Galleries of Scotland, Edinburgh (2019-2020); Kawamura Memorial DIC Museum of Art, Sakura (2018); Gemeentemuseum, The Hague and Scottish National Gallery of Modern Art, Edinburgh (2016); The Courtauld Institute, London (2015); The Art Institute of Chicago (2014); Museum fur Gegenwartskunst Siegen (2012); The National Gallery, London (2010); Musee d'Art Moderne de la Ville de Paris (2008); Museum of Contemporary Art, Sydney (2004); Tate Britain, London (2003); Dia Center for the Arts, New York (2000); Serpentine Gallery, London (1999); National Museum of Modern Art, Tokyo (1980); Museum of Fine Arts, Dallas (1978); Kunsthalle Bern and Kunsthalle Dusseldorf (1971); Kunstverein Hannover (1970); Museum Boijmans Van Beuningen, Rotterdam (1969); and the Museum of Modern Art, New York (1966), among others. The artist represented Britain at the 34th Venice Biennale (1968), and participated in Documenta IV (1968) and Documenta VI (1977).
Bridget Riley, Ra, 1981. Image credit: Bridget Riley 2018.
Please enquire with the gallery for all available works by Bridget Riley. If you are a Bridget Riley collector looking to sell, get in touch with us info@rhodescontemporaryart.com or +44 (0)20 7240 7909
September 12, 2020