We catch up with Baltimore born artist Emma Childs, who recently joined Rhodes Contemporary's roster of emerging contemporary artists. We interviewed Childs about her new studio in downtown Baltimore, how her parents inspire her and the power of social media for emerging artists!
Emma, thanks for chatting to us! Firstly, how has lockdown been for you?
Despite our clownish yet frightening leadership through this pandemic to date, I've found lockdown to be, for me, a much-needed shift in routine and opportunity to reset. Having the space and time with the world on pause to reflect on my work and what's next for me has been a gift.
Where are you working from right now?
I just recently moved into a new studio in downtown Baltimore. Before this, since the pandemic started, I had been working from home. My work has consisted of mostly smaller studies/explorations during this time, but I am looking forward to getting back into working larger in my new space and taking what I've learned from my smaller explorations into my new work.
You're originally from Baltimore, right? What made you come back to live and work here?
I grew up outside of the city, so Baltimore has always been homebase for me. I have lived in other cities up and down the east coast, but right now I am excited to be back here for at least a little while. I have always and will always have a soft spot for Baltimore; it has a quirkiness to it that I find comforting. I feel like Baltimore does not always get the recognition it deserves when it comes to arts and culture. A huge part of the draw back to the Baltimore/DC area for me is the incredible community of artists and creators here.
Has paint always been your medium of choice?
Although I dabbled in other media during my time as a General Fine Arts major at Maryland Institute College of Art (MICA), I always went back to painting. There's something about the process that clicks with my brain; I feel like I am actually making something that is honest and me. Building the canvas shape, stretching/prepping the surface, and creating an image/object scratches an itch for me.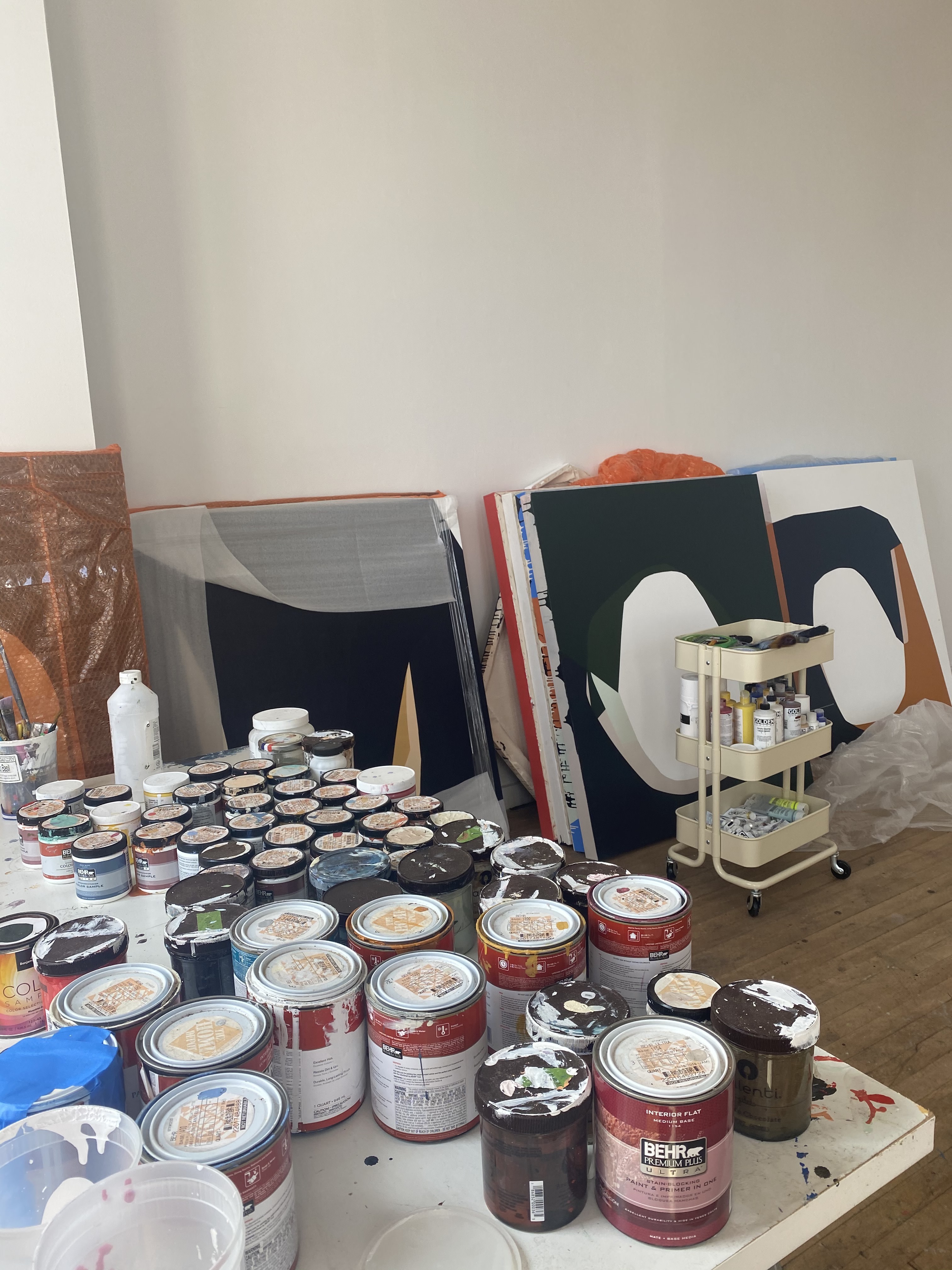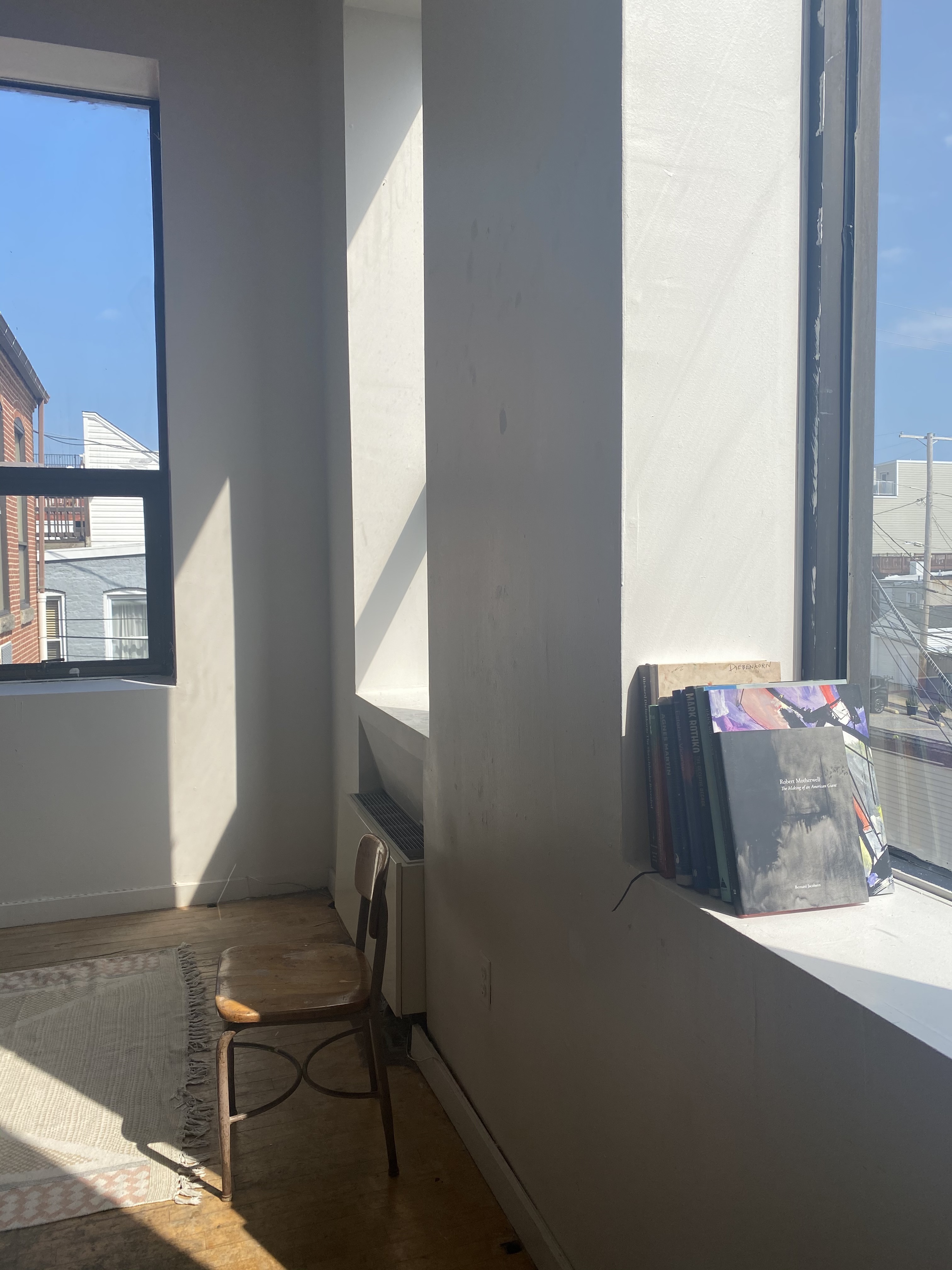 You express a great interest in the emotional character of colour and art, do you think art needs to be emotional?
I think that color is a very powerful visual tool. We subconsciously and consciously have all these associations and complicated relationships with color. What a color means to me might mean something totally different to another viewer, and in a way we can create our own languages.
My work is a careful balance between precision and intuition. I think that when I am using color and shape to find this balance, the work puts off a certain energy. If energy cannot be created or destroyed, I am hoping the emotion that I work through when creating these paintings lives in them and brings an emotional or energetic response from a viewer. I don't think art necessarily needs to be emotional, but I think that work that feels energetic in some way is what makes it impactful. I am usually going for both.
Does that mean you're quite emotional?
It requires me to be introspective as well as observant. I am an emotional person, and that definitely informs my work, and when I am painting I feel like the observer of emotions.
You describe colour as a 'language' which is personal to everyone. Language is also commonly used as a tool for communication; do you have any messages you aim to communicate in your works, or do you try to keep the artwork open to viewer interpretation?
I approach the work with intentions of my own, like an idea I would like to create a visual metaphor of. But - I don't expect a viewer to read my mind or interpret color the same way that I do. It happens more often than I expect that a viewer will say something the painting makes them feel or think about that lines up with how I feel about it, but I am happy with leaving it up to interpretation. I think it adds more to the work, if it can be multifaceted like that.
I am an emotional person, and that definitely informs my work, and

when I am painting I feel like the observer of emotions.
The palette you work with is very calming, is the process of creating the work a similar experience?
The process of creating the work is, most of the time, very calming to me. I am always working on several at once. I work quickly, but my process of layering forces me to step back and spend time with each move I make on a painting as I wait for things to dry, so it is a nice balance of moments of being active and reflective.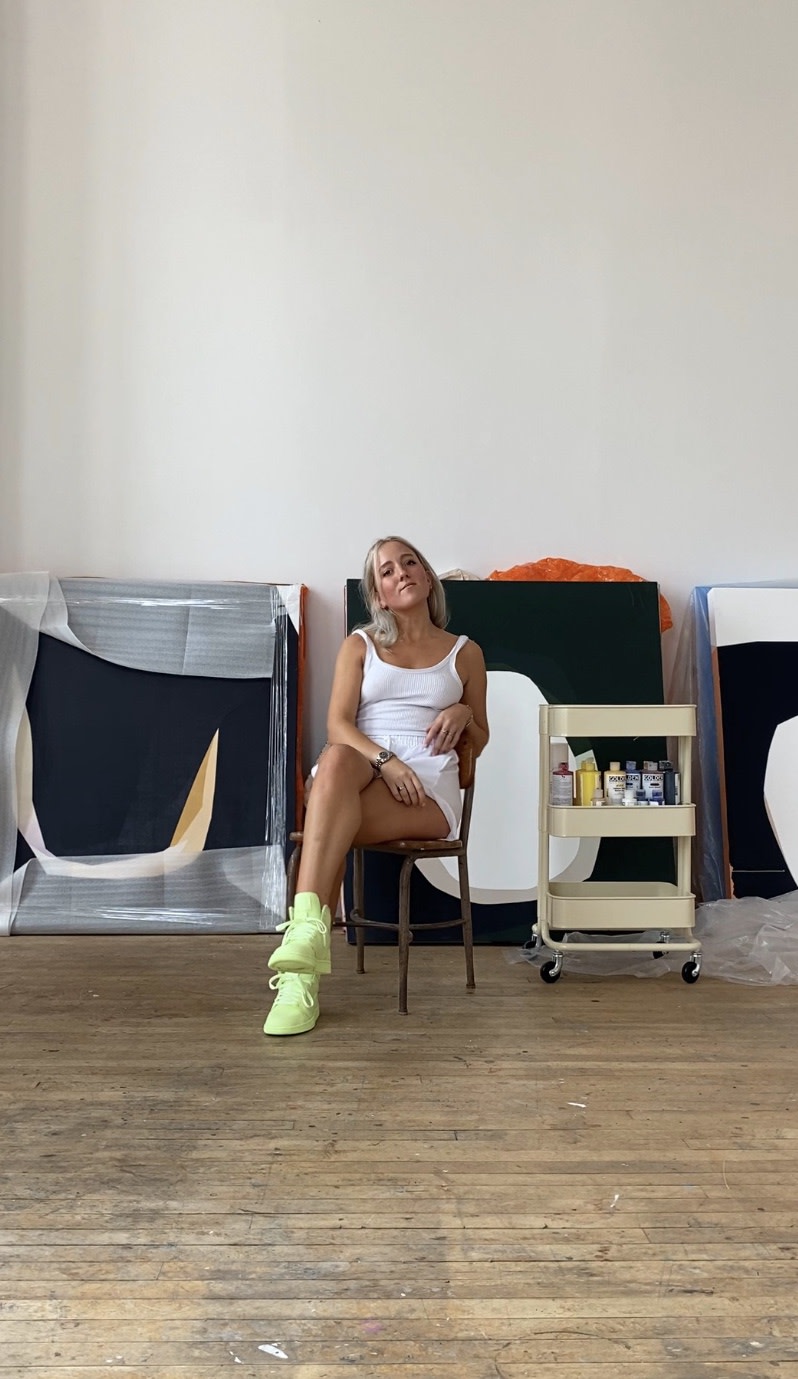 What's your interest with architectural constructions?
My father is an architect, so growing up watching a designer bring things into existence that significantly changes and improves peoples' daily lives has definitely instilled a fascination and appreciation for how we choose to build/design our lives. I think that architecture is really powerful, and although I am not exactly trying to portray or emulate architectural constructions in my paintings, I am inspired by the way architectural constructions exist in spaces. When I am creating a composition, it feels like "building."
Was this creative presence in your life influential in your decision to go to Art School and become an artist?
Both of my parents are super into their work. My mother is a social worker, and like I mentioned, my father is an architect. They both are self-employed and really, really, love what they do. I think that seeing how much they love their careers and how intensely they happily pour themselves into what they do is what really influenced me to follow what I love and go to MICA. Having an artistic presence in my life was and still definitely is wonderful, though. I love talking about work with my dad. I also love talking about more of the conceptual stuff with my mom. They both influenced my being an artist in their own ways.
Do you build your own canvases?
I do build all of my supports myself. My dad taught me how, and we still build a lot of my shaped canvases together when we can.
What does the artworld feel like for a young emerging artist like yourself?
I feel lucky to be working in a time where the internet allows me to get my work seen by such a large, diverse audience. Social media plays a very interesting and extremely significant role in the contemporary artworld that I think gives more power to the artist.
The global art market is a wonderful thing and definitely increase exposure to artists work, and I'm sure artists/galleries/collectors will be using technology more than ever now that we can't travel!
Absolutely! There's nothing like being with a painting in person, though, I must note. But - in the meantime, technology is definitely our friend.
What would you like to do next?
I would love to experiment with interactive 3D work, like furniture, at some point. That has been on my radar.
That sounds exciting- thanks Emma!
You can follow Emma Childs on INSTAGRAM
For all enquiries, please contact info@rhodescontemporaryart.com
LINGER,
Acrylic on Shaped Canvas
93 x 109cm
£2,600.00
TIPPY TOES,
Acrylic on Shaped Canvas
98cm x 100cm
£2,700.00
September 5, 2020