Francis Bacon's Triptych Inspired by the Oresteia of Aeschylus, 1981 was announced to go on sale back in March and is set to achieve a sale of more than $60 million - $80 million at Sotheby's New York, Contemporary Art Evening Auction. Multiple works by Bacon have beat records at auction before – his top lot sold for $142 million at Christie's in 2014 – but is this a generous estimate considering the current financial environment?
We take a look back at the Bacon lots which have sold for astronomical amounts under the hammer over the years…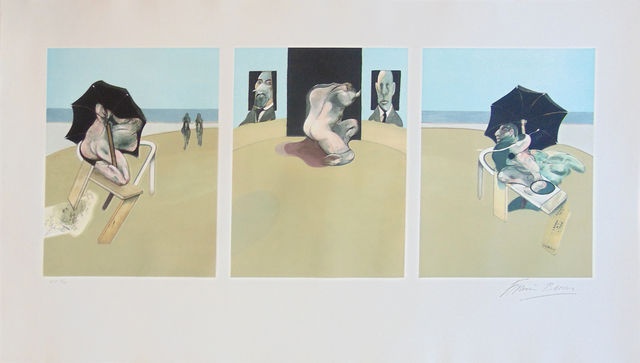 Triptych 1974-1977
This was one of the last great triptych's Bacon made in the 70's in response to the death of his lover George Dyer in 1971.
This strangely open landscape, with a sequence of dark funeral-like umbrella's, and the portraits of two terrifying Orwellian men overlook the writhing body of George Dyer, twisted and contorted painfully on a beach.
This was one of the most intricate and ambitious of Bacon's paintings and was included in the Bacon retrospective at the Metropolitan Museum of Art in New York in 1974. The work was seen as a turning point in Bacon's career.
The artwork was sold for £26,340,500 ($46,297,400) at Christie's London in 2008.
Study from Innocent X, 1962
Study from Innocent X combines Bacon's fascination with dark papal portraits which he painted a number of in the 1950s, and which also introduced his characteristically brilliant fiery palette and full-length contorted figure. His objective was to re-represent and unmask the underlying meanings in Velazquez's portrait. As Bacon stated in 1964 "I try to retain the greatest possible tension between the original and the re-created experience. And then there is always the desire to make the game a little more complicated, to give the tradition a new twist. ..."(Ibid., p. 186)
The piece was sold for $52.7m at Sotheby's New York in 2007.
Portrait of George Dyer Talking, 1966
Portrait of George Dyer Talking was painted in 1966 and depicts Bacon's friend, lover, and muse George Dyer. This man dominated Bacon's subject matter for the decade of the 1960's, and became a key source of inspiration for Bacon during this period of his career.
Dyer tragically took his life in 1971 only hours before the opening of Bacon's major retrospective show at the Grand Palais in Paris. The intensity of their relationship fueled Bacon's work, as seen in 'Portrait of George Dyer Talking'. The figure is rendered against a background of vivid red, and the figure of Dyer writhes in nervous energy. He is positioned in the centre, and his contorted body punctuates the room and appears to be unraveling.
The piece was sold for £42,194,500 ($69,705,300) at Christie's London in 2014.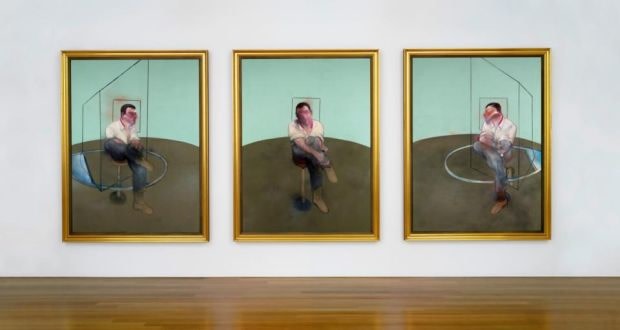 Three Studies for a Portrait of John Edwards
Painted in 1984, it is said that John Edwards was the most important and significant relationship in Bacon's life. John Edwards, the subject of the painting, was a bar manager in East London and went onto become one of the artist's most trusted friends and confidants. Bacon paints Edwards' almost ethereal body in a light and airy way, which was very different from the dark and horrifying imagery of his earlier work. The open landscape and serene setting in this work came to define this period of Bacon's career, and it was believed that his relationship with Edwards allowed him to relinquish his inner demons.
This three-paneled portrait was chosen by Bacon to be the final work of his second major retrospective exhibition at the Tate Gallery in 1985.
This great piece was sold for $80,805,000 at Christie's New York.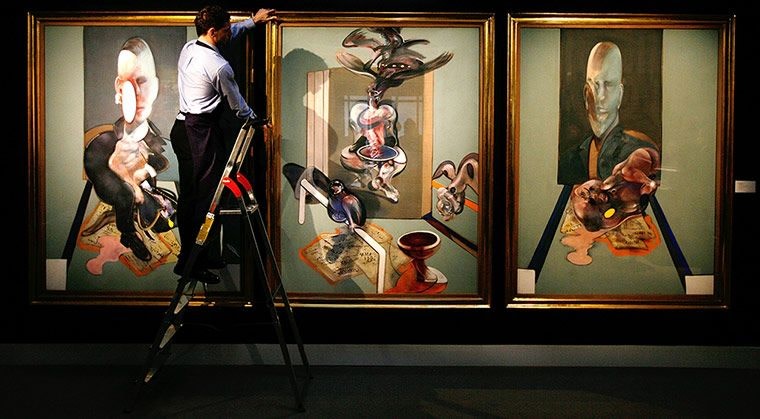 Triptych, 1976
This highly complex and intricate work was described as the most important work by Bacon himself and is loaded with symbolism.
This three-panel work is extremely dark and set against an olive green background, and includes Big-Brother like figures, abstract shapes, and symbols from Greek mythology. The central panel draws on the story of Prometheus, the mythic god who angered Zeus after stealing fire from him to give to humans. Zeus had Prometheus chained to a rock while an eagle, gorged on his perpetually regenerating liver.
According to the Art Newspaper, the seller was the Moueix family, owner of one of the world's most expensive wines, Château Pétrus. Despite the financial crash, the piece was bought by Roman Abramovich for a record-breaking $86,281,000 at Sotheby's New York in 2008.
Three Studies of Lucian Freud, 1969
Described as a 'portrait of two geniuses' by The Guardian, this triptych work of Lucian Freud, set the auction record, trumping (£74m) paid the year previously for Munch's Scream.
Freud sits for this triple portrait in a white shirt, in front of a strong yellow background. The iconic subject matter of this great British 20th-century artist is likely a significant reason for why this is deemed as a Bacon masterpiece and sold for a record-breaking price at auction. The masterpiece perfectly demonstrates Bacon's individual and recognizable style, as he slices through Freud's face with viciousness, capturing the essence of the man through a simple flick of the brush.
Three Studies of Lucian Freud was sold after six minutes of bidding and sold for an amazing $142m at Christie's New York in 2014.
If you are a collector interested in acquiring Francis Bacon originals and editions or are a seller, please get in touch with us at info@rhoescontemporaryart.com.
June 25, 2020