Artist Marc Quinn has been staying indoors like many of us, working alone in his studio making art which documents the crisis we are living through. Yesterday he finally revealed on Instagram what he's been working on for the last 2 and a half months.
Quinn is best recognized for his ground breaking sculptures, including freezing ten pints of his own blood to form a sculpture of his own head. His most famous work of Allison Lapper Pregnant (2005), a fifteen-ton marble statue of the the heavily pregnant and disabled Alison Lapper, was exhibited on the fourth plinth in London's Trafalgar Square.
Quinn's latest works, Viral Paintings are large scale screen shots, taken from the artist's phone, of corona related articles from his news feed. These printed stories are then splattered with oil paint by the artist. The first of this series has been shared on Quinn's instagram, where he is planning on uploading a new artwork each day. The Guardian writes that these overpainted images 'explore the paradox of living through a real, life-changing time with an unseen enemy that is strangely abstract.'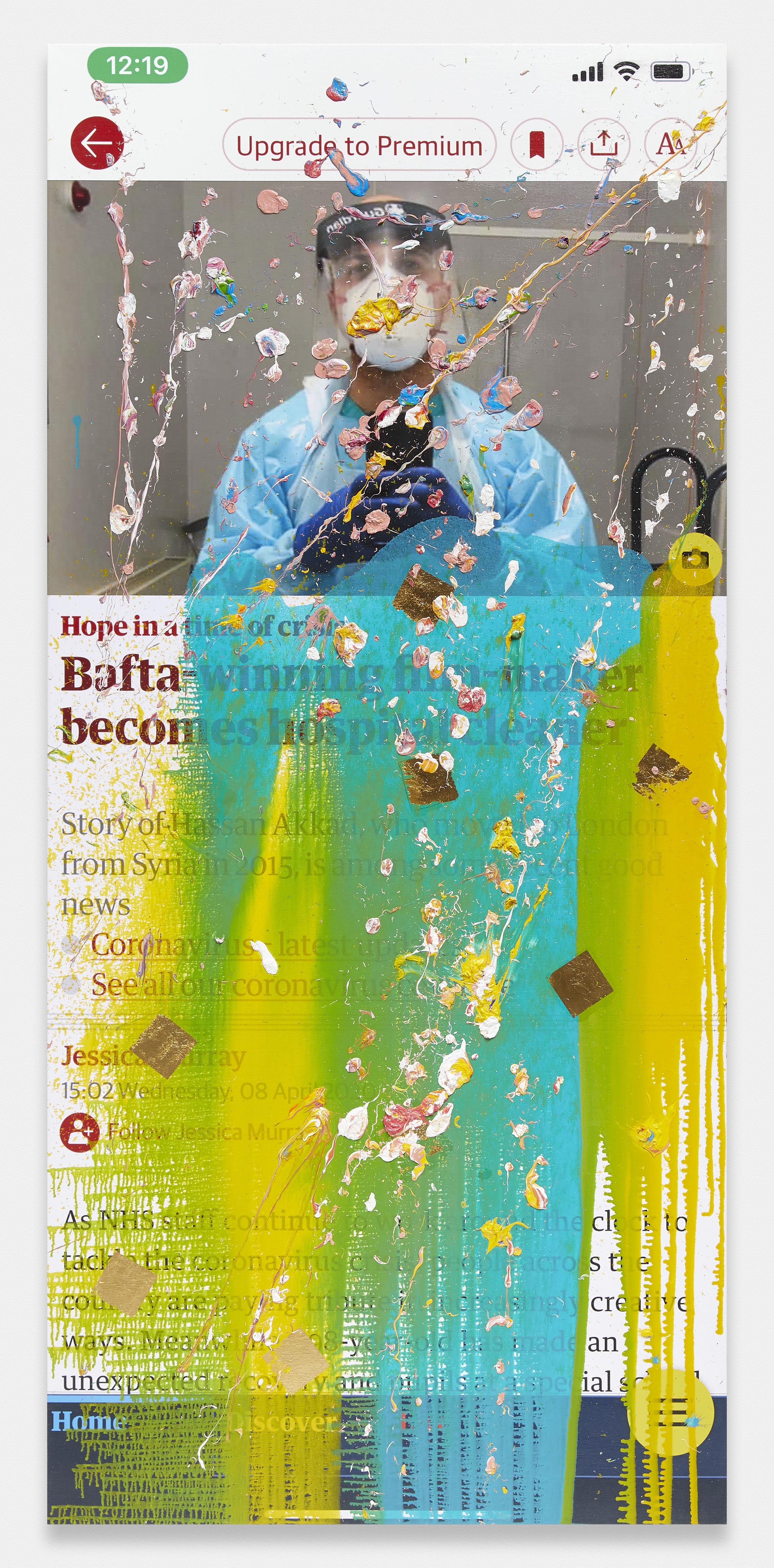 The most recent painting focuses on a headline about front-line workers and captures Quinn's close friend Hassan Akkad, a BAFTA & Emmy award-winning filmmaker and photojournalist, chef, public speaker, who is also a refugee from Syria and now works on the front-line cleaning hospitals. Quinn's recognition of Akkad's story is both inspiring and reminds us that whilst today's news is full of doom and gloom, there are still good stories about humanity.
"A crazy time both the most real and most abstract time of our lives the streets are empty but our lives are full of emotion and crisis"
The artworks keep the original proportions of the iPhone screen but are enlarged to 250cm X 110cm. Quinn reveals the concept for this; "all our information about the word comes through the screen of our phone I was making screen grabs for myself and realized these were the History paintings of now." The news articles are pigment-printed on canvas, and overpainted in gestural splashes, pours and strokes. As these splashes of paint spread thickly across each canvas, the paintings edge towards a visual manifestation of viral infection. Certain Viral Paintings also superimpose the artist's FaceTime calls with family onto newspaper spreads, highlighting the significance of technology in a time of mandatory social distancing and noting the personal nature of this series. With each sale of work, 10% will be donated to the NHS & WHO charities.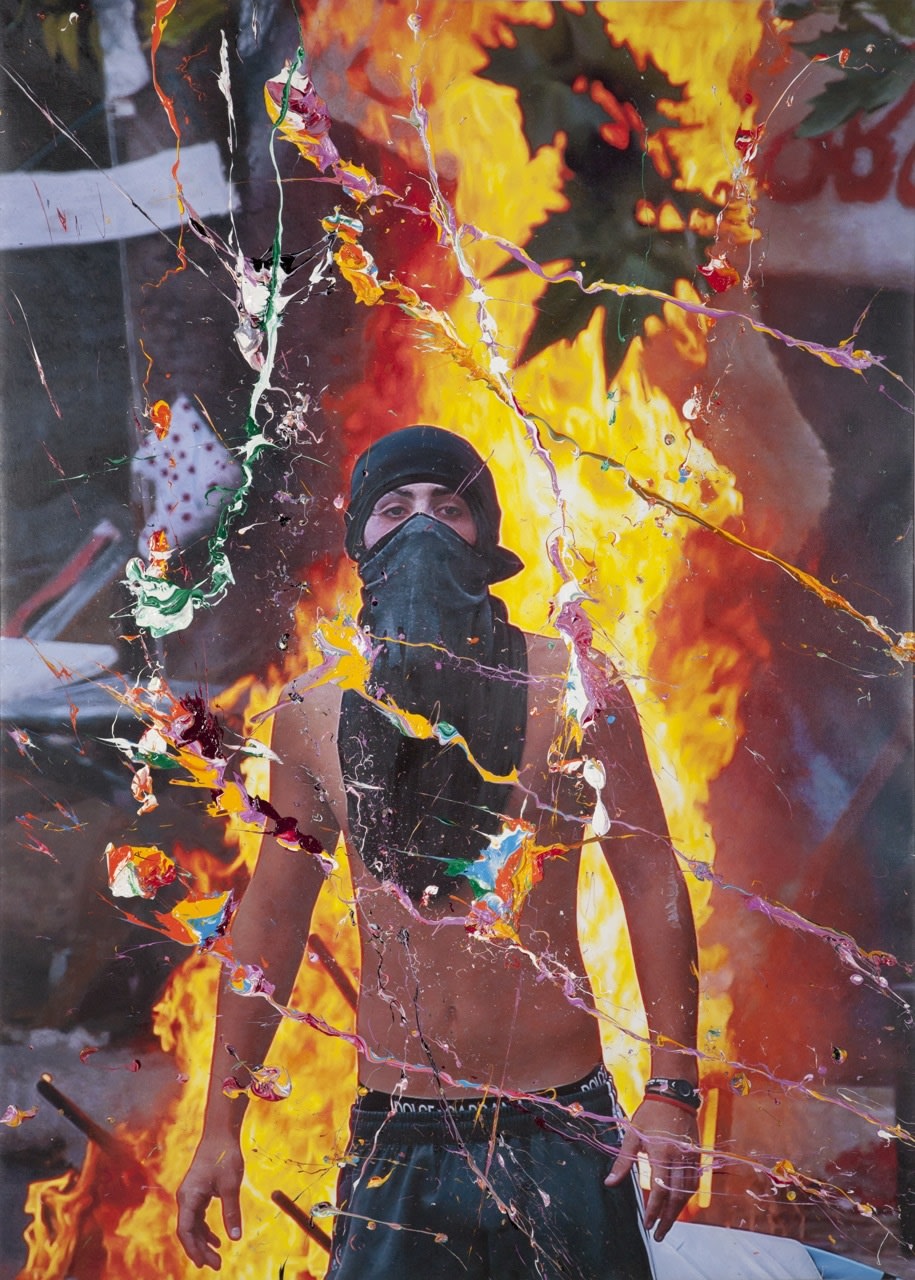 These Viral Paintings are an extension of a series Quinn has been making over the past 10 years called History Paintings. Quinn has produced 20 of these works which are now taking up space in his studio, and are due to be seen publicly next year as part of the History Paintings series which involves Quinn exploring notions of order and chaos by making photo-real paintings of news stories about riots and revolutions with gestural splashes of paint on top. While the documentary images featured in History Paintings normally take months to reproduce in oil, Viral Paintings are printed to reflect the accelerated pace of writing of history via online journalism and the urgency with which these works have been made.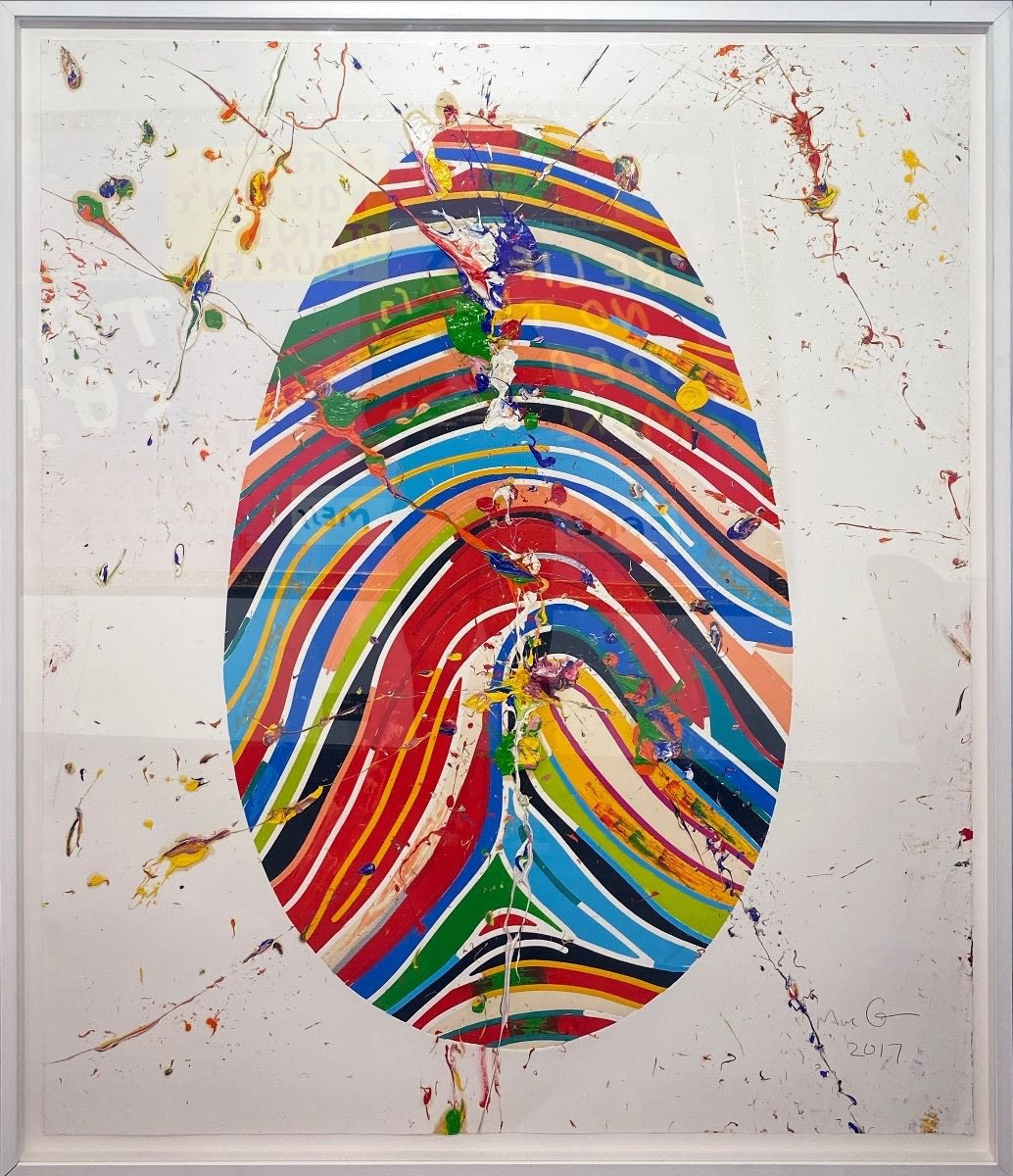 Rhodes Contemporary has a selection of available works by Quinn, including 'Unity in Diversity XZSAAGGTT', 2017 (155.5 × 129 cm). This original and unique piece is an embossed woodcut print with oil paint and comes in a sleek white frame. The piece demonstrates Quinn's long-standing method of abstraction using splattered paint.
If you are interested in purchasing or selling any Marc Quinn works, please contact the gallery.
Image courtesy of Marc Quinn
May 21, 2020