Jan Kalab has recently collaborated with Trafo Gallery in the group show Kar.ART.ena. This virtual exhibition can now be viewed online at https://my.matterport.com/show/?m=DcAaTYQg4DD. As you maneuver through the visual space, viewers can click on the works to bring up information about the works provenance.
The first quarantine exhibition in the history of Trafo Gallery brings a reflection of the current situation in an attempt to bring positive distractions, common uplift and an effort not to remain paralyzed by inaction. Paradoxically, not much has changed in the lives of artists – their normal reclusive life in studios, when they voluntarily close in their quarantines, is not significantly different from the present days. Hopefully, social life will return in the near future and the art market will soon be resuscitated.
The momentary space-time air-to-air, reminiscent of apocalyptic films, provokes an artistic imagination and is their infinite inspiration. Some of the artists in their work foresaw the disintegration of society and the escape from civilization, and all the more so today they are freezing. 19 artists so loosely refer to The Covid-19.
A virtual tour of the exhibition and video greetings of individual artists will bring you to other ideas.
Kalab's painting 'Virus' (2020), is a direct response to the current global pandemic. The large gareish green and pink painted virus is portrayed as a scientific diagram of a specimen under a microscope. 'Virus' is immediately recogniseable as an illustration of the current deadly virus Covid-19. The use of a large circular canvas is iconic to Jan Kalab's style. It is an immedaite response and interpretation to the deadly virus, which Kalab has expressed through a visually aesthetic painting, and will serve as a humbling reminder of this truly awful time.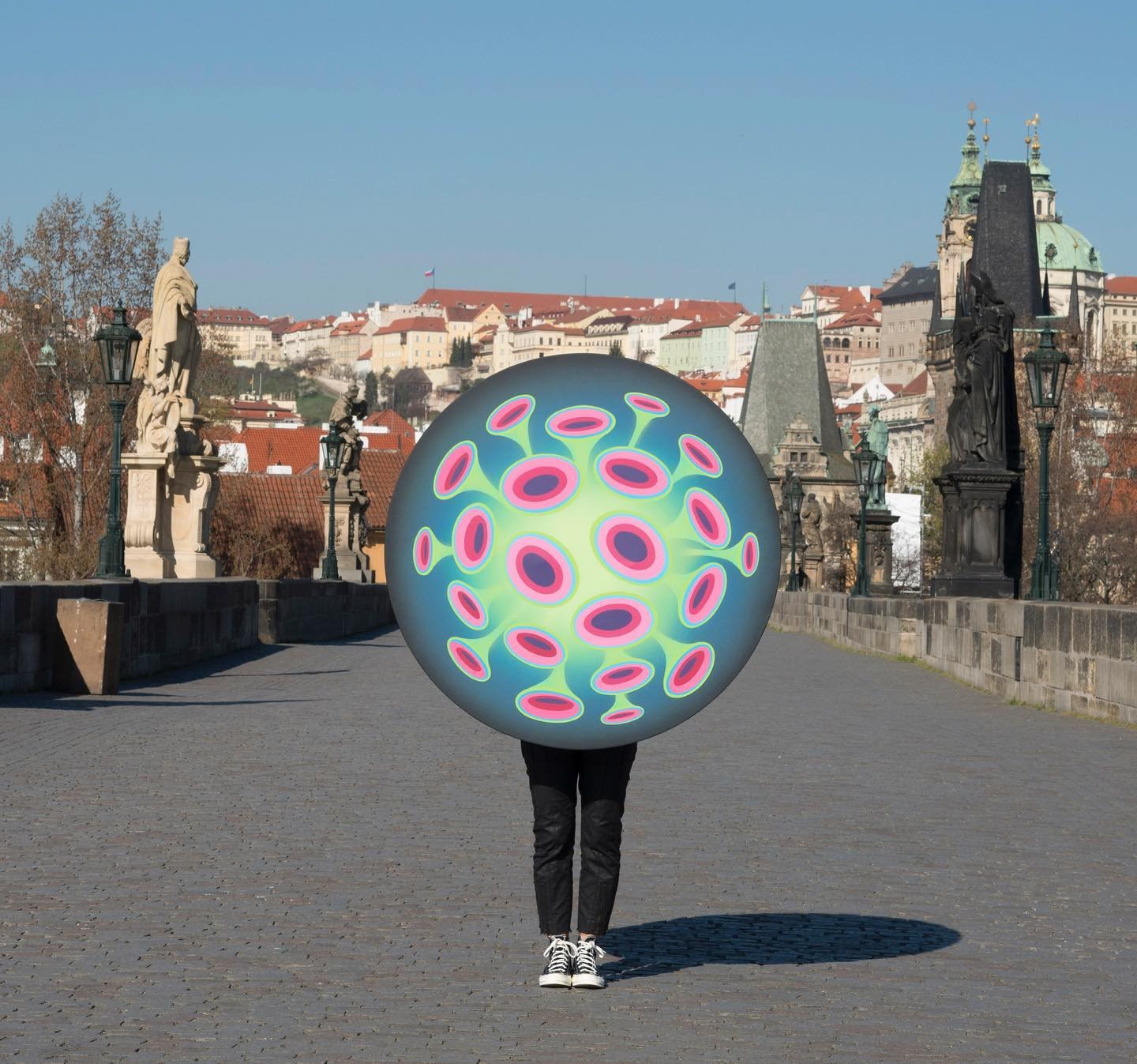 Alongside Jan's painting are works by other artists who loosely refer to global crises and the disintegration of society. Hanging next to 'Virus' is 'Doctor' (2018) by Czech street artist Pasta Oner. The exhibition displays works by other notable Czech artists, including Post-War and contemporary artist Josefina Jonasova. Also on display is a video sculpture, by artist Jakub Nepraš' 'Scepter' (2018). In the virtual exhibition this video object can be viewed online and explores the fluctuating status of bitcoin against the US dollar. Jan Gemrot, a hyper-realist painter interested in documenting the psychological excursion into the troubles of contemporary society, created a piece for which the show's title is based on. 'Karantena' (2020) is a surrealist portrayal of a naked woman, squatting inside a doll-size house, possibly referencing the the dream-like state of today's locked down world, in which people are being advised to 'stay home'.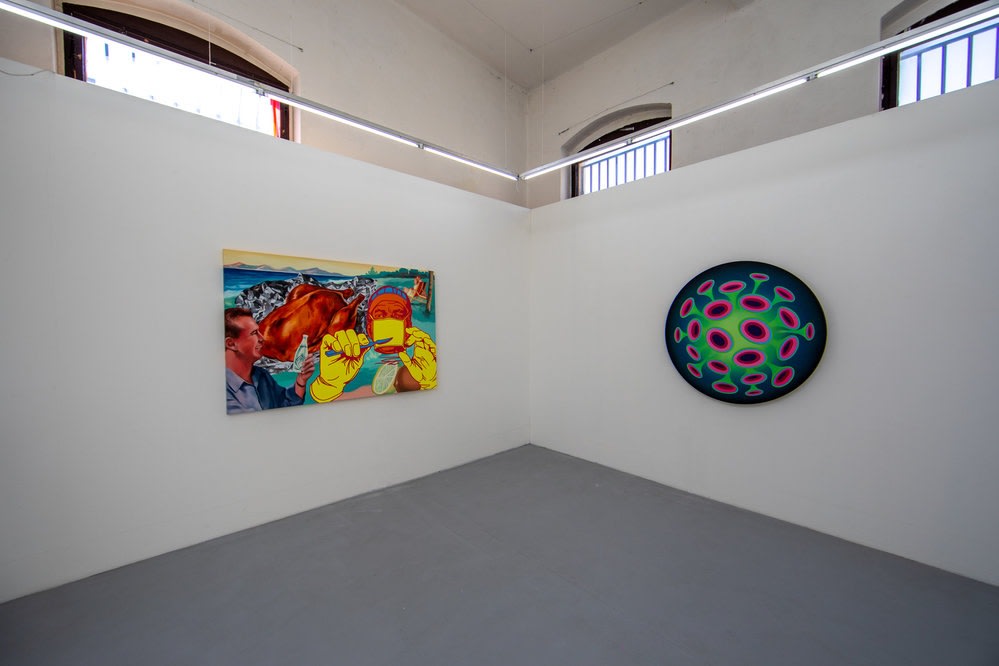 Kalab's painting 'Virus' has also been photographed by the artist in now desolate and empty public places. Kalab photographs the painting on the famous Charles Bridge in Prague, usually populated with tourists, is now completely void of human presence, creating a poignant image of the devastating effect of this deadly Covid-19 virus and its social affects on densely populated busy urban cities.
Work from Kalab's March solo show 'SOLAR' still hangs in Rhodes Gallery and can now be viewed online in a virtual tour:
If you are interested in any works from 'SOLAR' including the print edition of 'Burning Sky' (2020), contact the gallery for more information.
April 15, 2020