Sage Barnes is a self-described "painter and sometimes other things." Raised in Missouri, Sage studied at the FIDM (Fashion Institute of Design & Merchandising) in Los Angeles for a time before leaving to pursue a career as an artist. The artist has been surrounded by creativity from a young age, as his Grandmother is an oil painter, and inspired Sage to pick up a brush and paint. "Even though I haven't been painting for years and years - I've already grown in all aspects of being an artist. My appreciation for art, the way I use art to communicate and really just the way I look at things," he explained. The artist combines abstract, realistic, and street art techniques to create original and contemporary works.
The artist works from his studio otherwise knows as 'the lab' in Kansas, USA. His mode of production is extremely physical and involved, often posting videos of himself flinging paint against the canvas, or taking a hammer to the artwork to reveal an abstracted piece. The artist explores how this mode of destruction can lead to new forms of creation. To watch videos of the artist in action, click HERE.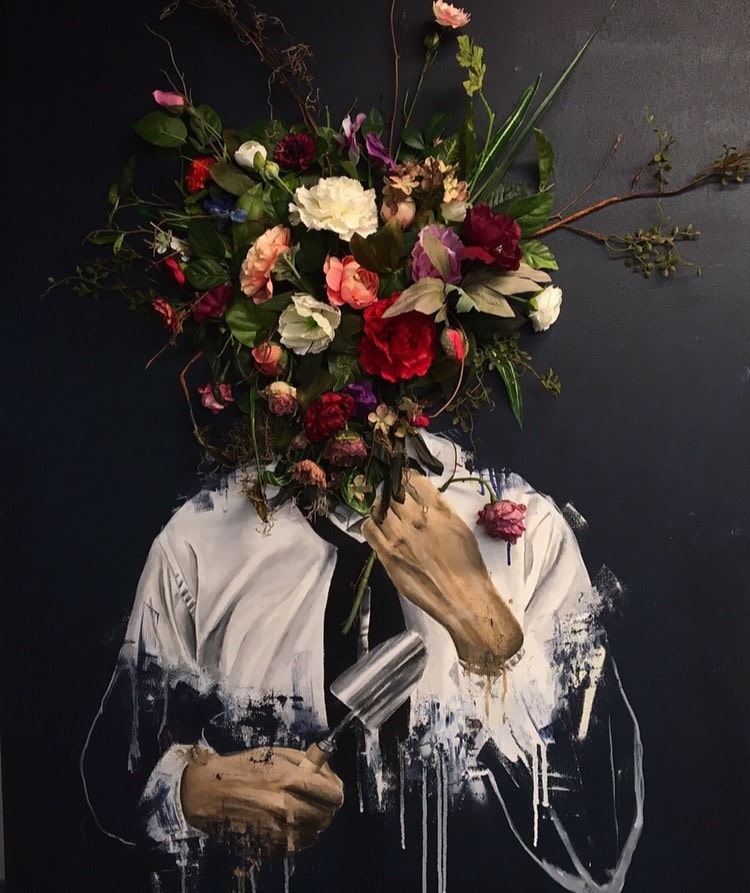 Sage Barnes' work is characterised by his urban street-art inspired portraits, where the figure's head is usually missing and replaced with a burst of colour. Common motifs within his work include smiley faces, balloons, flowers, splattered paint, or colourful pixels.
Sage works primarily with acrylic and spray paint on canvas and experiments with different mixed media elements such as artificial flowers, stucco and foam.
Sage's work has been showcased in multiple cities across the United States and his solo shows Identity and Look Alive with TAX Collection and Guy Hepner Gallery in New York have helped gain attraction from well known art collectors. Look Alive challenge tie viewer to examine their personal character with an underlying theme of self-awareness. The artworks in this exhibition highlight the cause and effect of our actions, the consequences we face and our ability to overcome them. The artist's name has created a huge buzz in the Mid-West, with celebrity collectors including Eric Berry, Cam Newton, and G-Eazy to name a few.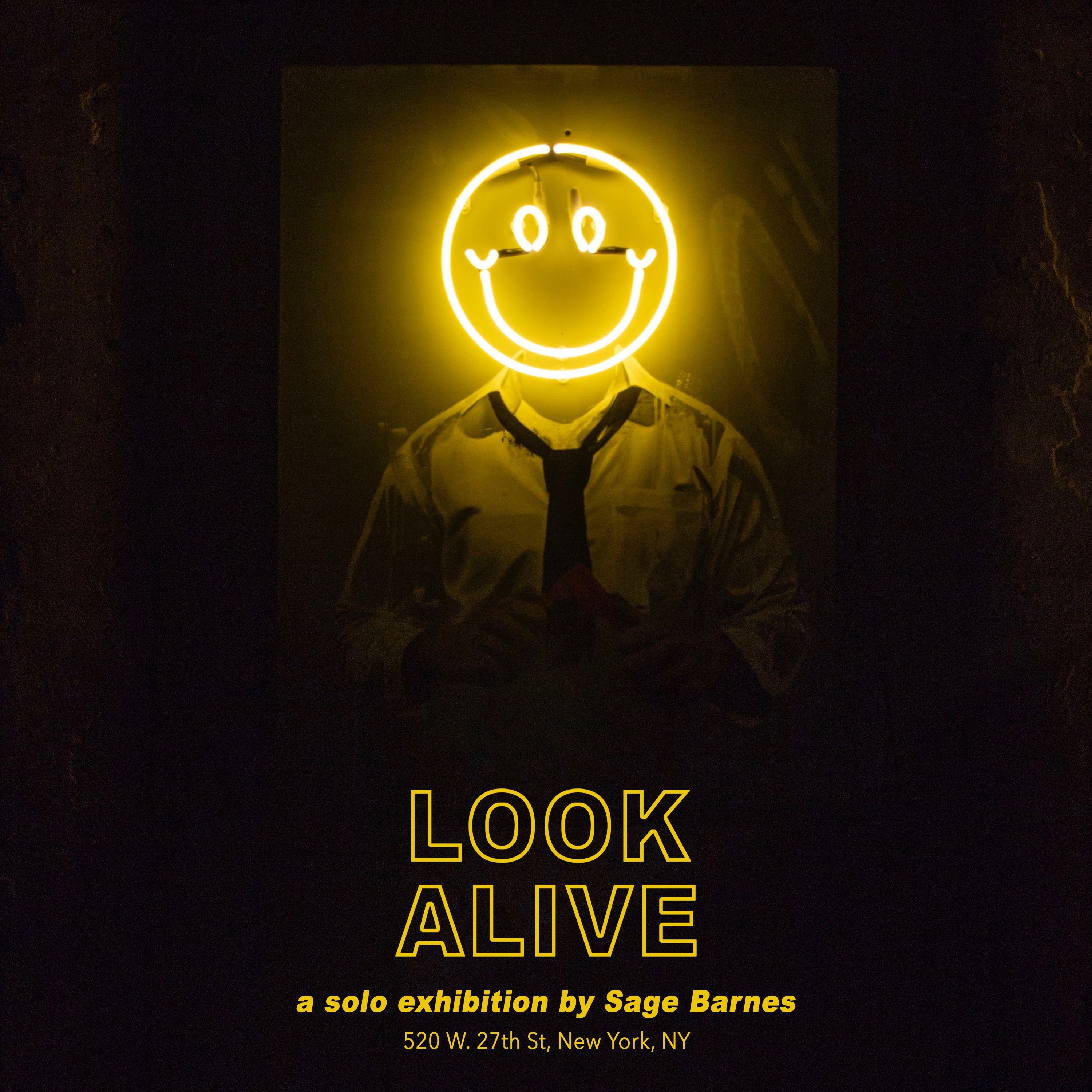 Sage has also collaborated with fashion brand Boda Skins and coffee chain Joe & The Juice to host a pop-up gallery and live painting sessions during Art Basel 2017. His work did very well at the Art Basel Show in Miami, selling a handful of paintings and over 25 prints.
The gallery's show PREFACE comments on the modern digital age and its influence over social norms and politics. The show presents the original works of three international artists, including Sage Barnes, whose featured work includes an iconic neon artwork 'Switch'. The unique artwork encourages visitors to interact with it as people are invited to change the emotion of the piece by flicking the switch in the figure's hand.
Another common motif of Sage's work, which can be found throughout the PREFACE show, is Sage's use of mixed media layering. Both 'State of Mind' and 'You Are Made of Layers' use thick dried layers of paint, to create respectively, a textured head, meant to represent the chaotic mental state of the figure. As well as a flat smiling face, which is peeled back to reveal a multitude of dark layers, commenting on the complex and nuanced psyche of humans. 'FACES #1 and #2' show Sage Barnes' usual graffiti, street-art style, whilst also referring his signature motif of the smiling and unsmiling faces.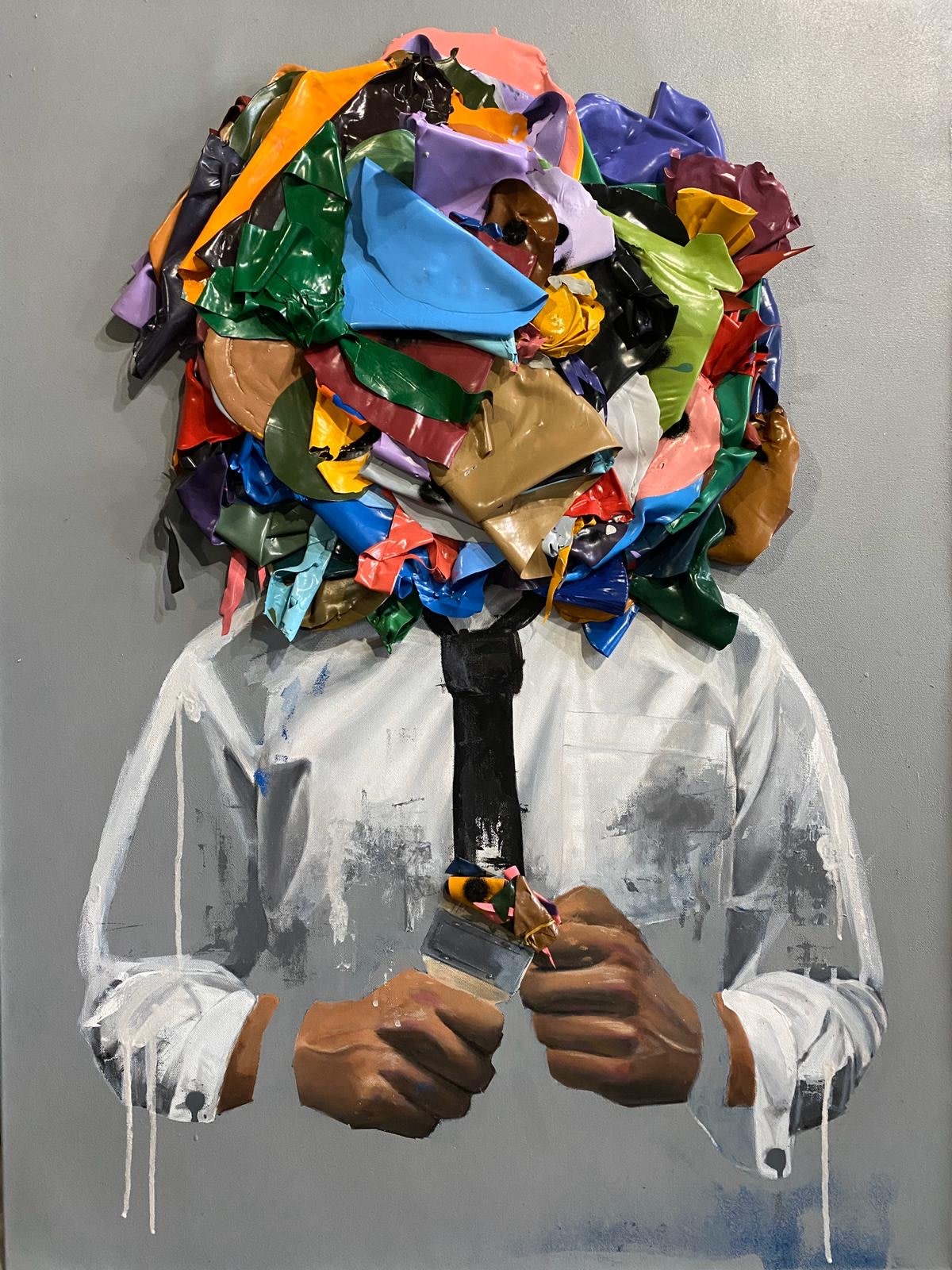 Do not miss out on the chance to see this promising artist's work in our show PREFACE which runs until the 7th March. If you are interested in any of Sage Barnes' work, please send your enquiries to info@rhodescontemporaryart.com
February 26, 2020