"I've never been interested in making statues," the artist has said. "But I have been interested in asking what is the nature of the space a human being inhabits".
Is the last few weeks to see Antony Gormley solo show at the Royal Academy in London.
Since the 21st of September, Gormley has been exhibited new works at the Royal Academy in Piccadilly Circus, London. From the British coastlines to the rooftops of Manhattans Antony Gormley is one of the most powerful British sculptors of this decade. In 2008 The Daily Telegraph ranked him number 4 pf 100 "most powerful people om British culture" and won the Turner Prize in 1994. Gormley attended Trinity College in Cambridge in 1968, where he met fellow artist Irish born Michael Craig Martin. His most popular pieces are "Another Place" in Liverpool in 1997 and "Angel of the North" in 1998 in Gateshead.
In the middle of the elegant and large courtyard of the Royal Academy, coming right from the busiest roads in central London, a small, human-scale iron baby is lying on the floor. People walk past it, not realizing is here, for those who do, the sculpture reaches to the human instincts of wanting to pick it up, making you forget the of its heavyweight and material: iron.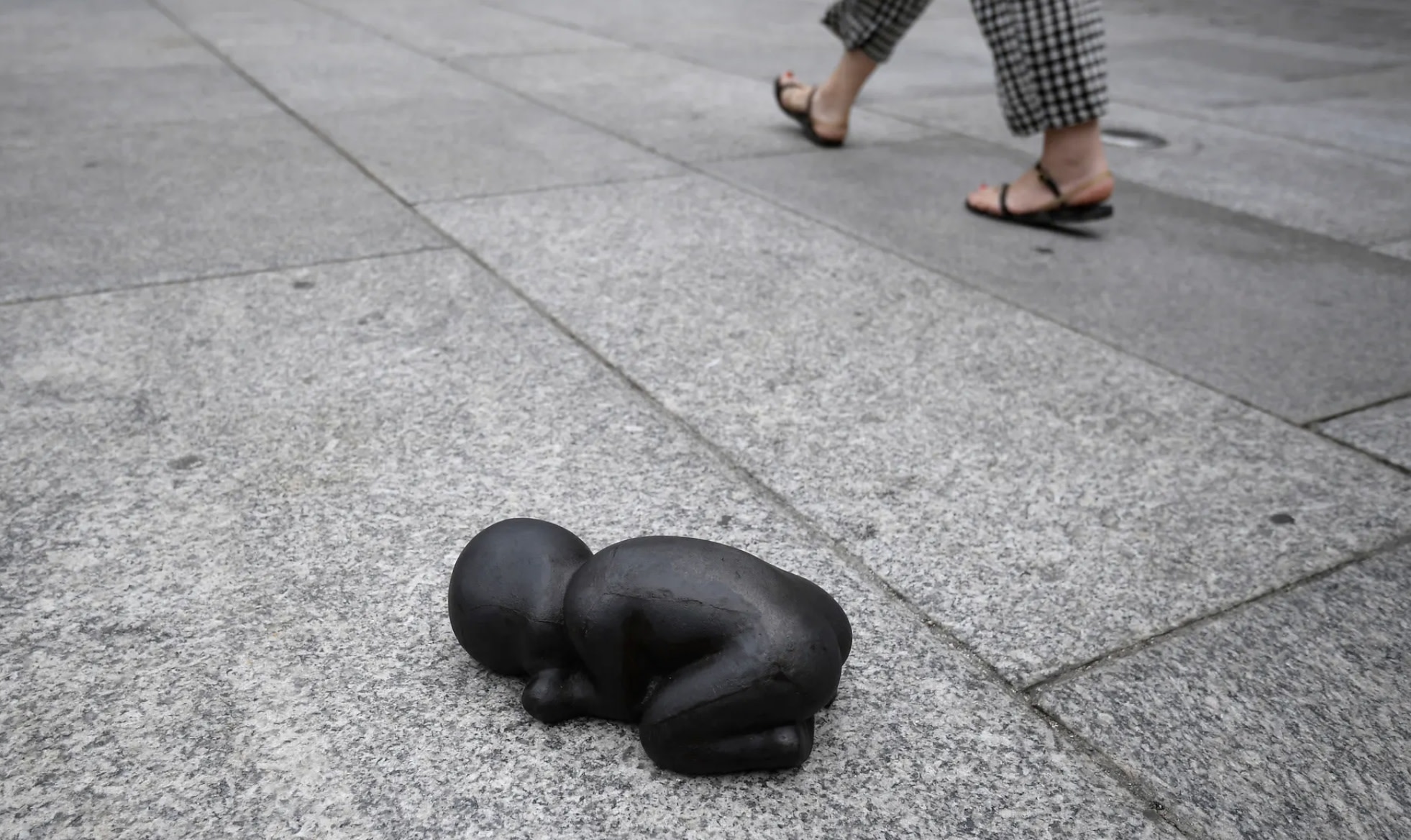 Ripe with destructive potential … Iron Baby. Photograph: Toby Melville/Reuters
Inside the building, forget your maternal or parental instincts, it's a whole other experience. Black iron tunnels, suspending cages and immersive wires, not any baby is seen again. The exhibition explores the relation of the human body to the context and space, it questions to what extent we are the product of our environment, and to what extent we are the makers of it.
One of the most impactful installations is "Cave", an endless tunnel and landscape of steel panels, which, hard to recognize at first, when seen from the top, make a large scale human body in a resting position. One first enters a small, compact, dark tunnel, which happens to be a hand or a foot. As one continues into the installation, what started as claustrophobic, slowly turns into infinite. The installation "Cave" weight 27 tonnes, each board of steel had to be bought in individually and assembled in the room. The floors and walls of the RA had to be specially reinforced hot the piece.
Iron, drawing, body, cages and white bread, are all components of the immersive exhibition is curated by Martin Caiger-Smith, with Sarah Lea, Curator at the Royal Academy of Arts. Visitors are invited by curators to 'slow down and become aware of their own bodies' through this series of experiential installations.
In case you can't make it this week to the RA, Gormley is currently also having an exhibition at White Cube Mason's Yard until January 2020, entitled: "In Formation".
To see all available Antony Gormley or Michael Craig Martin works (or both), please email us at info@rhodescontemporaryart.com
November 23, 2019