The Centre Pompidou in Paris is having a retrospective of Francis Bacon's work until January 2020, entitled "Bacon en toutes lettres" ("Bacon in all letters" in English) focusing on how literature and philosophy has impacted the artist and his work. Francis Bacon is considered one of the biggest British artists from the 20th century, his imagery is distinctive and unique by portraying figures and nudes in distorted postures but still rejected by surrealist artists.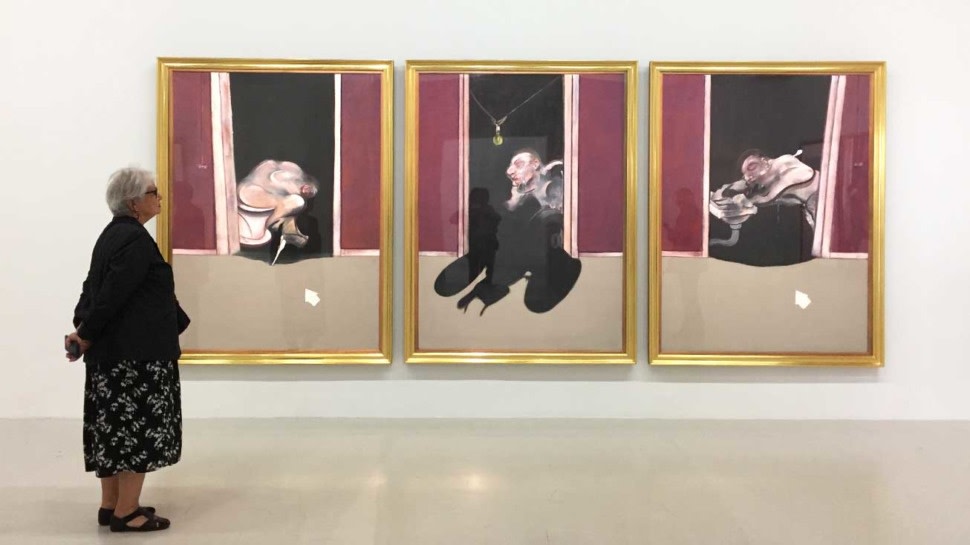 ©Nathalie Lasserre
Citric orange, baby blue, prune… all are an eye-catcher and bright colours that attract the audience attention into his works. He then captures their minds by showing a post-war-wounded atmosphere, tormented by existential dilemmas portrayed in the figures. All together creates duality and contrast with the soft colour materiality of his pieces.
Movement and picturing "life just as it is", is what the artist wished to portray thought out his body of works with its ever-changing and evolving bodies, by creating a rebellion against the still 2D surface, it lead to Bacon's gestural painting style and curved scenes. The photographic studies of motion and in motion-picture projection by British pioneer photographer Eadweard Muybridge were a source of inspiration to Francis Bacon, Muybridge's work was known for its motion photography showing various human figures and animals moving while he captured various fast shots.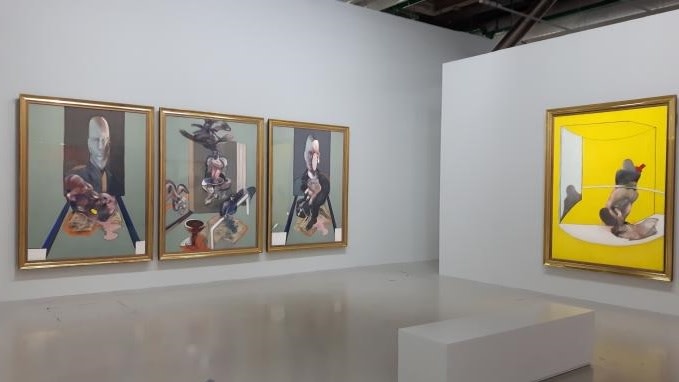 © Fournis par France Télévisions
Back to the Pompidou exhibition: "Bacon en toutes lettres" , its focal point is the last period of Bacon's life, from 1971 to 1992. 1971 became a defying year for Bacon's life and works, at the age of 62 years old, the artist is now at the highest point in his career, a solo exhibition at Les Grand Palais is about to open, where just a few years earlier in 1966, Picasso had his solo exhibition there too. Bacon produced four new triptychs for the exhibition and took it as an opportunity to observe and reflect on the last 25 years of his career. However, it was a bittersweet time for bacon as his solo exhibition opened just days after the death by suicide of his partner George Dyer, leading him to repeatedly paint triptychs in memory of Dyer and mediate on Greek tragedies and mythology.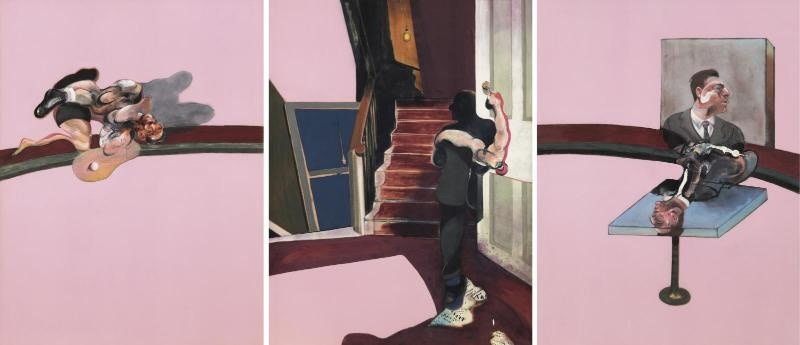 © Centre Pompidou
The Pompidou retrospective also focuses on how the literature and philosophy read by the artists impacted his work. Bacon liked his books just like his paintings: dark and complex. He held an impressive library at his London studio (which has been preserved by the Trinity College in Dublin) which reflects the artist's interest in philosophy and psychoanalysis. From T.S. Eliot (whose trilogy:" L'Orestie" is the source of Bacon's triptychs) to Marcel Proust and Lucian Freud, Bacon mentioned to the French photographer Francis Giacobetti how important literature is to him, stating: "I call it my imagination material".
We have recognized a few similar pieces at Pompidou, such as the "Triptych Inspired by the Oresteia of Aeschylus (1981)", which a smaller version is currently hanging in our gallery in London.
If you wish to know more about Francis Bacon and are interest in seeing his works without taking a trip to Paris, come and see us!
Our current exhibition "Study of a Women talking to Herself" places Jess Cochrane's and Francis Bacon's work in conversation in our gallery until the 8th of December 2019. Both artists mirror their current time through figurative work ad portraiture, however from two different perspectives, creating parallels in discussions from both centuries.
To see the Sales Catalogue for our current exhibition or if you have any questions or enquiries, you are more than welcome to email us at Info@rhodescontemporaryart.com
November 13, 2019