From 23 of October until 26 January 2020, the Southbank Centre is hosting the largest retrospective about Bridget Riley yet done. Showcasing her artistic evolution from pointillism, to using bigger dots, to Optical illusions, the exhibition offers the public a view of her major works from her 70 years long painting career. This includes her iconic black and white canvases from the 60s, her early career figurative paintings and her recent wall paintings.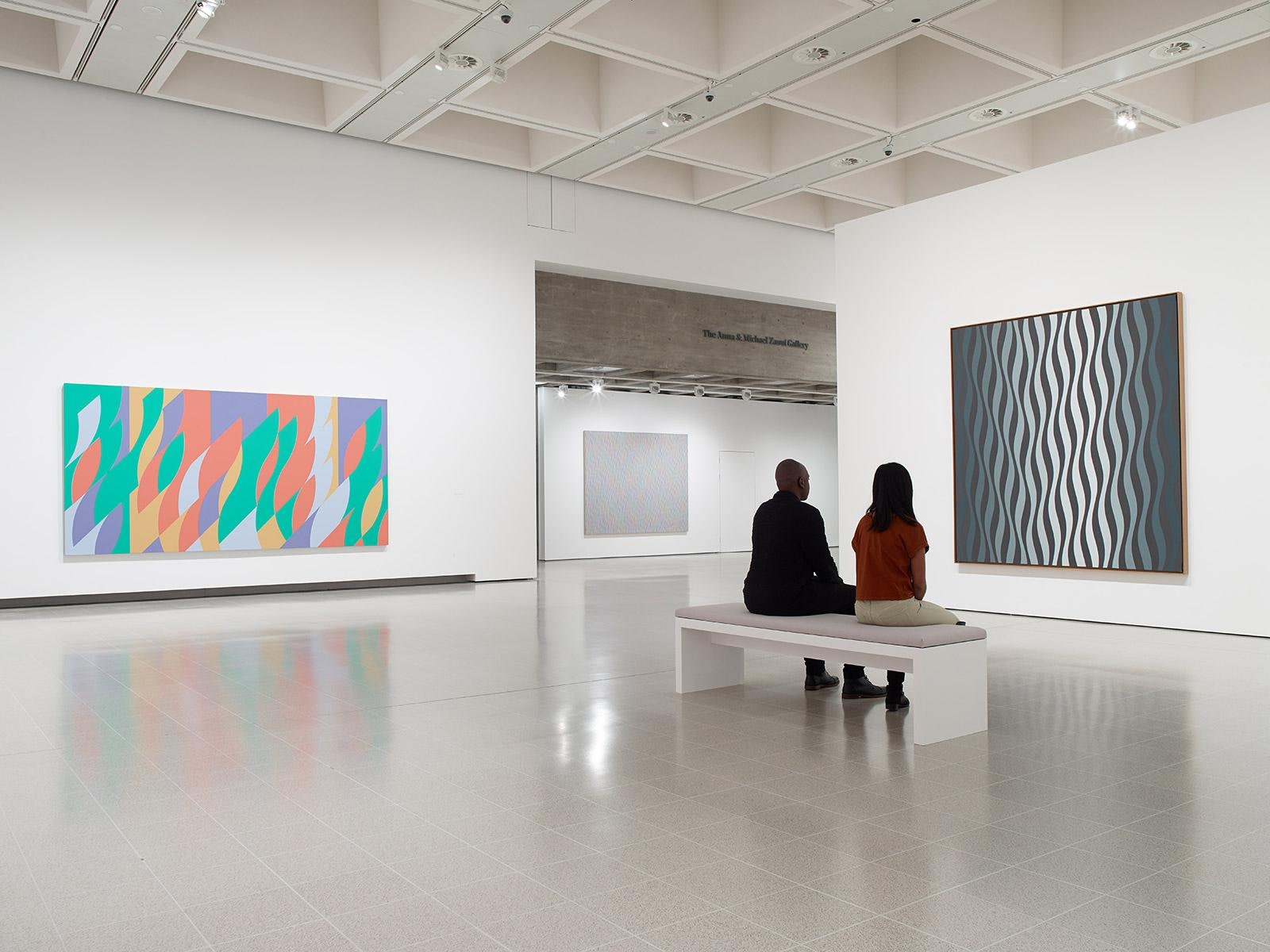 View of 'Bridget Riley' at Hayward Gallery, London. © The artist. Photography: Stephen White & Co

Born in 1931, raised in Cornwall and then moved to London to study at Goldsmiths College and Royal College of Art, Riley became a pioneer for British contemporary painters. She began exhibiting at group exhibition such as "Young Contemporaries" in London in 1955 and the South London gallery in 1958. During the 60s, her career blossomed, introducing a new style of black and white pieces with optical illusions, she became associated with the Op art movement. The MoMA in New York included her works in a celebratory Op art exhibition entitled "The Responsive Eye".
At the beginning of her career when coming out of the Royal College of Art, Riley was struggling to find her now-iconic style, so she looked at other artist intensively, in particular the French painter Georges Seurat. In 1959, Riley made a study of Seurat's painting The Bridge at Courbevoie (1886–87), this inspired her and influences her in the use of contrast, colour and tone. She states: 'I believed – and still believe – that looking carefully at paintings is the best training you can have as a young painter.' Other painters that influenced Riley include Henry Matisse and Paul Klee.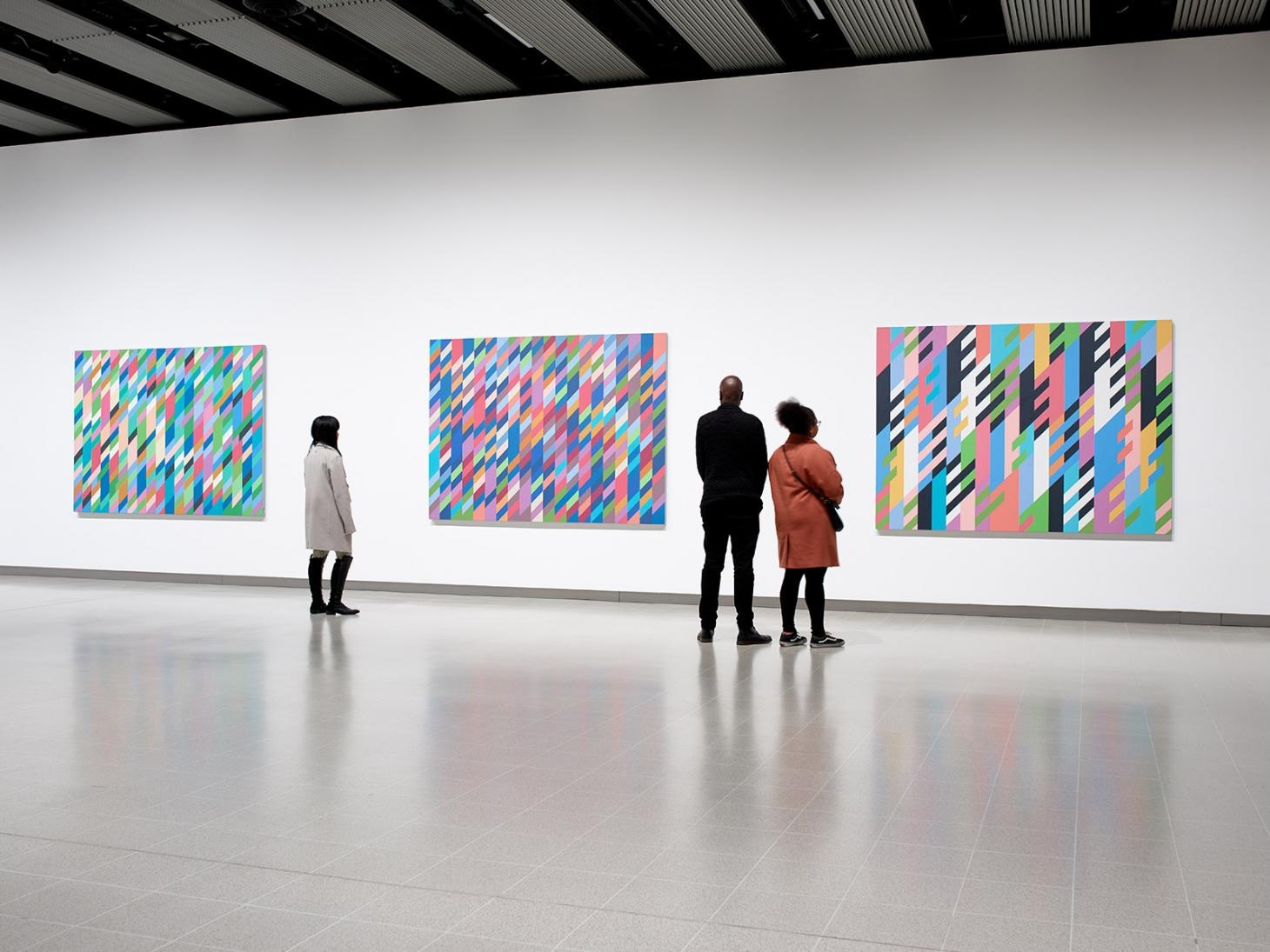 View of 'Bridget Riley' at Hayward Gallery, London. © The artist. Photography: Stephen White & Co
On the contrary of what her abstract and geometrical works would make you believe, Riley also draws inspiration from nature, more specifically: the Cornish landscape. Her paintings express and communicate the experiences and details you get in nature: the reflection of the sun in water or the movement of leaves.
Hayward gallery's retrospective also includes some rarely seen works on paper, studies, drawings and preparatory materials from the artist. For Riley, drawing is 'an enquiry, a way of finding out'. By looking at these drawing, and early figurative works, one can trackback and understand the thinking process and methodology that goes into making her final pieces from 1947 until the present day. Fun fact though this isn't the first time Bridget Riley has shown at the Hayward Gallery, in 1971, only three years after the gallery opened to the public, Hayward hosted the first UK large scale solo exhibition about Riley's works: Bridget Riley: Paintings and Drawings 1951-71.
Developed in close collaboration with the artist herself – and in partnership with National Galleries of Scotland, as big fans of Bridget Riley, the team at Rhodes Contemporary Art strongly recommends going to the Hayward Gallery and check it out.
If you are interested in Bridget Riley, you can purchase some of her works through us, such as her stunning screen-print "Around", available framed and now hanging at the gallery.
If interest, please email us at info@rhodescontemporaryart.com
To see all available works by Bridget Riley please click here.
October 29, 2019