As part of London Frieze week last week, we released our new Rhodes Edition x Nick Smith "Haring Dog" limited edition.
There were 2 colourways available, a red based on Keith Haring's iconic 'Dog', and a blue, Nick's own interpretation. This is the first time Smith has reworked a Keith Haring piece, with this edition being based on his sold out original collage that featured in our Summer Exhibition.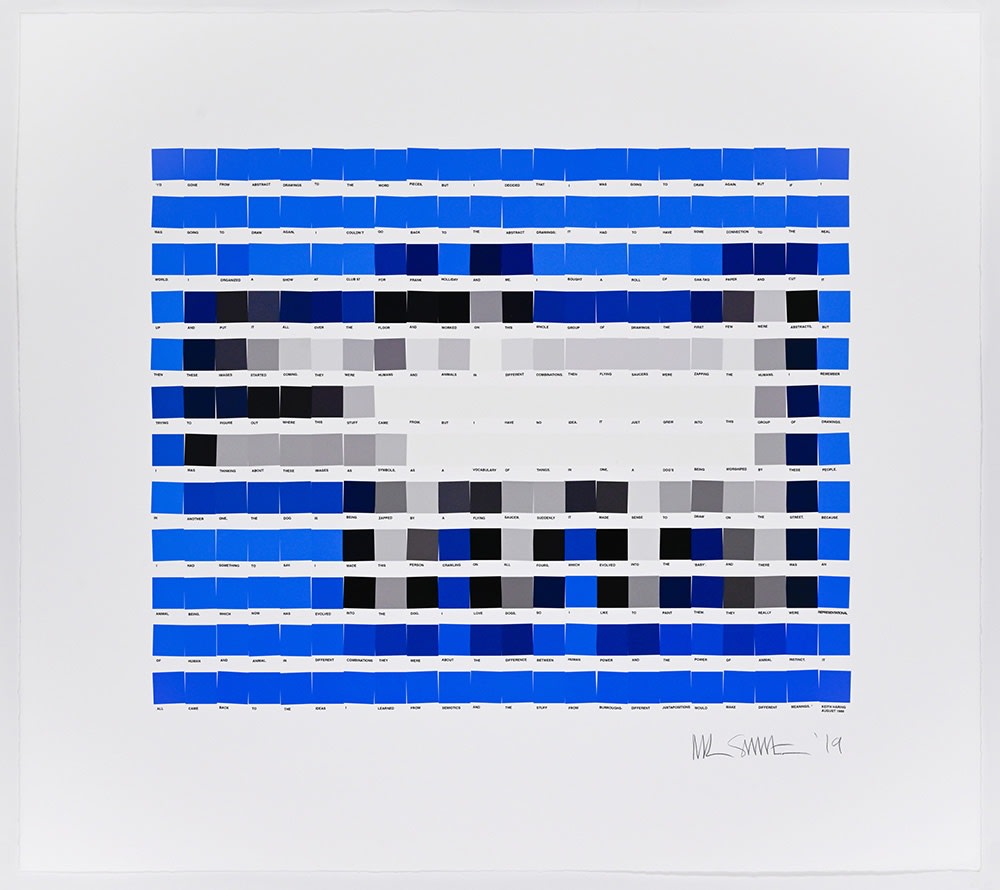 The piece is classic Nick Smith, with each chip featuring a word forming a quote from Keith Haring's 1989 interview with Rolling Stone Magazine;
"I'd gone from the abstract drawings to the word pieces, but I decided that I was going to draw again. But if I was going to draw again, I couldn't go back to the abstract drawings; it had to have some connection to the real world. I organized a show at Club 57 for Frank Holliday and me. I bought a roll of oak-tag paper and cut it up and put it all over the floor and worked on this whole group of drawings. The first few were abstracts, but then these images started coming. They were humans and animals in different combinations. Then flying saucers were zapping the humans. I remember trying to figure out where this stuff came from, but I have no idea. It just grew into this group of drawings. I was thinking about these images as symbols, as a vocabulary of things. In one a dog's being worshiped by these people. In another one the dog is being zapped by a flying saucer. Suddenly it made sense to draw on the street, because I had something to say. made this person crawling on all fours, which evolved into the quote-unquote baby. And there was an animal being, which now has evolved into the dog. They really were representational of human and animal. In different combinations they were about the difference between human power and the power of animal instinct. It all came back to the ideas I learned from semiotics and the stuff from Burroughs – different juxtapositions would make different meanings."
Full interview here: https://www.rollingstone.com/culture/culture-news/keith-haring-just-say-know-71847/
The red edition was available as an edition of 66, and the blue as 33 – both SOLD OUT within 10 minutes of release! A big congratulations to Nick for this one!
Apologies to everyone who missed out this time, but keep an eye out for exciting things happening with Nick this December…
For more information on available Nick Smiths, and to register your interest in what we have coming up in the future, please email info@rhodescontgemporaryart.com
October 9, 2019