What a week for Banksy!
The anonymous, yet world famous artist Bansky has just opened a pop up installation in the south London district of Corydon and had one of his paintings sold for £ 9,8 milions at Sotheby's.
The venue is entitled "Gross Domestic Product" and is located under a PureGymon Church Street. The shop vitrines are full of installations and works by Banksy, as far as we know, people cannot go inside and all content will be released exclusively online, however, the lights are on 24h a day so the public can experience it at night as well. Next to each installation, there are signs using witty language providing more explanation about the artworks, most of them involving relevant socio-political themes and playing with irony.
One of the highlights of the installation is an edition of the stab vest worn famously worn by Stormzy last Glastonbury festival. The vest is a black stab-proof vest with a white Union Jack painted on it. The grime artist Stormzy used it for his performance for his headline set on the festival's Pyramid Stage, while addressing crime issues in Britain and racial inequality.
"A version of the 'John Bull' English gents waistcoat updated for modern times. This customised body armour is capable of stopping bullets up to .45 calibre and its fully stab proof.
As worn by Stormzy at Glastonbury festival (because its very dangerous there).
Yet not machine washable. Signed.
Edition of 5 plus 2 A/P."
Other items and installations in the venue in Croydon include a 230kg tombstone hand carved by Banksy stating: " YOU HAVE NOW REACHED YOUR DESTINATION", a signed next to it states " What do you buy for the person who has everything? A 230kg reminder that you can't take it with you".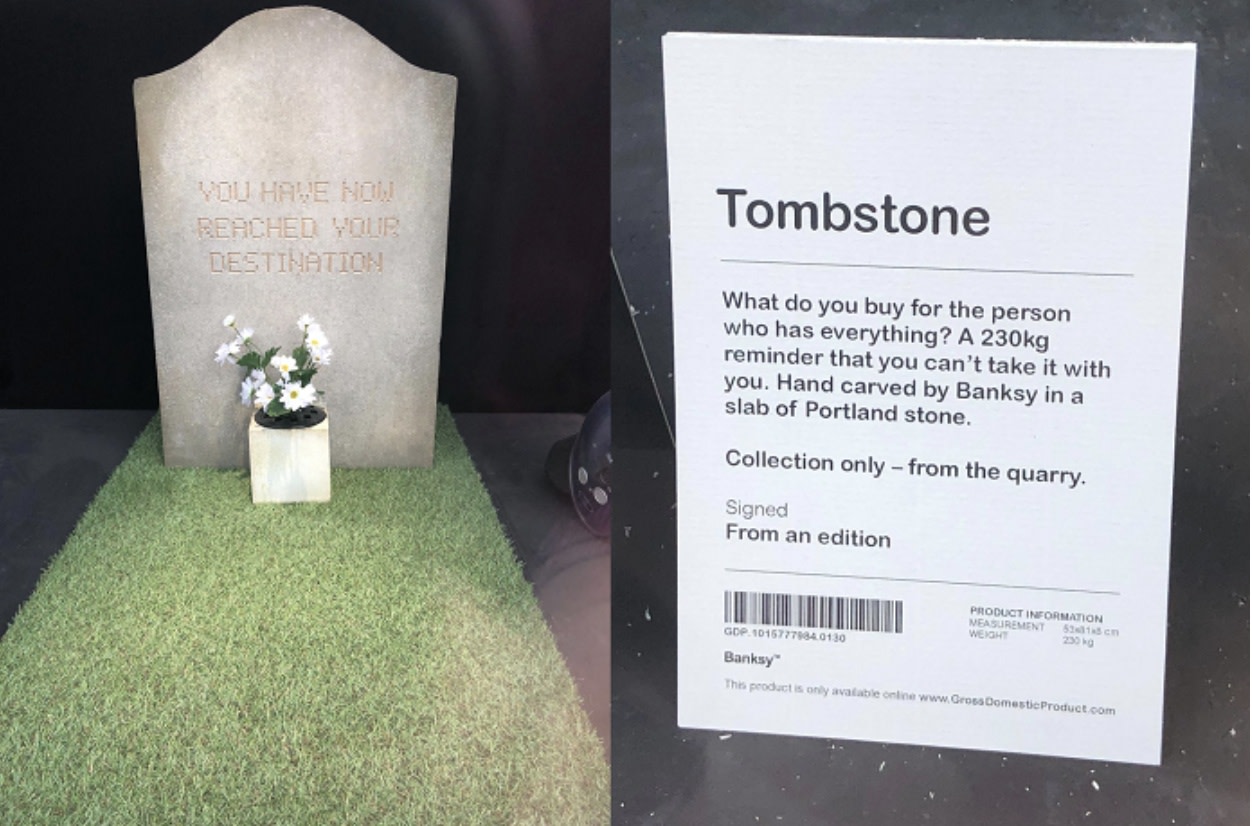 A clutch bag made out a stone can also be seen, with yet again another signed with a humours tone stating : " This fashion-forward accessory is made from a genuine real life house brick and its perfect for the kind of person who doesn't carry much but might need to whack someone in the face. Probably no less practical than the output of most haute couture fashion houses."
Banksy stated that this ship opened due to the legal case going over greetings cards. "A greetings cards company is contesting the trademark I hold to my art, and attempting to take custody of my name so they can sell their fake Banksy merchandise legally."
Mark Stephens is the lawyer taking on the case and advice the artist to create his own shop as a solution to the law stating that a trademark can be transferred to someone else who will use it.
"Banksy is in a difficult position because he doesn't produce his own range of shoddy merchandise and the law is quite clear - if the trademark holder is not using the mark, then it can be transferred to someone who will."
All the profits from Banky's shop will go towards buying a new migrant rescue boat to replace the one confiscated by Italian authorities. All products are handmade in the UK from recycled or existing materials where possible, starting price of £ 10, as Banksy wishes to offer something for everyone, everything is sold online exclusively.
To read more about Stormzy vest please see our previous article here:
In other news, a Banksy painting "Devolved Parliament" has sold on Sotheby's for £ 8,5 million, plus premium, making it £ 9,8 million all in. The 4 meters long piece, shows the inside of the House of Commons in Westminster, but with chimpanzees instead of MPs inside. The painting, which was previously called "Question Time" was made 10 years ago, originally for an exhibition at Bristol museum "Banksy vs Bristol Museum". The exhibition famously attracted over 300,000 visitors.
"Devoted Parliament" was originally estimated between £ 1,500,000 and 2,000,000, however after a 13 minute long bidding battle, the hammer went down at £ 8,5 ( see video below).
It's safe to say that just a few weeks before the Brexit deadline, this piece is more relevant as ever. The auction house said: "Regardless of where you sit in the Brexit debate, there's no doubt that this work is more pertinent now than it has ever been."
This auction also marks the one year anniversary of another Sotheby's auction, when the iconic " Girl with Balloon" auto shredded itself seconds after the hammer went down for over £ 1 million.
As per usual, when Banksy hits the news, the artist posted on Instagram its own thoughts on the matter. This time, he posted a quote by the art critic Robert Hughes ( see picture below), stating as a caption:
"Record price for a Banksy painting set at auction tonight.

Shame I didn't still own it. "
– Banksy, via Instagram, 2019.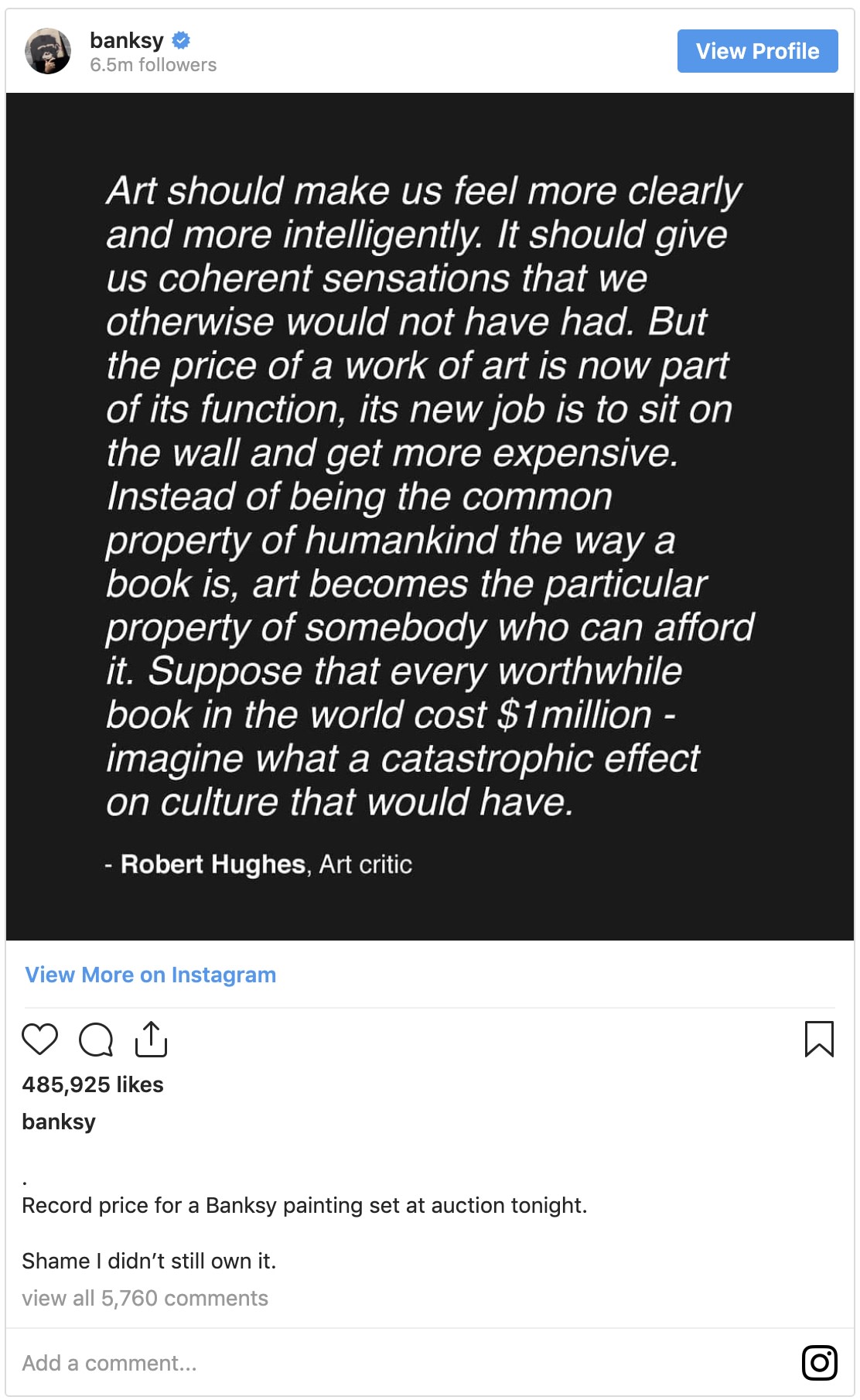 On that ironic note, If you wish to sell or buy your Banksy pieces, please contact us at:
info@rhodescontemporaryart.com
+ 44 (0)20 7240 7909
October 1, 2019