We are excited to now be working with brilliant British artist Chris Rivers. Featuring 3 new canvases in our current Summer Show 'CHROMA' he has already made a fantastic impression.
Chris Rivers is from Manchester and an ex drummer for the rock band Heaven's Basement. In 2013, during a four-mouth US tour, Rivers decided to sketch on one of his used drumheads with some sharpies and pens. It wasn't until 2016 when he decided to step down from the music industry and committed to being a full time and self-thought artist.
We caught up with Chris to learn more about his influences and practice.
How has your background of being in a rock band affected your art?
I wouldn't say it had a direct impact in terms of what I actually paint, but my whole life being in a full time touring band has definitely moulded who I am in terms of my outlook on everything. I've found so many similarities between art and music. The mentality of the band I played in was very much 'us verses' the world', we thrived of being the underdog, taking risks and just doing what we loved regardless of scenes or what other people were doing around us. This is a mentality that's naturally ingrained in me, I think. I very much live in my own bubble and just do what I enjoy.
How was the transition between touring in a rock band to being a full time artist?
It was fairly easy to be honest as it was going from one unpredictable artistic life to another. I started painting whilst touring in around 2013/14. I got heavily into it on a serious level around 2015/16 when the band was going through issues. I had longer periods of time at home so painting just naturally started taking over for me. When I decided to leave the band in January 2017 I was already working as a full time artist.
What artists inspire you?
In terms of painters it's such a wide variety of artists, it can range from Goya to Fragonard, Singer Sargent to Titan, not always necessarily painters who are reflected in my style. Odilon Redon is one of my fav painters too. I could probably list 40 or 50 painters that I love ranging from impressionist, the old masters etc. There're so many incredible artists past and present, I'm constantly in awe. Beyond painters though I also find many musicians massively inspiring. I think one of the toughest challenges for anyone in the creative world is having longevity! Someone like David Bowie for example has almost always been peerless, his music and image has spanned so many genres, it surely just comes down to always trusting yourself and producing the work you want to do as an artist instead of trying to please what you think others want. Obviously, people will put a label to everything anyway, but scenes come and go out of fashion so to me it's pointless trying to be part of things like that.
What is the technical and research process behind each piece?
I like to work in series. These series are often born from story ideas. When it comes to the actual paintings, its usually a case of deciding the colour palette then just going in blind, trial and error, it keeps it exciting. Sometimes they turn out a disaster but other times you get amazing results.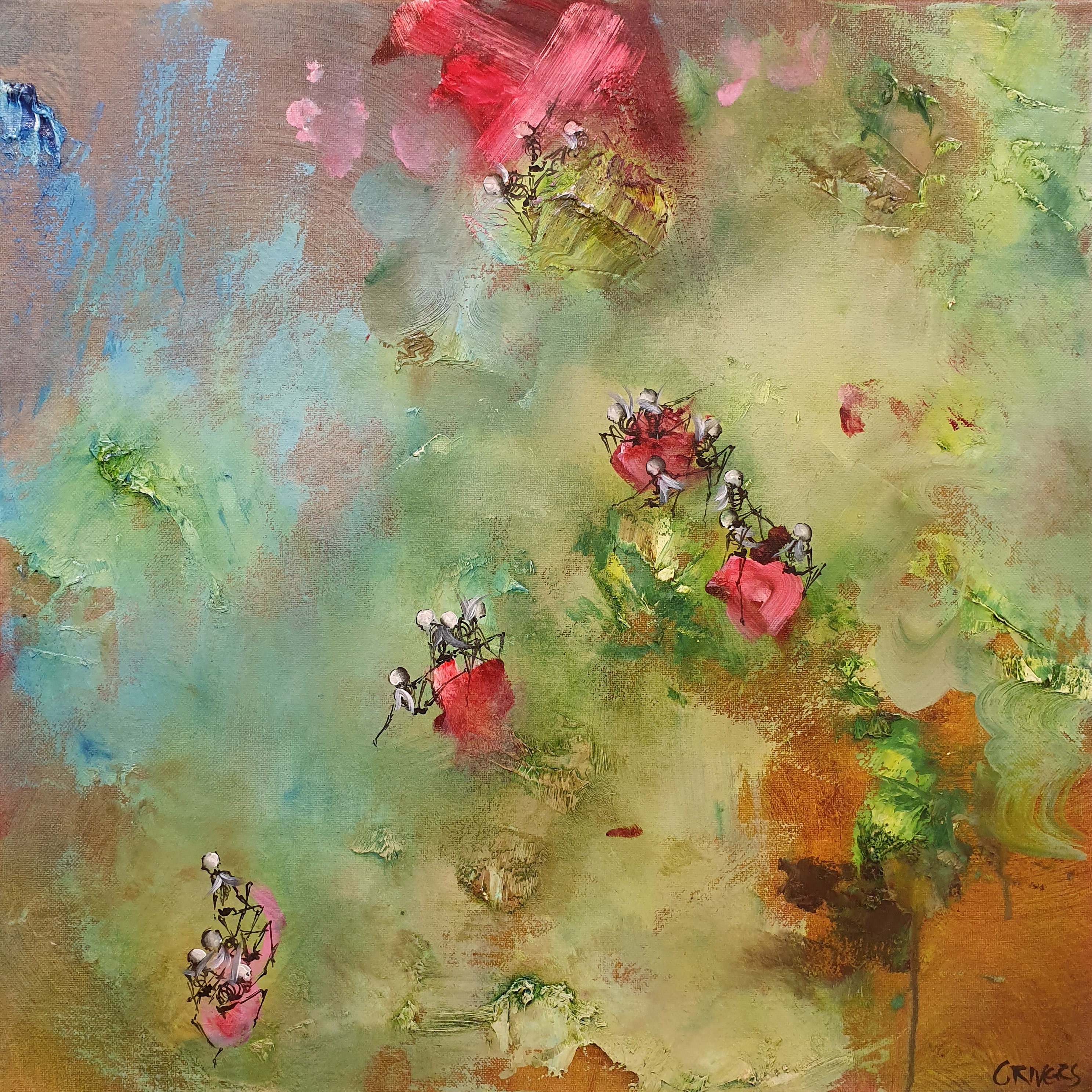 How and why has your style shifted from figurative to abstract?
My style used to be a lot more illustrative, but I would say I still have elements of this. I like to combine abstract with some form, it could be a big dramatic abstract background with tiny detailed figures, or it could be something where the figures are more prominent but with big elements of abstract within the painting. I like things l lose and rough but with focused areas of detail. Also, 'what not to paint' is as important as 'what to paint'

What is your proudest moment in your career so far?
I would say just the fact that I'm able to paint every day. It's something I'm very grateful for and never take for granted, as I know all too well how unpredictable the creative path can be.
What have you got coming up?
First of all, I'm really excited to be a part of the chroma show! It'll be the first gallery show I've been a part of in London. Also, I'm going to Hong Kong in Oct for a show, my second time there. So, a lot focus is mainly on building up work for that at the moment.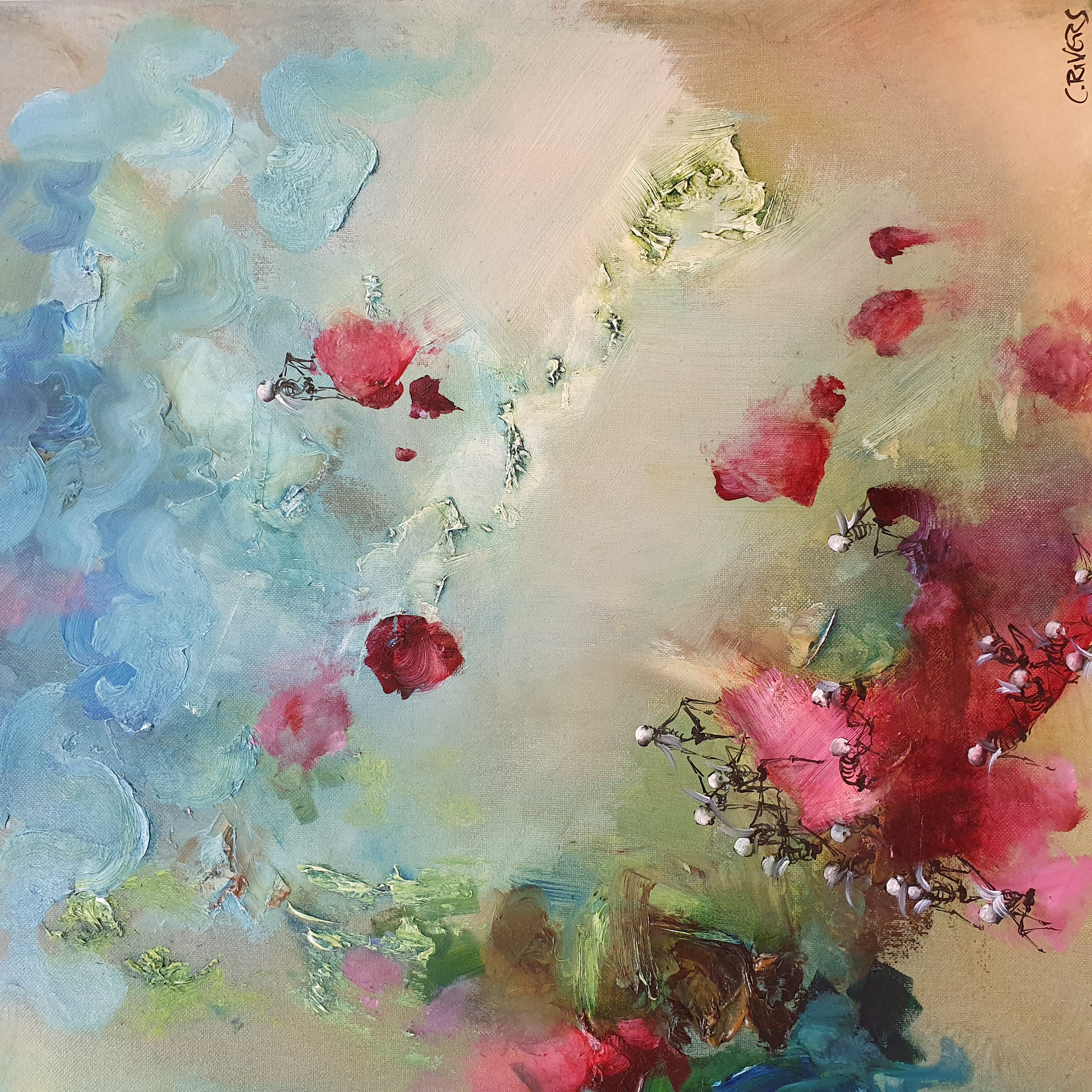 For more infotmation on Chris Rivers and his work, email info@rhodescontemporaryart.com.
August 30, 2019