The infamous Banksy has been back at it again; this time at one of the world's biggest art events; the Venice Biennial.
Banksy recently published a small video clip on his verified Instagram account showing his latest installation "Venice in Oil". The short clip shows a man, possibly Banksy himself, setting up various easels and canvases at the city's iconic St Mark Square.
Perhaps a statement on the Venice Biennial itself, the pieces show a large luxurious cruise ship storming into the historic city, pushing men in traditional gondolas out of the way and bulldozing through the historical site. Looking enourmously out of place in its surroundings, it is perhaps a comment on the super rich who invade Venice every other year with their super yachts and wealth, to view and buy some of the most expensive art in the world.
The video clip later shows the reaction from the general public, and ultimately the removal of the stand by local authorities. Banksy is then seen walking away, pushing his wares past one such super cruise liner as his work depicts.
Banksy has also confirmed the appearance of a new mural painted in the Italian city's Dorosduro district. The mural, hovering just above the water, represents a black and white child figure holding a pink flare. The work is referring to the ongoing immigration crisis in Europe which continues to leave thousands of people, including children, fleeing conflict and stranded with nowhere to go.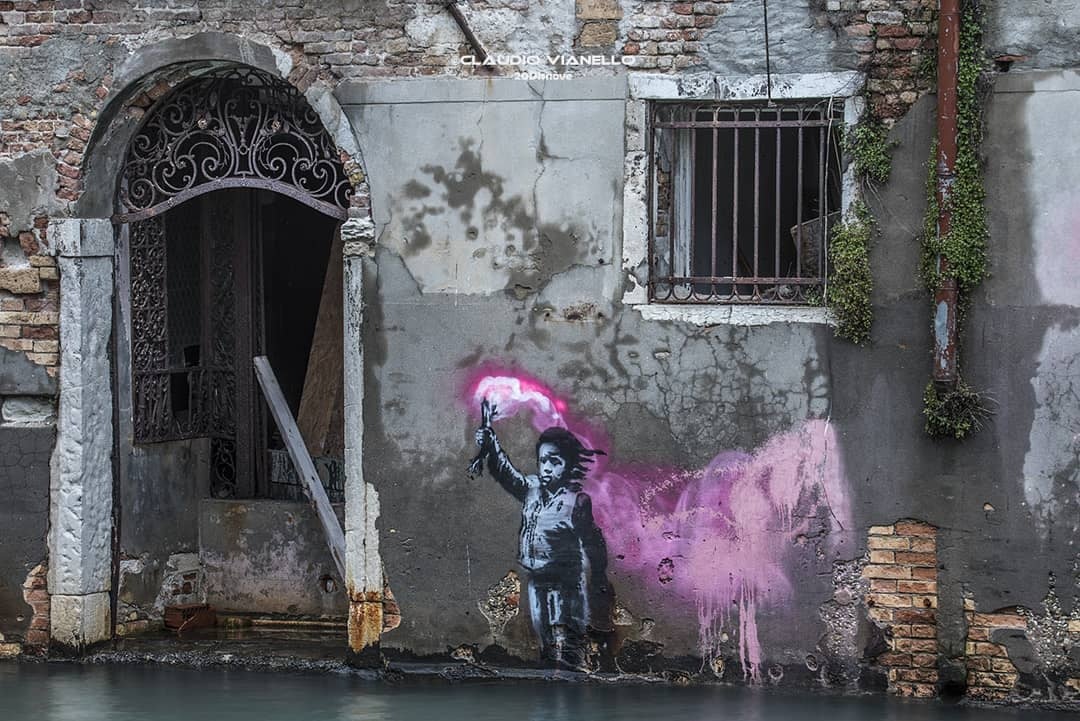 These two works appeared at the same time as the beginning of the famous and prestigious Venice Biennial. Established in 1895, the La Biennale di Venezia celebrates and promotes new Contemporary Art trends, organizes exhibition and researches in all sections: Art, Architecture, Cinema, Dance, Music and Theatre. It now has an attendance today of over 500,000. Banksy states as a caption under his "Venice in Oil" post:
"Despite being the largest and most prestigious art event in the world, for some reason I've never been invited."
To purchase or for more information on Banksy and his work, please email us at info@rhodescontemporaryart.com
May 29, 2019