Our brilliant french artist Florian Eymann previously had a solo show BLOOM at the Gallery last March. Florian's work is characterized by his way of reinventing traditional portraiture and still life into a new contemporary form. The exhibition BLOOM is a collection of floral still life collages welcoming us into Spring. Florian's use of textures and lack of negative space in his oil canvases, create an illusion of overlayering different pictures.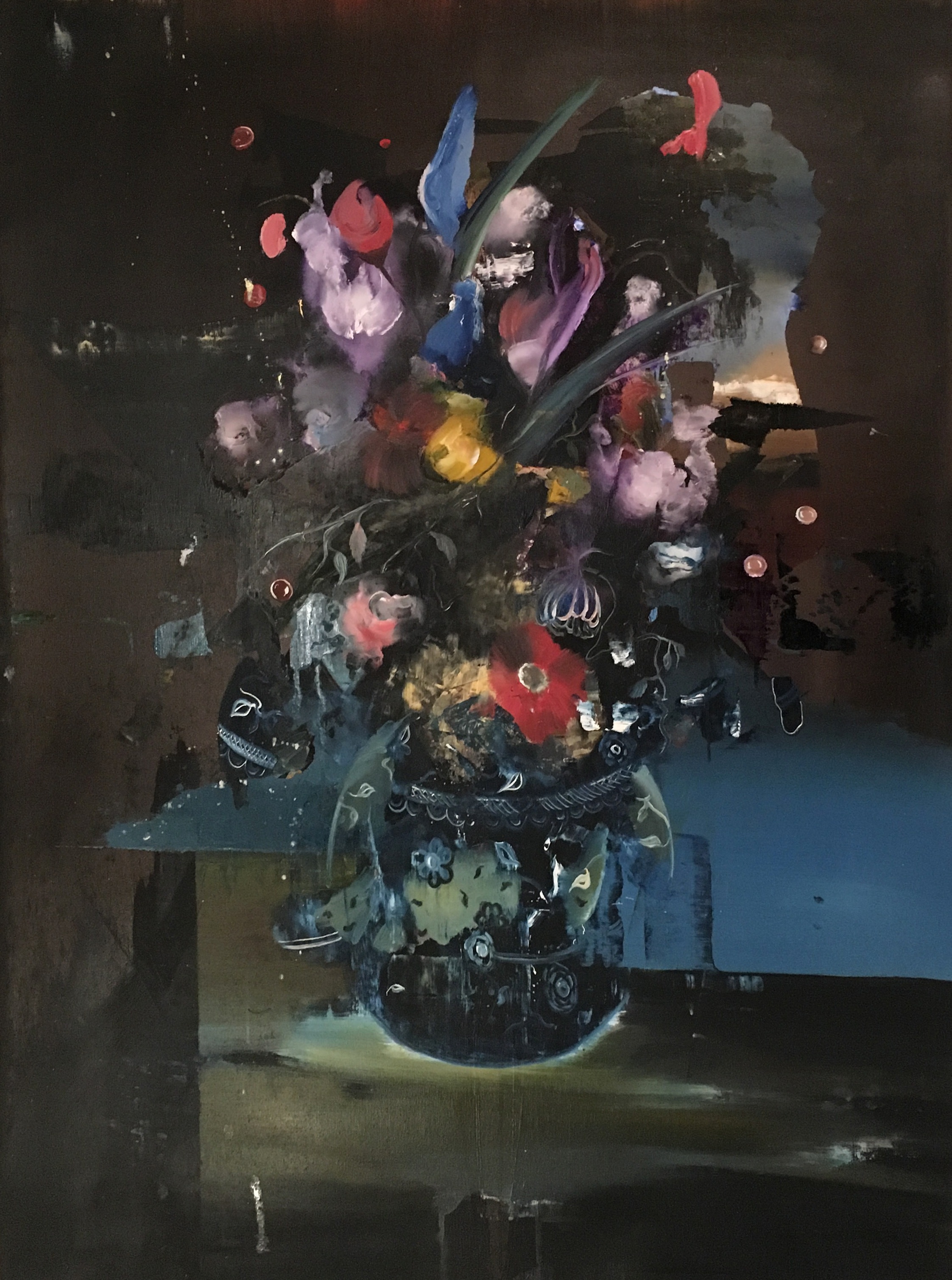 Hi Florian, thank you for taking the time to reply to our questions:
Q:We could say that the main characteristic of your latest work, is the way you create
the illusion of overlayers are created and ripped off, could you explain us what your painting process to produce such works?
A: I build my pieces by layers, which allows me to have unique sections with their own energy, I prepare my works upstream which serves me as a red thread and guides me.
Q: What or who was your main inspiration of such reinvention of traditional practices?
A: I do not have a person in particular, I like the light of Caravaggio, the deformations of Bacon, the freedom of sight of Picasso and many others.
Q: Do you usually paint your still life from bouquets in front of you or from photographs?
A: My construction is different between portraits and landscapes, the portrait is painted in one or two sessions and the landscape is painted over different stages. I rely on a photos, either virtual or real collages.
Q: The titles of your work are quite interesting, is there a reason behind them?

A: There is a reason, but I am keeping it secret 😊I used to give my pieces titles, but I would paint so many of them that I lost myself.
Q: What are goals as an artist you would like to reach next?

A: I want to keep painting, make myself happy, projects comes as the year progresses, I had a very busy beginning of year so the second half of the year should be a little more chill, maybe…. I am currently working on perfecting my dexterity in tattooing. I have as a project to open my own private tattoo salon next to my studio.
Q: The colors of the oil canvases are relatively darker compared to the palette used in the print editions, to what extent do believe the materials and scale affects the final outcome?
A: I don't actually think that the colours are that different, it depends a lot about my feeling at that moment when I paint. I loved the prints I did, they are superb and I like this concept which I will carry on doing.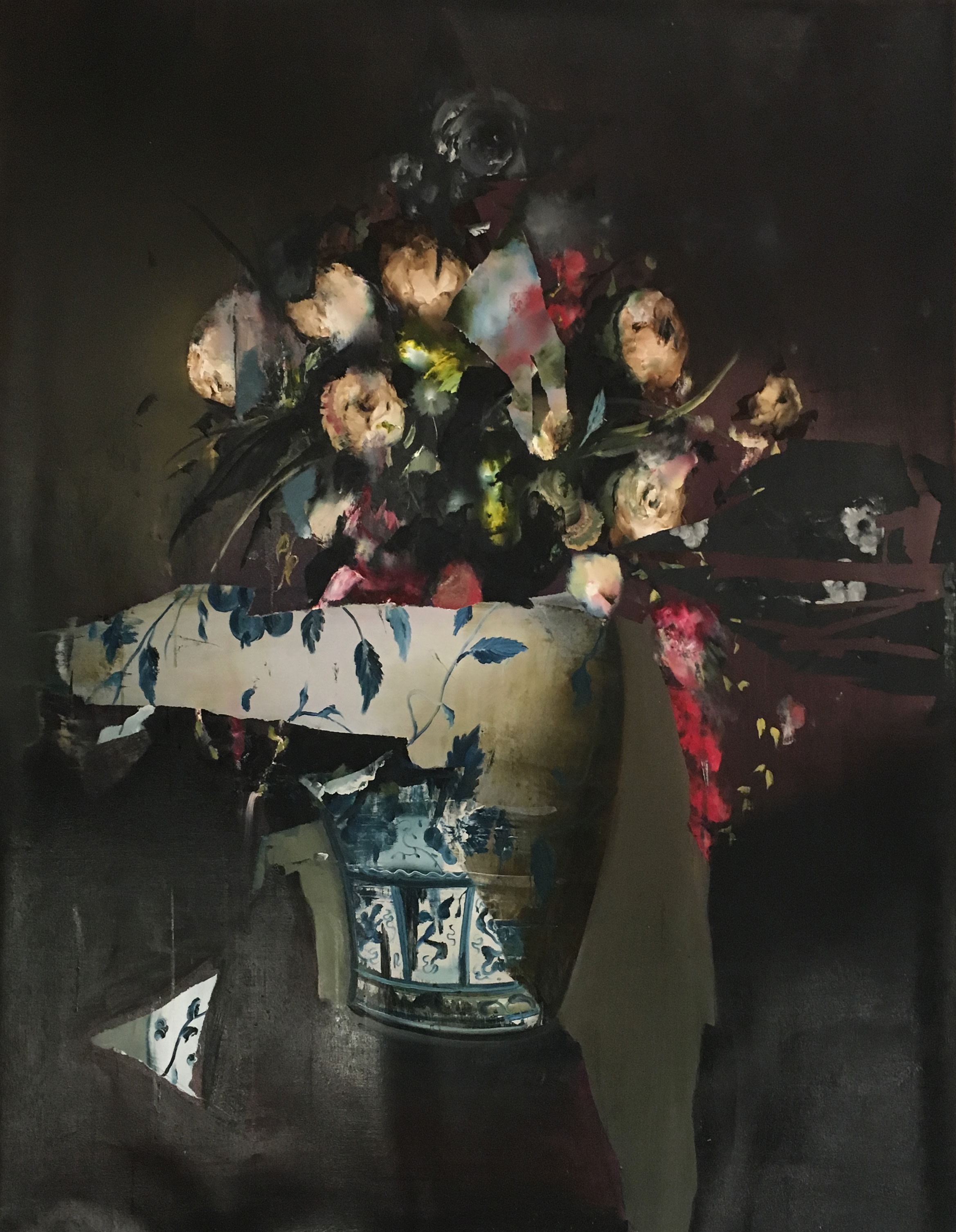 Q: How long does it take you to create each piece? Why?
A: I paint very quickly, I need it to go quickly to keep the same energy. It is hard for an artist to know when to say Stop.
Q: Did you do any education in painting or art before becoming an artists? How has it shaped your work?

A: I am self- taught, I like to learn by myself, it's harder and longer, this freedom has a price and I like being free and not following what my art professions are teaching.
Please take a look at our website to see more about Florian's beautiful paintings.
Feel free to email us your questions, interest or comments about Florian at info@rhodescontemporaryart.com. Altenatively you can subscribe to receive news and updates about Florian's work to your email.
May 16, 2019