We'd like to say a big thank you to all who joined us for the private view of M*A*S*H*E*D, the debut solo show by War Boutique.
It was a pleasure to welcome so many art collectors, fans, followers and friends of the gallery to the advanced preview for an unforgettable evening.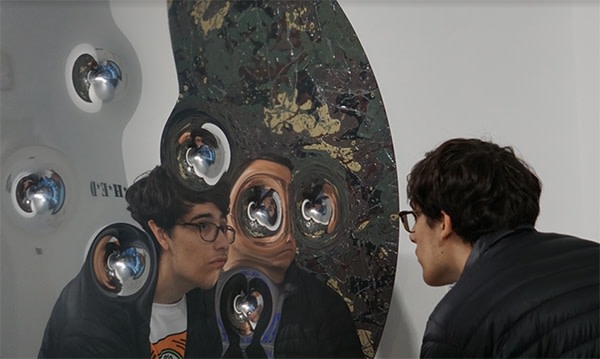 If you couldn't make it to the private view NOW is the time to visit M*A*S*H*E*D, which presents one of the most innovative and thought-provoking bodies of work to grace Rhodes Contemporary Art.


Upon entering our New Compton Street space visitors are met with the larger scale works on show, all of which are more military themed including the first public showing of War Boutique's 'Camoufleur' series.
The works use contemporary military camouflage as the base canvas, imitating and disrupting the underlying patterns with thick layers of oil paint applied through an 'action painting', similar to that of Jackson Pollock. The titles have been inspired by popular war songs.

Alongside these are two new pieces from War Boutique's 'Shooting Stars'. Each is a large-scale reflective metal shield in polished aluminum that has been contoured by the impact of 9mm ammunition rounds on woven Kevlar – which is the main component of body armour and is certainly an uncommon material for fine art.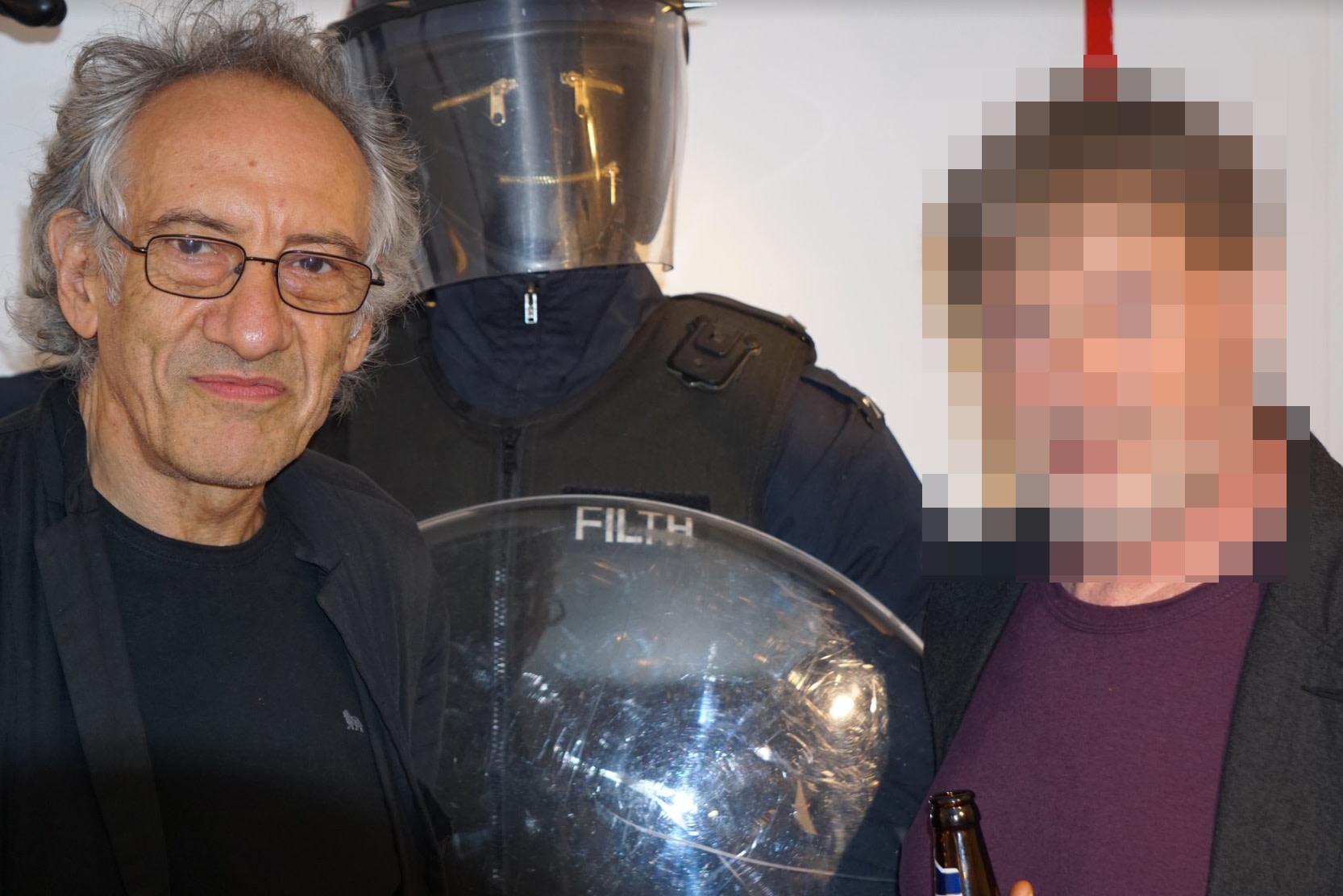 War Boutique (right) pictured with artist Peter Kennard


The works echo the patterns of star constellations, and explore the deep relationship between war and our cultural perceptions of mortality and the divine order. The astrological references are also a reminder of how faith and spiritual beliefs play a key role in the soldier's ability to risk his life in battle.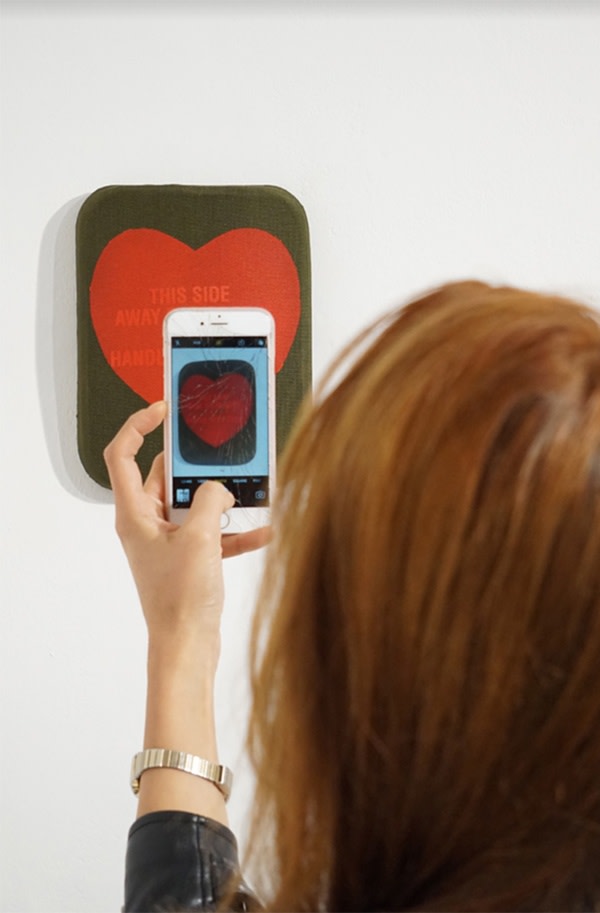 Meanwhile, downstairs in the gallery, the exhibition focuses more on civil defense and disobedience, as well as displaying more playful and classically mischievous works by the artist.
One of the most prominent works in the downstairs of the gallery is a collaboration between War Boutique and the streetwear brand Maharishi with the riot inspired 'Striking Suit'.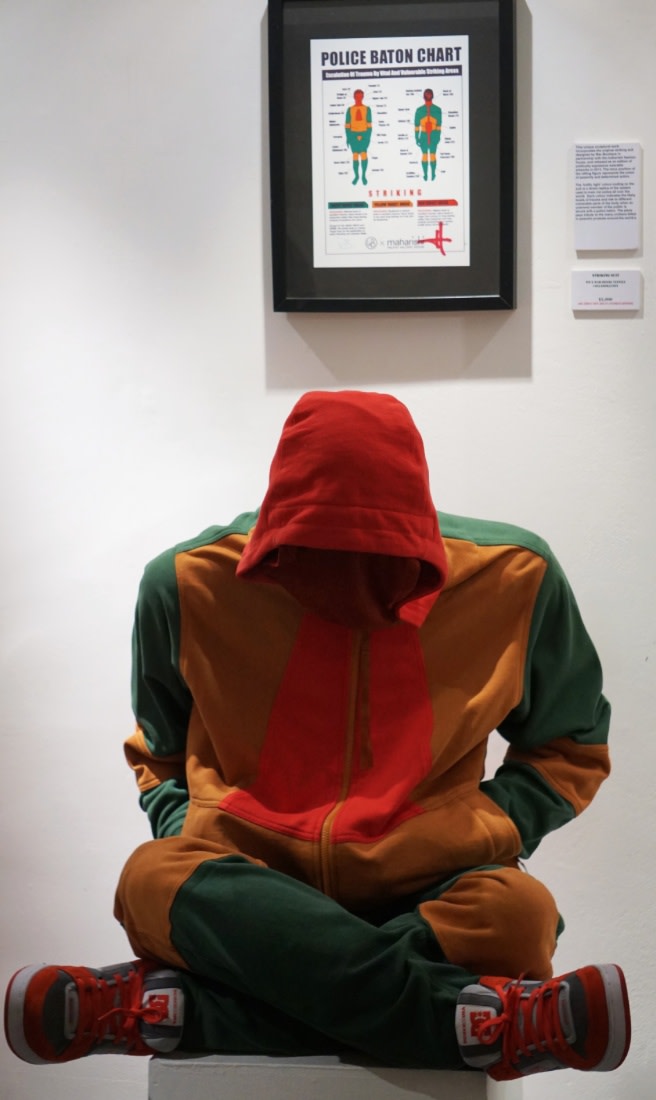 The lotus position of the sitting figure represents the union of passivity and determined action. The 'traffic light' colour-coding on the suit is a direct replica of the system used to train riot police all over the world.


There are plenty other works to be examined in the exhibition, all of which have fascinating backstories and are the results of incredible processes including the use of material grade ballistic weaponry.


You are guaranteed to leave M*A*S*H*E*D having seen the instruments of war and defense completely recontextualized by the visionary art War Boutique.

For sales enquiries please contact the gallery on +44 (0) 20 7240 7909 or email us at info@rhodescontemporaryart.com.
September 8, 2017