One of the largest and most significant remaining murals from Banksy's infamous second trip to Israel in 2007 is going under the hammer in Beverly Hills next month and is expected to fetch around £400,000. The piece titled 'Donkey Documents' depicts a donkey having its papers reviewed by a soldier and was left by the elusive street art supremo in Bethlehem, on a barrier dividing the West Bank from Israel.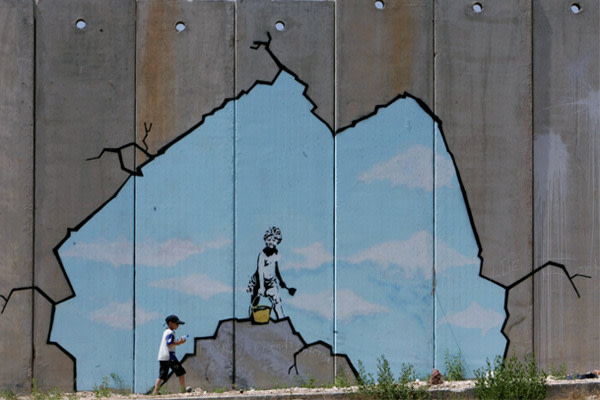 On his previous trip to the area in 2005 Banksy painted 9 politically charged pieces on the Palestinian side of the colossal 425-mile long wall, which separates the two countries. At the time Banksy offered an explanation for the project and his opinion via his website, "How illegal is it to vandalize a wall, if the wall itself has been deemed unlawful by the International Court of Justice?" He goes on to say that the wall that stands three times the height of the Berlin wall "...essentially turns Palestine into the world's largest open-air prison".
The other major Banksy piece in the auction is a huge 7 feet by 7 feet stenciled mural titled 'I Remember When All This Was Trees', which was painted in Detroit in 2007 on the side of a derelict car manufacturing plant. The work is expected to fetch around $400,000 (£256,000) although it is commonplace for Banksy originals to far exceed their pre-estimates. The work, which depicts a hooded youth with a tin of red paint, has extra significance, as the red fingerprints on the piece are believed to belong to the anonymous Bristolian. In the past Banksy has been highly critical of his street pieces being removed by experts and floated on the art market, however he may feel slightly better about this one as the profits from the auction are set to go toward community arts projects in the city in which it was painted.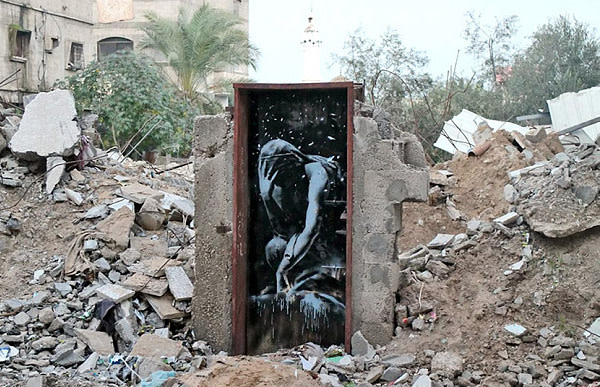 Earlier this year headlines were made when the owner of a Banksy street painting in Gaza was conned by an imposter art dealer into selling the door upon which it was sprayed for just $175 (£111). The work is valued in the hundreds of thousands. Palestinian police went on to confiscate the door, in a bid to resolve the issue. If you didn't see the story at the time you can revisit it here.
If you are interested in the work of Banksy, check out what we have currently available. Alternatively if you have a Banksy work of your own and you are thinking about selling it, you can contact the gallery on +44 (0) 20 7240 7909 or email us at info@rhodescontemporaryart.com
August 5, 2015